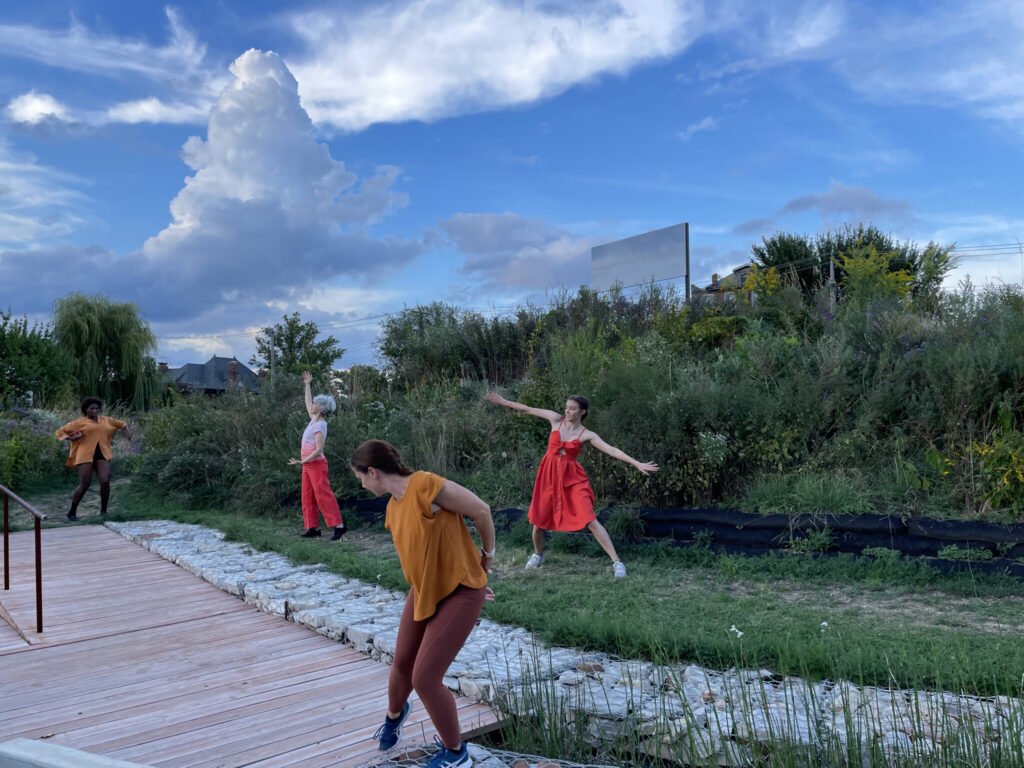 At Grand Center's 1st Friday event on October 1, Karlovsky & Company Dance performed in Park-Like, the Pulitzer Arts Foundation installation at 3713 Washington. The dance troupe, which is based in Grand Center, was one of several performance groups scattered around Grand Center.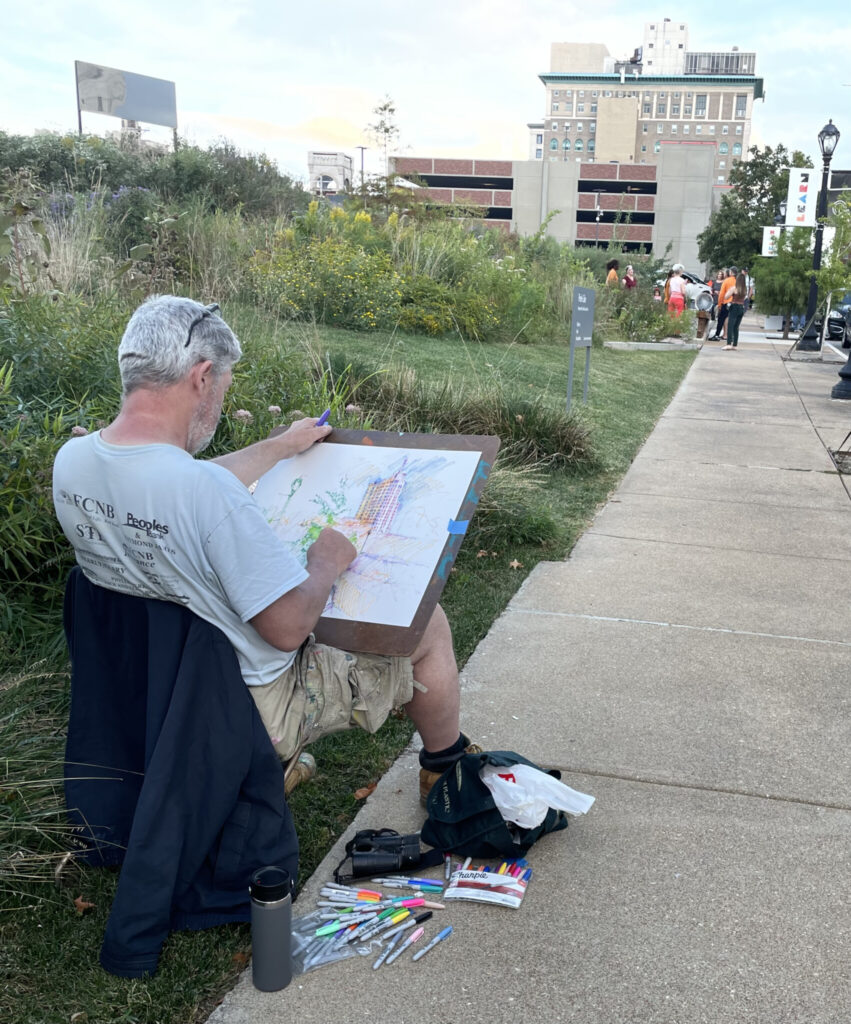 Bordering Park-Like is Judson House, where there was an outdoor art exhibition. Participant Henryk Ptasiewicz had already put up his art on the display wall and took time to sketch the buildings on Grand Avenue before the sun set.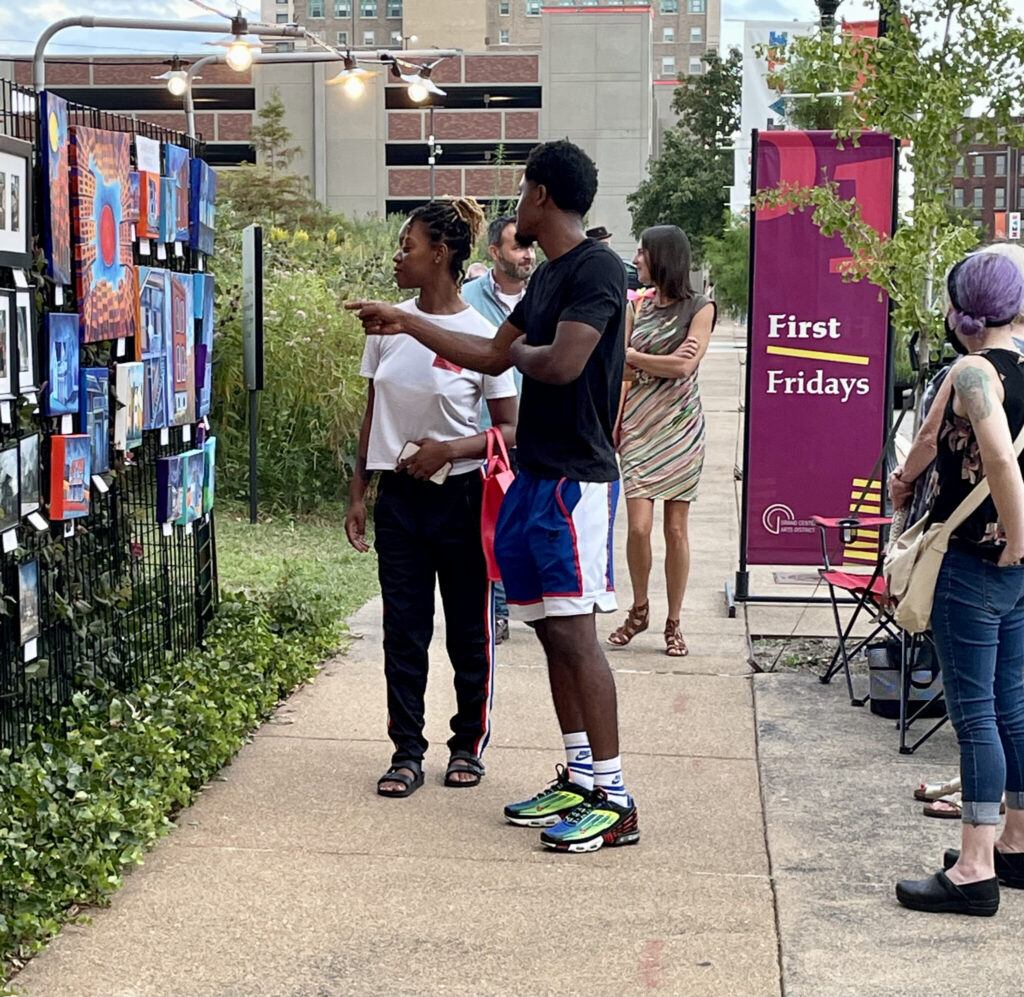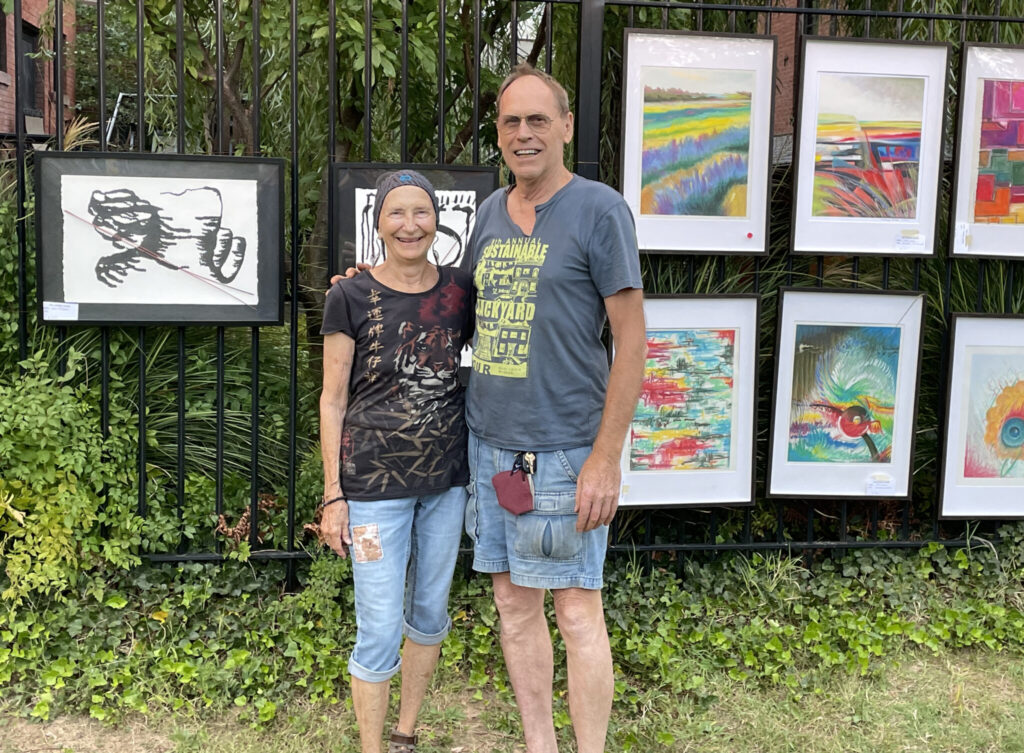 Artist Stan Jones, who owns Judson House, was an organizer of the exhibition along with Milo Duke, shown below. His paintings are shown above right, and Lyn Magee's art is shown above left. Lyn has a studio in the CWE.
Wendy Wees and Milo Duke are photographed in front of their art. Milo is involved in the planning of musical and art events at Judson House. Visit the Facebook page for the latest listings.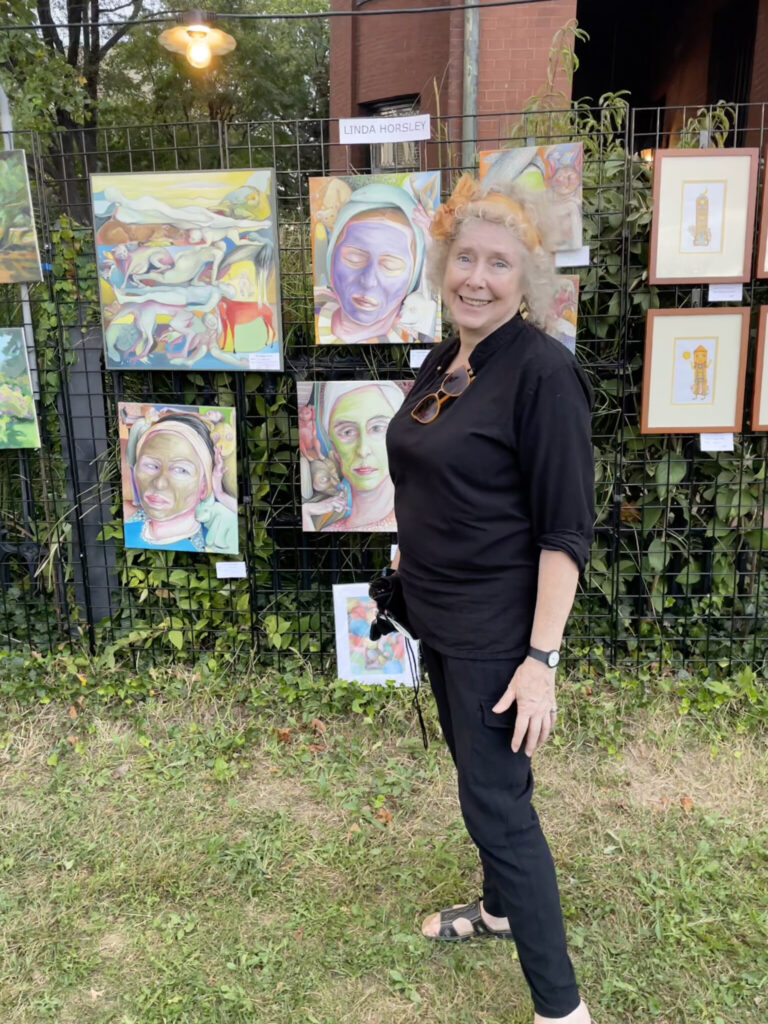 Artist Linda Horsley  is shown in front of her "mask art," created during the pandemic. Linda is the proprietor of Horsley Arts at 4374 Olive.
CWEnder Carson Foard, left, was a first-time participant in the First Friday event.  Sheldon Johnson, above right, had a studio in the neighborhood for years, and has exhibited in many venues around town.
Jumping forward to last evening,
Left Bank Books
hosted an author event with two-time Pulitzer Prize winning author Colson Whitehead at .Zach in Grand Center.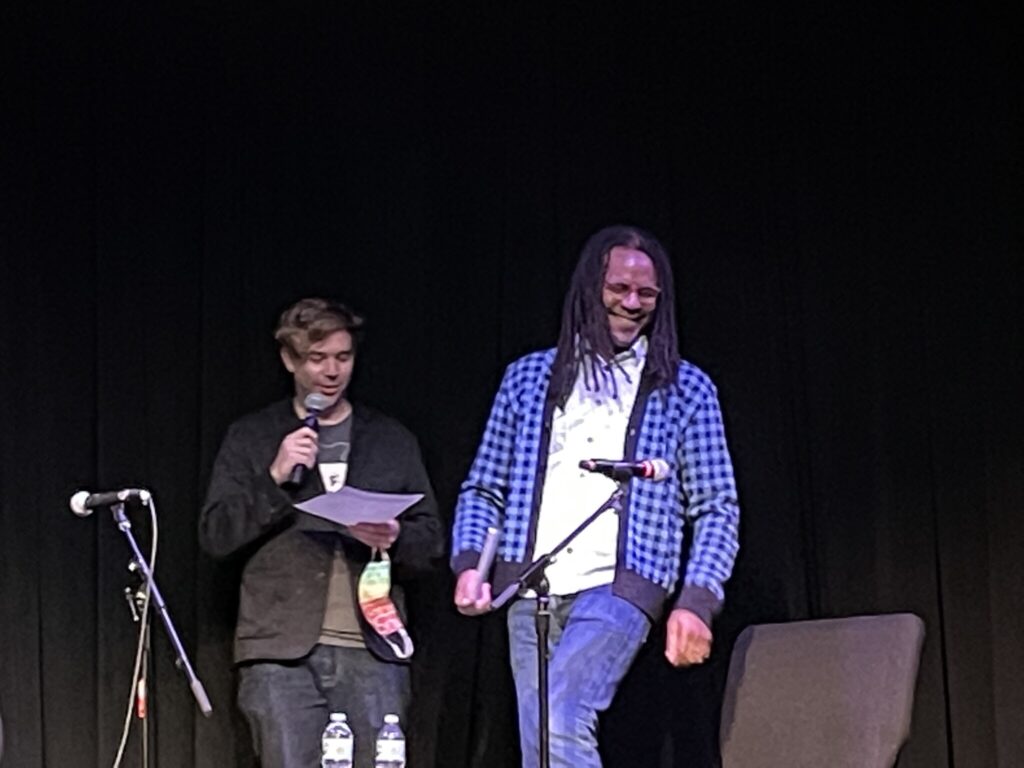 Whitehead was introduced by LBB's Shane Mullen and interviewed by WU Professor, author, and musician
G'Ra Asim
, shown with Whitehead below.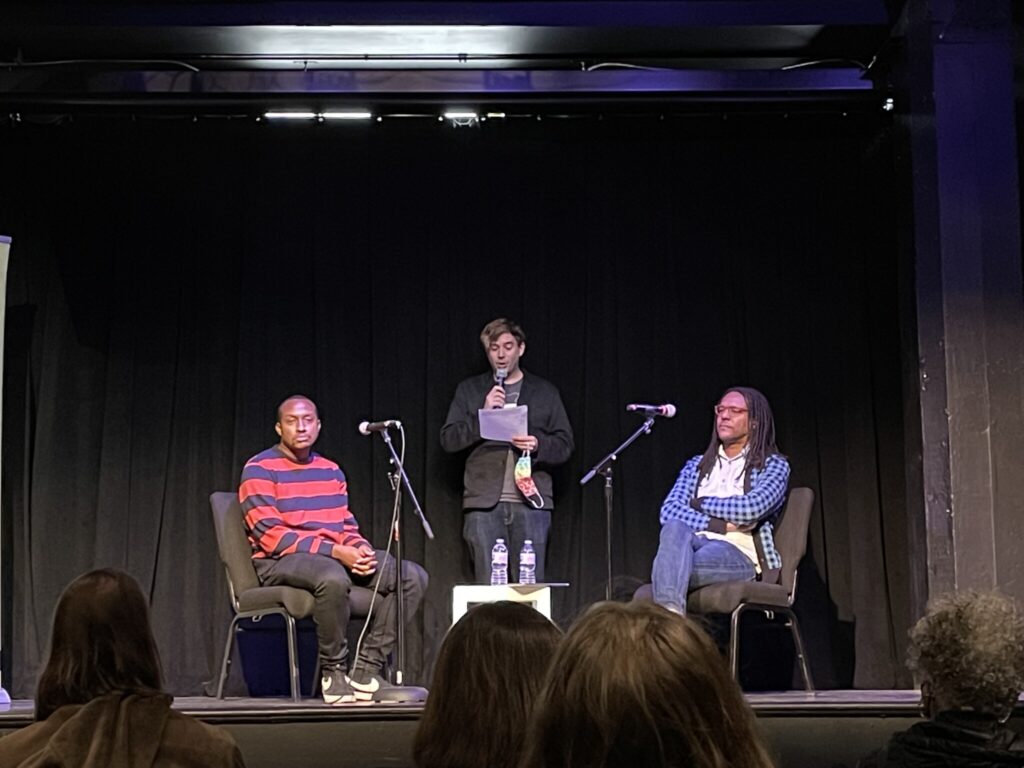 It was an overdue treat to be able to attend an author event once again (both proof of  vaccination and masks were required). To hear such a smart and clever conversation between two authors as they discussed Whitehead's latest, Brooklyn Shuffle, made for an exhilarating evening.
On the street:
CWEnders Tim and Katie O'Connor decided their Halloween decorations were getting a little tired. To up their game, they've   installed a "skeletal day-in-the-life" in their front yard on Maryland Avenue. Neighbors are making sure to walk by each day to see the latest. Here's October 27th display. Amazing, isn't it?
And finally, I couldn't resist snapping a photo of a young woman posing on Euclid in eye-catching fall colors. There will be lots more costumes tomorrow as the neighborhood celebrates Halloween after a year's hiatus.