Artist Linda Horsley
Plan to head out early this Friday evening, April 7, as there's lots going on in the neighborhood and you won't want to miss the action.  All the galleries in the Euclid-McPherson arts district are hosting openings. The list includes CWEnder Nancy Rice's intricate paintings which will be featured at Duane Reed Gallery, Philip Slein exhibits artists Valerie Jauden and Chuck Webster, projects+gallery is launching Transparency Shade: Seeing Thru The Shadow, and Houska Gallery has someone on the books (the "who" has not yet been announced).
Look for a long line at Left Bank Books Friday where Chelsea Clinton will be signing copies of her book, It's Your World: Get Informed, Get Inspired, Get Going, about how anyone can make a difference. The ticketed event starts at 5:30 ($11 admits family of 4 & includes paperback copy, $21 for hard cover).  In addition, The Candle Fusion Studio, 4742 McPherson Ave., is hosting the Central West End Association's 1st Friday Happy Hour from 5 to 7 p.m.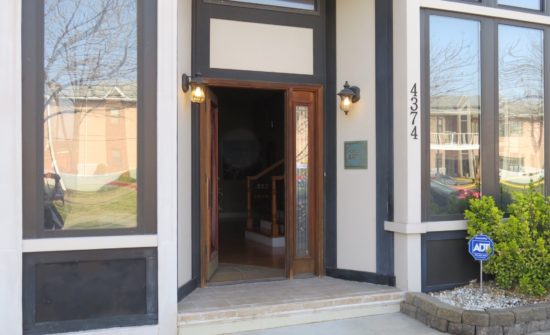 April 7 also brings the opening of a brand-new gallery, Horsley Arts, located at 4374 Olive (between Taylor & Newstead Aves.), above, to the neighborhood art scene. Stop by between 5 and 8 p.m. to meet proprietor/exhibiting artist Linda Horsley, shown in photograph at top, whose beautiful paintings of arresting, dream-like subjects will be on view along with Bill Christman's fabulous robot sculptures and art signage.
Horsley lived in Seattle for 12 years where she taught at the Art Institute of Seattle and Cornish College. Before moving to the northwest she worked at the City Museum and taught art in various locations around St. Louis. She returned to St. Louis last August and was thrilled to find a location to open her own gallery in the CWE.
When asked why she decided to move back to St. Louis, she explained:
"There wasn't the connection of a community in Seattle.  Oh yes, it has a beautiful environment, but it is becoming over-populated. St. Louis has both passionate people and artists, and the physical landscape and buildings are part of the everyday charm that I absolutely love."
Horsley's corner painting, above, "There aren't many artists who create art for this application," she said.
I attended an informal gathering at Horsley Arts several weeks ago where an established CWE artist said that she admires Horsley's way with color. Though she works in oils, her soft colors look like watercolors.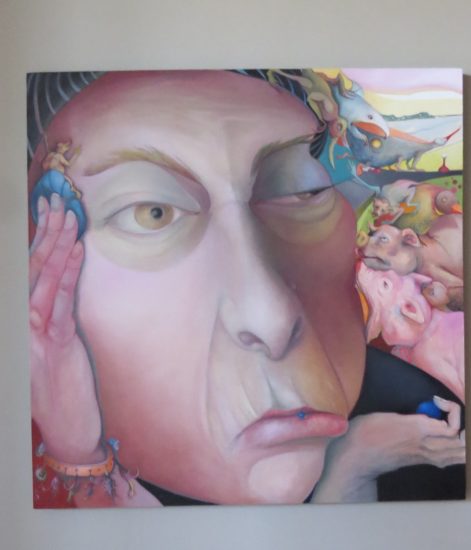 Horsley has quite an impressive list of accomplishments including 6 public art works commissioned by the Downtown Seattle Association and Pike Place Market Foundation. She also created "Wild Rose Run," a sculpture that is part of Bi-State's Arts in Transit, St. Louis.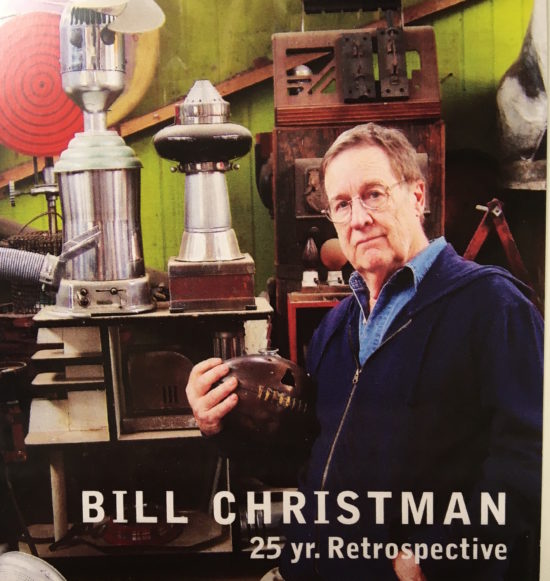 Also exhibiting at Horsley Arts is St. Louis artist Bill Christman, who is both a fine artist specializing in sculpture, and a commercial artist specializing in design and sign making (he created the sign that hangs over Left Bank Books, for instance). Christman has his own gallery, Joe's Cafe Gallery or "ars populi" in Skinker/DeBaliviere, which I wrote about several years ago (read it here).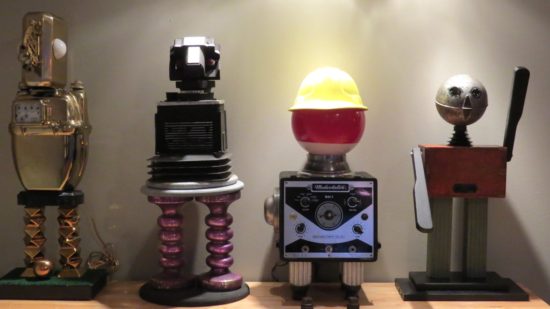 Christman also has a connection to the City Museum, where the artist's "Beatnik Bob's Museum of Mayhem, Mystery and Mirth," is installed.  His robot sculptures, above, are part of the 25-year Retrospective that will be on view at Horsley Arts.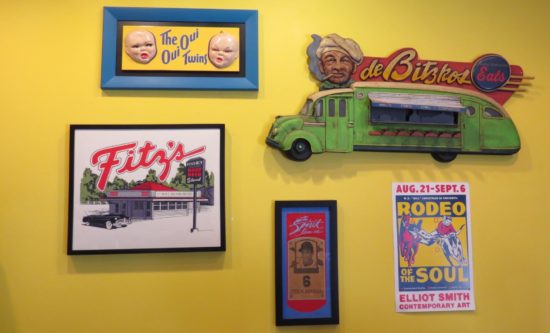 Christman's imaginative art signage is also part of Friday's exhibition, above and below.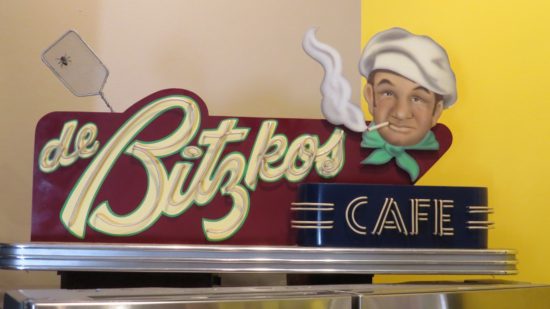 Horsley Arts, 4374 Olive Street, Friday from 5 to 8 p.m., (314) 243-3879. Following the opening event, showings are by appointment.