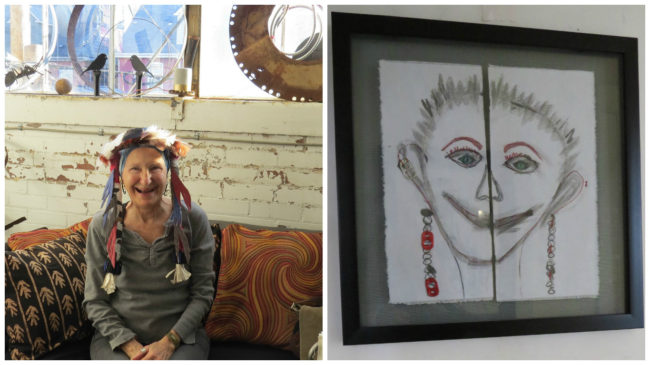 Lyn Magee, left, is photographed in her 250 s.f. light-filled CWE studio she's labeled her "art nest." It's filled with off-beat things she's made out of quirky stuff she finds on the street and in alleys, learned on art retreats, or what she's stumbled upon in local antiques stores. Magee's sculptures, drawings and constructions, which fit her free-spirited personality perfectly, cover every square inch of her studio.
"I love this quiet retreat," she said. "I often sit here and not create anything, just ponder. I'm beginning to think I'm really a decorator at heart, since I'm always playing and moving stuff around the space."
On Friday afternoons Magee heads to Kelly Larson and Gina Alvarez's Living Arts in Maplewood where a group of 16 artists, called the Women's Art Collective, meet to work on a new project each week. Each member takes a turn leading the 1 1/2 hour class. Magee's headpiece, above, is one she made during a Friday class. The teacher's instructions were to make something from the past, present, or future.
"I'm done with the present," Magee said. "I was happiest playing cowboys and Indians as a child—I always sided with the Indians."
Right, above: A self-portrait hangs outside her studio door.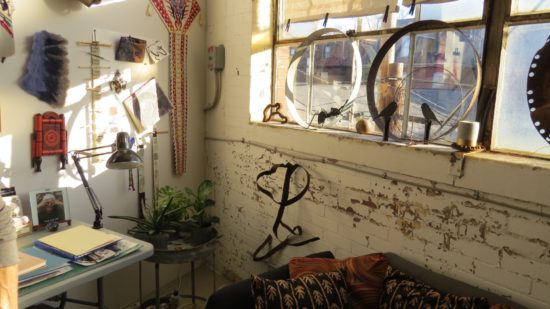 Magee is frequently on the lookout for decorative elements to add to her eclectic possessions in the studio and in her South City home. R. Ege Antiques, 1304 Sidney in Soulard and Treasure Aisles Antiques Mall, 2317 Big Bend Blvd., are two of her favorite haunts.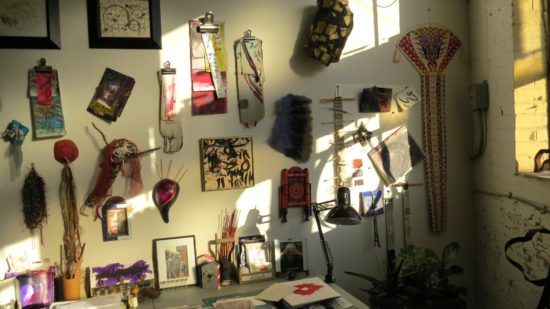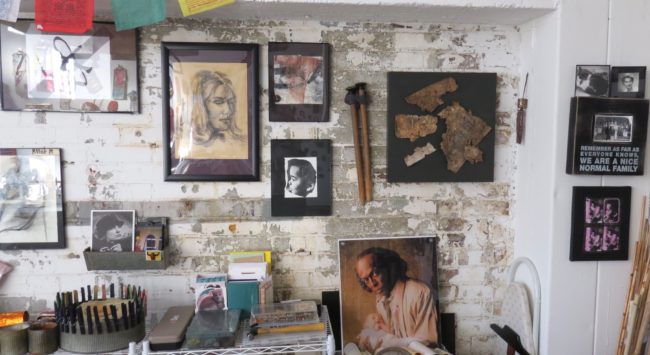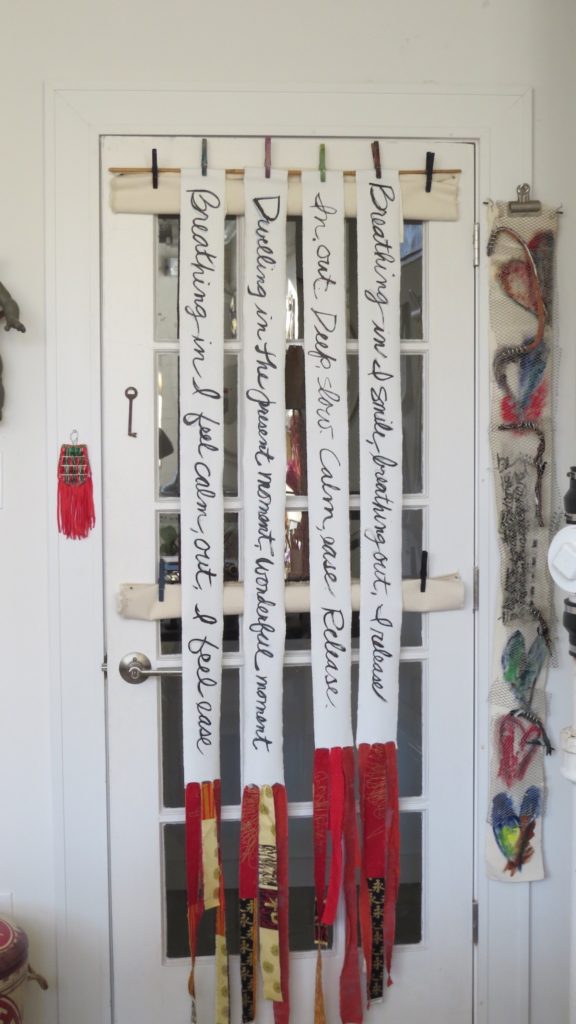 Noting the messages on the prayer flags, it should come as no surprise that Magee has been a yoga instructor for many years. Along with Kitty Daly, she founded Big Bend Yoga Center, 88 N. Gore, in 1994.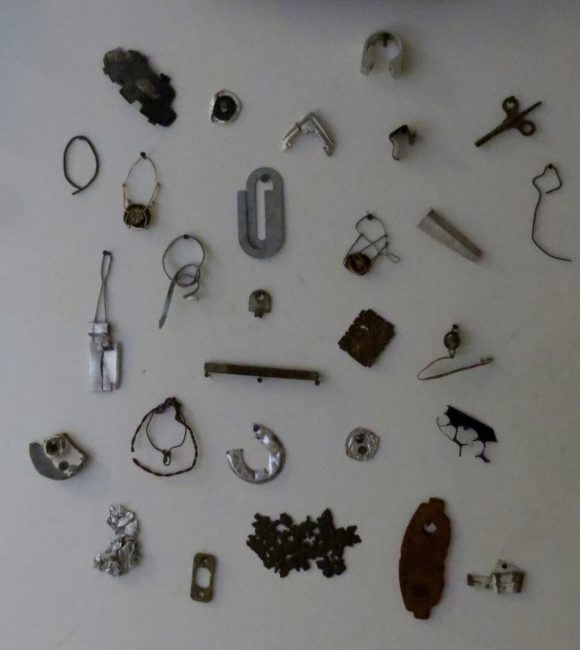 "I'm into the 'grid thing' now," she said, "influenced by classes I've taken with artist Dorothy Caldwell."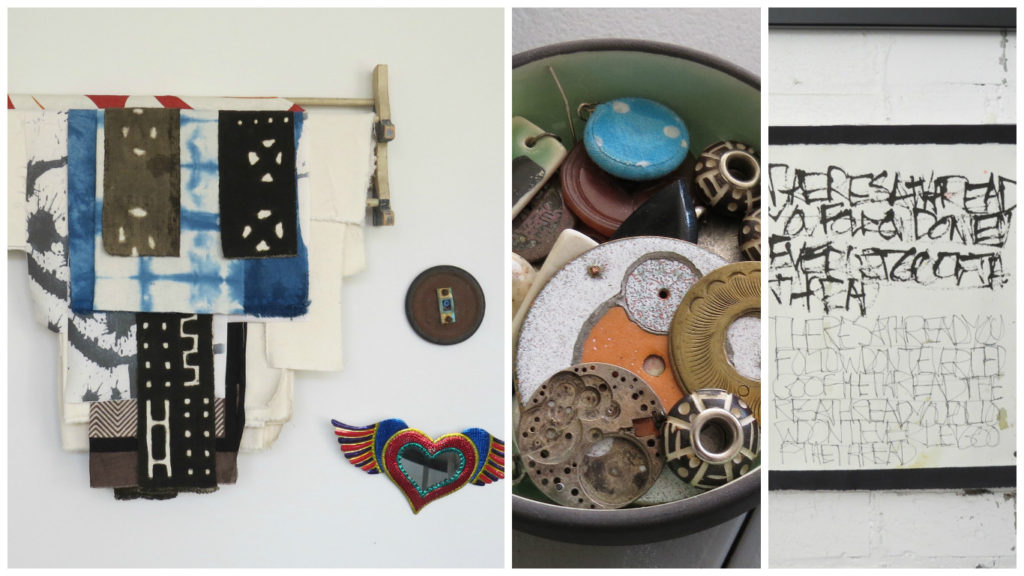 From left: Printed textiles drape over a vintage rack; middle, a collection of buttons and gears; and right, art created in Kentucky-based artist Laurie Doctor's "writingwritingwriting" class held at Living Arts.
Left: The photo says it all. Right: Rock and leaf prints Magee made at a workshop at Dorothy Caldwell's studio in Ohio.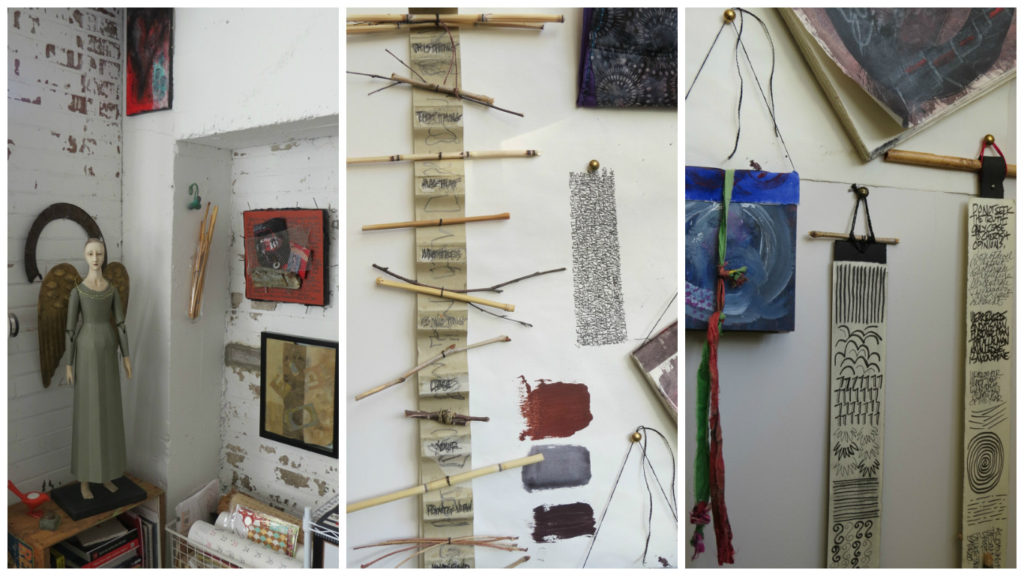 More of Magee's art and antiques collection are shown in the photos above.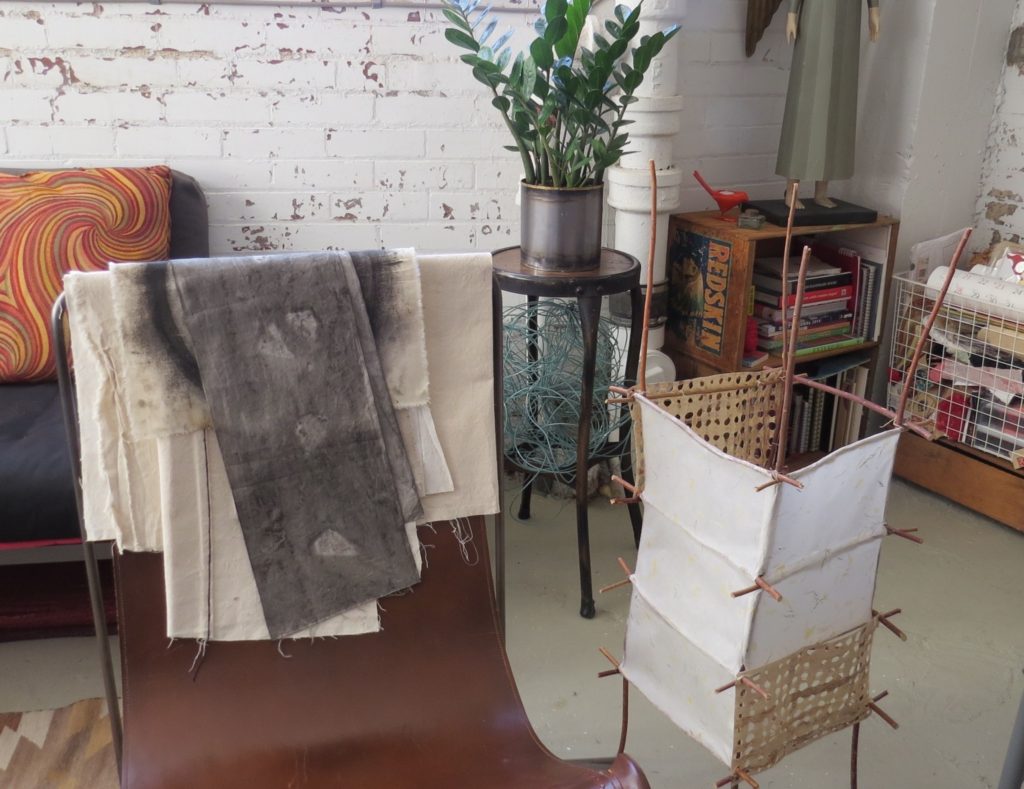 As we finished the interview Magee said: "I also come my studio to putter around and finish art projects." An example of a work in progress is an unfinished lamp, right, started in a class taught by artist Jan Wade at Living Arts. Magee is also working on art cards to be sold at the annual Will Flores Fund Art of Giving Event scheduled for Sunday, September 17, at the William Kerr Foundation, a LEED-Platinum Certified Building located at 21 O'Fallon Street in downtown St. Louis.
Lyn Magee is a social media holdout. However, if you wish to contact her for more information about her art or her collections call (314) 496-5623. I can't promise she'll answer, but it's worth a try.