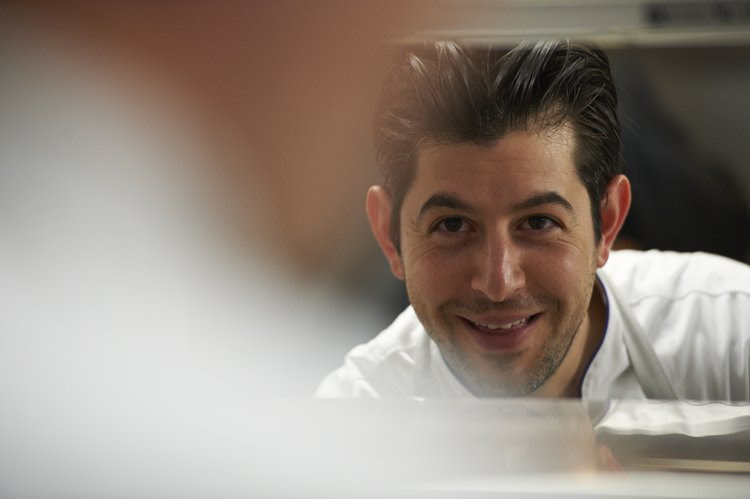 photo courtesy of Ben Poremba
Earlier this month restaurateur Ben Poremba released a bombshell announcement that has the culinary community abuzz. In case you missed it, Poremba plans to move three of his renowned restaurants—Olio, Elaia, and Nixta—from Botanical Heights to the burgeoning Delmar Maker District, located between Kingshighway and Union.
It's hard to ignore the reality that one neighborhood's good fortune is another's loss, especially in a city the size of St. Louis. The closure of these popular establishments in Botanical Heights, especially by the visionary who is credited for a major role the neighborhood's renaissance, must be devastating.
Poremba states that his inability to purchase the properties that house Olio and Elaia sparked the move. More details can be found in the press release at the end of this post.
Though the closures of the three restaurants in Botanical Heights are scheduled for the end the year, the exact location for Olio and Elaia on Delmar is still under wraps. Doug Auer, co-developer of Delmar Maker District and co-founder of Third Degree Glass Factory confirmed that Nixta, featuring Mexican cuisine, will join several other businesses in Maker's Locale (seen under construction above, earlier post here), which is located just west of Third Degree Glass Factory and east of Union. Maker's Locale is slated to open sometime this Fall.
Not mentioned in the press release is that Poremba already has a presence on Delmar, having opened Deli Devine in Delmar DevINe, Build-a-Bear Maxine Clark's  transformative renovation of the old St. Luke's Hospital, which debuted in May.  (The September issue of CWEA Griffin will feature Bob Duffy's interview with Maxine Clark about her project on Delmar.)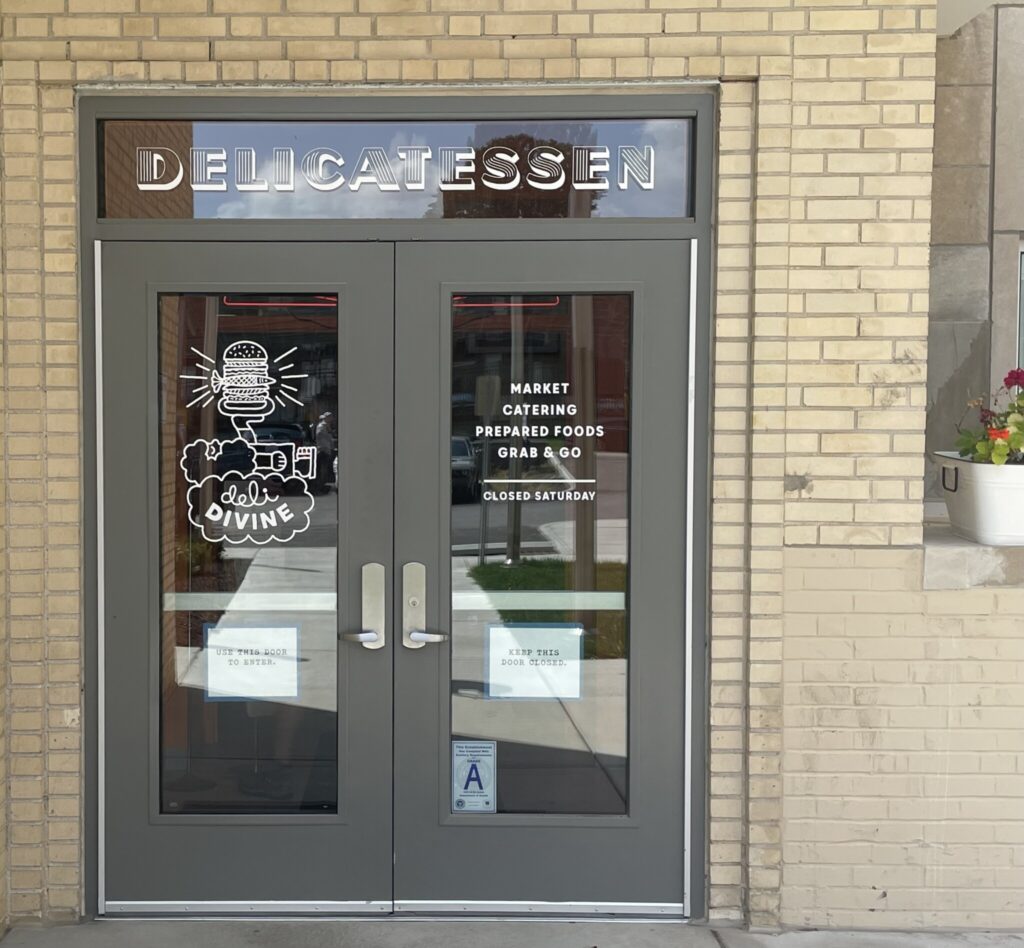 The entry to the Deli Devine, above, is on the east side of the building at Delmar and Belt Ave. There is a small parking lot adjacent to the entry.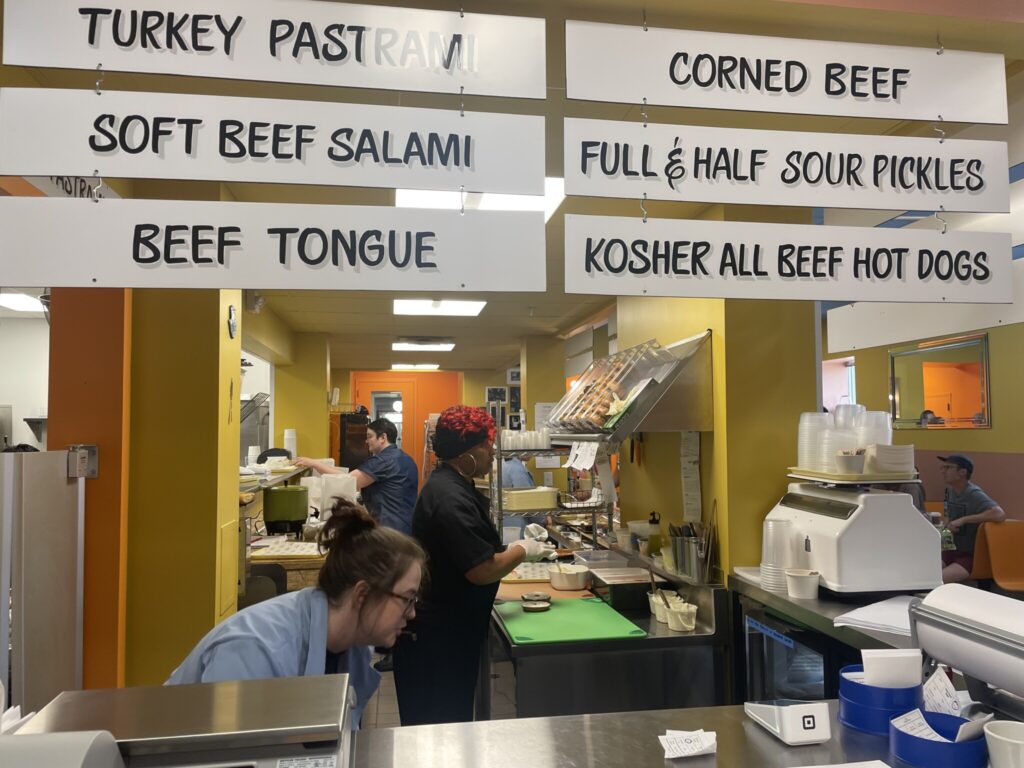 The menu features Classic Deli Sandwiches, soups, salads, kugels and knishes, Reubens (corned beef, pastrami, turkey, salmon, veggie), and special Deli Devine Sandwiches, including Frieda Premba and Herta Peltzman (shaved beets, cole slaw, sliced tomato, garlic pickle, Swiss cheese), $14.75. There is, of course, a large selection of Open-Faced Bagel and Devine Bagel Sandwiches.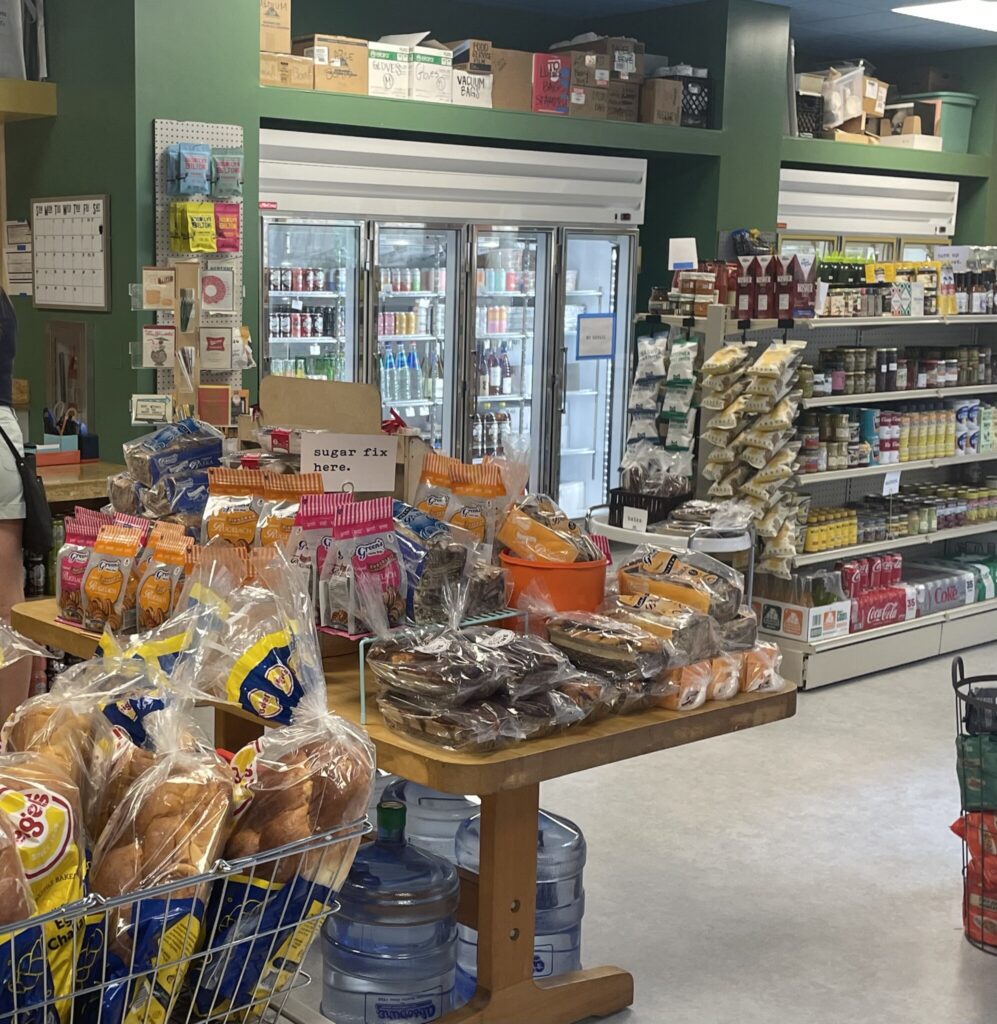 The Deli also includes a wonderfully-stocked Market, similar to Poremba's AO&Co. Market and Cafe in Botanical Heights. Both AO&Co. and La Patisserie Chouquette, another Poremba endeavor, will remain in Botanical Heights.
There are ready-to-go meals—Baked Shells, Ben's Mom's Vegan Stuffed Cabbage Rolls, etc.—in multiple refrigerator cases and a freezer section, as well as a large selection of breads; plain, onion & dill schmears; soups and desserts.
It's encouraging that so many businesses are moving to the Delmar Maker District, and that those looking for a taste of New York-style Jewish deli fare can visit Poremba's Deli Devine several blocks west.
Deli Devine, 5501 Delmar Blvd at Belt, (314) 987-DELI, Hours: Deli, 8 a.m. to 3 p.m., Market, 8 a.m. to 6 p.m. Closed on Saturday.
Poremba's press release on his decision to move Olio, Elaia, and Nixta follows:
"I've been calling the Botanical Heights neighborhood home when most people still called it McRee Town.  It was a little over a decade ago when I first walked this corner of Tower Grove and McRee Avenues and felt a special kind of exuberance and outburst of creativity.  As I looked around these unloved buildings and vacant streets, I had a vision — not just of a restaurant (or two, or more) — but of a bustling corner full of food, of small business, of activity and a thriving community.  Quite frankly, many thought I was out of my mind.  But I had a feeling that it was going to work because I was willing and ready to sacrifice and work as hard as I can.  I also surrounded myself with passionate, talented, and hard working people who were also willing to do the same.  And work it did.

Last year we celebrated 10 years at that corner for Elaia and Olio.  The outpouring of love, support, and shared celebration was overwhelming and humbling.  Not to get too sentimental, but that corner has become more than just real estate to us.  I am so proud of the vibrant neighborhood that we have been a part of cultivating, and the role that we played in lifting up this community.

But time for change has come.  After unsuccessful efforts to buy the joint buildings we've called home, we have made the difficult decision to relocate Elaia, Olio, and Nixta.  December 31, 2023 will mark the end of our stewardship of this beloved corner.

Change opens up new opportunities that may not have previously been considered.  I won't lie —  the closing of this chapter in my journey is more than a little bittersweet.  However, this next chapter is filling me up with the same kind of exuberance and outburst of creativity that I felt twelve years ago.  I am thrilled to announce that The Delmar Maker's District will become a new home for us where we will once again have the opportunity to help shape and transform the community around us.

I will share more specific details in the coming weeks, but trust you me: many exciting things to come!

In the meantime, I look forward to seeing you on the patios of Olio and Nixta and in the dining room at Elaia.  We love being a part of your lives and we love helping you celebrate the big events, as well as the everyday ins and outs of life.

Ben"