Pulitzer Arts Foundation, under the leadership of founder and Co-Chair of the Board of Directors Emily Rauh Pulitzer, has been a powerful presence in Grand Center Arts District since the art museum opened in 2001. In addition to the museum at 3716 Washington, the foundation's footprint has expanded to include Park-Like, a green space located across Washington, other adjacent outdoor spaces, and in May 2020, Spring Church, above, 620 N. Spring, just a short walk from the Pulitzer.
After a tragic fire in 2001, the church's structure was all that remained. The church, built in 1886, had been home to 4 congregations, including The National Memorial Church of God in Christ led by the late Reverend Robert Chatman Williams, the last to occupy the Gothic-Revival building.
In 2003, Grand Center Arts District purchased the property to install an outdoor sculpture garden, but structural issues prevented that from happening. Pulitzer Arts Foundation has since stabilized the structure and created a safe and welcoming open-air space and site for artists' projects.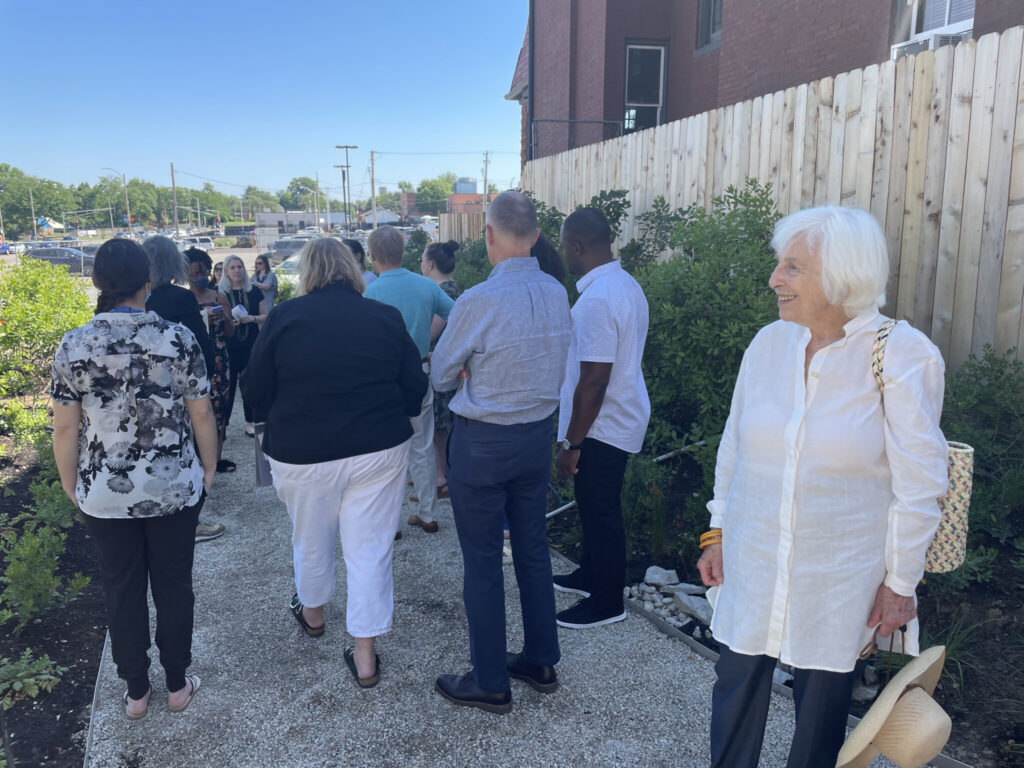 During a preview event at the end of June, Pulitzer, above right, said that the walls were only reinforced temporarily after the fire. Surprisingly, the structure held up and Spring Church became a beloved community space. "It's obvious that this is a building that wanted to survive," Pulitzer added.
Recently, when crews were working on the building, people stopped their cars and shouted from the middle of the street: "You're not tearing it down, are you?"
In the past, the church has been used for impromptu gatherings, performances, picnics, and as a popular backdrop for photographers. Two of Reverend Williams' daughters were married in the space.
In 2008, Spring Church was used in collaboration with artist Dan Flavin's  Constructed Light at the Pulitzer. Artists Rainer Kehres and Sebastian Hungerer strung 300 multi-colored lamps—donated by St. Louisans—across the open ceiling to create The Light Project.  A photo of that stunning installation and more information can be found here. Other arts organizations participating in Constructed Light included CAM, Saint Louis Art Museum, and White Flag Projects.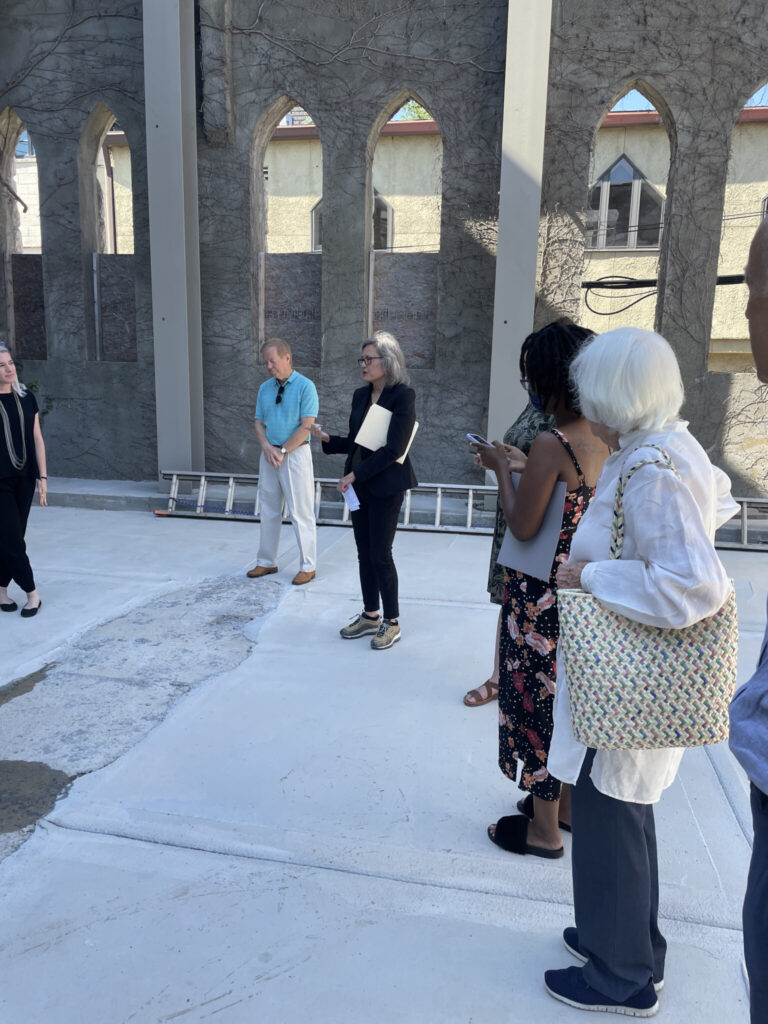 At the preview, members of the design team led by Kiku Obata, middle, and McNealy Engineering's Bill McNealy, above left, said that improvements to the church stabilized the structure while maintaining the architectural character of the building.
Obata added that the challenge of the design process was "to make the finished product look as natural and untouched as possible." McNealy said it was quite a challenge to install steel beams under the walls to meet City of St. Louis code requirements.
Studio Land Grants' Chris Carl (not photographed) said that window boxes filled with Virginia Creeper will be added to the interior so the vine, shown below, will once again cover both the interior and exterior walls. "It will grow quickly," he said, "that vine is like a hydra head."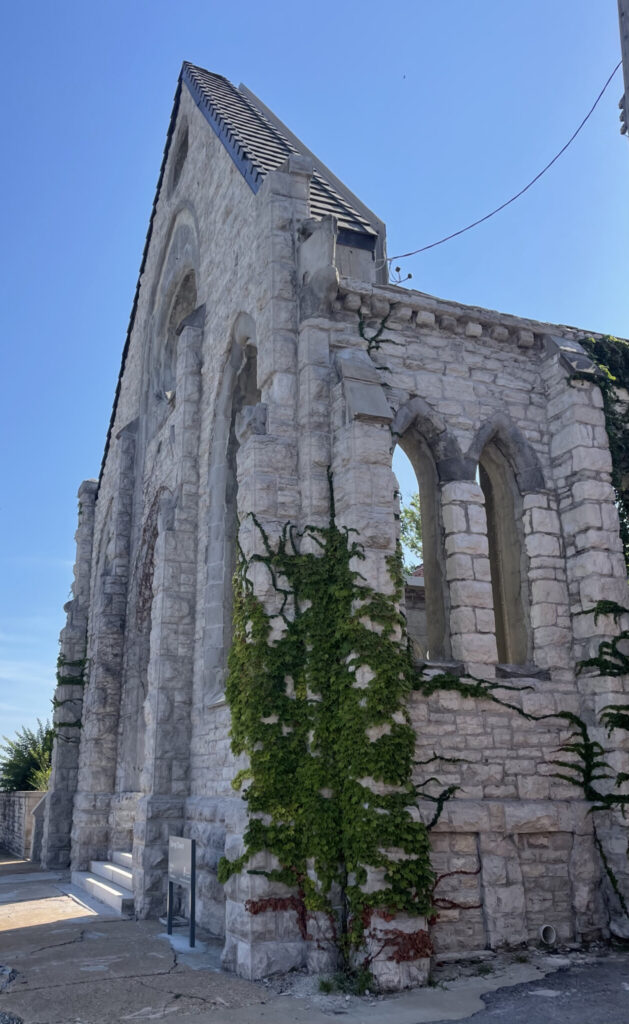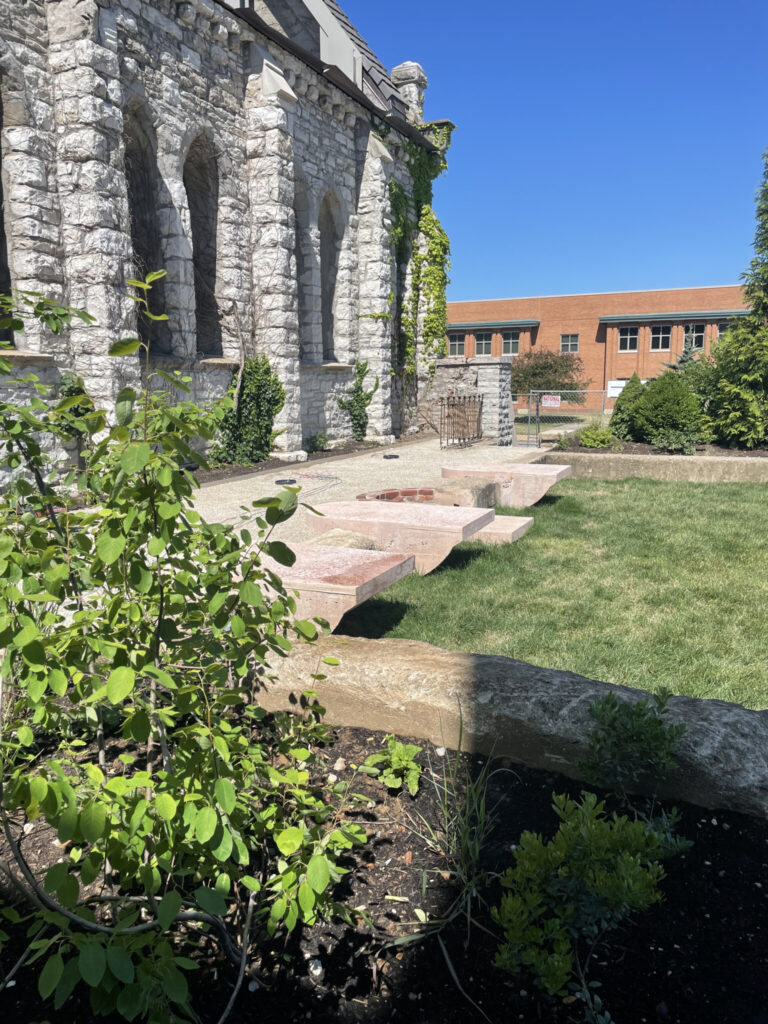 The lot adjacent to Spring Church was also acquired by the Pulitzer Arts Foundation and has been transformed into a publicly accessible green space.
That site was formerly a 3-story apartment building built in 1905 by well-known architect Theodore Link. Link and his family lived in the L-shaped building until the time of his death in 1923.
Studio Land Arts' Chris Carl, who also designed Park-Like. said that his team tried to leave as much of the Link building's foundation in place when planning the green space—in fact, the coal chute and other parts of the foundation are part of the landscape, above left. "We disturbed as little as possible, though we literally pulled out a kitchen sink."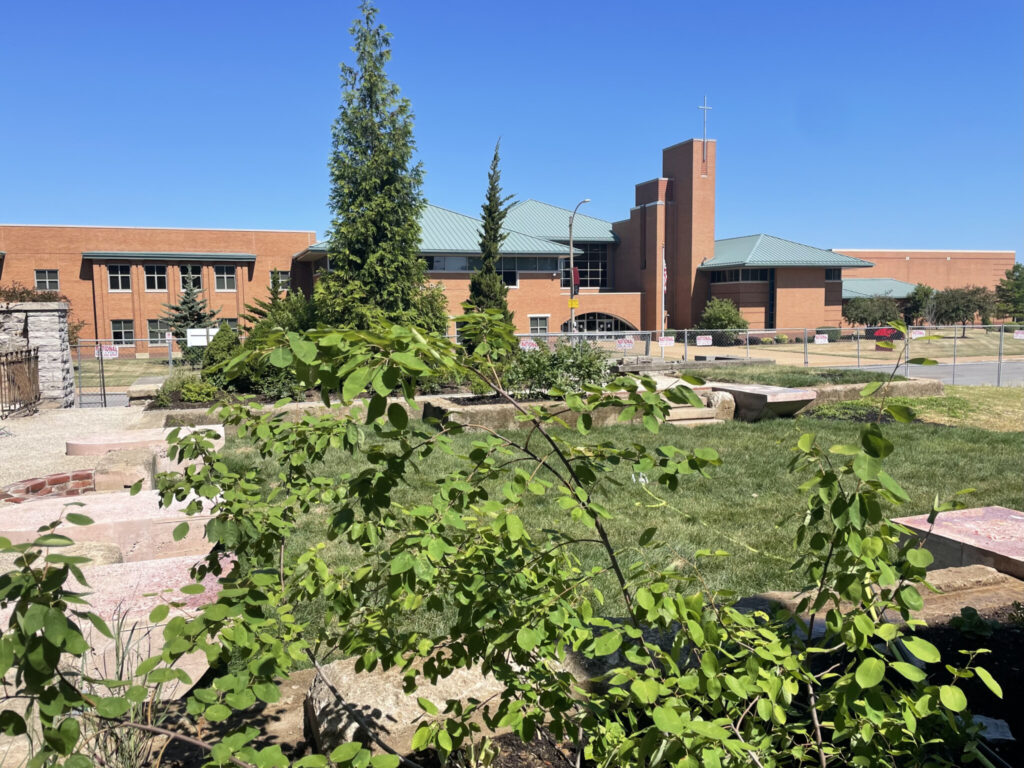 Along Spring Avenue, there is a grouping of trees and shrubs that were planted and maintained for many years by a kindly neighbor. The guerrilla gardener told Carl that he found the plant materials in alleys (Bowood Farms' dumpsters were mentioned as a source).  Those plantings remain.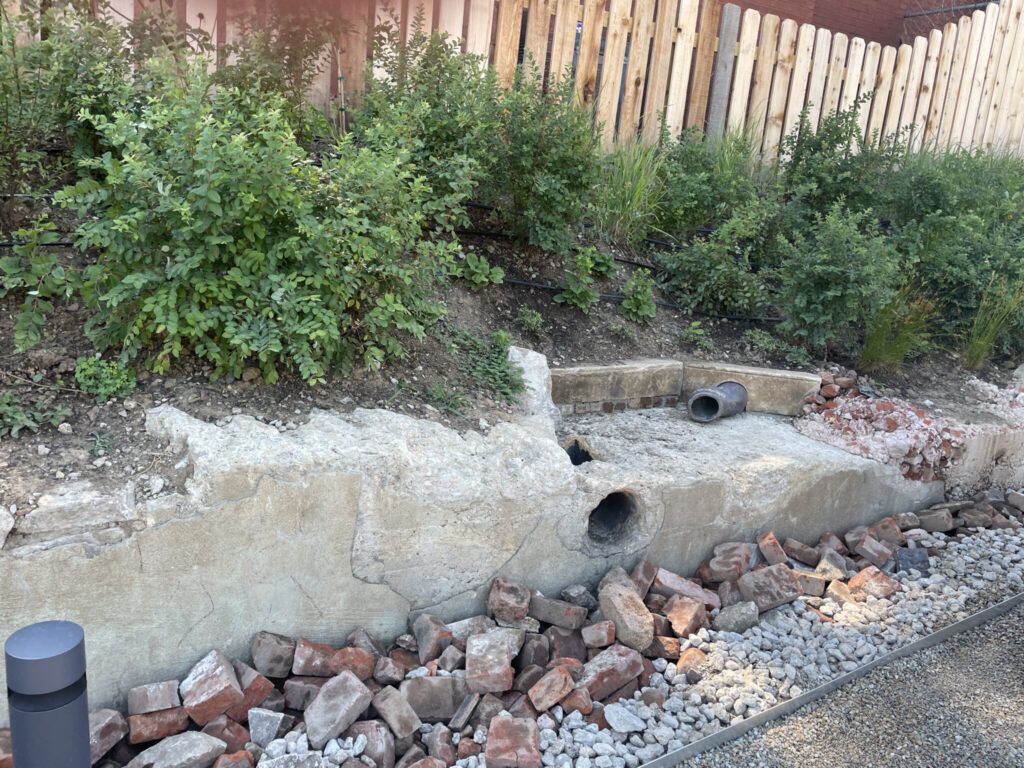 Another interesting detail in the green space is one that is also found in Park-Like. Building materials found on the site are incorporated into the design. Walkways are made of permeable surfaces to capture rainwater, and native plant materials have been added.
There was a public event in July featuring work by artist Jordan Weber titled All our Liberations. The week-long exhibition also included work by St. Louis storyteller and poet Cheeraz Gorman. Read more about it here.
A formal opening for Spring Church is scheduled for October with a performance by Saint Louis Symphony's InUnison Chorus. Other partnerships, artist projects, and community collaborations will be announced this fall.  The site will always be free and publicly accessible, and therefore not available for private events.
Spring Church and adjacent green space, as well as Park-Like, are open to the public daily, from sun-up to sun-down.