In late 2019, when Arthur and Nancy Culbert, founders of the CWE Farm, moved to Florida, they enlisted two willing moms, Julia Woodard and Lee Cagle, to step in to succeed them as co-managers.
Their children either attend or formerly attended New City School (a couple of blocks west), which figures prominently in the creation of the urban farm located at 5057 Waterman Blvd. Thirteen years ago Arthur suggested that New City's 4th grade curriculum add a citizenship class that would use the CWE Farm as its classroom. (Produce from the Farm is donated to the food pantry at Second Presbyterian Church.)
The new co-managers thought they knew what they were getting into when they stepped into the role—Lee had volunteered in the past, and Julia was an avid gardener.  But in early Spring of 2020, Covid 19 reared its ugly head and all their best laid plans were plowed under.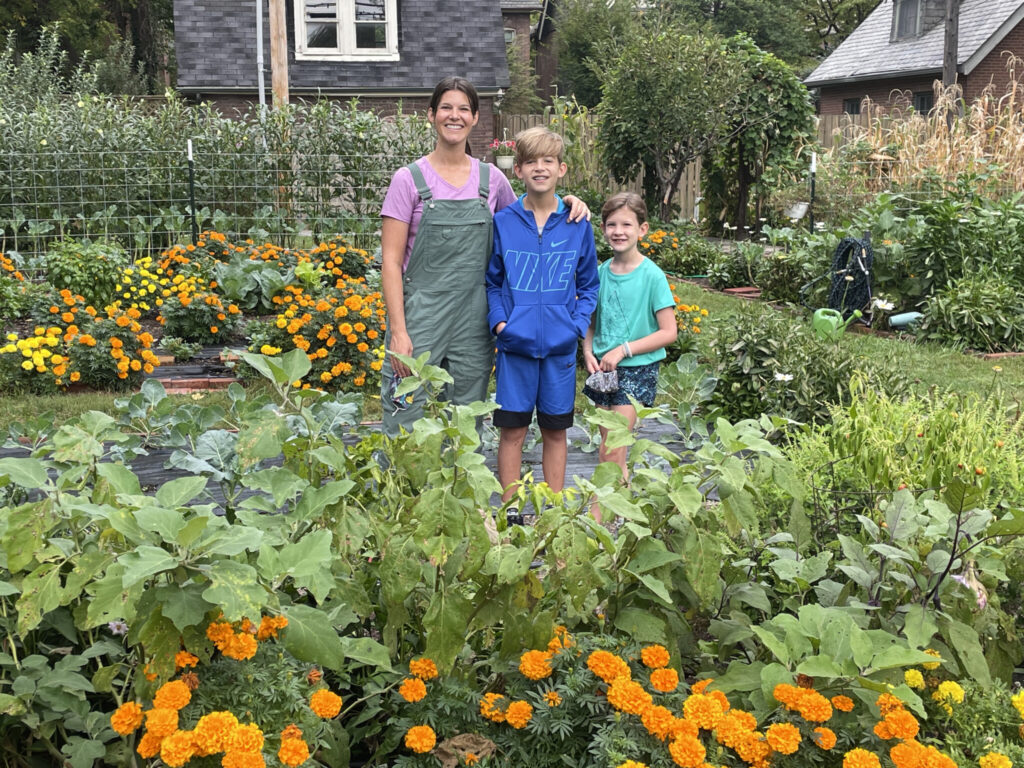 Arthur's parting advice was to keep it simple, but little did he know how that suggestion would become the way the farm survived 2020.
With the city on lockdown, volunteers were not in the picture, so the entire 1st season's labor, planting, and harvesting was left to Lee, Julia and their 4 kids. (Shown with Julia, above, are Dean and Audrey. Lee's children Kai & Aiko were not at the farm the day I visited.)
"This is purpose-driven work," Julia explained, "which made it so worthwhile especially, when we knew more people were struggling and needed help. At the time, it felt kind of high stakes, especially because it was just up to us."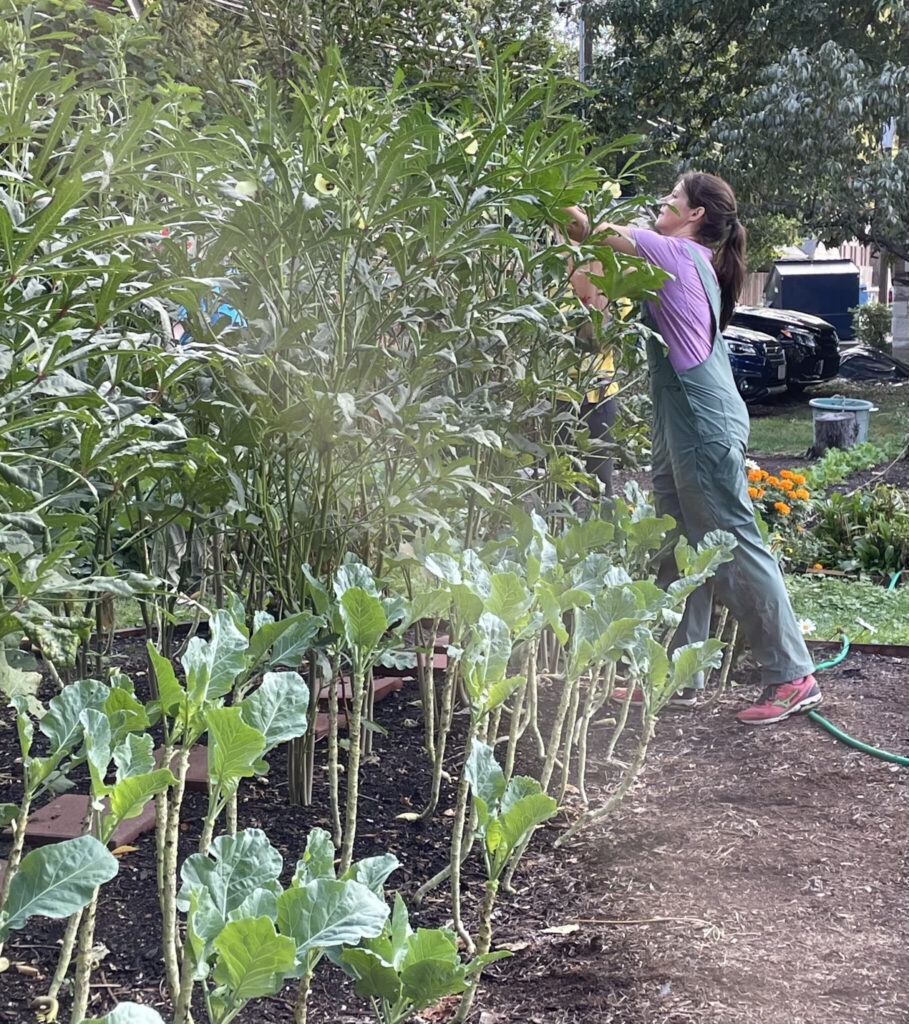 Since their kids were learning remotely, and both husbands were working from home, Lee explained that "the farm became our refuge. Just to spend time outside working in the garden, to have some grown-up interaction, saved our sanity."
Adding to the challenge was that gardening supplies were also in short supply that Spring. Everyone was home and many families were planting vegetable gardens of their own. As a result, when they were trying to get the garden up and running, "we would find 5 okra plants here, 5 there—it became a real problem to find anything to plant."
To the rescue came Lizzy Rickard of Bowood Farms, whose kids also attend New City School. She offered to partner with the CWE Farm and grow whatever vegetable starts they needed at Bowood's farm in Clarksville.
The second year as co-managers was a lot easier for Lee and Julia.  "We're learning a lot as we work the farm. For instance, they installed plastic sheeting in the beds, and Tom Brackman, a Waterman Blvd. neighbor, volunteered to lay brick edgers to keep the weeds down. Tom also keeps the lawn cut.
New City 4th graders, who visit the farm on Fridays, have also been a tremendous help. When I visited, the students had just planted cool weather crops including beets, mustard greens, lettuces, and radishes.
Lee added: "We also take advice here." When an acquaintance, Angie Trujillo, said she knew about tomatoes, their response was: "You know tomatoes?" They also found a New City family that lives in U.City to help with an assortment of fruit trees—peach, cherry, plum, Korean pear, and apple trees—that ring the vegetable garden.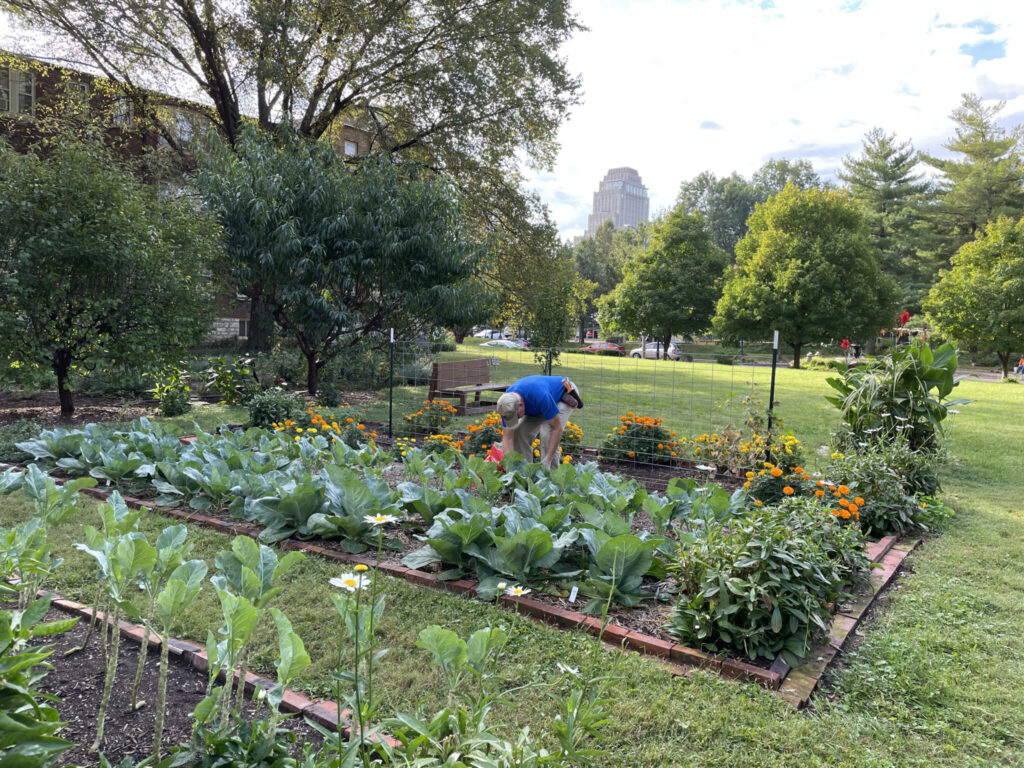 Ted Siegesky, whom the co-managers credit with knowing a lot about plants, is pictured in the photo above. He's been volunteering for 5 years, and is one of a few who are back helping out this season.
Lee and Julia estimate they will have harvested about 1500 to 1600 pounds of vegetables and fruits this season. Planting starts in March, cool weather plants are harvested in April, and the growing season continues through November. They keep track of what they harvest on an old picnic table where they gather the produce before it is picked up by volunteers from Second Presbyterian Church's food pantry.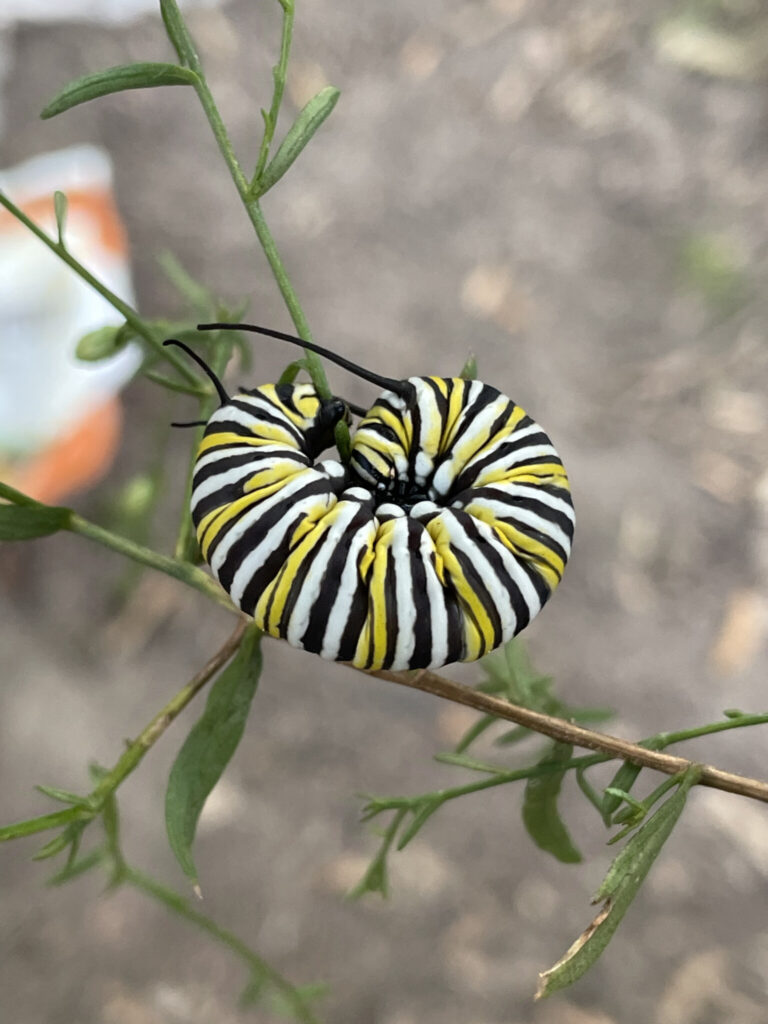 While I visited I was shown a stunning Monarch butterfly larva that was found near the zinnia garden, where butterflies were all over the flowers.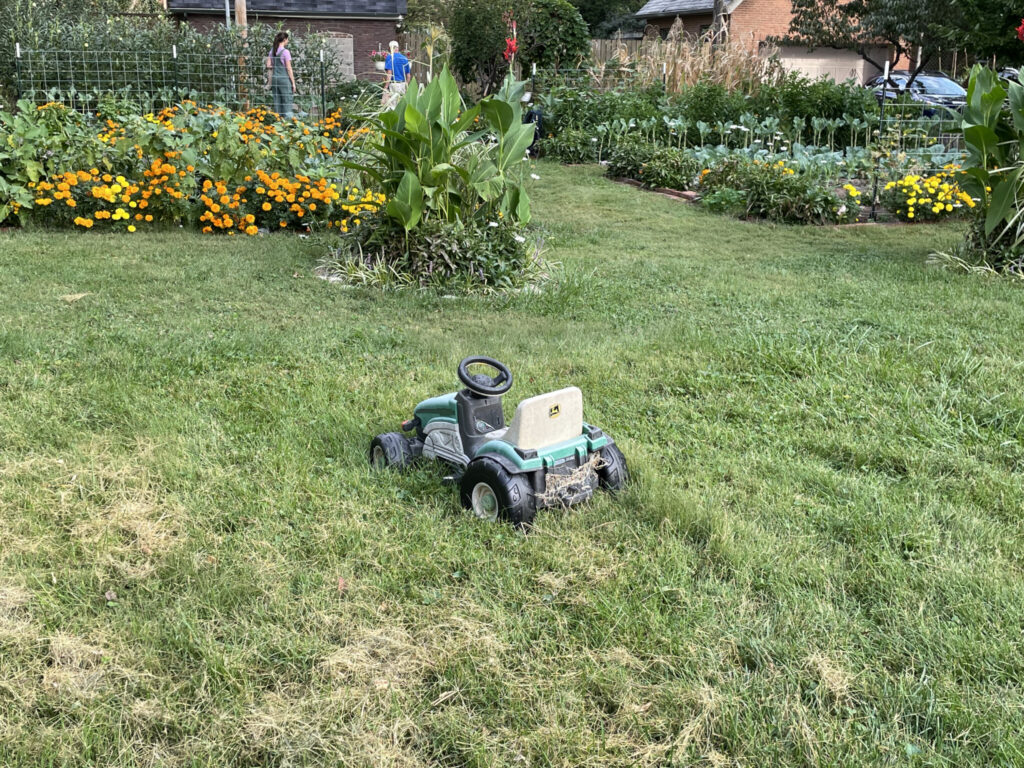 Before Lee and Julia went back to work the morning I stopped by, Julia said, "This is a welcoming spot. Neighbors have been seen picnicking, practicing yoga, or simply walking meditatively among the rows of plantings early in the morning."
"It's been a real gift for both of us to come here. It's a complete reset knowing you're doing something for others. And to be outside at the same time is icing on the cake."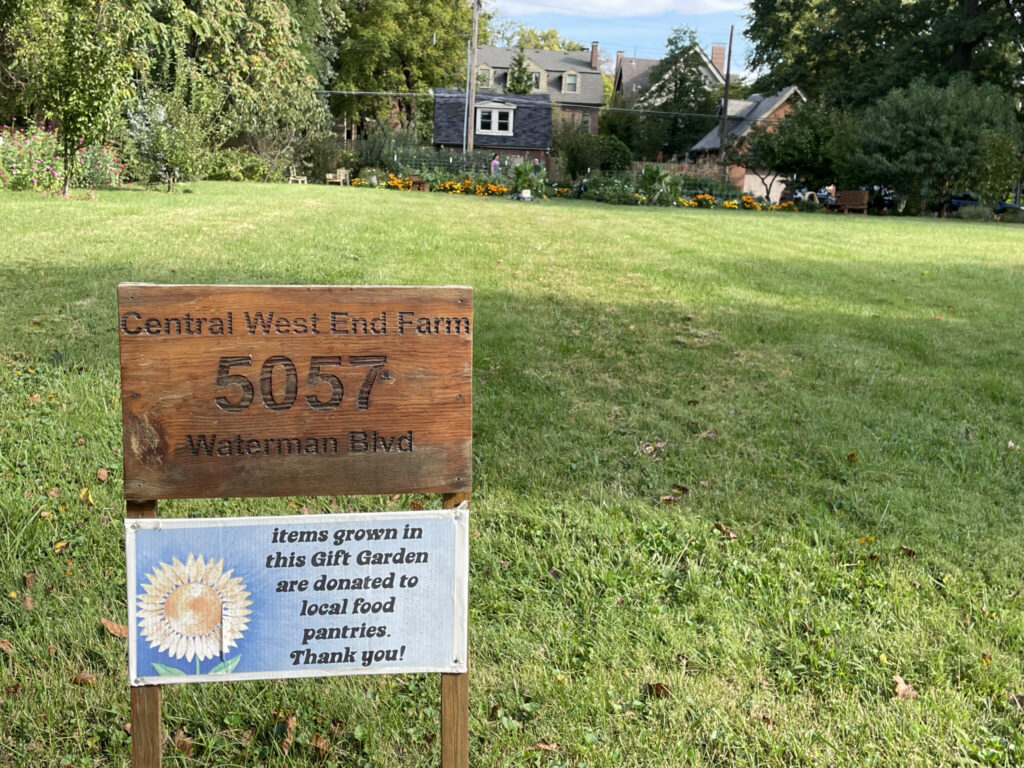 For more information visit the website,  and learn more about the origins of the CWE Farm on this YouTube video, Growing for Good.