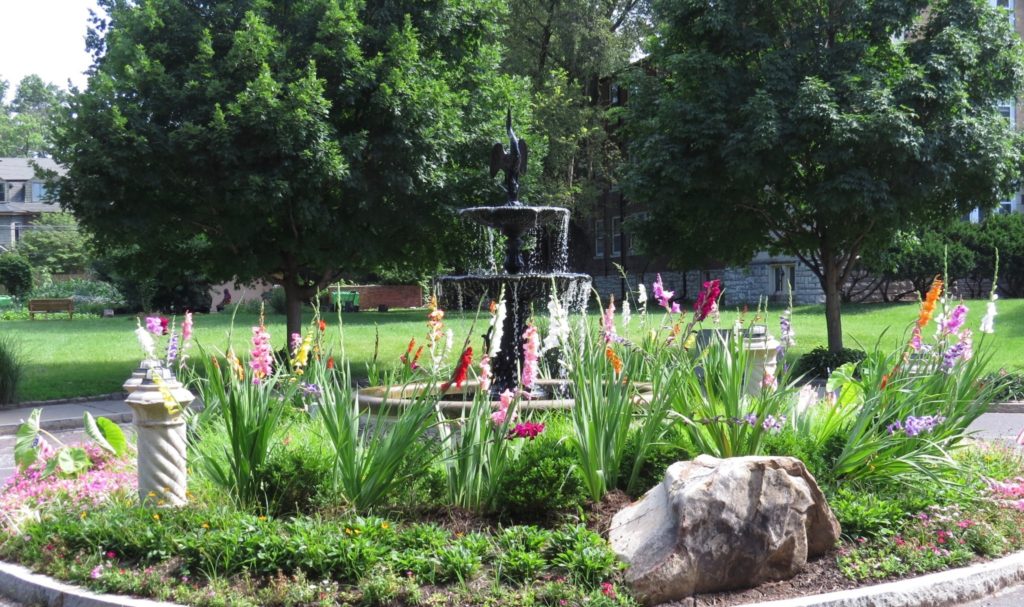 Though I've traveled the 5000-5200 blocks of Waterman countless times, I never thought to ask who was behind the copious plantings that beautify the two blocks from Kingshighway to Union. That stretch of Waterman is home to an eclectic mix of uses, including institutions (Central Reform Congregation, First Unitarian Church and New City School), as well as condominiums, apartment buildings, and single family homes. All are enhanced by an equally eclectic mix of plantings that bloom from February through mid-October.
Waterman is also home to the CWE Farm, which provided the inspiration for long-time resident Tom Brackman, below left, to begin beautifying the street 6 years ago after the awarding of a Federal grant for a Traffic Calming Project he applied for on behalf of the Waterman/Lake Special Business District. Speeding had been an issue for years, but after the installation of the circle close to Kingshighway, above, planters mid-block, and another planter in the center of the street close to Union, drivers were forced to slow down.
Those planters, as well as the infrastructure supporting them, were also paid for by the grant, with additional support from the City of St. Louis and the Waterman/Lake SBD which contributed matching funds.
Brackman, a retired lawyer who owns seven properties on the street, volunteers his services. Lisa Wells, right, one of Brackman's tenants and his partner in this effort, is hired by the Waterman/Lake SBD to plant, maintain, and water the plant materials. "It's extremely rewarding and therapeutic work," she said.
Brackman credits his late partner, a Missouri Botanical Garden employee, for teaching him about plant materials and nurturing his love of gardening.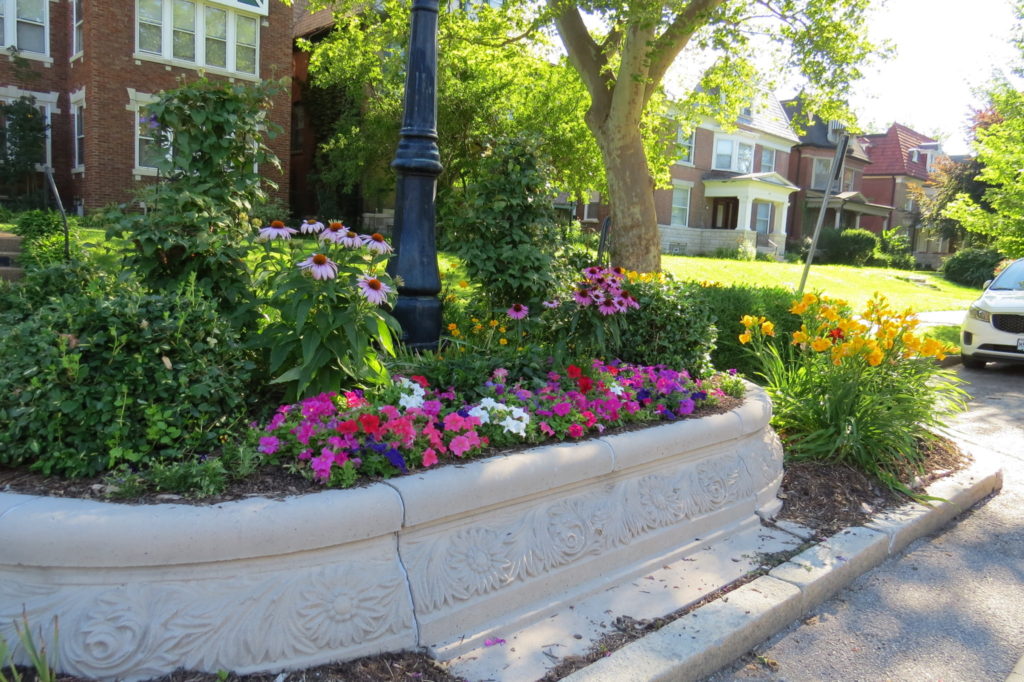 The photos above and below show one of two matching planters mid-block. The late Bob Cassilly's designs are incorporated into the base of the planters. Cassilly's signature design is also used on the planters that can be found in the medians on Forest Park Parkway and 5100-5200 Delmar.
Brackman has donated many of the plants, but when he and Wells need more he said they look for bargains. "Everything we buy is cheap," he said, "in the range of 25 cents — we look for plants that are on sale."
They are also careful to choose durable plants that need less water, and they increase their yield by dividing many of them, such as hostas, daisies, and snow-on-the-mountain.
A couple of years ago Operation Brightside donated 10,000 daffodil bulbs, which Brackman and Wells dig up after the spring bloom and store Brackman's basement to be planted again in the fall.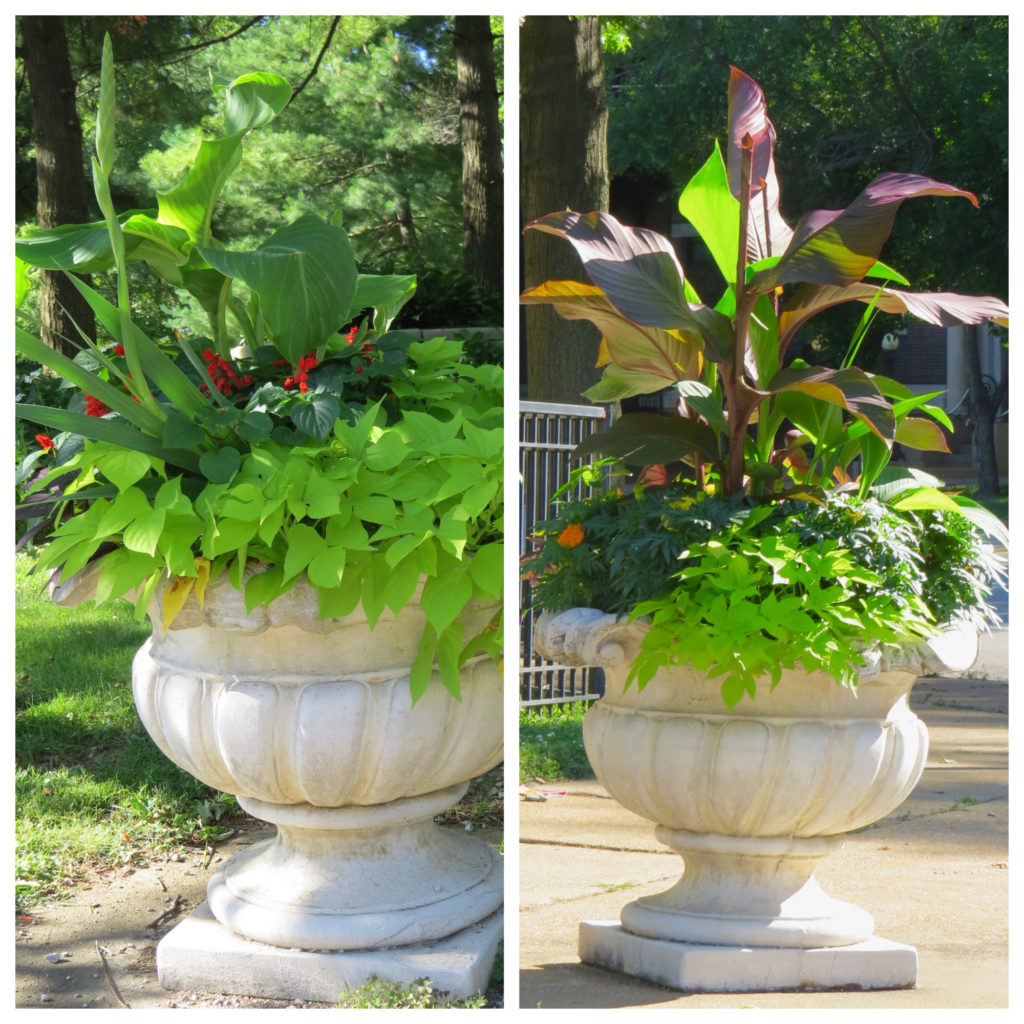 Large urns at the busy corner of Kingshighway and Waterman contain a mixture of plants including sun-loving cannas and caladiums.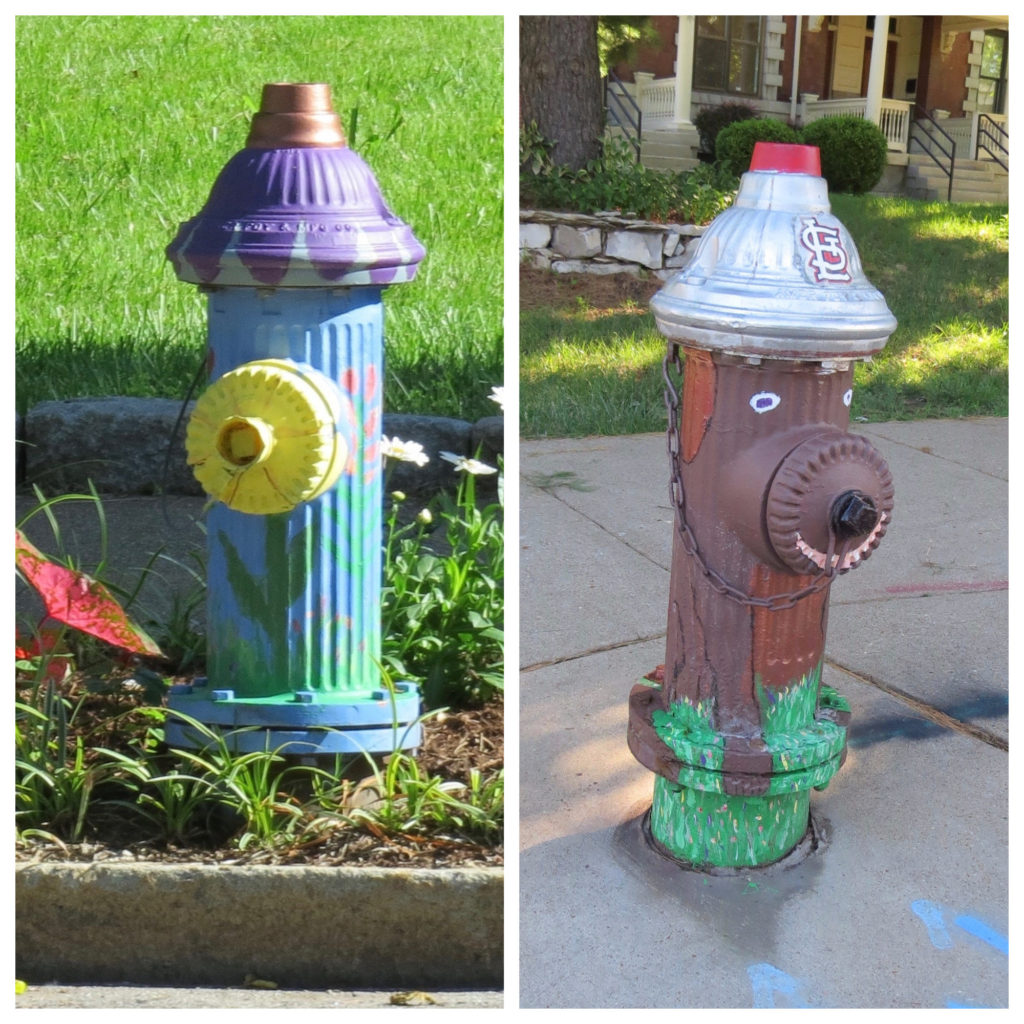 When 28th Ward Alderwoman Heather Navarro donated a tree to be planted in a tree well in front of the CWE Farm, Brackman was inspired to paint the fire hydrant next to it, above left. Next he painted the hydrant at Lake and Waterman to assist in making that intersection a "plaza area."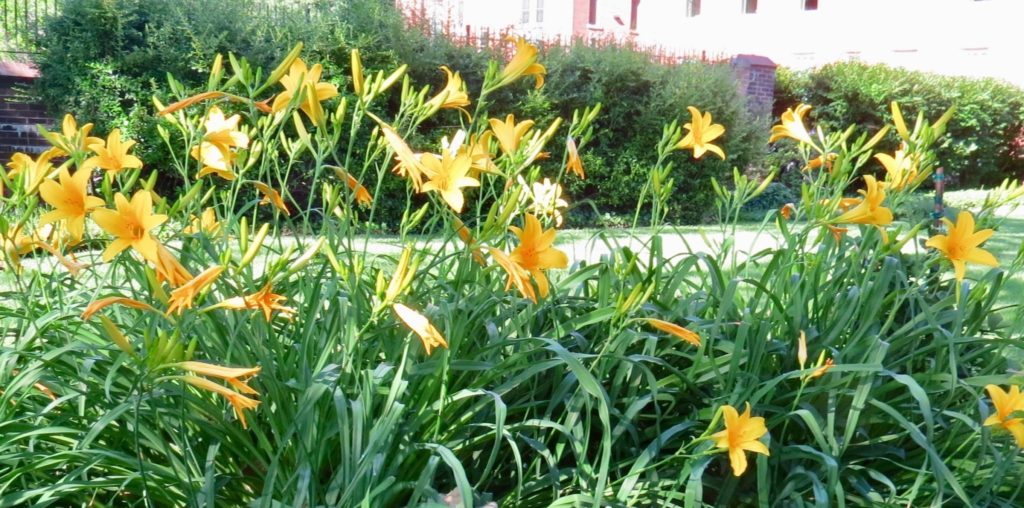 Brackman and Wells were also given the okay by the Oxford Condominium board to plant and maintain several daylily beds at Waterman and Union, above.
"Whenever Lisa or I are working on the gardens, neighbors and passers-by tell us how much they like the plantings and thank us for beautifying the street. That makes the work very gratifying," Brackman said. "And it has changed the whole mentality of people driving along the street, now they seem to enjoy the view instead of speeding through." He estimates that cars are traveling 15 mph slower than before the Traffic Calming Project was put in place, a successful outcome for a job beautifully well done.