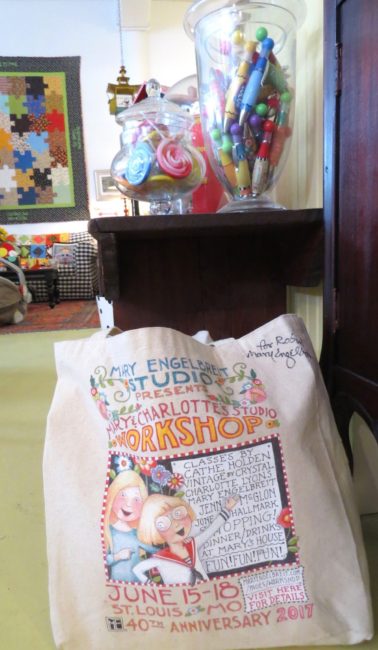 Earlier this summer Mary Engelbreit celebrated the 40th Anniversary of her 1st licensing agreement by hosting a crafting workshop with dear friend and former CWEnder Charlotte Lyons. Mary and Charlotte's Studio Workshop sold out as soon as the event was posted on social media 9 months earlier, and on June 15 twenty-two women from around the country—Chicago, Santa Fe, New York, Seattle, Texas, California, and Indiana—arrived at Mary's Studio in the Central West End.
There were 5 instructors, in addition to Mary and Charlotte— "super stars" in the crafting field—who taught a variety of classes over 3 1/2 jam-packed days. An important side-benefit to attending crafting weekends, which have become extremely popular over the past few years, is the friendships that are made. Many women were able to connect with friends made at other workshops, or became fast friends with people they'd never met. Mary added, "lots of instant friendships were formed." Most of the attendees, who stayed at either the Chase or the Parkway Hotel, were new to St. Louis and in their spare time set out to explore Forest Park, the St. Louis Art Museum, and local restaurants and shops.
After classes in the studio there was a cocktail party at Mary's home one evening (one of the perks for Mary's fans), where I understand every nook and cranny was Instagrammed, a visit to the Mary Engelbreit warehouse on The Hill (where Mary's products were available and vintage goods dealers set up tables showcasing their wares), and a luncheon and "fairy garden" terrarium workshop, using ME fairies as ornaments, at Bowood Farms, followed by a tour of CWE artists' studios.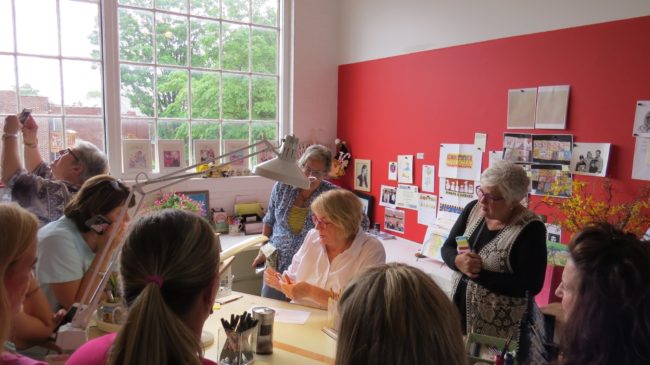 Another highlight was Sunday morning's demonstration on coloring and drawing by Mary Engelbreit, above.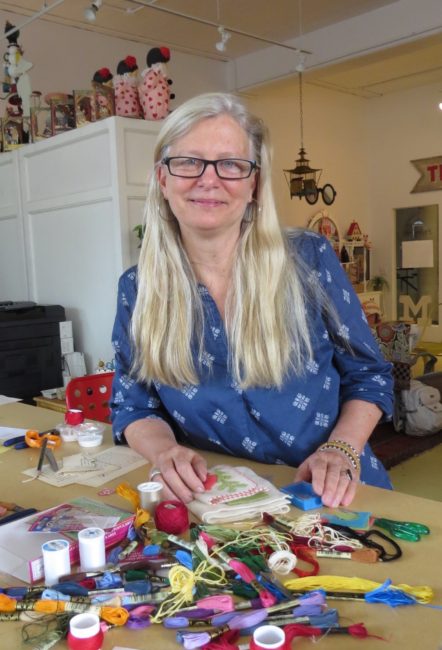 Charlotte Lyons, a pioneer in the crafting-weekend phoenomenon, is Mary Engelbreit's co-author for the Home Companion book series and has authored several craft books of her own. At the June workshop, she showed the group how to make an appliqué felt wallet (above), just one of many projects she's demonstrated at crafting events in Los Angeles, New Hampshire, France, and currently around her new hometown of Bennington, Vermont. Here is a link to a recent workshop she co-hosted there.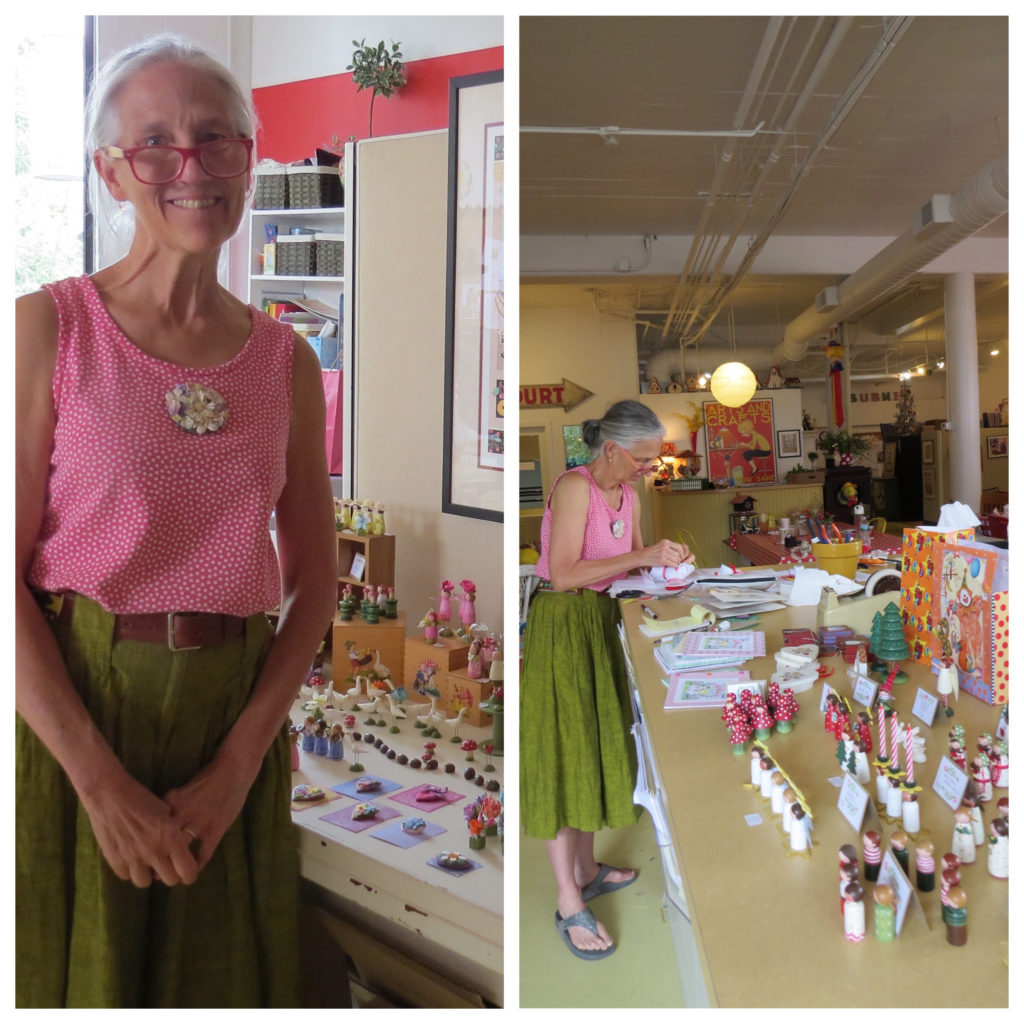 Other instructors included Jone Hallmark, above, who led a class on rubber stamp carving and printing, and Crystal Sloane of Vintage by Crystal (not photographed), who demonstrated how to make a handspun vintage ornament figure (she also designs and makes her figures for Bergdorf's).  Jenn McGlon showed the group how to make a painted clay birdie, and Cathe Holden taught the crafters how to create a handmade luminaria house in a mason jar.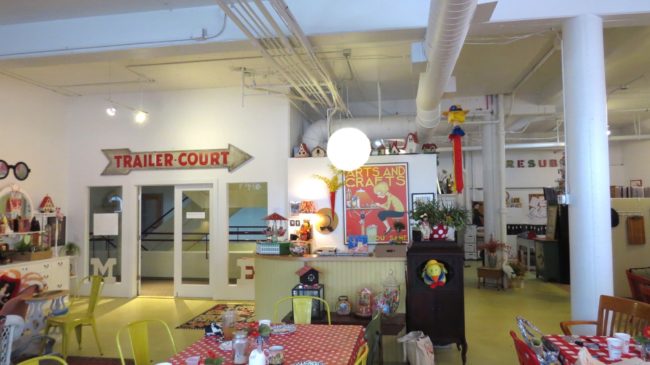 A view of a section of Mary Engelbreit's large studio, including the crafting tables, during the June 15th to 18th workshop.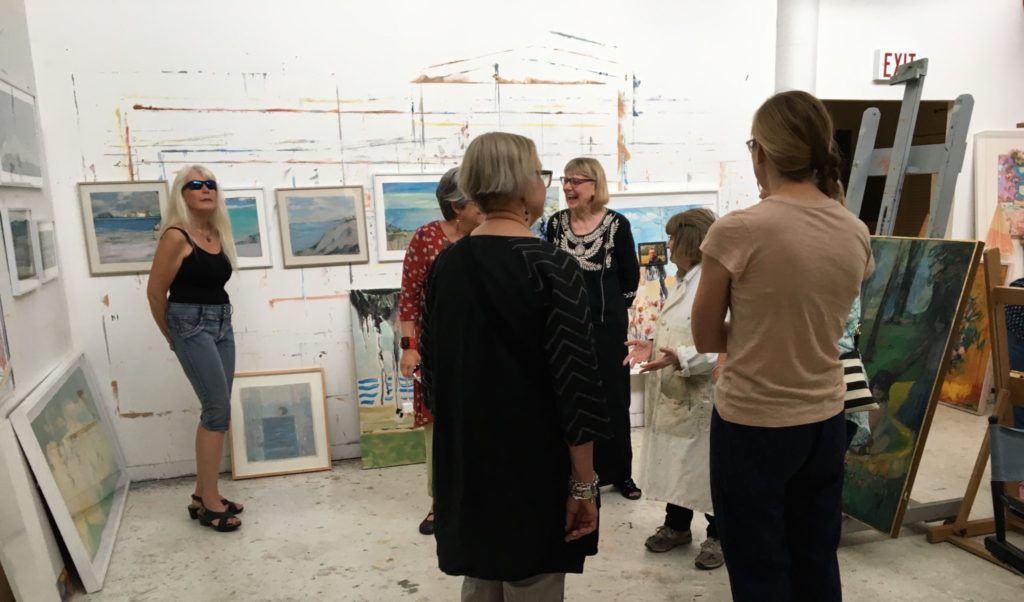 "One of the favorite parts of the weekend was the artists' studio tour," Mary Engelbreit said. Those who held open houses included artists Barbara Holtz (in white coat above), Marlene Lewis, Lyn Magee, Sheldon Johnson, and Carla Dawson.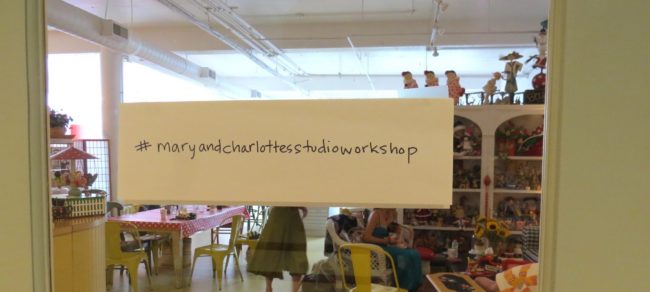 Mary is amazed that two months after the ladies packed up their creations and headed home, "People are still posting photos on Instagram."
Because of the success of Mary and Charlotte's Studio Workshop, and that they had so much fun themselves, Mary and Charlotte are talking about hosting another event at Mary's studio in Spring of 2018.  For news of this event, check Mary's website and/or Charlotte's blog. They will probably post an announcement right after the 1st of the year, but that could change, so check the websites periodically.
In the meantime, in conjunction with BookfestSTL to be held in the Central West End September 21 -23, there is an upcoming exhibition, Mary Engelbreit From the Archives which opens September 5 through the 29th at Schlafly Library, 225 N. Euclid. A Reception and Conversation with Mary Engelbreit (with Left Bank Books' Kris Kliendienst) is scheduled for Thursday, September 21 at 6 p.m. at the library (parking is available in the garage). Mary will be signing copies of her new book, The Bedtime Book, starting at 7:45 p.m. that evening. Visit BookfestSTL for more information.