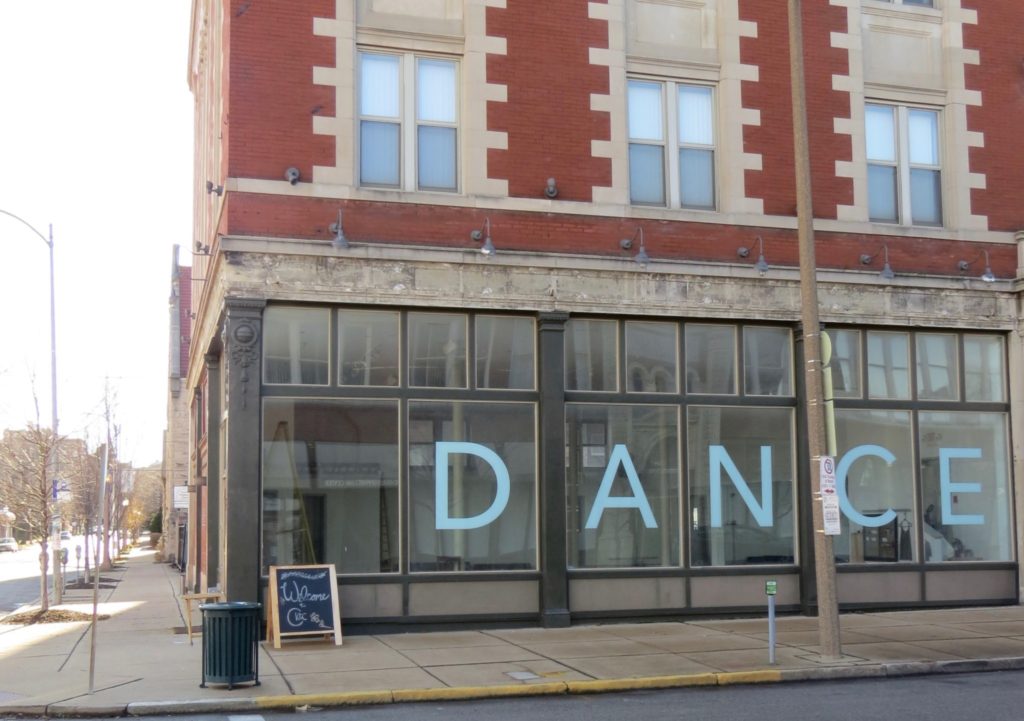 Consuming Kinetics Dance Company (CKDC) is the latest in the mix of businesses that have moved to a stretch of Olive Street from Walton Ave. east to Boyle, an area of the CWE that heretofore might have been considered off the beaten path.
Other examples include St. Louis Art Supply which debuted at 4532 Olive in late August, and Premier Martial Arts, located just opposite CKDC at the corner of Olive and Taylor. In December Bowood Farms opened an expanded gift and home shop called Holliday, joining Juno Bridal, Horsley Gallery and Jackson Piano  among the recent arrivals in the district. The oldest business on that stretch is Presto Color Printing, 4370 Olive, which has been in business on Olive for over 50 years.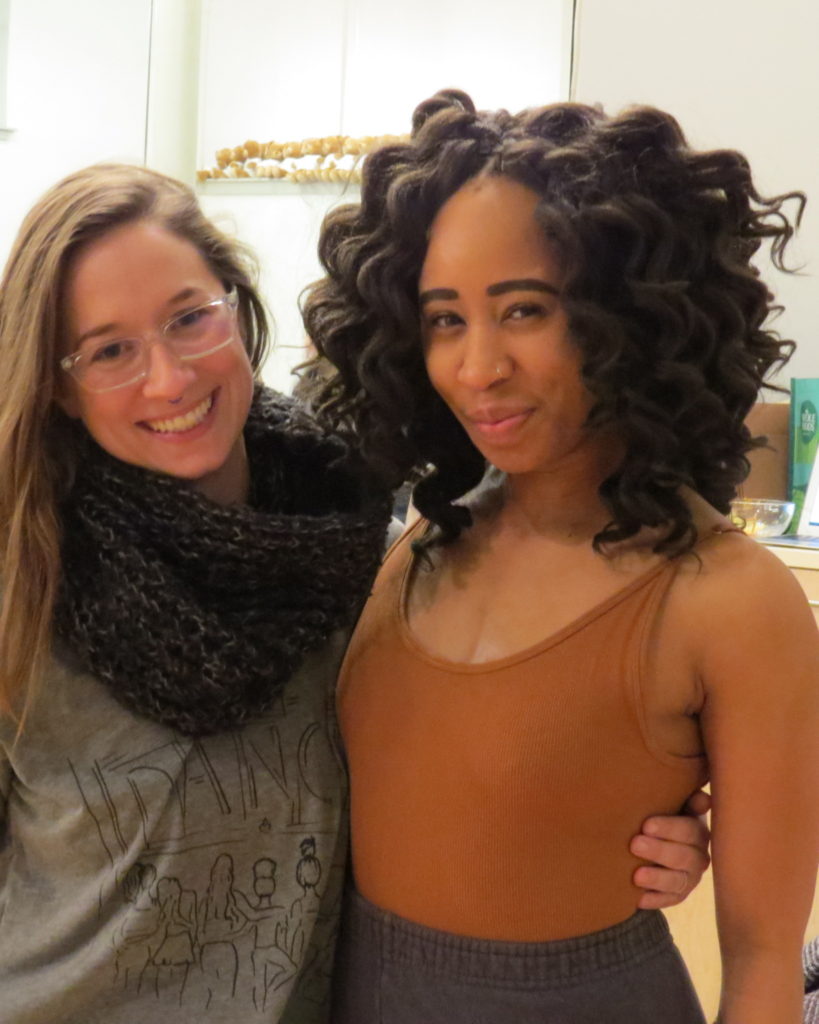 CKDC's Founder, Executive and Artistic Director Arica Brown, left, and Assistant Artistic Director Ashreale McDowell, right, along with fellow instructors and volunteers, spent 6 weeks renovating the 2000 s.f. corner space in the Lister Building at Olive and Taylor, above. On January 3, Consuming Kinetics Dance Company, which had been located in Gaslight Square for the previous 4 years, was back in operation offering classes for youth, ages 3 to 18, and adults, ages 19 to 70.
Arica Brown earned a B.A. in Dance from UMSL and a certificate in Somatic Studies from W.U.  Brown founded CKDC in 2009 just after college. She wanted an opportunity to continue choreographing and her friends wanted to keep on dancing. The name Consuming Kinetics Dance Company comes from Brown's desire to incorporate the word "kinetic, and to have an edgy, limitless feel, to be all consuming."
Ashreale McDowell discovered dance while attending Central Visual and Performing Arts High School and was awarded a pre-professional scholarship to COCA. From there she earned a B.F.A. in Dance from Webster University. Here are their interesting bios, as well as those of other artists and staff, including 3 who are named the "junior junior company."
According to the website, CKDC, a 501(c)3, is the only professional dance company in St. Louis that offers all level classes. Class fees help pay for the dance company's performance season (there are two full-length performances yearly), and create more job opportunities for full-time artists. CKDC is a Kranzberg Arts Foundation Resident and a member of the .ZACK Incubator.
My first exposure to a CKDC youth performance was during last holiday's CWE Window Walk event. See below: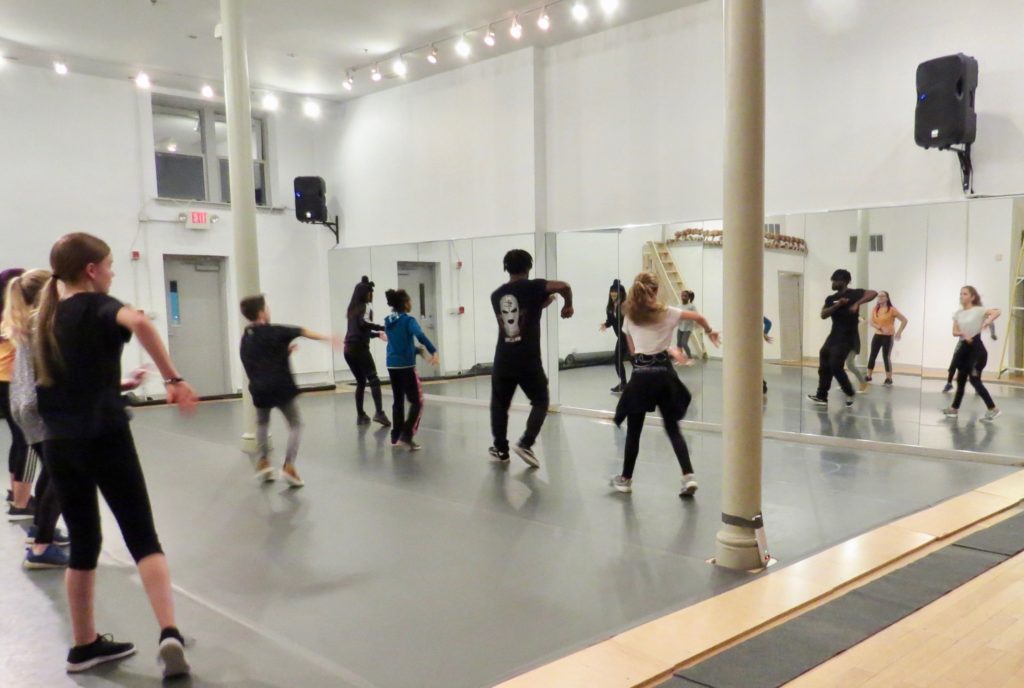 Since CKDC opened, there's been a noticeable shot of energy added to the corner of Taylor and Olive when  students are dropped off for class in the late afternoon. The photo above shows a teenage hip-hop class taught by Anthony Bady, center front, taken in early January. Other classes on the weekly schedule include Tiny Dancers for ages 3 to 6, Teen and Youth Tap,  All Ages Animation and Robotics, and All Ages Musical Theater.
When asked if the students come from a particular school, Brown said they draw from all over. "We focus on diversity and are lucky that our client base is just that. We rarely have more than 2 to 3 students from one school." She continued, "Families come to CKDC for our unique approach to dance instruction. We raise our students as artists. There isn't a dress code, and with our mission making dance accessible to all, we don't require students to purchase dance shoes either. All shoes are provided on site thanks to the generosity of our sponsors."
Youth classes cost $50/month for one class a week, $80/month for 2 classes a week, etc. Brown emphasized that scholarships are available.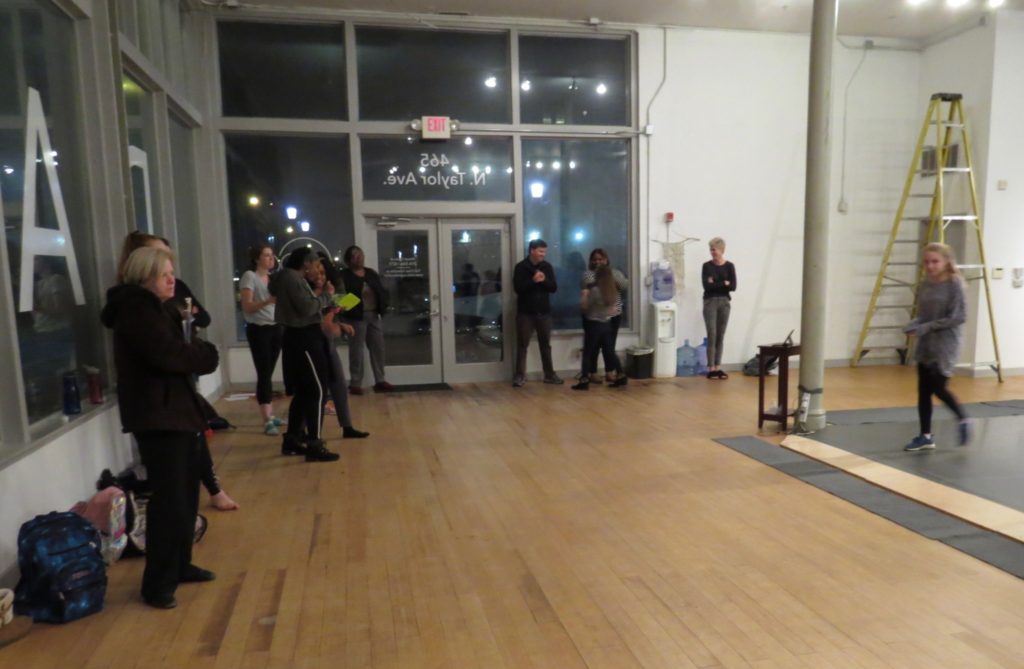 Parents watch as the hour-long class winds down.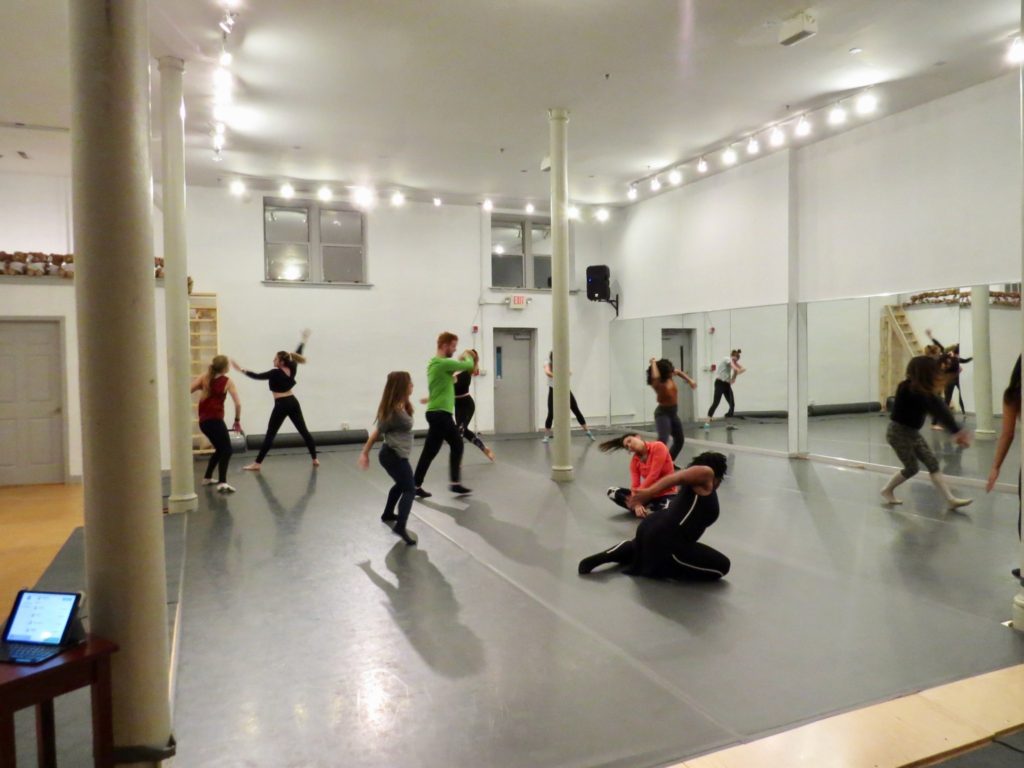 The photo above shows adults warming up for a Monday night contemporary dance class. A hip-hop dance class for adults followed at 8 p.m. A list of classes can be found here.  Drop-in classes are $15 each, a 6-class card is $80, etc.
CKDC offers more than dance. Parents of young children will be glad to know that next Saturday, February 16, CKDC is hosting a Parents Night Out event, and this summer an Art and Dance Camp from July 15 to August 9. Learn more here.
Also, for the bride and groom anxious to WOW their guests at the reception, CKDC instructors choreograph wedding dances. Information about private lessons here.
Consuming Kinetics Dance Company at 465 N. Taylor and Olive.