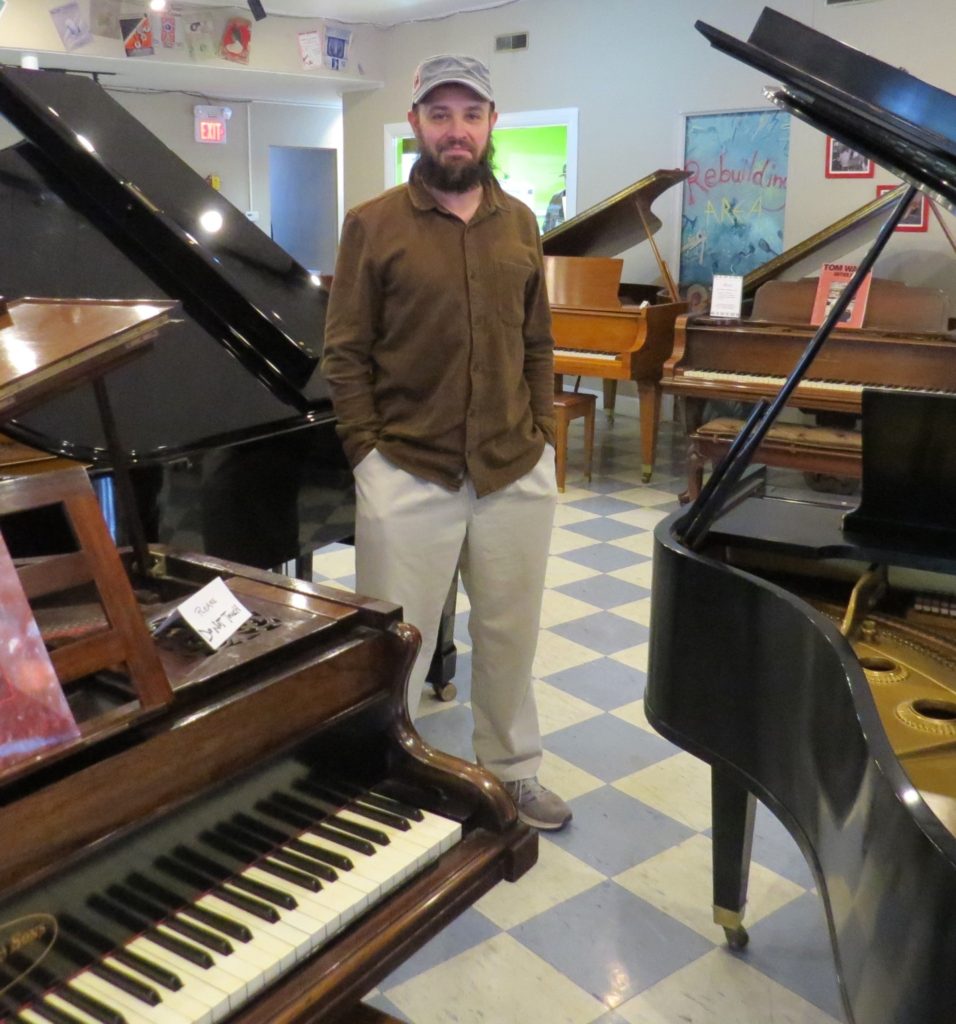 In 2001 Joe Jackson, above, and his wife, Morgan Cameron (not pictured) opened Jackson Pianos on Cherokee Street. Although business was good in South City, after they moved to a larger building at 4354 Olive Street, just west of Boyle, they saw an uptick in walk-in traffic leading to more piano sales. The move to the city's central corridor also brought them closer to existing customers and was easier for new customers to find.
At first Jackson hoped to become a professional pianist—he said he has a natural sense of pitch—but realized he was more interested in how the piano functions and decided to turn what was a hobby into a profession. Jackson trained under St.Louis-based piano tuning and rebuilding specialist Julius Knopka, a 60-year veteran, and then studied at Mason & Hamlin in Boston. After 20 years in the business (Jackson Pianos was incorporated in 1998) he says, "I'm only a quarter of the way to where I want to be. I still have lots to learn and a long way to go."
Morgan Cameron danced with the Milwaukee Ballet and was a founding dancer along with Paula David of Big Muddy Dance Company. When she isn't working at the piano shop, Cameron is studying to become a choreographer. The couple have 2 children.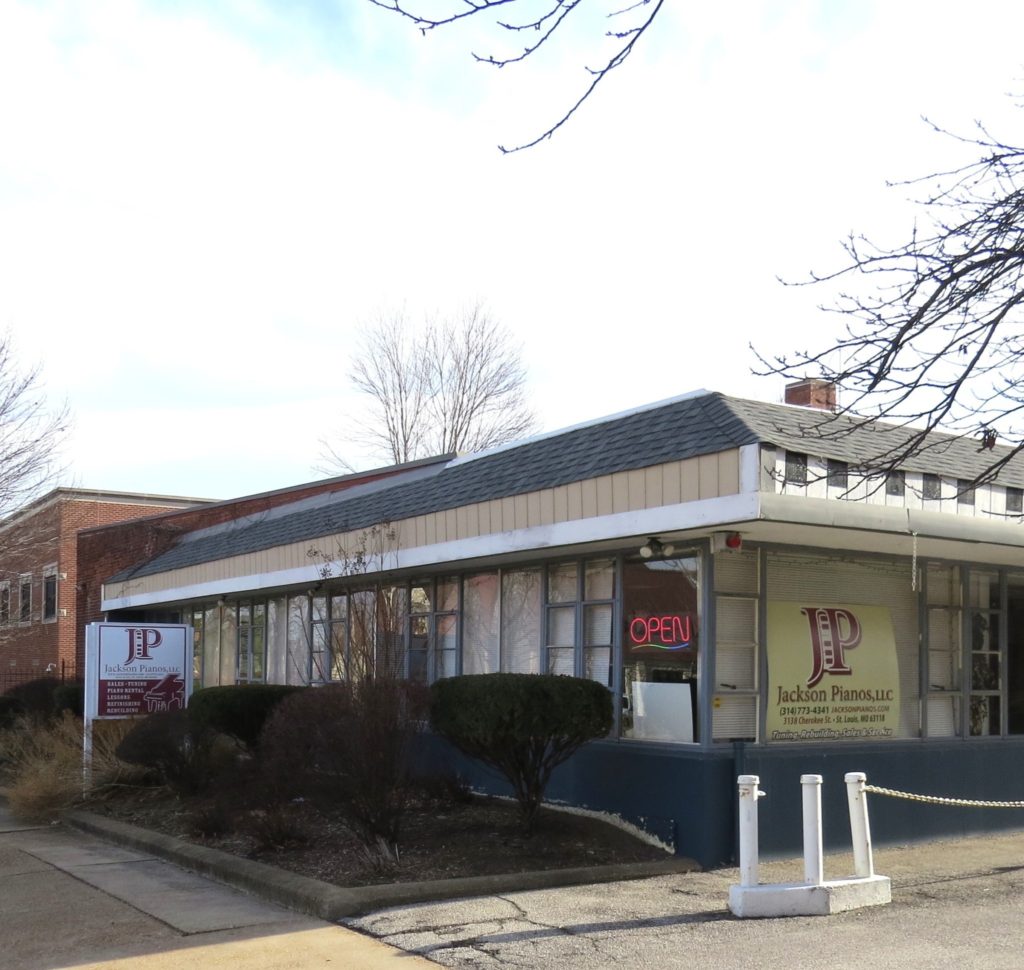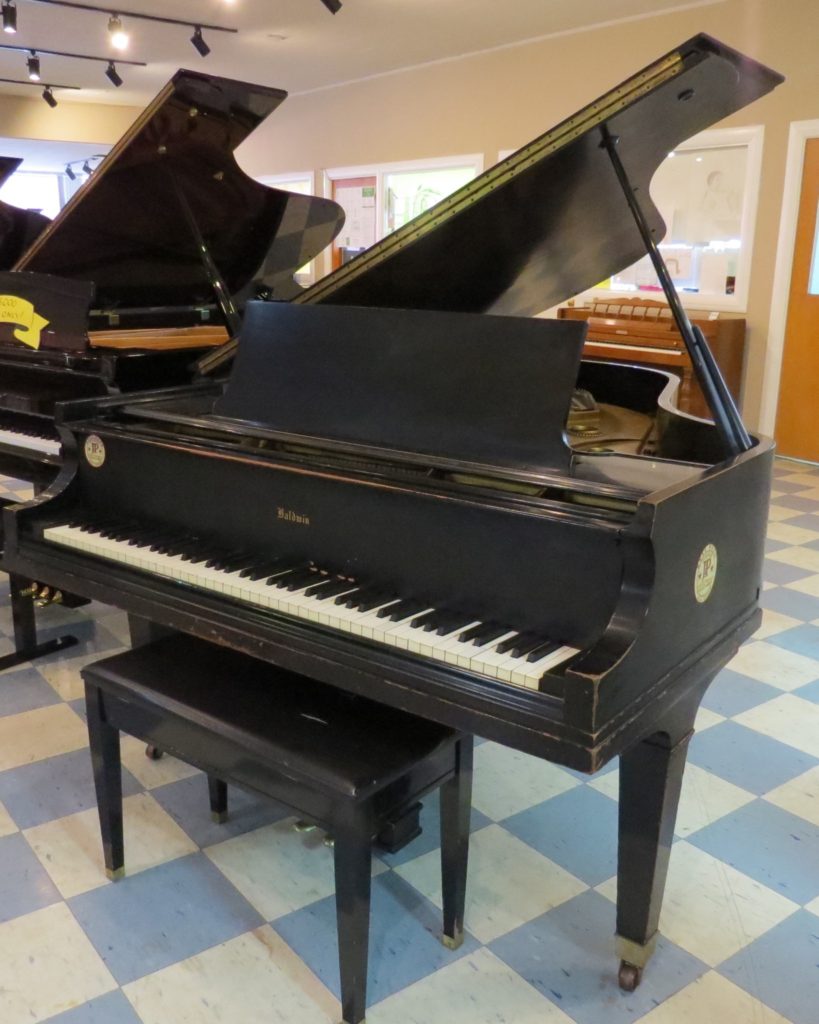 There is a wide selection of pianos on the showroom floor. Jackson hopes someday to set up an acoustic piano showroom to demonstrate how the same composition can sound completely different on each instrument. Jackson, the company's head piano technician, explained that each instrument has been hand-picked and refurbished.  The cost of pianos at JP range from $1,000 up to as much as $70,000. Pianos can also be rented for $45 a month, which many families decide to do before purchasing. They can also be rented for special occasions, weddings, recitals, etc.
Jackson Pianos will often let musicians stop by to practice when they are visiting St. Louis. Recently a young teenager in town for surgery at Shriners' Hospital came to practice. Pianist George Winston practiced for 5 hours on the "well-loved" 1952 Baldwin shown above, in advance of his appearance at The Sheldon last October. The Baldwin Company is considered by pianists to build the best pianos in the world. 
About 15 years ago Jackson started a piano donation program intending to create more jobs for musicians while supporting many genres of music, from classical to jazz to boogie-woogie. He estimates he has given away 300 pianos over the years. If the piano will be used to provide work for pianists, or to give free piano lessons—and if the piano is being cared for—Jackson will do his best to provide an instrument. I asked how that has worked out for him. He laughed: "I'm broke…which my wife points out at the end of each month."
In the CWE you'll see Jackson pianos in use almost every night at Evangeline's Bistro & Music Hall. Straub's and Coffee Cartel each have a piano that was sent over for Make Music Day. World Chess Hall of Fame, which holds concerts monthly, purchased a beautiful instrument from Jackson. In Grand Center, Jackson pianos can be found at Curtain Call, The Darkroom, Grandel Theater, and KDHX. The St. Louis Language Immersion School and Soulard School are also beneficiaries of the donation program.
Jackson donated a piano to the Juvenile Detention Center, and said he is working with a caseworker there to give a piano to someone who has expressed an interest in music. "No one should be without a piano if they want one," Jackson said. "What I find really disheartening is how many people give up on learning."
Here is another example of Jackson's largess: Until recently there was an 11-year old whose grandfather would drop him off after school each afternoon so he could play a piano in the showroom. The young man didn't read music, but was gifted and able to create his own—he plays 5 instruments.  He wanted to know everything about the piano, including how to tune it. Eventually Jackson decided to deliver a piano to his home, which he said turned out to be both a blessing and a curse. While the young man and his grandfather were extremely grateful, the boy stopped coming into the showroom, and the staff really miss his daily visits.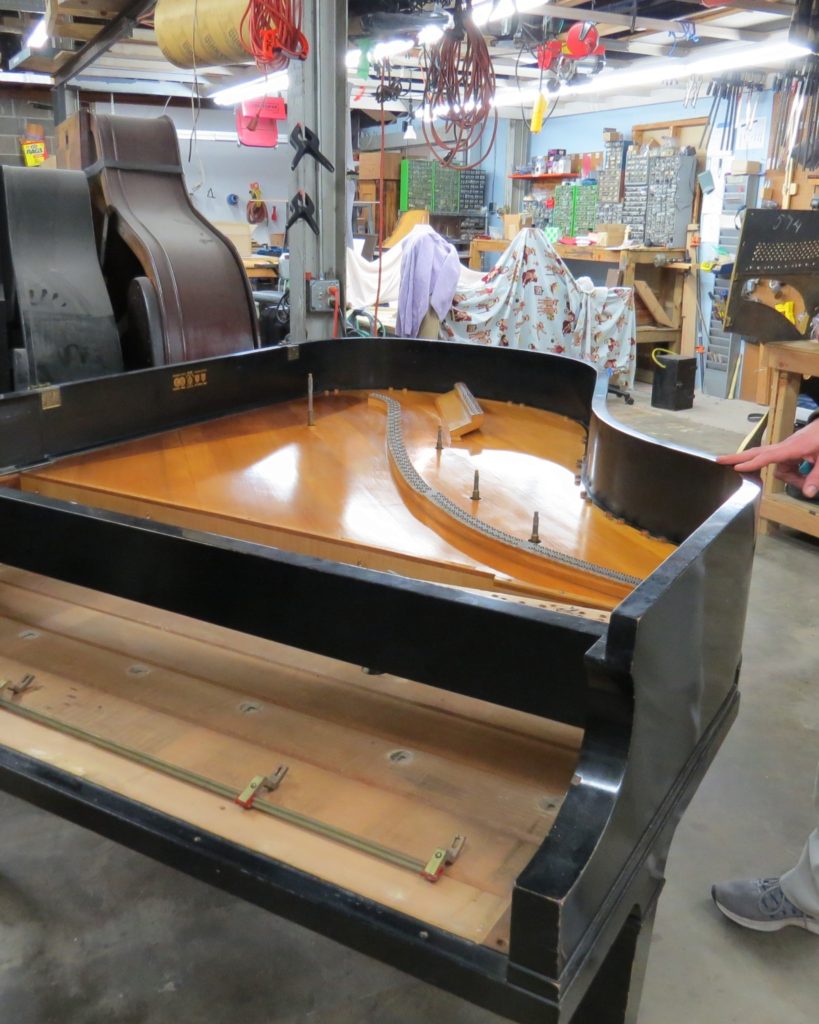 The back of the shop is filled with pianos in various stages of being refurbished or refinished. Pianos have 2000 working parts, and it takes 20 to 25 hours for one to be cleaned, regulated and tuned.
A player piano is being added to the acoustic piano shown above. The keys are shown below.
In the digital age player pianos can be programmed to play piano music from any musician in the world via a smartphone or computer connection.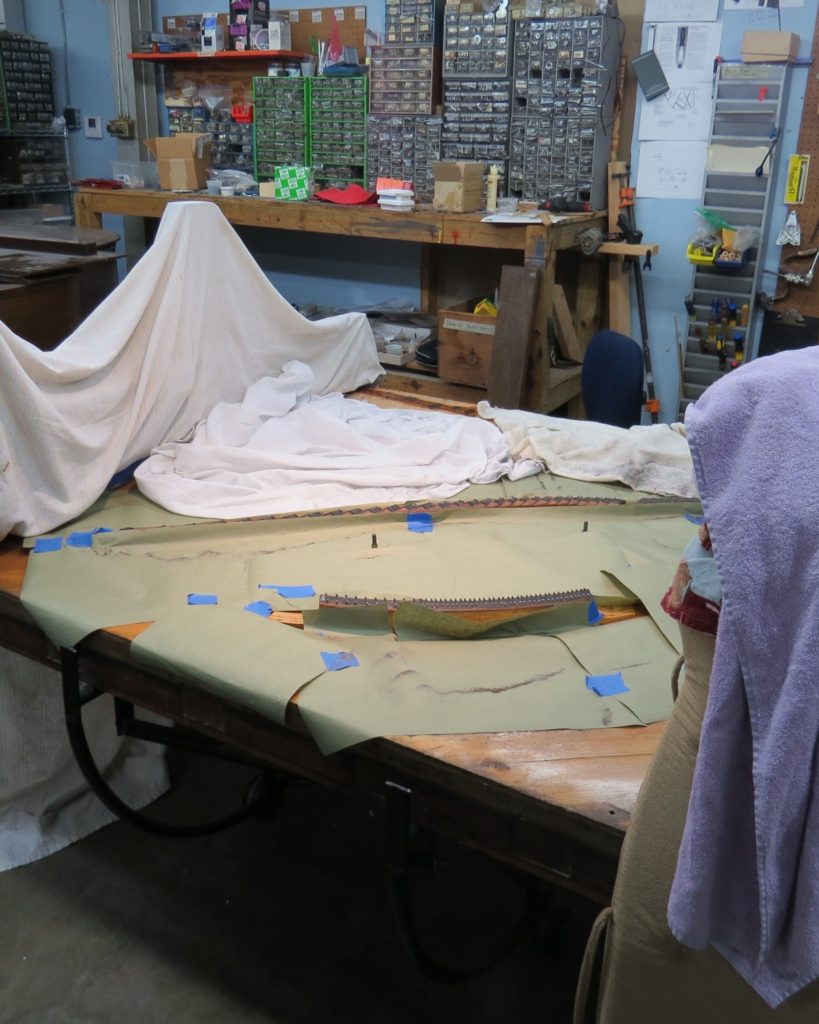 The piano shown above had been in a fire, and will be returned to the owners as soon as it is repaired. Jackson pointed to another piano that is being cleaned and refurbished with the help of a musician who is being gifted with it, because she will be giving free piano lessons.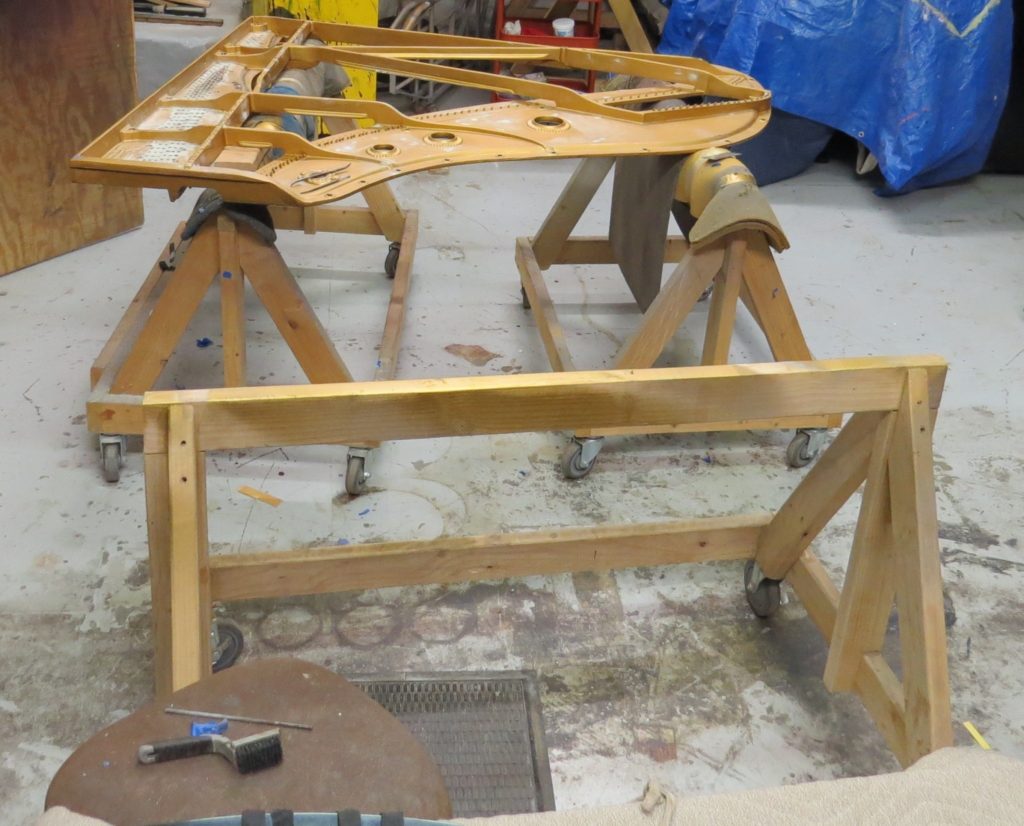 The back room is for painting and polishing. Joe Jackson makes his own shellac. It then takes hours and hours to apply a French polish.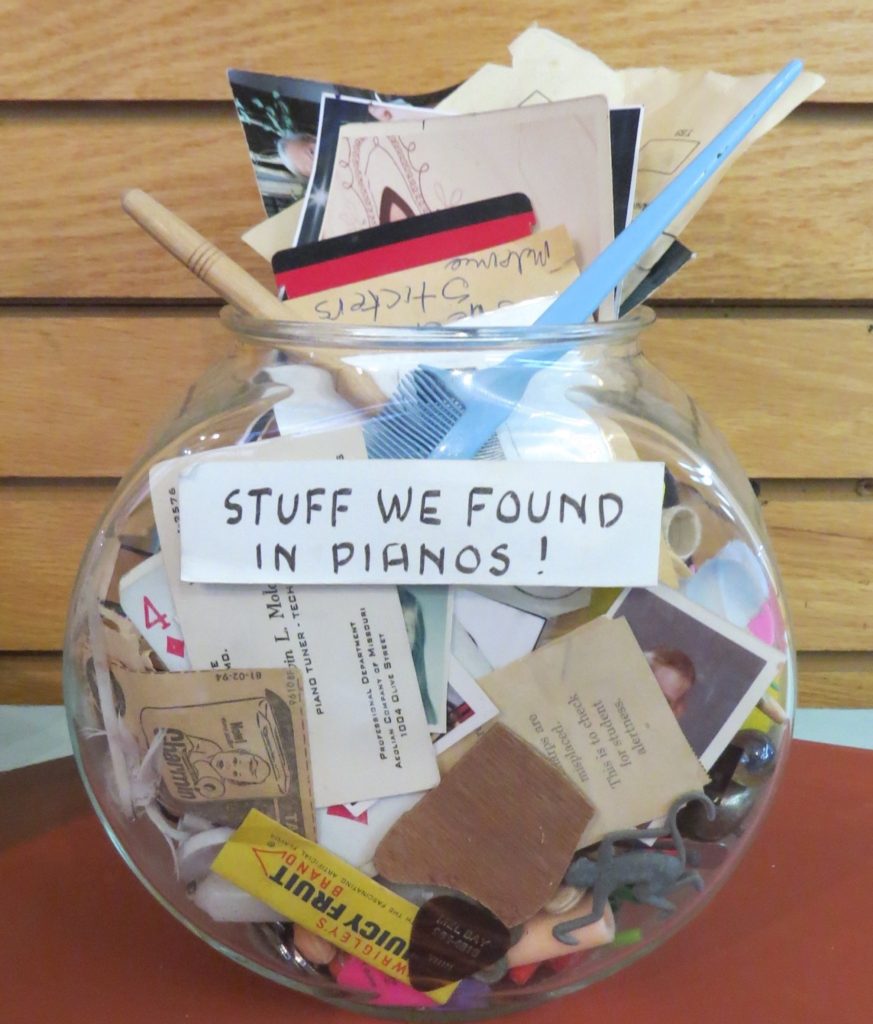 Pianos should be tuned each year. Jackson Pianos charges $115 a visit. It's also very important that only piano companies move pianos, because of all the parts that can be damaged. Typical moving cost starts at $200, but varies depending on the number of stairs involved.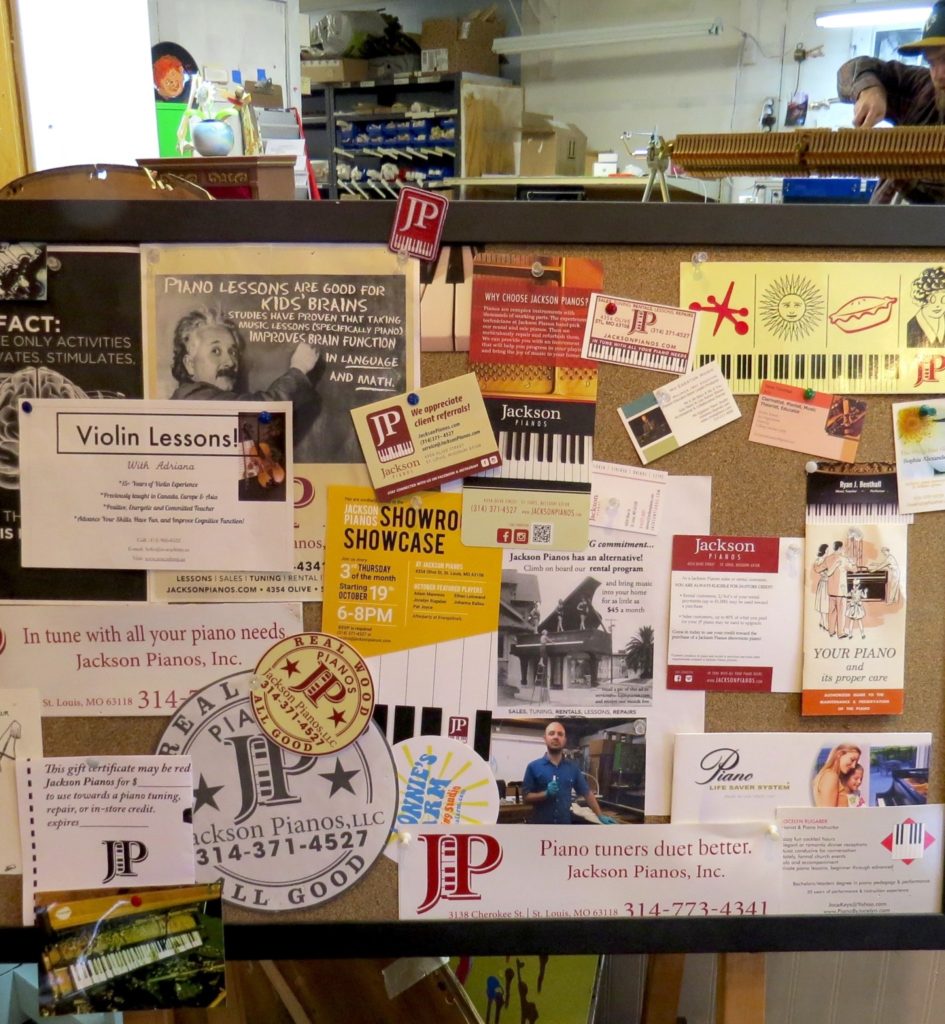 Jackson Pianos has 13 employees, one of whom is shown in the photo above right. In addition, there is a room dedicated to piano lessons. Pianist and accompanist Johanna Ballou teaches beginners to advanced students, ages 5 and up, $54 an hour. For more information, call (314) 807-6460 or johannaballou@hotmail.com.
Jackson Pianos, 4354 Olive St., service@jacksonpianos.com, (314) 371-4527.
P.S. – Joe Jackson said the only time he has gotten publicity—other than this post— is when The Washington Post featured Jackson Piano in an article about the impact of the 2008 recession on small businesses. He has no idea how they found him, but I am so happy to be giving this neighborhood business the positive spotlight it deserves. What a great addition to the CWE!