On Friday, September 8, four McPherson art galleries hosted openings featuring works by a wide variety of artists.  The weather was delightful that evening and it was a wonderful opportunity to be out enjoying one of the many "best" things about this neighborhood.
Along with the art being shown inside the galleries, the event, with collaboration from the CWE North Community Improvement District, included a fire juggler, a mime, street artists and the beautiful sounds of the Landolfi Quartet.
At Duane Reed Gallery: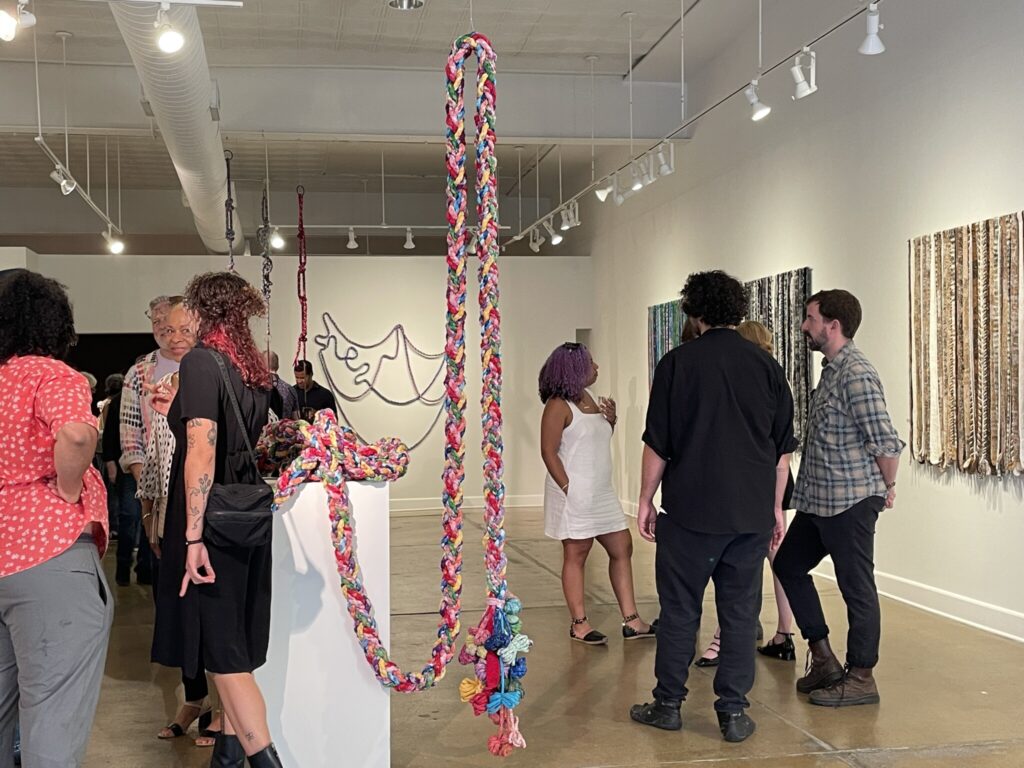 Prominently featured in the entry to Duane Reed Gallery is John Garrett's Big Rope (I'm at the End of my rope…again!), cotton crochet thread, cotton and polyester sewing thread, 540″ x 3."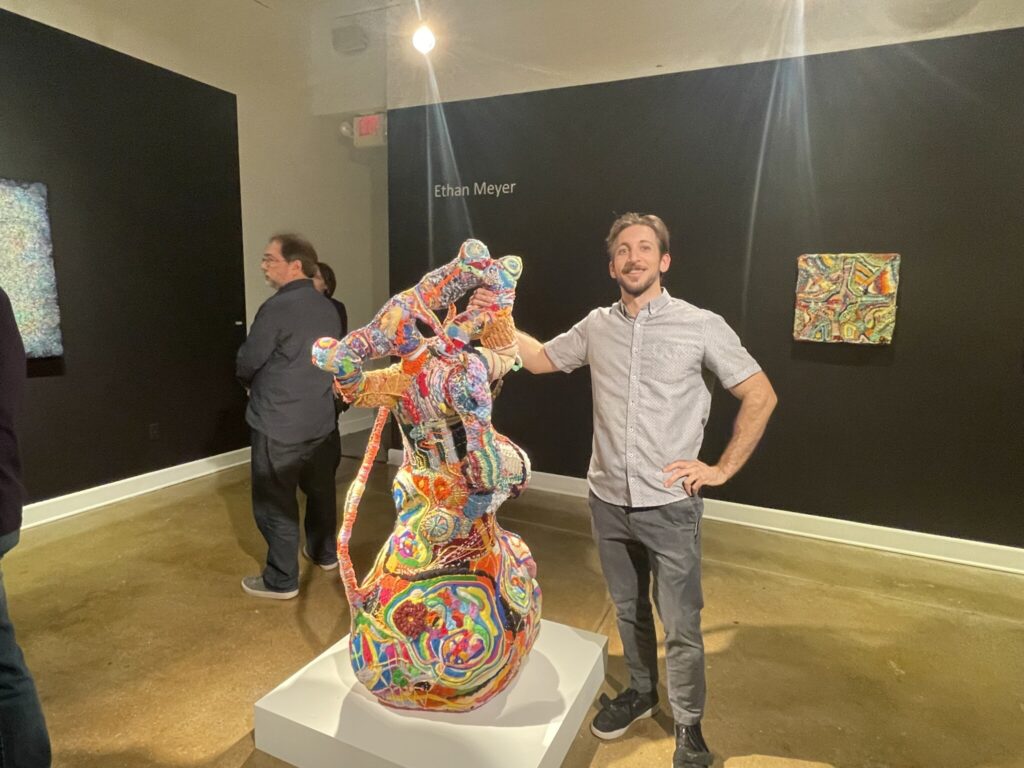 Artist and Gallery Director Ethan Meyer stands by his Temple Guardian, stitched, crocheted, and woven yarn over foam and fiber fill; needle felted surface, metal charm embellishment, 61″ x 30″ x 30."
Duane Reed Gallery, 4729 McPherson, Tues.-Sat., 11 to 4. The current exhibition closes October 14.
At Houska Gallery:
St. Louisan Peter Manion, above, photographed in front of his Handwritten Invitation, pen and paint on paper.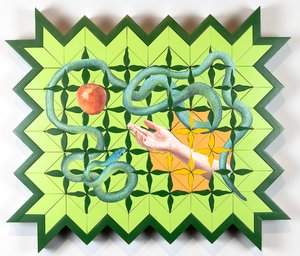 Brian Schneider's In the Garden, 22 x 26″,  oil paint, spray paint, MDF. Schneider, who's body of work is titled Goofs, is a multi-disciplinary artist from Greenfield, WI.
Houska Gallery, 4728 McPherson, Tues. thru Sat. 11 to 4. The current exhibition will remain on view until October 11.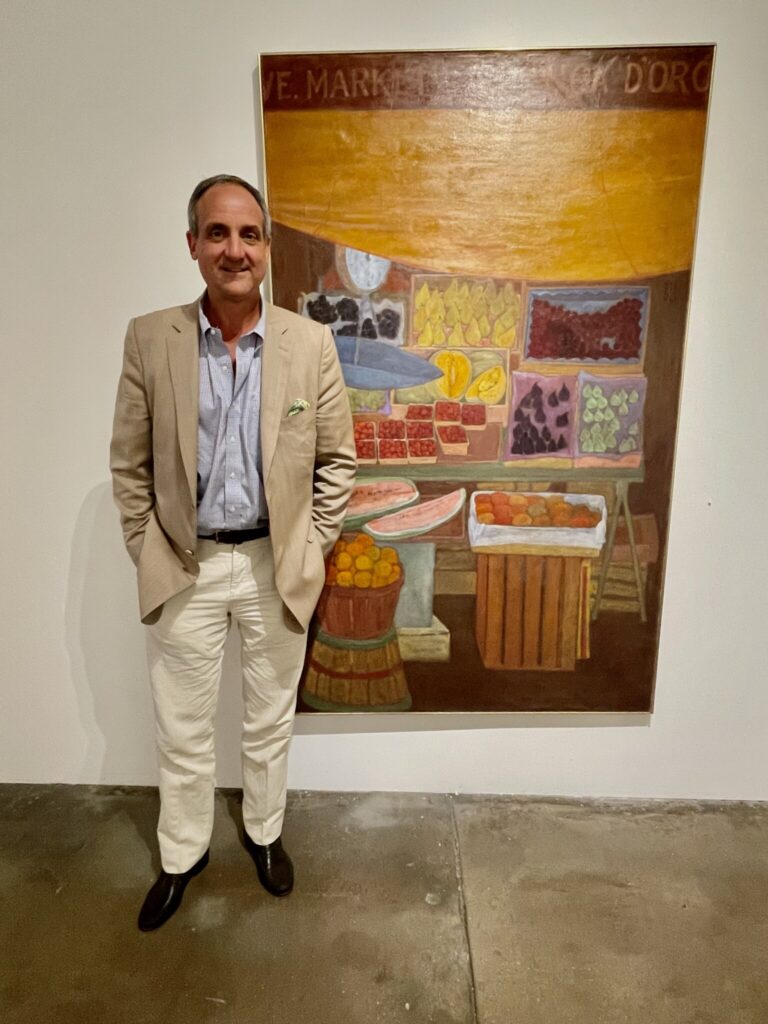 At Friday evening's opening, Philip Stein Gallery presented The Fall of '23, "a group exhibition of paintings from some of the countries best abstract and figurative painters."
Gallerist Philip Stein is photographed in front of Ernestine Betsberg's La  Conca D'Ora, Market, oil on canvas. Early next year, the gallery will host a major exhibition of Betsberg's work, around the same time a book will be released on the late St. Louis artist. The exhibition also includes a painting by Betsberg's late husband, Arthur Osver.

Philip Stein Gallery, 4735 McPherson, Thurs.- Sat., 11 to 4.  The Fall of '23 will remain on view until October 28.
Regretably, I wasn't able to stop in projects+gallery's Winter Market  Friday evening. The pop-up boutique is filled with a large collection of vintage furniture, home goods and clothing.  Be sure to stop by the gallery at 4733 McPherson,  from Thurs.-Sat., 12 to 5.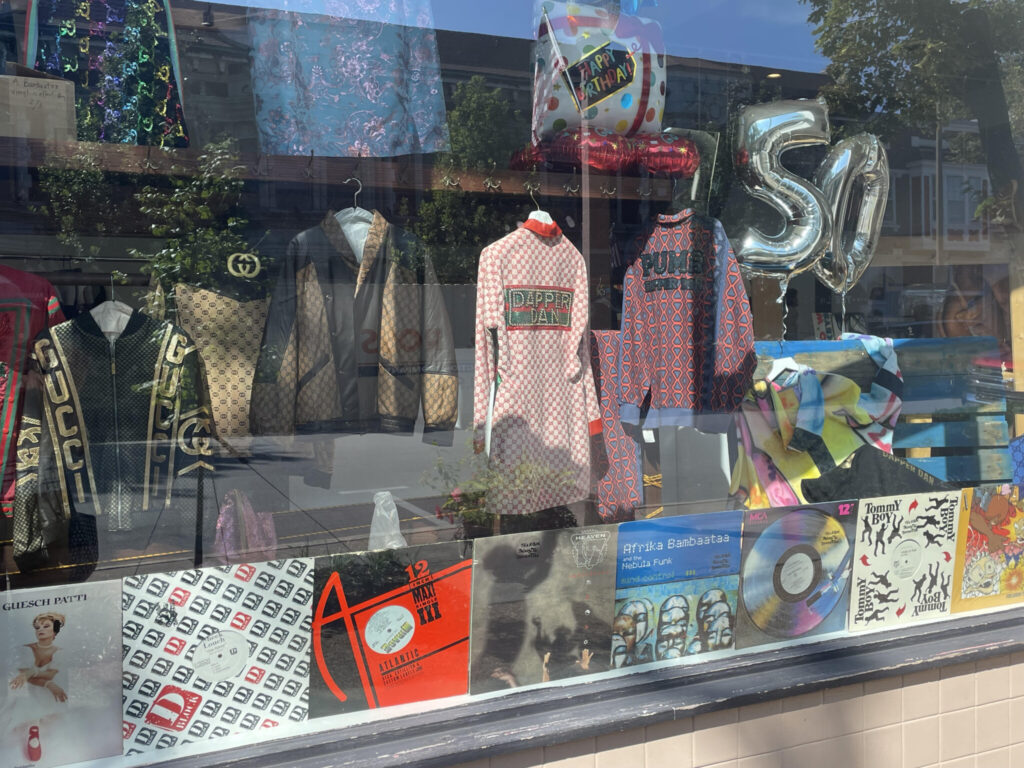 Barrett Barrera's windows at 4739 McPherson are filled with a fabulous collection of fashion and music albums marking the 50th anniversary of the Hip Hop genre.  The gallery is not open for browsing, but you can spend a long time exploring what's in the windows. My favorite is the Dapper Dan jacket.
Meanwhile, on the sidewalk: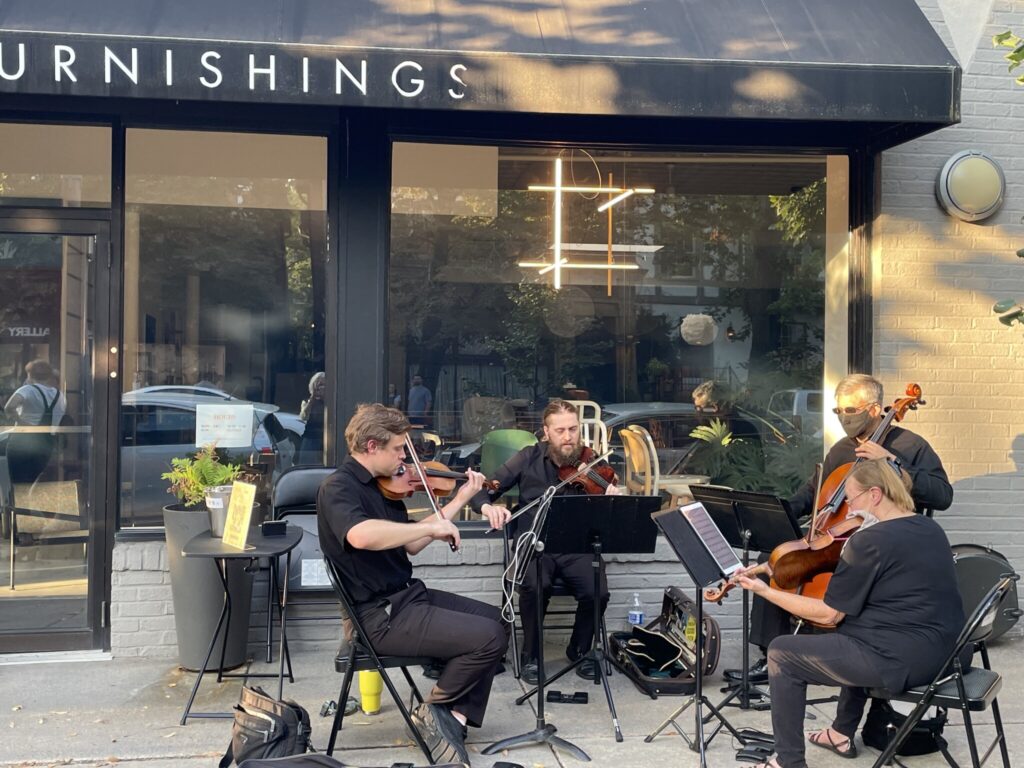 The Landolfi Quartet performed outside Centro.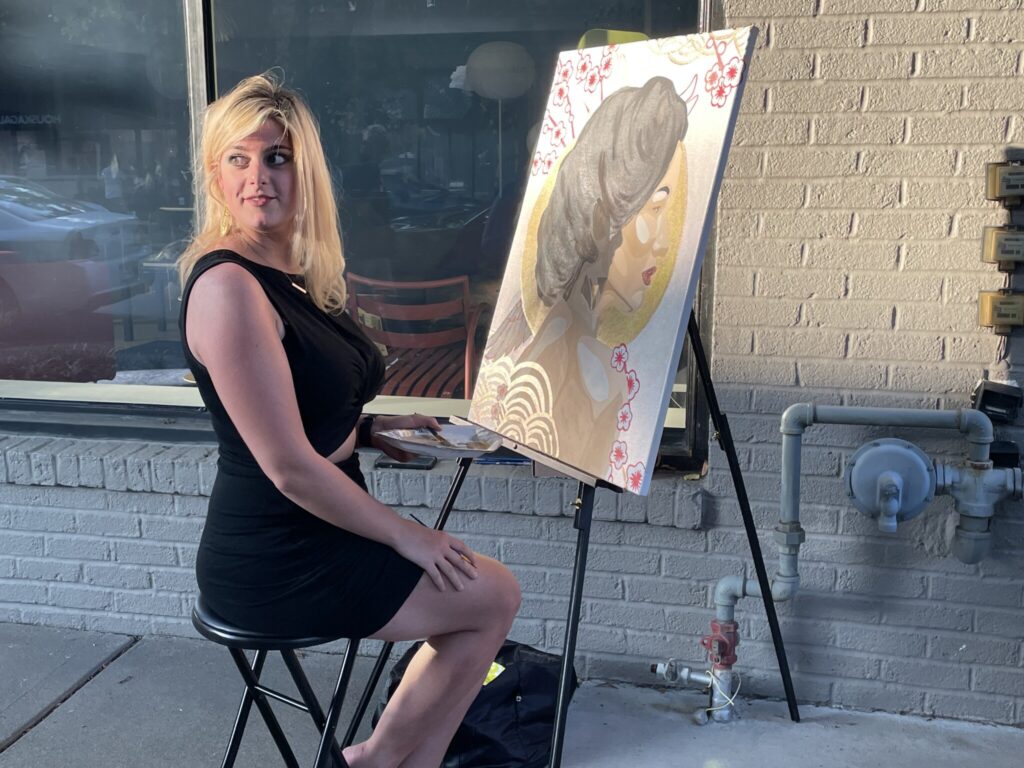 Street artists included Jillian Lauren, above, and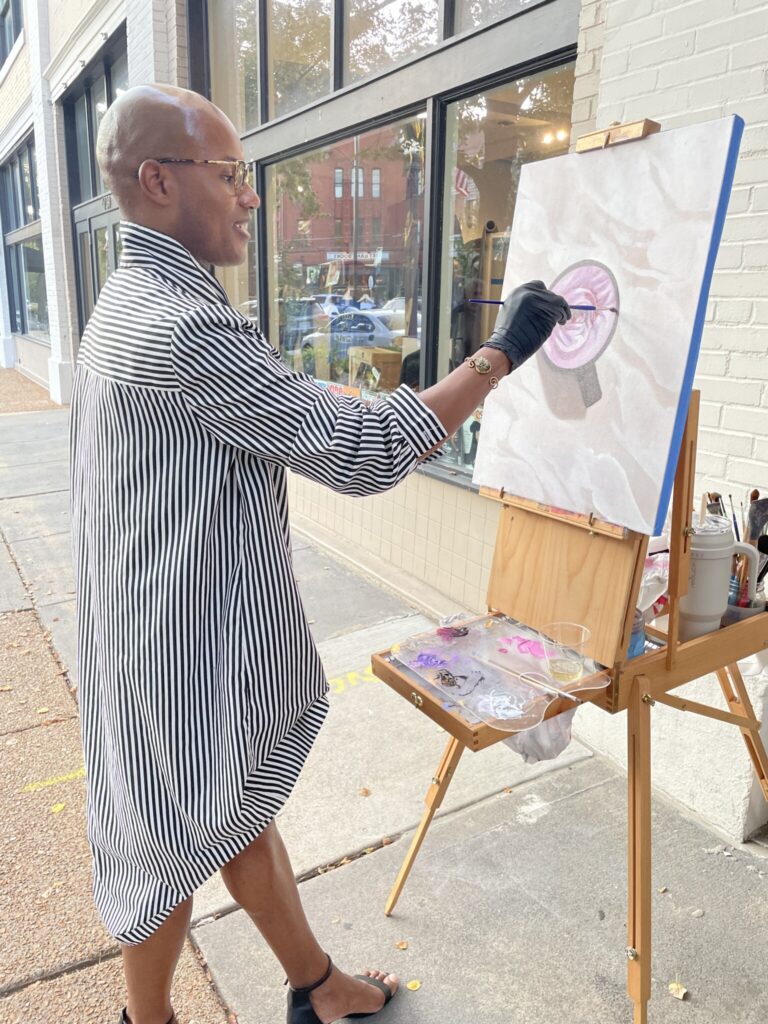 and Tiélere Cheatem, aka The Rusty Artist.
The mime was so statuesque—and the costuming so amazing—that I almost walked right by.
In spite of the fact that the September 8 events calendar in St. Louis was crowded, and art enthusiasts were being pulled in many different directions—the Clayton Art Fair, an opening at Pulitzer Arts Foundation— CWE gallerists seemed pleased with the turnout. And, there is still lots of time to get over to the McPherson galleries before these exhibitions close.