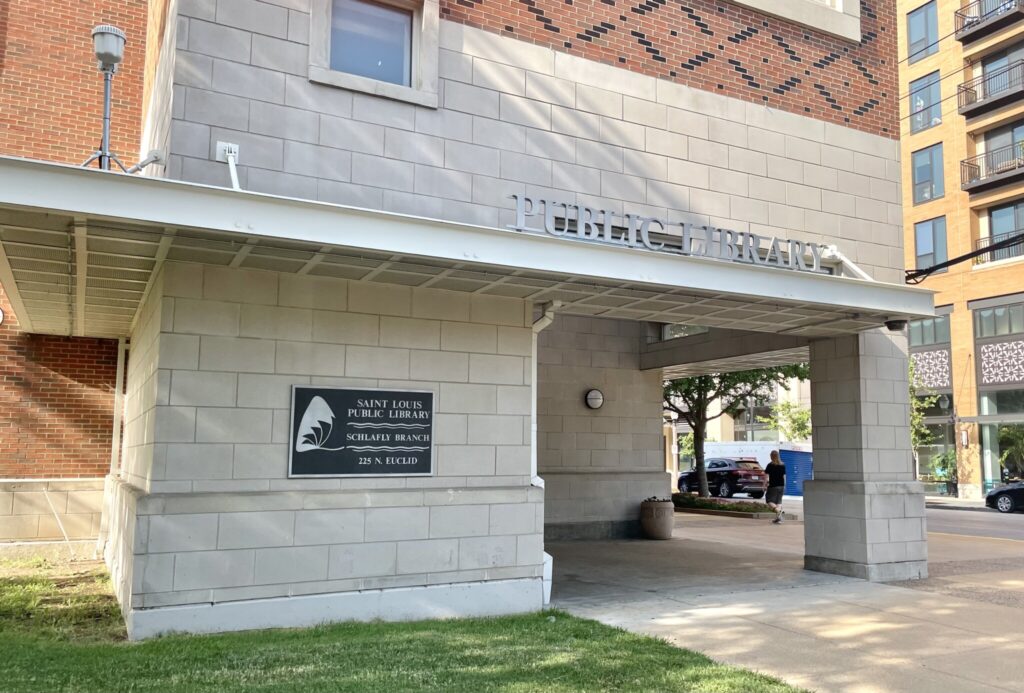 There is a lot to love about the St. Louis Public Library System,"St. Louis' original search engine." Established in 1865, SLPL's mission is to "provide learning resources and information services that support and improve individual, family and community life through a variety of services, programs and initiatives."
The CWE facility, Schlafly Branch, is a place I frequent often, whether to pick up a book ordered online, cast my vote, or attend community meetings. When I sat down to visit with Regional Manager Lisa Wolfe in early June, I discovered I'd barely scratched the surface of the wealth of resources that are available for the price of a free library card.
There are 16 public-facing libraries in the City of St. Louis, and one storage facility, Compton, which is located west of Central (Main) Library downtown. Compton Branch holds 1.1 million books, an extensive film library, and other materials including the extensive Government Depository Collection (Federal, Missouri, and St. Louis) as well as the Library's renowned history & genealogy materials. Materials are available online, or in person by appointment only.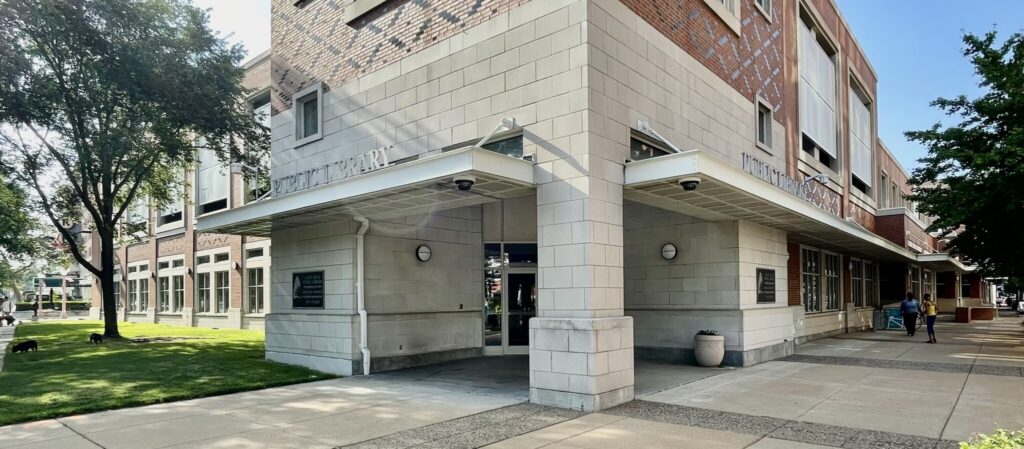 Schlafly Library opened in 2002 on the street level of the Argyle Garage at Lindell & Euclid, replacing Lashly Library, which was located at 4537 West Pine (east of Whole Foods). The neighborhood branch is named in honor of late CWEnders Adelaide and Dan Schlafly. Schlalfly Library is one of 4 regional branches in the City of St. Louis. Regional branches are larger facilities with more staff, and are open for longer hours, including Sundays. Schlafly's region includes Cabanne Library at 1106 Union, Divoll at 4234 N. Grand (near the Water Tower), and Charing Cross, a mini-branch located on Skinker near W.U.
Wolfe explained that there are two types of patrons at Schlafly, those who stop in for 5 minutes to pick up books they've ordered online, and others who use the library all day long for things such as wi-fi, computers, youth activities, and a quiet place to read.
While my assumption was that we are avid readers in this neighborhood, the Kingshighway Branch at 2260 S. Vandeventer usually has a higher circulation. City-wide, Schalfly, Kingshighway and Carpenter Branch always rank in the top 3.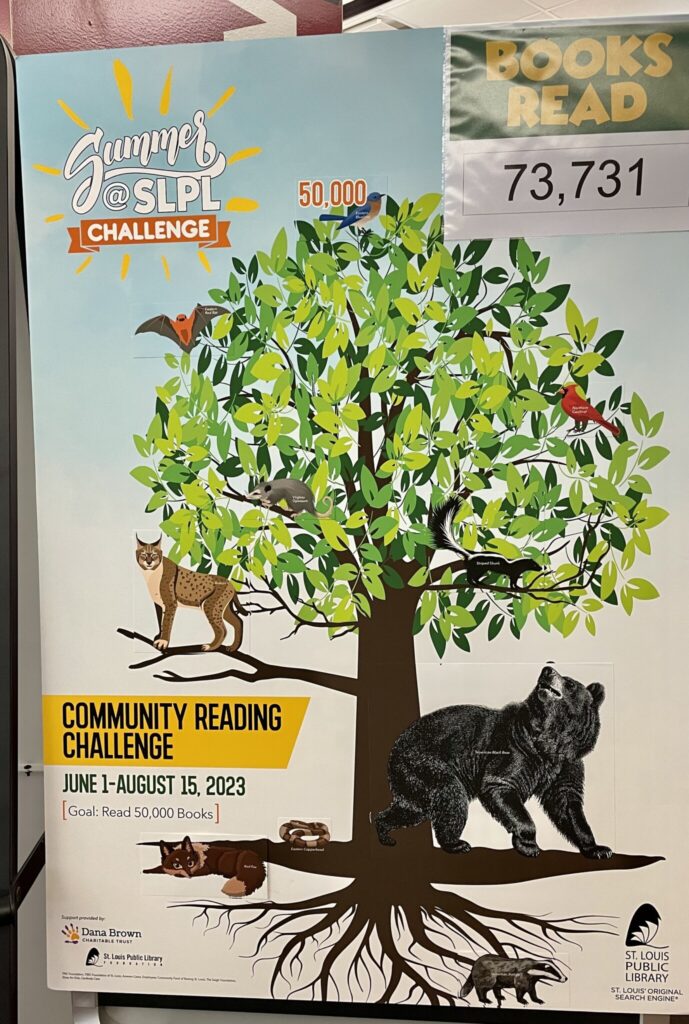 Evidence of high readership is shown in this summer's Community Reading Challenge which was open to all ages. The goal was 50,000 books read between June 1 -August 15. The total as of August 13 was 94,666!
Our conversation moved on to the merger of both the software that is used to manage books and the customer base for the City and County Library Systems. I've noticed that, since the merger best-selling books seem to arrive much faster.  Wolfe explained: "That's because there are many more books in the system now. The holds going back and forth between the city and county are incredible," she added.
Since the St. Louis County Library System has a larger footprint, and therefore, a larger tax base, it has more funds in its coffers. Interestingly, the county's collection is more of a popular collection, while the city has an incredible collection in many categories. What really surprised the staff is the number of DVDs county patrons are ordering, as there aren't as many in their collection.  Wolfe said: "This is an example of why we can't let our collection fall by the wayside, we have DVDs because a lot of city patrons don't have streaming services."  Wolfe continued, "You'd be very surprised by how many county people come in to look through our auto repair manuals."
By the way, while the city library card isn't accepted in the county and vice versa, you can always request a reciprocal card. With the merged systems, it's simply a matter of looking up your information.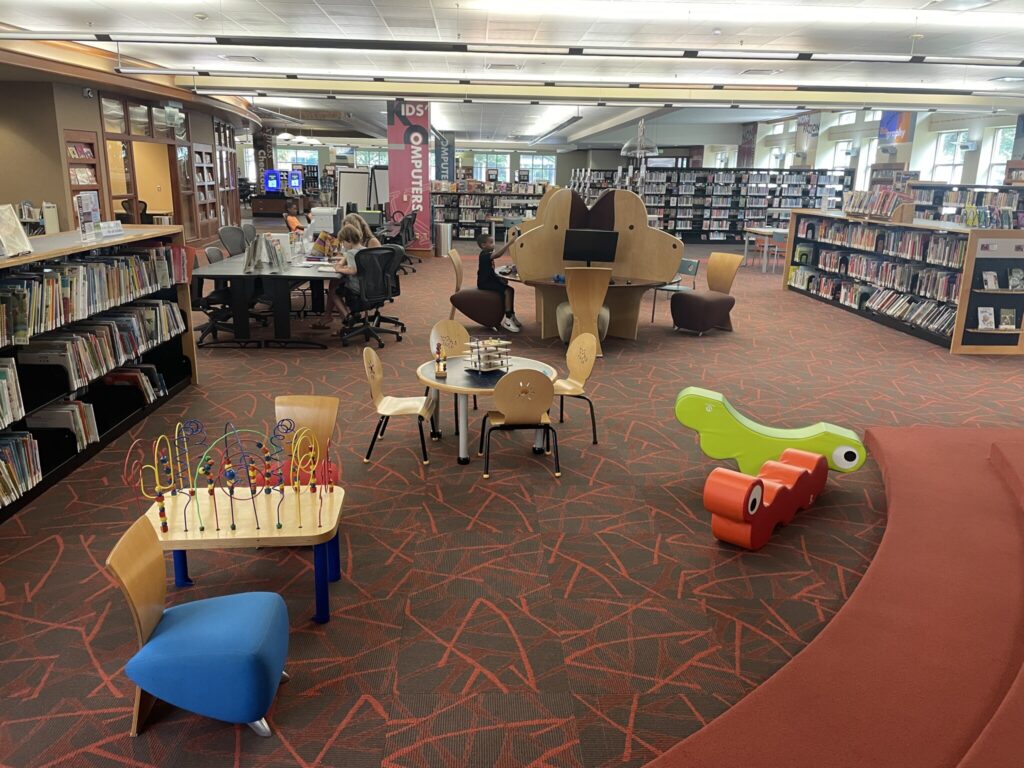 The library is open to everyone. The City of St. Louis designates libraries as cooling and warming centers, which means some of the people who are at the library all day are unhoused. As many times as I have been in the library I have never seen this as a problem. Wolfe emphasized that "people should not be afraid to come to the library. The unhoused are not allowed to solicit, they can't disrupt anyone or interfere with someone else's use of the library. If there are issues, please report them to the staff. We keep an eye out, and if we see someone disruptive, or see a patron react in a way that indicates there is a problem, we will intervene."
Wolfe continued: "We have to be equitable in our treatment though. It's not okay if someone coming in for the notary service for instance, is talking loudly. We will request that they be quiet too. (The library offers a free notary service and Schlafly ranks highest in usage.)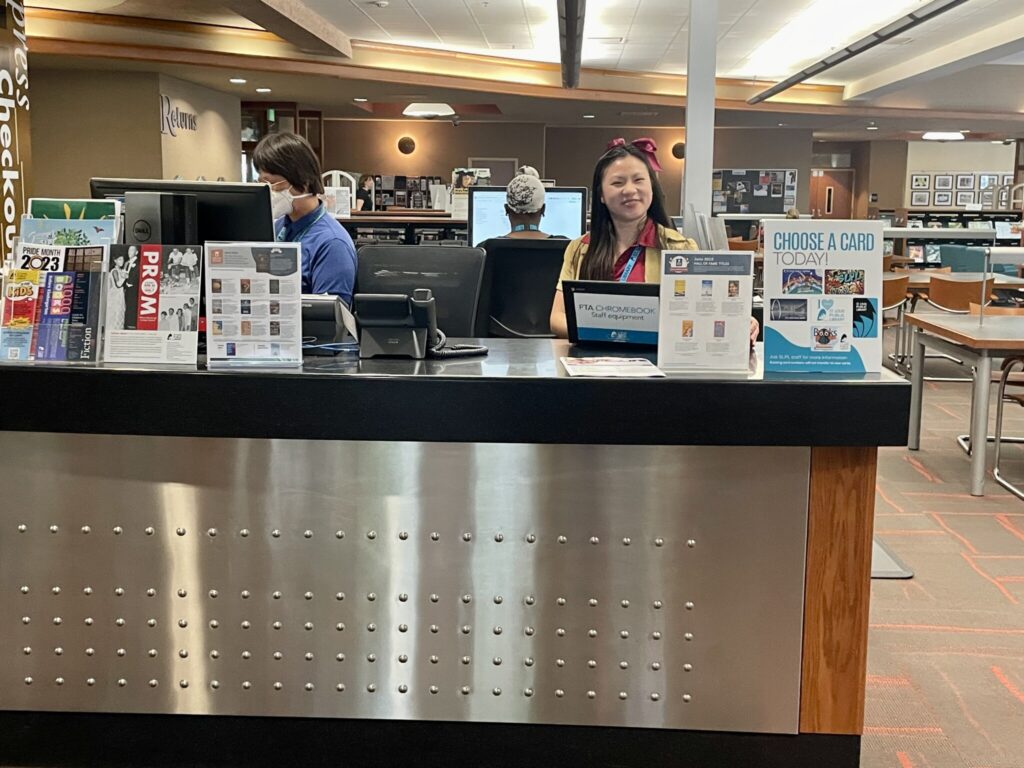 There are 20 to 25 staff members at any given time at Schlafly. Each is cross-trained so they can work in different areas. Positions include circulation assistants, information specialists, youth and teen specialists, and like Meagan Nguyen, above, public technology assistants.
The front desk is where you can obtain general information, register to vote, and apply for a passport or get renewal forms.  The staff can assist with the passport applications, but can't fill out the forms for you. Central Library and the Buder Branch have self-serve photo booths which offer passport photos for $12.99.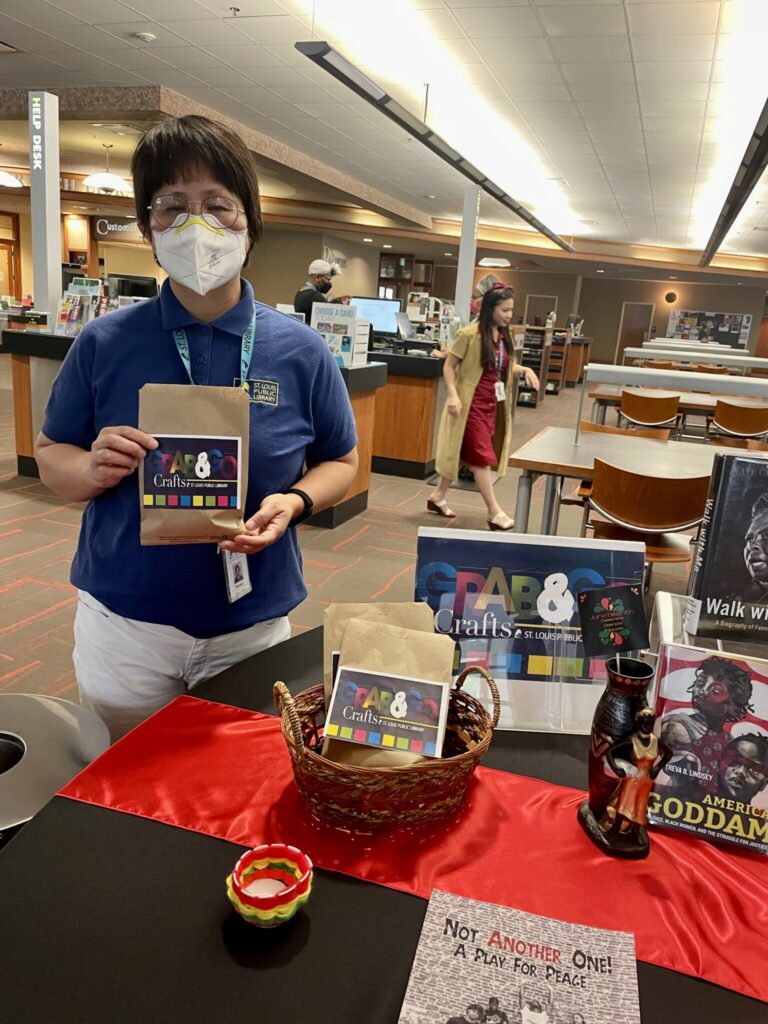 Information Specialist Sunny Sickel, who has been with the library for 8 years, creates "Grab and Gos," a free craft project distributed at several branches. In early summer, the project was a cyanotype print for ages 10 and up.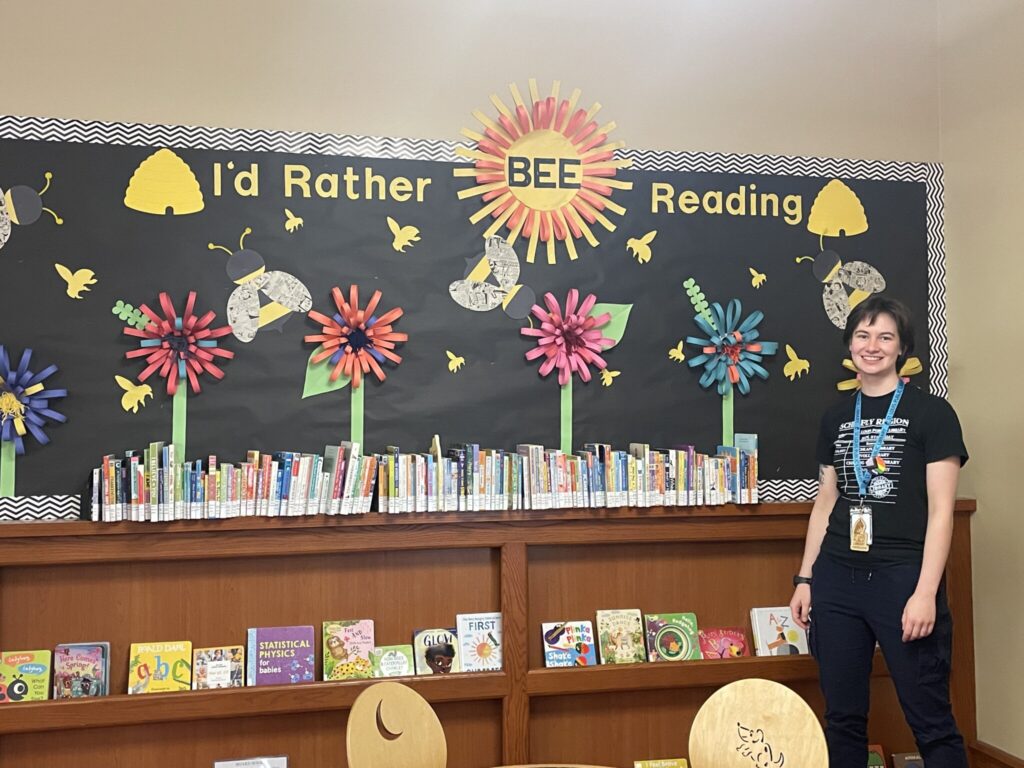 Youth Specialist Madeline Coakley, who has been at Schlafly Branch for about a year said, "It's such a happy space to work." She is photographed in front of one of several bulletin boards she creates in the children's area. Coakley will help find playtime activities, craft projects, and of course, books galore.

Parents can sign up for the "1000 Books Before Kindergarten" program where you earn a free book for every 100 books you read with your child—and before you say "whoa," remember, it's usually the same book over and over, and that counts!
Summer Camps @ SLPL are extremely popular and fill up before summer even begins. The camp program, for early childhood through the teen years, is supported by the Dana Brown Charitable Trust.  There are still lots of other fun activities to be found for the remaining of the summer, and beyond. Check out SLPL website for a full list, including The Magic House  "Pop Up Play" series, which is hosted at different branches and occasionally online. 
There is a designated Teen Area too (not photographed), and Wolfe is very pleased that there are plans to create a video game room next year in one of the Reading Rooms specifically for this age group.
After I learned about the Creative Experience, digital maker spaces for all ages at Central, Barr and Julia Davis, I booked an hour at Central Library to learn how to make signage for a project and a few other computer-related items. I brought my laptop and met with Sam, who was extremely helpful. I left an hour later with the knowledge I needed, and it was all free with my library card. I spent 20 cents for two copies on a large format printer, which was paid for by my $5 monthly allotment for printing!  Offerings at Creative Experience are outstanding, including 3D Printing & Modeling, Animation, Game Development, and there are Recording Studios too. This weekend Firecracker Press is hosting a postcard=making workshop.
Here are some more amazing things you can do with your library card: Check out a 100 music cds and books each month, use Mobile Print to send your documents from your phone or computer to the library to print there (with your monthly $5 worth of free printing), digital faxing, check out a Chromebook and a hot spot, binoculars, telescopes, fishing poles & tackle boxes (through the Missouri Dept. of Conservation), book club in a bag, Not So Quiet Concert Series, Virtual English as a Second Language Classes, Brain Freeze HelpNow and JobNow offers tutors, mock interviews, resume writing, and computer classes, etc., Grants for Individuals  and Patent and Trademarks, as well as Gale Online Courses and Legal Forms. For a complete list, click here A thru Z: 
I hope you've found this post helpful and have discovered new ways to use the wonderful resources available within the St. Louis Public Library System. And if you haven't taken a tour of Central Library, it's well worth the short trip downtown to experience the grandeur of that majestic space. We are indeed fortunate!
Schlafly Library, 225 N. Euclid, (314) 367-4120, Mon.-Thurs. 9 to 8, Fri. & Sat. 9 to 5, Sun. 1-5.