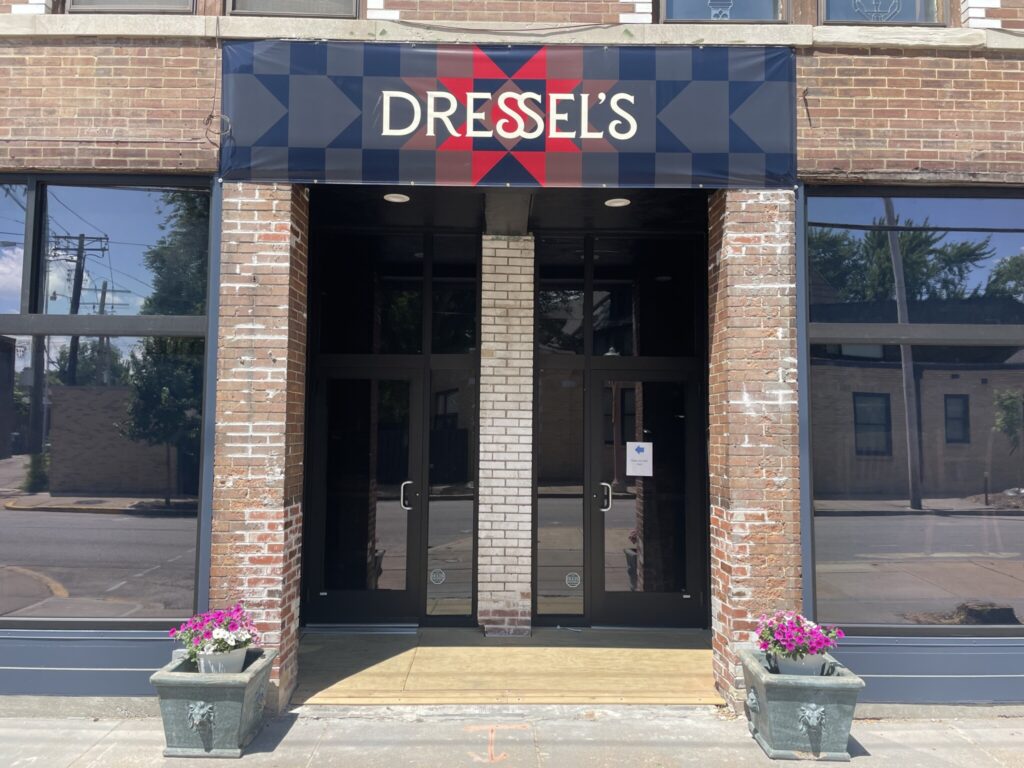 After an extensive renovation, Dressel's Public House, 419 N. Euclid, has finally re-opened for business. Proprietor Ben Dressel's father, Jon, a poet and former professor at Webster University (here's Dwight Bitikofer's entertaining Poems, Poets & Prose article from 2011 in the West End Word), opened the Welsh pub in 1980.  Ben paused operations in 2020 due to the pandemic, and he and his wife Liz took the opportunity to reconfigure the space and introduce a major new feature.
While the entire ground floor was gutted and the finishes are completely new, the renovation managed to maintain the ambiance of the storied pub. A new entry leads into the pub—with a larger oval bar, and a wide expanse of new windows which make the space much brighter.  Once the sidewalk area is renovated—scheduled to start next week—outside dining will return with tables set up against the building, instead of out on the former "island" of concrete, which was awkward at best.
What's particularly new and exciting about the reimagined Dressel's is that Ben will soon be operating the Rock & Horse Brewery, making beer and ale in stainless steel tanks in the lower level, which are visible from above.  The brewery should be up and running in a few months.
For now, during the current soft-opening phase, the menu is limited but features all the old favorites—fish and chips, deluxe and lamb burgers, porchetta sandwich, several salads, and desserts.
Dressel's, 419 N. Euclid, open Tues. to Thurs. 4 to 9 p.m., Sat. 4 to 10, and Sun. 12 to 6 p.m.