The neighborhood was packed Saturday afternoon May 6th, when approximately 3,000 women (and some men) participated in the 5th Annual Rosé Day on Euclid. In another event, members of the Claytonshire Coaching Club and their guests cruised through the neighborhood in horse-drawn coaches on their way to the annual Kentucky Derby Day celebration at the historic Racquet Club, located at Kingshighway & McPherson. (See below.)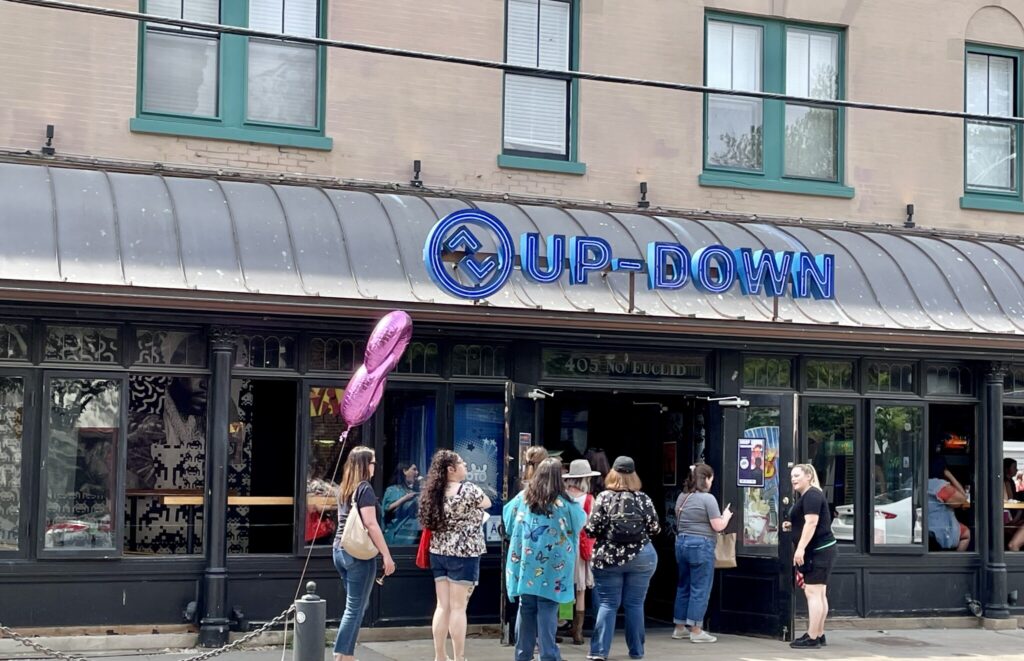 According to Rosé Day organizer Michael Powers, 8 women's charities, located in 8 CWE locations, participated in the 2023 event. Those charities were: Safe Connections, Prosperity Connection, Diamond Divas Empowerment Foundation, Pink Ribbon Girls, Saint Louis Ovarian Cancer Awareness, Missouri Job's Daughters, Planned Parenthood and Habitat for Humanity Saint Louis Women's Build.
The charities shared over $10,000 in proceeds from Rosé Day's Fifty Roses Foundation, as well as donations contributed by the public during the event.
Up-Down, above, was one of the business partners.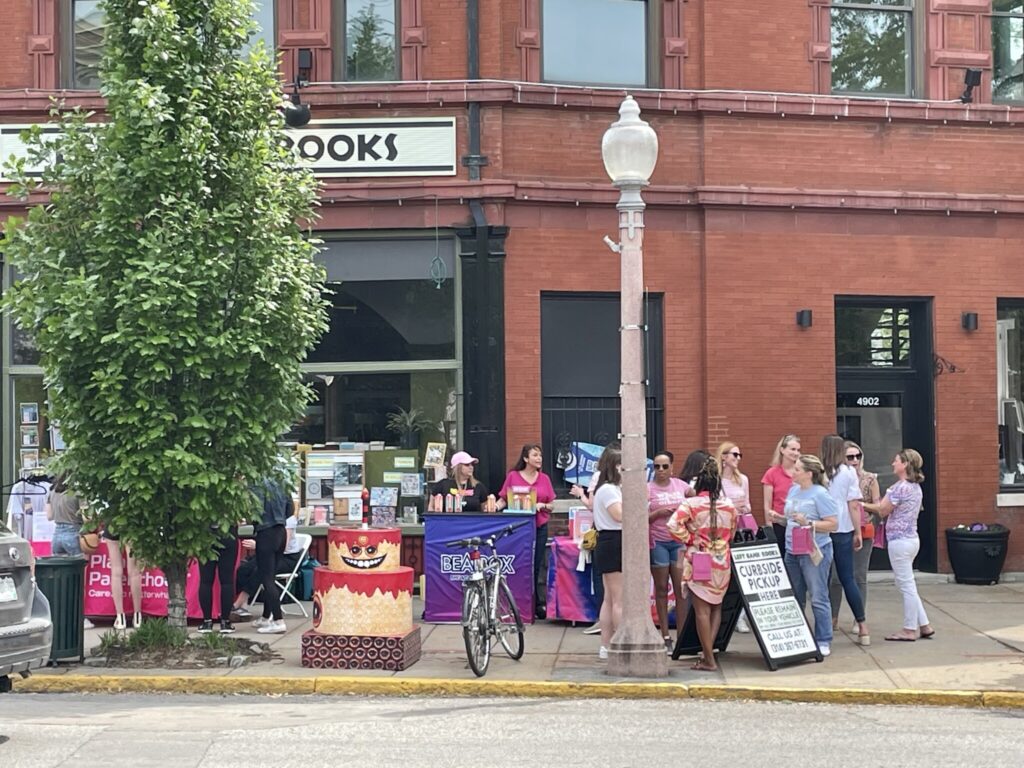 Other businesses who partnered in the event were Left Bank Books, above, Kingside Diner, below, AC Hotel, Esther & Mila, Twisted Ranch, Citizen Park, BBQ Saloon, Straub's, and CBD Kratom.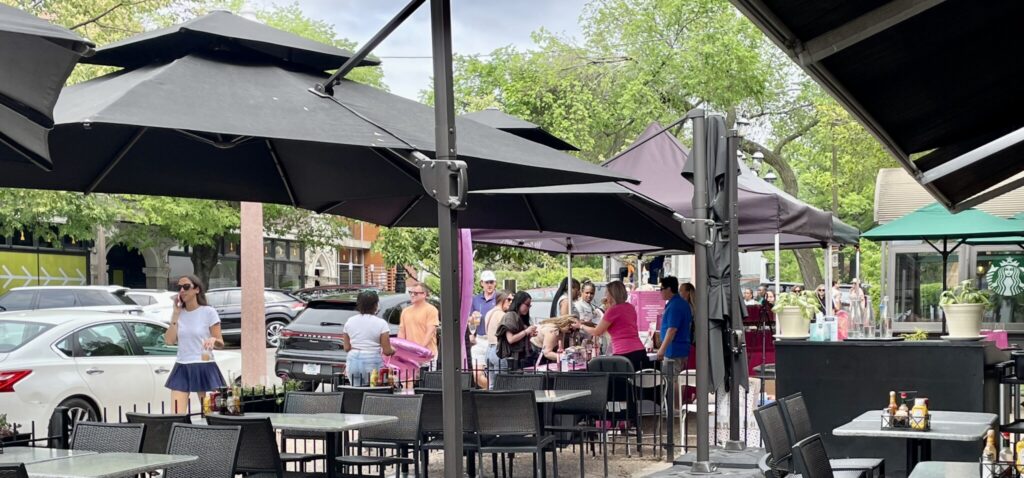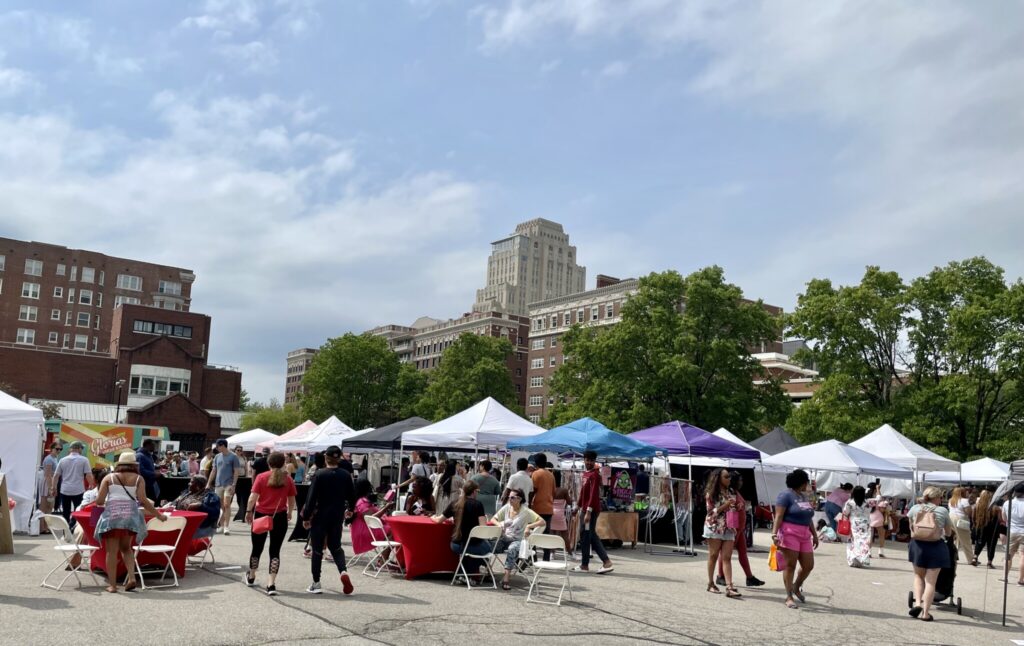 Part of Rose Day's activities included a Festival Zone where 65 vendors set up booths  on the Kindred Hospital parking lot on the southwest corner of Lindell and Euclid.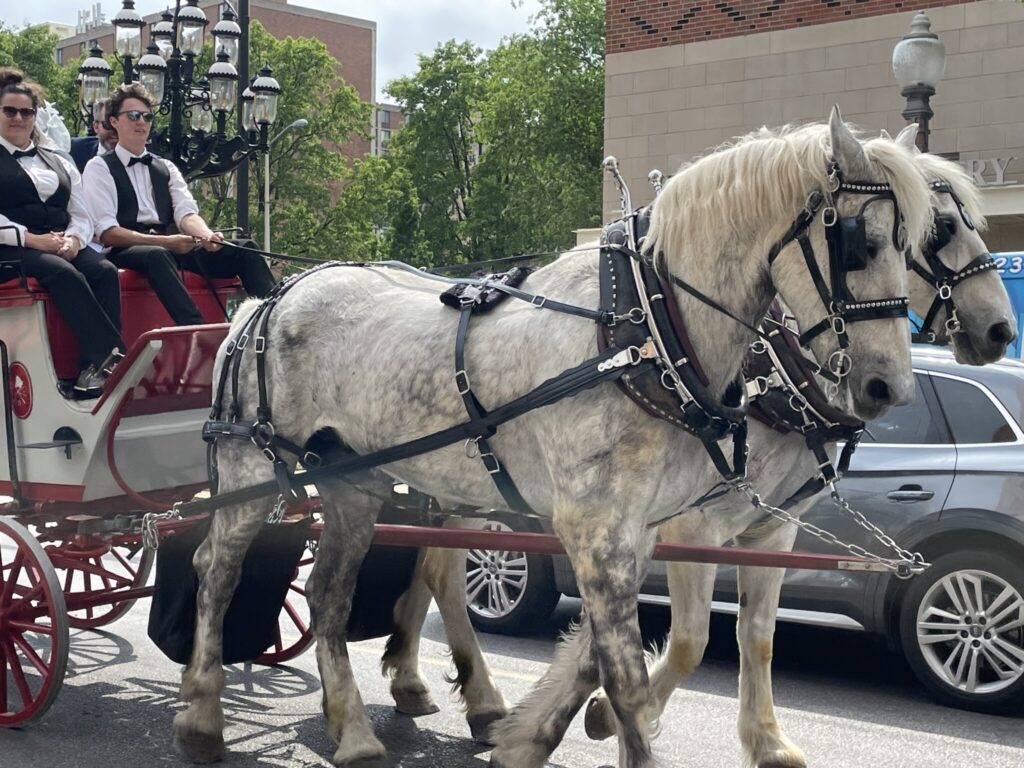 While a crowd of Rosé Day participants crossed Lindell at Euclid, 4 horse-drawn coaches filled with Kentucky Derby-clad members and guests of the Claytonshire Coaching Club passed through the intersection.  Seeing the groups together was a delightful example of a new tradition mixing with one that has been in existence for at least three generations (though the 3rd generation now consists of millennials who want to keep the tradition going). The Claytonshire Coaching Club was founded on January 1, 1932 by CWEnder H. F. (Harry) Langenberg.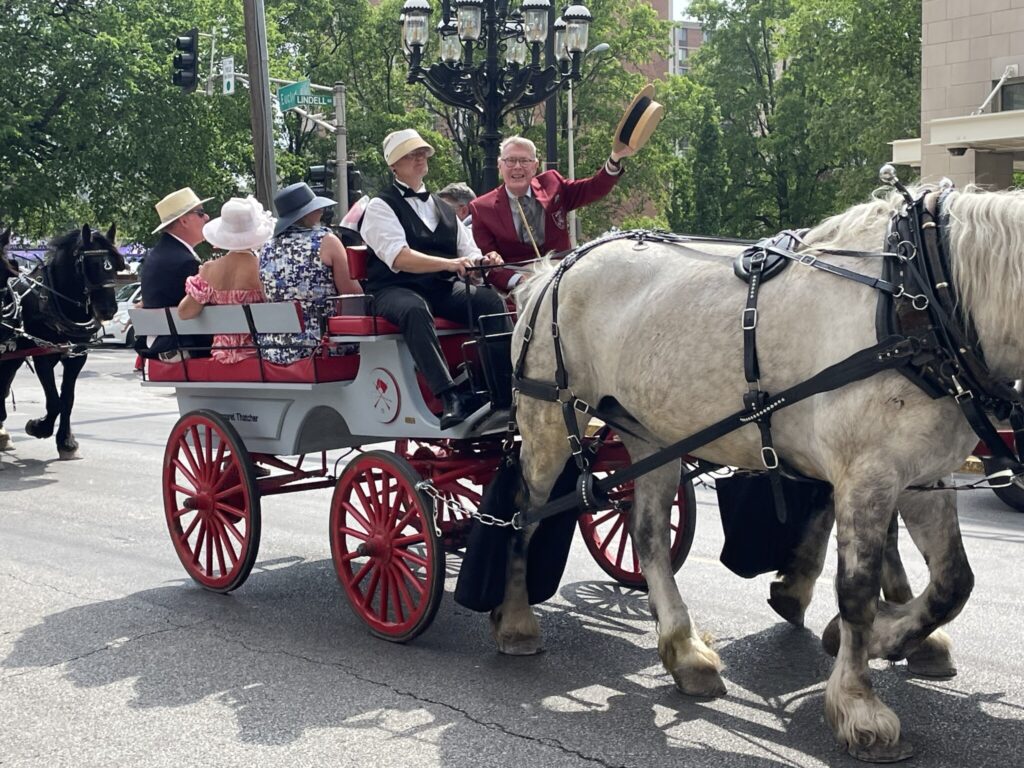 Ted Atwood, tipping his hat, was one of the CWEnders who rode in the coaches or in the trolley that followed. Others included Carson Foard, Alisa Goessling, and Ron Sauget.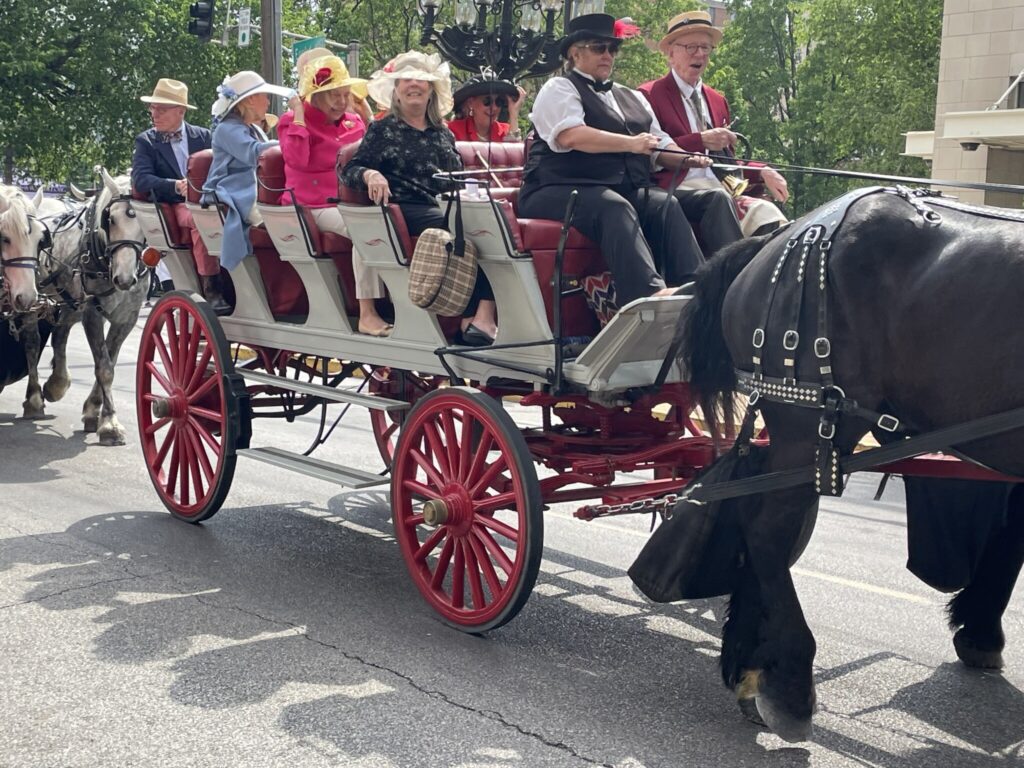 According to Atwood, the 3-plus-hour trip through the neighborhood is really "a traveling cocktail party," with stops along the way for refreshments, including mint juleps. When the coaches reached the Racquet Club, at 3:45, members and guests sang a "rousing rendition of 'God Save the King' to honor His Majesty, King Charles III," before watching the Kentucky Derby.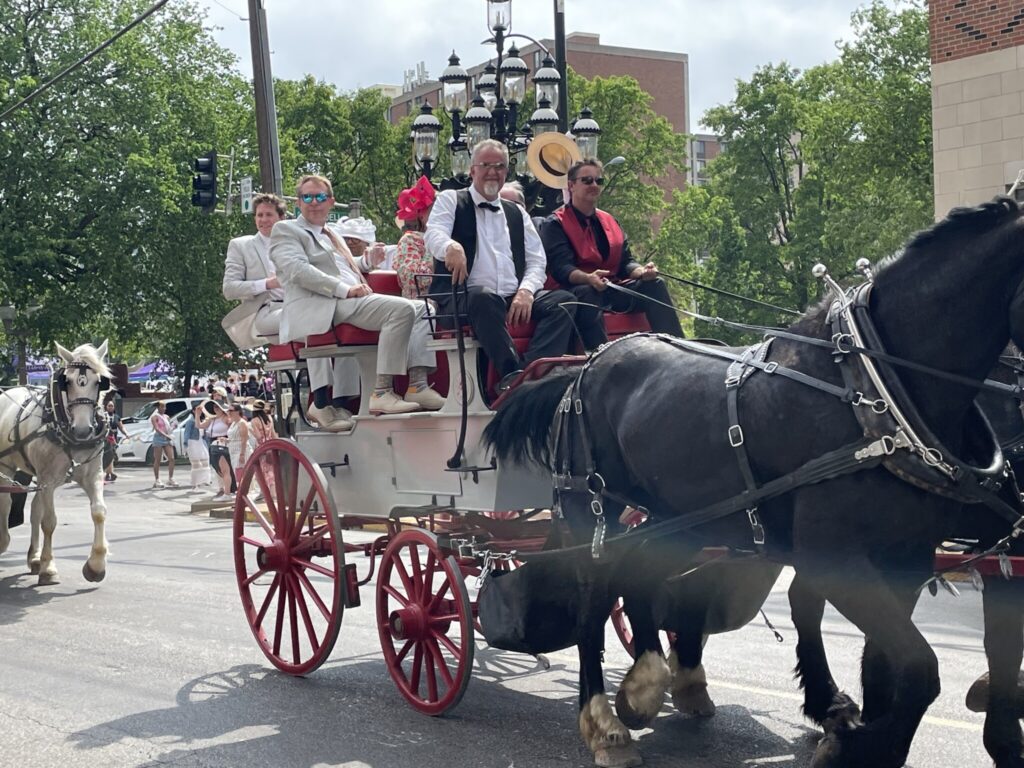 Everyone I observed that afternoon seemed to be enjoying the beautiful weather while exploring the neighborhood and all that it has to offer in the company of good friends.