There's a fabulous addition to the neighborhood that popped-up just recently on Maryland Plaza. Edera Italian Eatery at 48 Maryland Plaza has converted the lobby just west of the restaurant into Edera Market (see sign above).
According to Edera's GM Tim Foley: "Customers continually asked if they could purchase Chef Andrew Simon's sauces and pastas and, since we were renovating the lobby anyway, it seemed like a great time to try out a market concept."  For now, the market occupies just one wall of the lobby, but Foley said,  "We'll be adding new products all the time."
After a couple of visits to this tiny, well-curated shop, I'm so glad Edera took a chance on this new venture. It's like the shop you didn't know you needed until you walk through the door.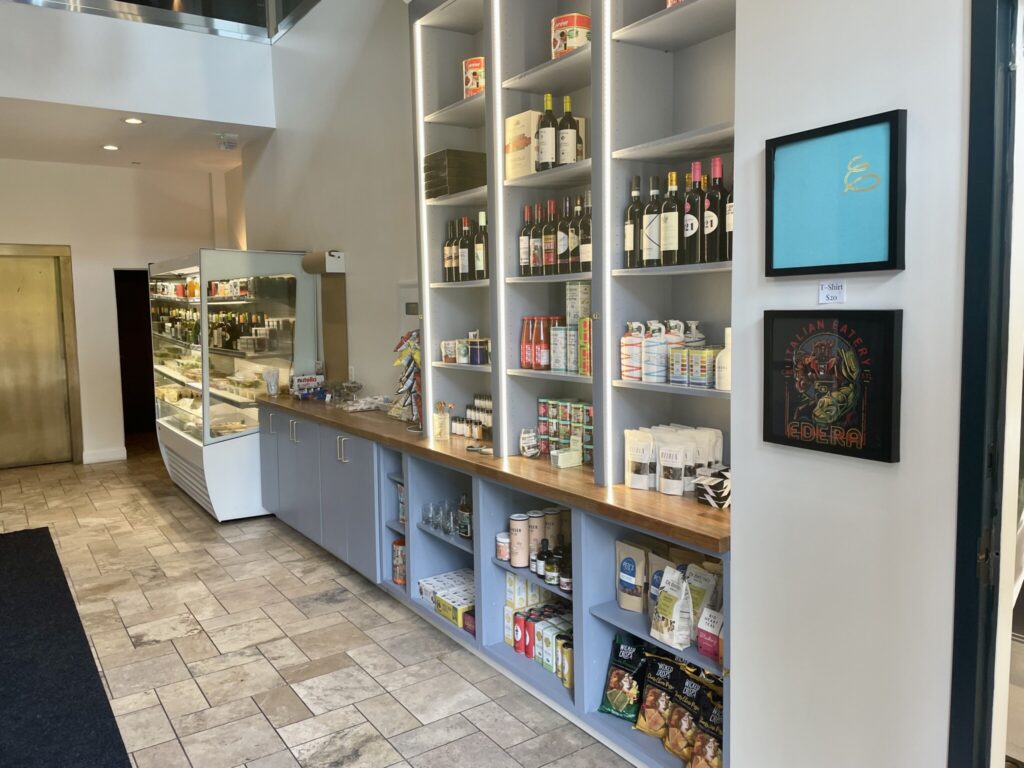 A small collection of wines that Edera favors are priced at $20 and under, and there are unusual foods that would make wonderful gifts, fresh pastas, and beautifully-wrapped sandwiches and salads at reasonable prices. A lot of thought went into the packaging and labels of the products offered at the market, which to me exhibits another indication of a well-thought–out concept.
The market also showcases locally-made products from St. Louis area brands such as Christopher Kelly's candles, $22, Mud-City Soaps, $8, produced on The Hill, and Bijoux Chocolates, hand-crafted in Ballwin,
The refrigerator case holds a selection of caprese. veggie, and prosciutto/burrata sandwiches, $8, smoked Caesar and Chopped salad, $7, freshly-made orecchiette, crete de gallo and lumache pasta, $6, Ozark Farm mushrooms, $10, charming cartons of perfect Buttonwood Farm eggs, 6 for $6, Grana and Pecorino cheeses, and pepperoni.
When you are ready to check out, look for the always-delightful Assistant GM Rachel Stuber next door in the restaurant. She's assisting with both operations right now, and can answer any questions.
Edera Market, adjacent to Edera Italian Eatery, 48 Maryland Plaza, is open Monday through Friday Noon until 7 p.m.
P.S. – Edera's Night Market will be held this Saturday around the Maryland Plaza Fountain and on the patio from 6 to 10 p.m. More information can be found here.