B.J. Parker, lead instructor at the CWE's Gateway Academy of Classical Art, is one of fifteen recipients of the 2021-22 Kranzberg Arts Foundation Resident Artists' Program. (The timeframe for residency was extended into 2023 due to the pandemic.)  An opening exhibition of Parker's body of work, In Search: (Re)building Myth, was held on Friday, April 7 at The Kranzberg, 501 N. Grand.
Parker is photographed alongside one of the works created during his residency, Building a New Myth. According to his artist's statement: "…the paintings, drawings and sculptures explore the search for meaning in a fractured existential landscape. The work investigates the stories we tell ourselves and asks how these stories shape us, the importance they have in our lives, and what we do when they become fractured and fall apart."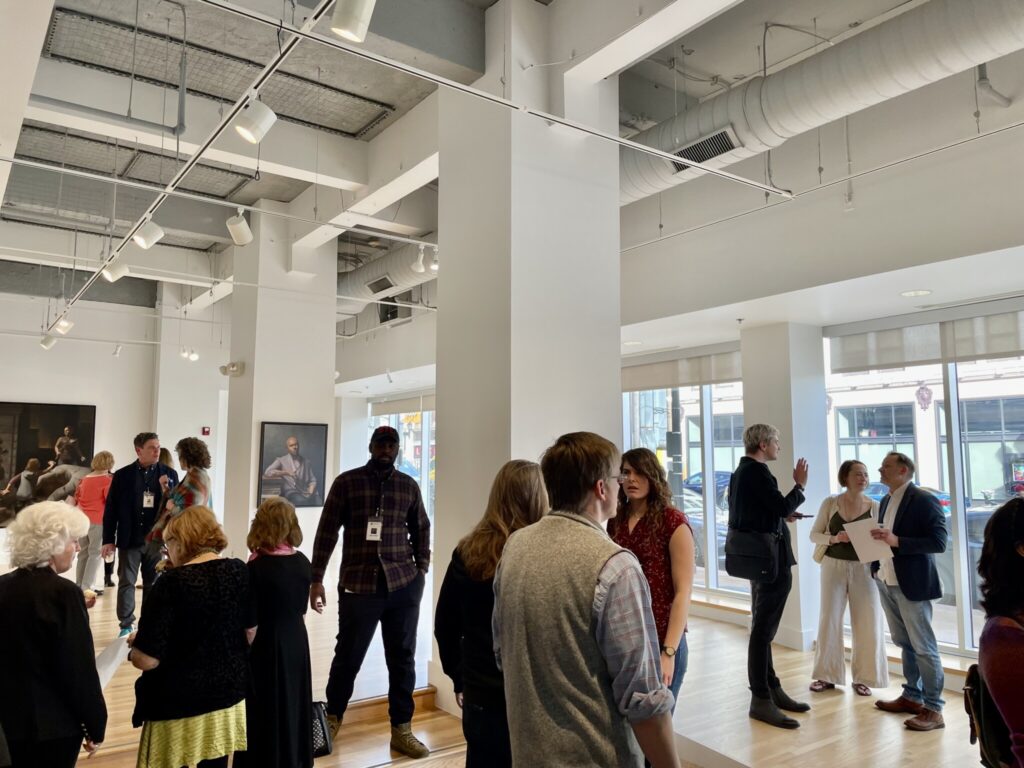 A photograph from the opening of Parker's exhibition at The Kranzberg.
Parker said that it was a privilege to be a Kranzberg Resident Artist. "The program gave me the support I needed to create a large body of work and realize a substantial idea I've been working on for quite some time. The 'yes' from an organization like the Kranzberg Arts Foundation felt like an emotional and tangible affirmation of the project. That component plus the administrative support of the program really helped me engage more with the art community of St. Louis as well as create a body of work that stretched me quite a lot."
The following photographs—thanks to photographer Robert Bullivant—include several other paintings that are included in the exhibition: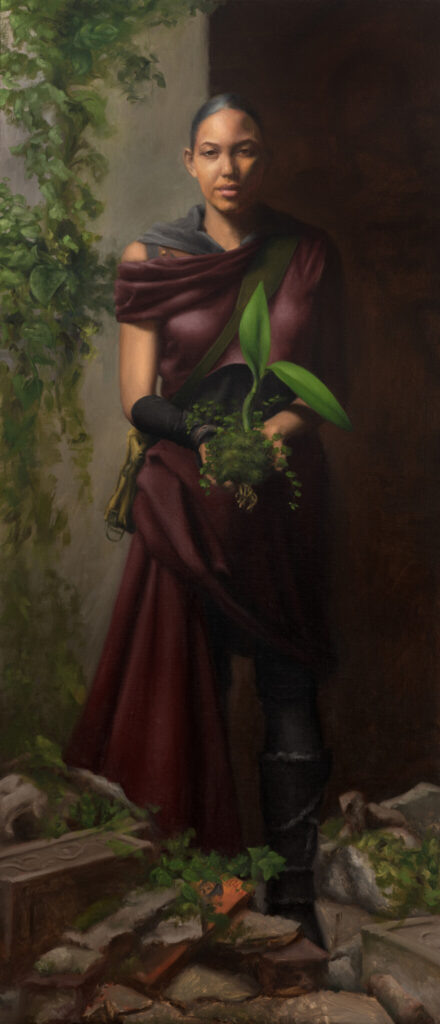 The Invitation of Nature, oil on cotton, 60″ x 30″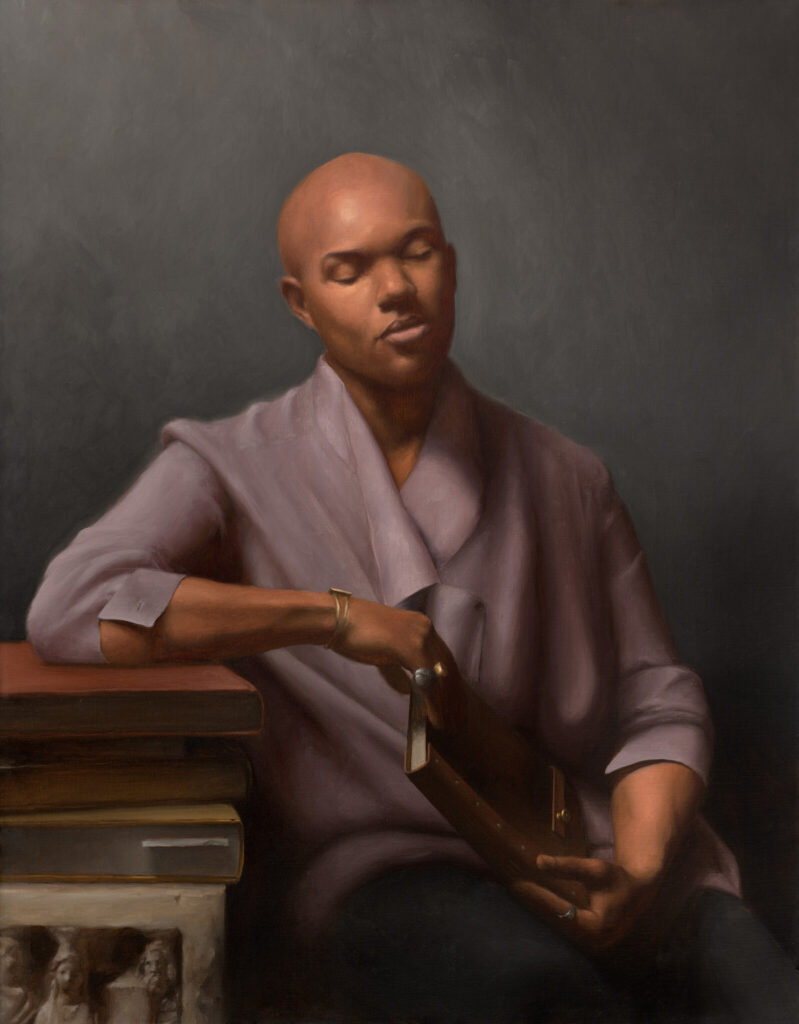 The Priest, Oil on Linen, 30″ x 36″
Invitation of Technology, oil on cotton, 60″ x 30″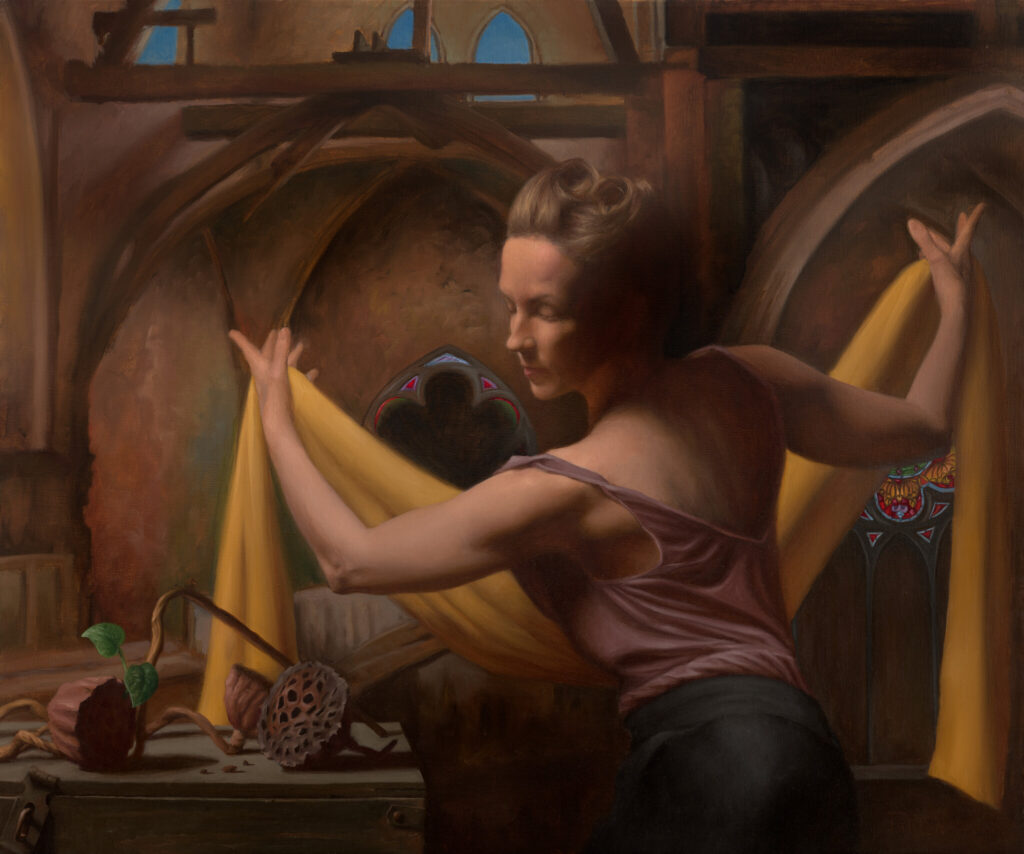 The Vanderlou Sybil, Oil on Marble
B. J. Parker's In Search: (Re)building Myth, will remain on view Saturdays from 12 to 4 until May 27th at The Kranzberg. Register in advance here.  There is an artist's talk scheduled for this Saturday, April 29, from 12 to 1 pm. Reservations are not necessary.
Find more information about Parker's classes at the CWE's Gateway Academy of Classical Art  on the website.