With a primary election scheduled in the City of St. Louis for March 7, it's of upmost importance for residents of the 17th and 28th Wards to be aware of who is running to serve as alderperson for the newly-created 9th Ward (which combines significant portions of both wards), and how those three candidates will represent your interests if elected.
The Central West End Association is hosting a candidates forum tomorrow evening, February 24, at 6 p.m. at New City School, and Park Central Development is hosting one Tuesday, February 28 at 6 p.m. at The Dogwood in the Grove.  Flyers for each follow. These forums offer an excellent opportunity to get to know the candidates and learn about their priorities.
The top two vote-getters in the primary election on March 7  will face off in the general election on April 4. "No Excuse Absentee Voting" is available now for the primary at the Schlafly Library, 225 N. Euclid, through March 7,  and again for the general election from March 21 – April 4.  Hours are Mondays from 12 to 4, Tuesdays & Wednesdays 12 to 6, Thursdays & Fridays 10 t0 4, and Saturdays from 1 to 4:30.
If you prefer voting on the actual election days, March 7 and April 4, you can also vote at Schlafly Library, no matter where your assigned poling place is located.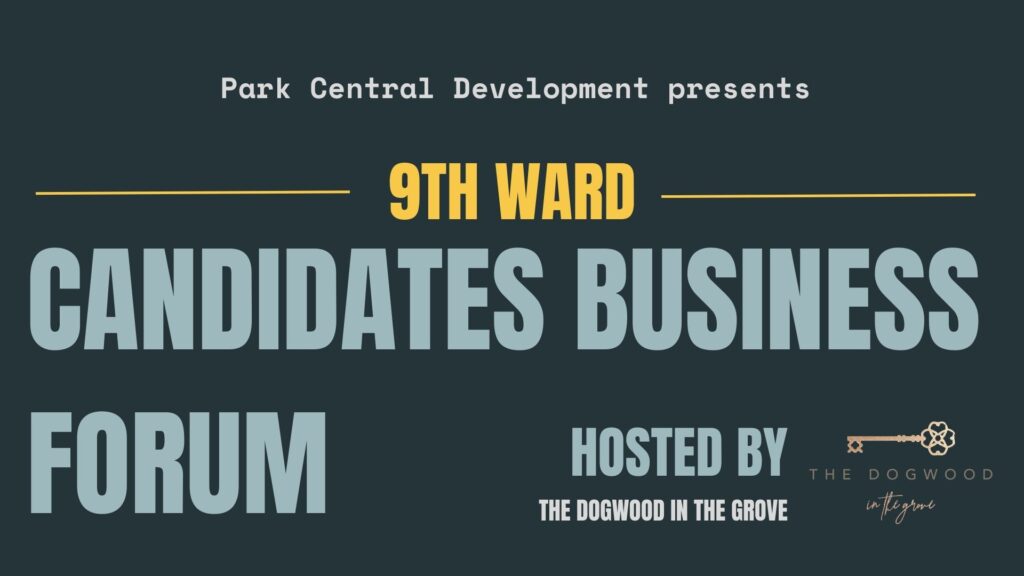 9th Ward Candidates Forum
Park Central welcomes you to join 9th Ward candidates Michael Gras, Tina Pihl, and Michael Browning for a business forum at The Dogwood in the Grove on February 28th at 6:00 pm!