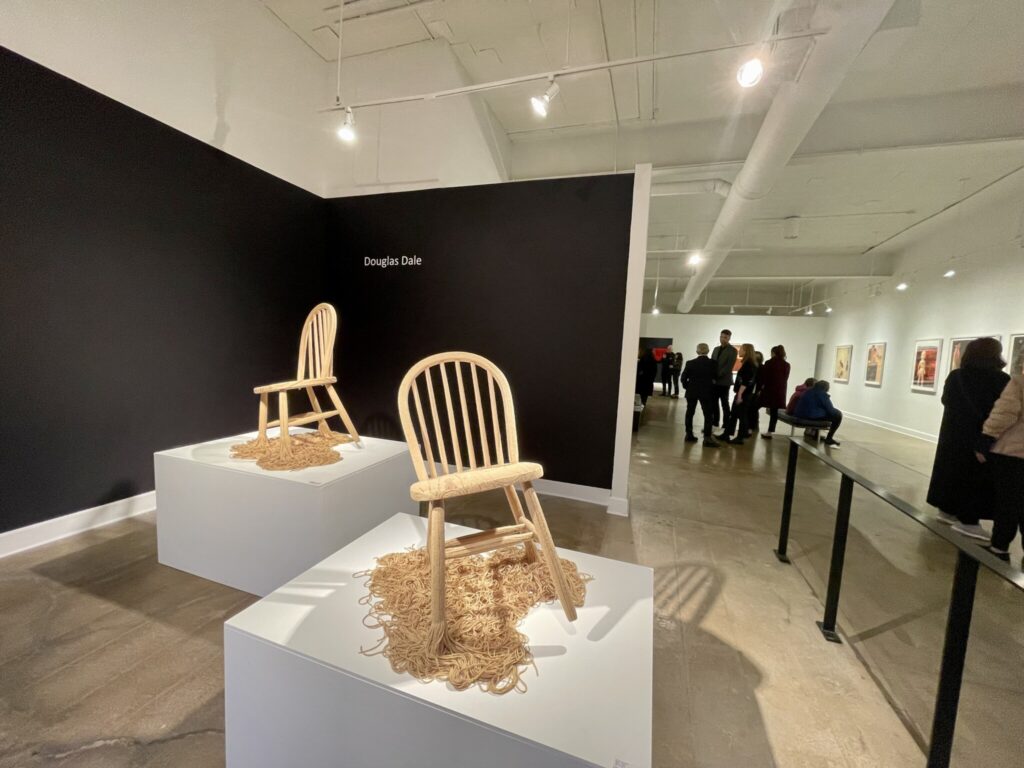 Last Friday's opening at Duane Reed Gallery featured art by Douglas Dale, shown above, and Carol Crouppen Schuchard, below.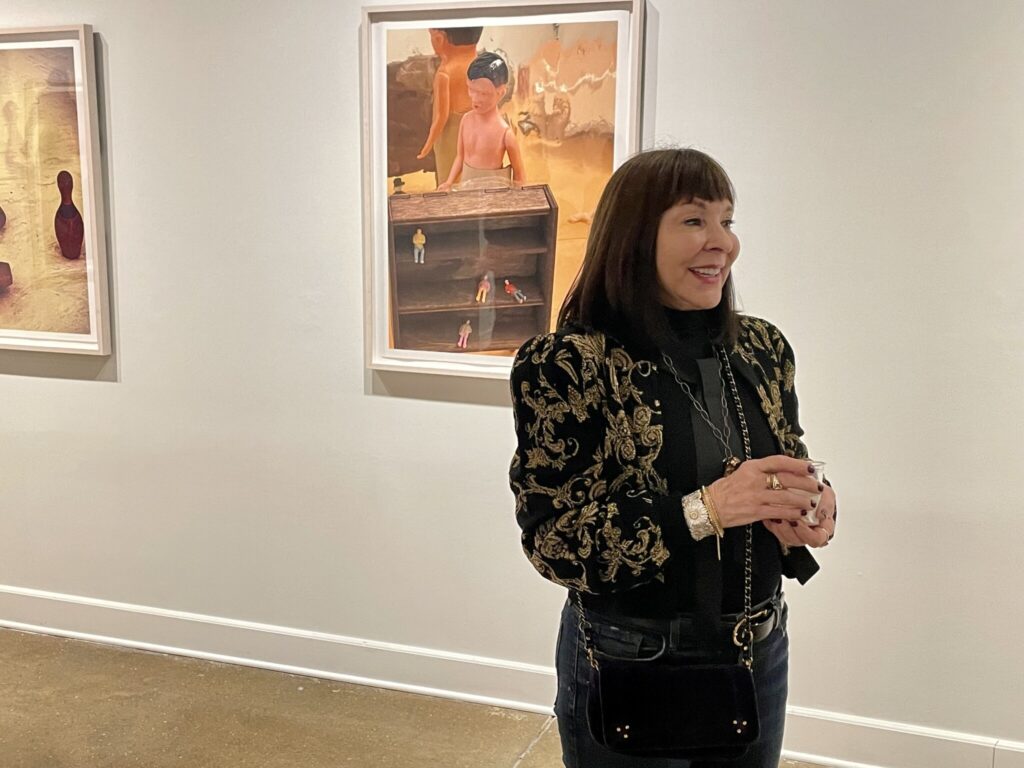 Carol's photography depicts tableaux of found objects. "The work," according to the artist's statement, "draws from her experience working with collage, painting, fiber, and building renovation."
"Building renovation" may seem like an odd choice for inspiration unless you know that Carol and her husband Pat Schuchard, also an artist, are the visionaries behind the renovation of many buildings in the City of St. Louis. Those include the Boo Cat Club on Union Blvd., Das Bevo (formerly The Bevo Mill), The Majorette at 7150 Manchester, and Immaculate Conception Catholic Church on Lafayette, which they've named Johnny Angel Studios. The Schuchards have created an art studio in the former church space where they're creating objects for another new project, Tim's Chrome Bar, across from Das Bevo on Gravois.
Here is a link to more of Carol's photography, including Untitled 21, above.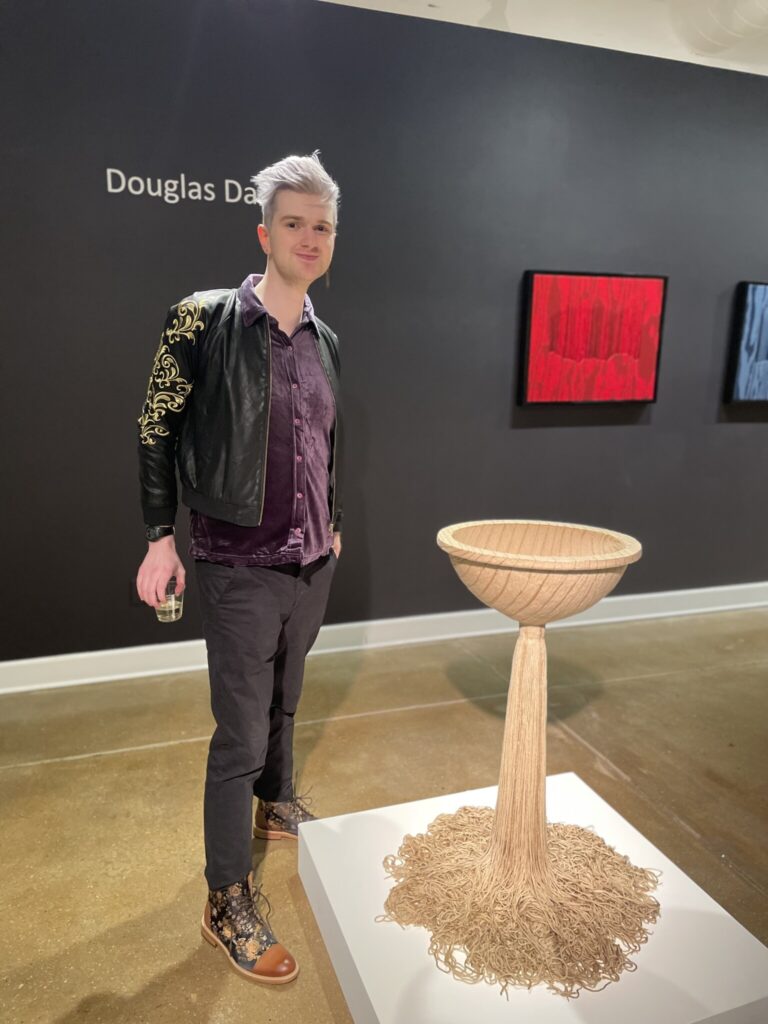 Douglas Dale, Duane Reed's assistant director, uses contoured yarn to trace and mimic wood shapes. He's photographed alongside Checkpoint.
Dale's Woodprints, 10″ x 3.5″ x 1.5," yarn on wood, are displayed above. The artist "finds inspiration from camp, drag, theater, and the club scene: spaces where reality is the product of illusion."
The current exhibition will remain on view until March 18.
Duane Reed Gallery, 4729 McPherson, Tuesday through Saturday, 11 to 4.
At Houska Gallery: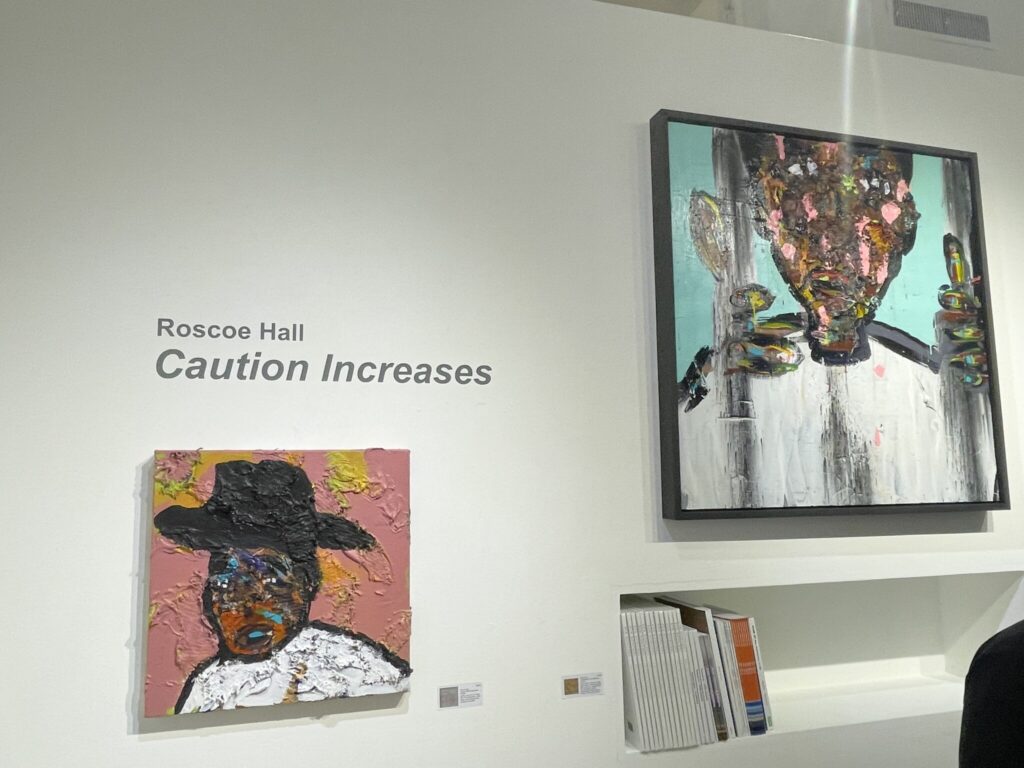 Birmingham-based Roscoe Hall earned an M.F.A. in Art History from Savannah College of Art and Design. According to the artist statement, his "paintings are clearly meditations on his Black experience."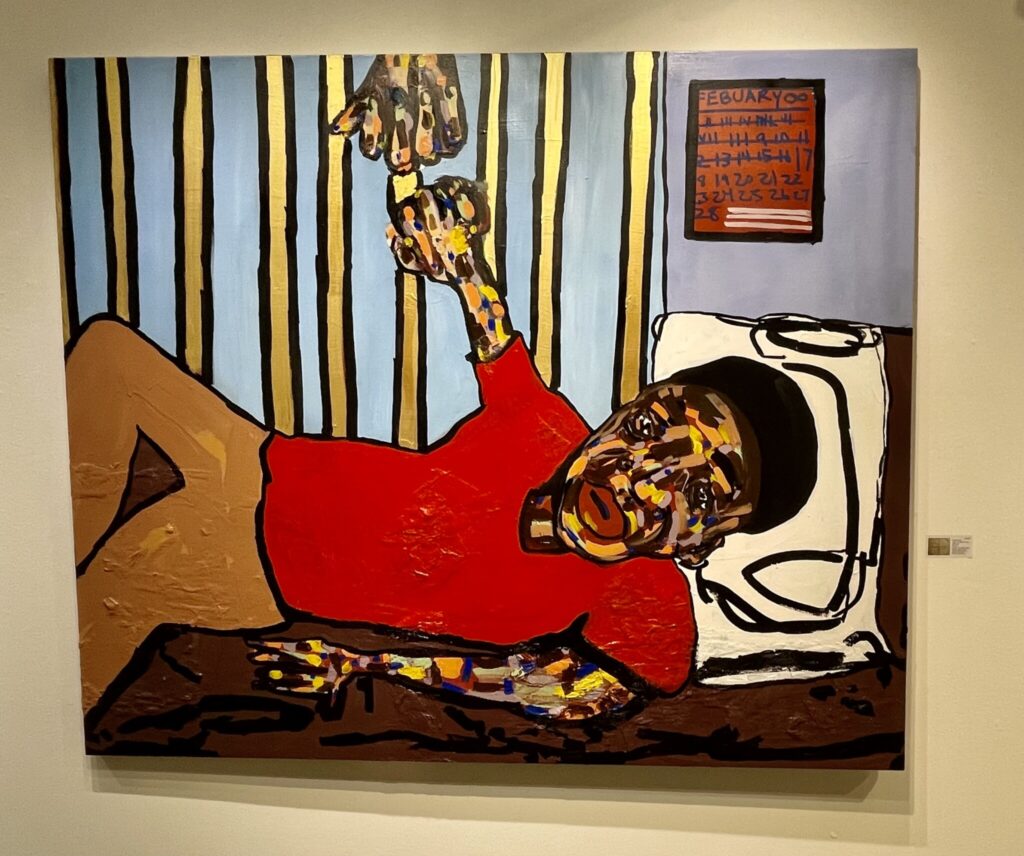 Shown above is Hull's  Arms Too Short to Box with God, 60 x 72″, acrylic, ink, chalk, paper towels, peach sativa gummy, Mos Def 1st album, Red Stripe.
Houska's upstairs gallery features Michael Hoffman's body of work titled Nexus

Halcyon Slipstream I, II, & III, each mixed media panel is 24″ x 72." Close-up  photo of Halcyon Slipstream, below. courtesy of Houska Gallery.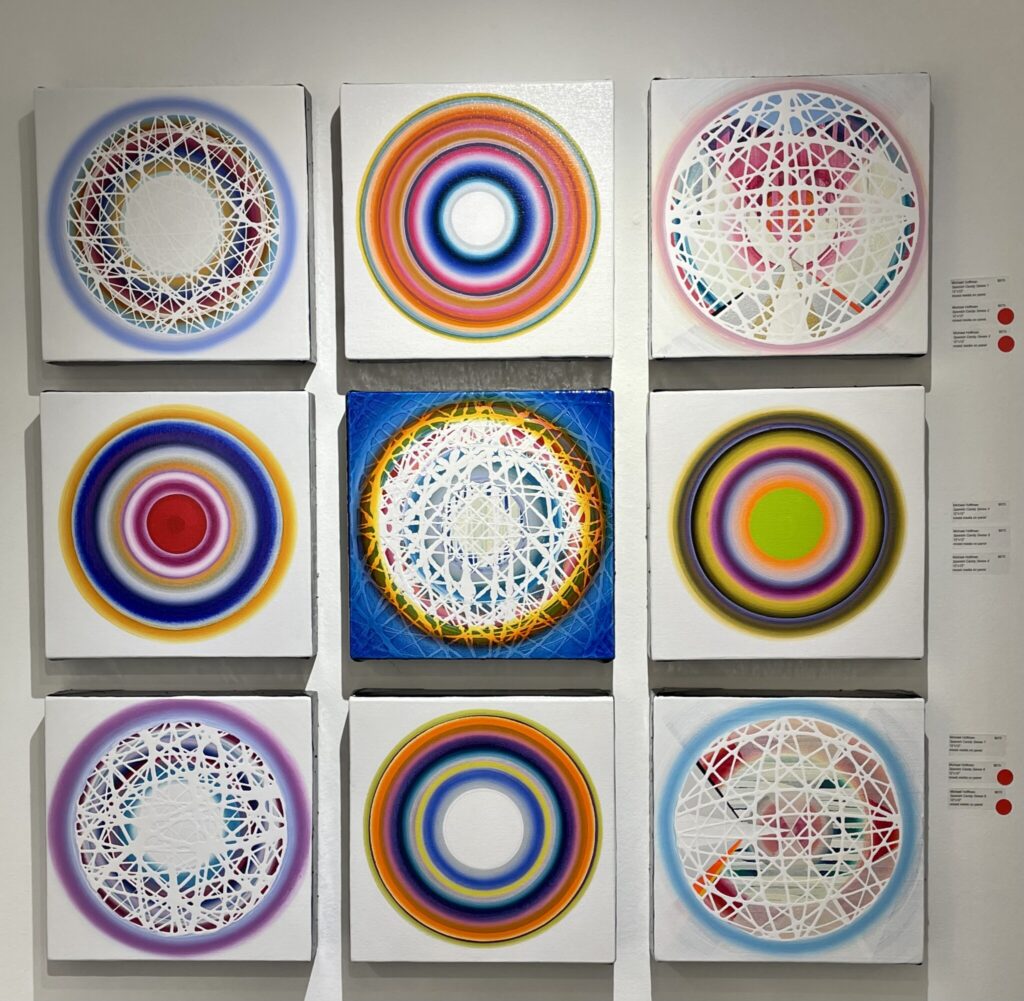 Hoffman's Spanish Candy Series 1 thru 9,  mixed media on 12″ x 12″  panels.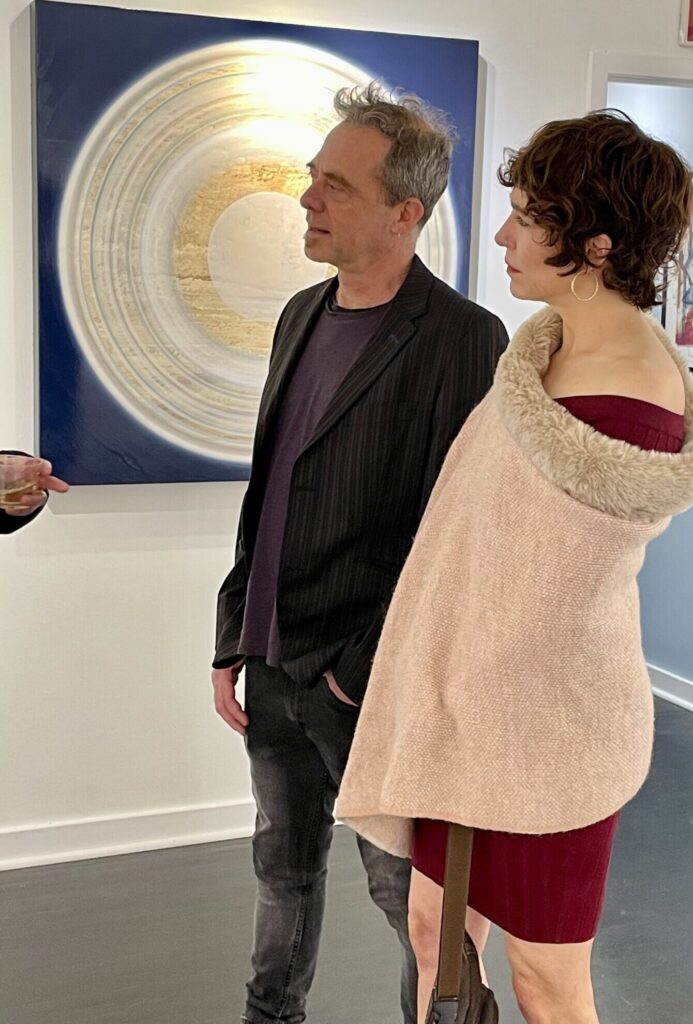 The artist Michael Hoffman is photographed with Angie Campbell.
Stop by to see the latest exhibition at Houska Gallery, which runs until March 18.
Houska Gallery, 4728 McPherson, Tuesday through Saturday, 11 to 4.