As I sipped a delicious Vietnamese coffee and chatted with Sky Le, above, a hairstylist who has operated out of Gregory Smith's Coiffures by Shawn for a couple of years, I was struck by how amazingly generous people can be, especially this gentle soul.
Before Sky departs St. Louis in his white pickup on a 3-year tour giving complimentary haircuts around the world, he's offering free cuts at the CWE salon, 312 A N. Euclid, Tuesday, January 10 through Tuesday, the 17th (excluding Sunday the 15th), from 9 to 5. He's raising money for cancer treatments or research, and while the cut is gratis, if anyone chooses to make a donation to St. Jude's Hospital for Children in Memphis, he'd be delighted. "At St. Jude's, kids with cancer are treated free of charge, and I want to do what I can to help that effort." His $20,000 fundraising goal while on tour in the U.S. has already reached $2,000, even before he hits the road.
"I've noticed in the 15 years that I've been a hairstylist, the experience leads to sharing stories, getting to know one another. Behind every haircut there's a story, the only thing that changes is the location. I've cut hair in London, Korea, Puerto Rico, and often in my birth country of Vietnam, and it's been the same connection to one another, no matter where I am."
Sky's family left Vietnam and moved to St. Louis when he was 16 years old. Though he recently lost his father, his mother and two sisters—one of whom is a nurse, the other is in medical school—still live here.  When asked how they feel about this 3-year journey, Sky replied that his mother doesn't say much about it, but his sisters are enthusiastic.
His vision of life changed forever last year while cutting hair in Vietnam. After he finished cutting a stranger's hair at 3 a.m. one morning, he said he hoped to see the man again. The man thanked him, smiled and said, "I have cancer and don't have long to live, so I will not see you again." Afterwards, Sky kept thinking about that man and wondered if that day was his last. (A video on the website shows Sky cutting hair in Vietnam at night, as that's when he can reach people who work long hours in restaurants, for instance.)
When the world shut down during the pandemic, Sky struggled with what to do with his life, where to find meaning.  He realized that his creativity as a hair stylist was a positive experience for everyone, so he says that on his tour "Everywhere we go we will make people happy." (The "we" in this statement includes the friends he's made on his travels around the world, who will keep him company on social media as he makes his journey. They will also help him translate his message on his website to other languages when he reaches countries where English or Vietnamese are not spoken.)
"I've had a good life in St. Louis, but now I want to give everything possible, my skills, my time, energy and enthusiasm to spread love and peace throughout the world. I don't know if I will ever have another chance to make this journey, because as I learned cutting that man's hair in Vietnam, all we have is now. "
If you visit Sky's website, you'll find his 5-continent itinerary, which he's financing out of savings and sales of a tee shirt commemorating the journey. After an initial tour cutting hair in the U.S.,  he will travel to Canada, Mexico, and through Central and South America. He plans to ship his truck from South America across the Atlantic to Morocco, and continue on from there. As he reaches different countries he and his social media friends will search out organizations that support cancer patients or research so his fundraising efforts will continue. Sky's 3-year world tour will end in Vietnam.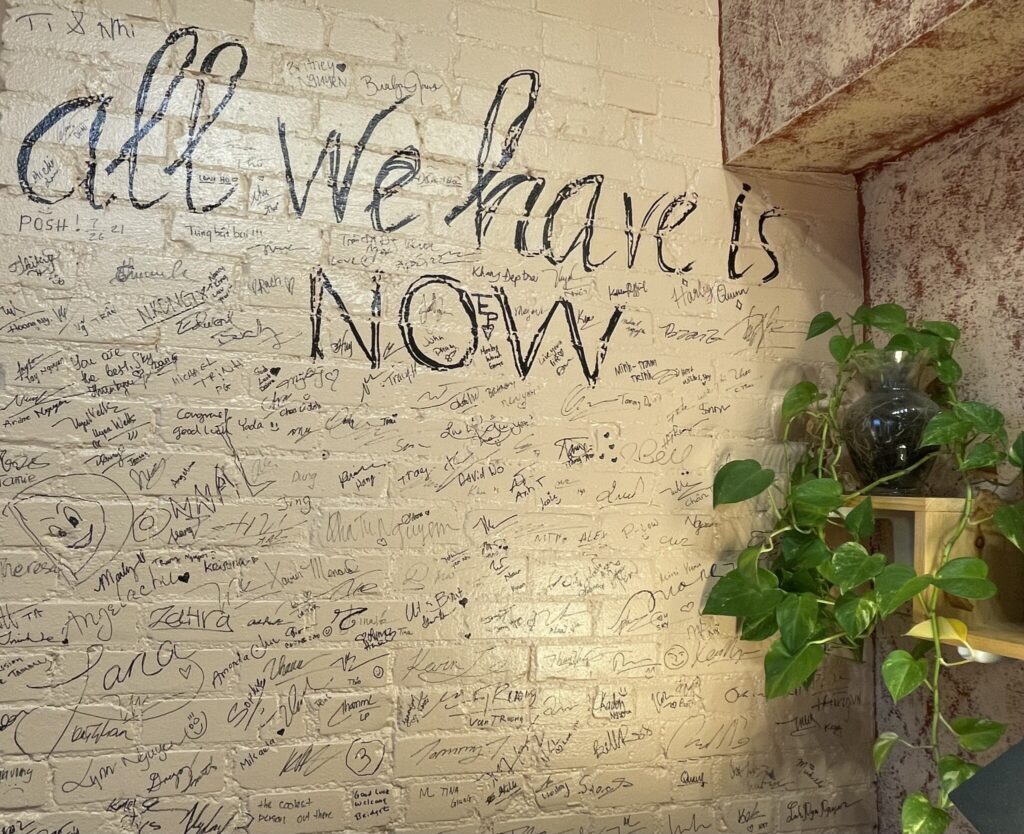 A wall in the salon shows Sky's slogan and signatures of local clients wishing him luck on his journey. During the world tour he will ask each person whose hair he cuts to sign his truck, as he plans to start a new category for the Guinness Book of World Records. All he asks in return is to have a conversation and learn a little about each other, to take a photograph commemorating the occasion, and to share hope across the world to cancer patients by saying "never give up."
To arrange a free haircut (offered for all ages) from 9 to 5, January 10 through 17,  contact Sky Le via email: lesky2025@gmail.com or (314) 683-8624. Coiffures by Shawn is at 312 A N. Euclid (on the second floor above Main Squeeze and Esther & Mila).