With articles about the unhoused in today's St. Louis Post-Dispatch and New York Times, it seems like an opportune moment to post my article originally published in the November issue of CWEA Griffin on how the Central West End Neighborhood Security Initiative has been dealing with this challenge and its plans for the future. Read on: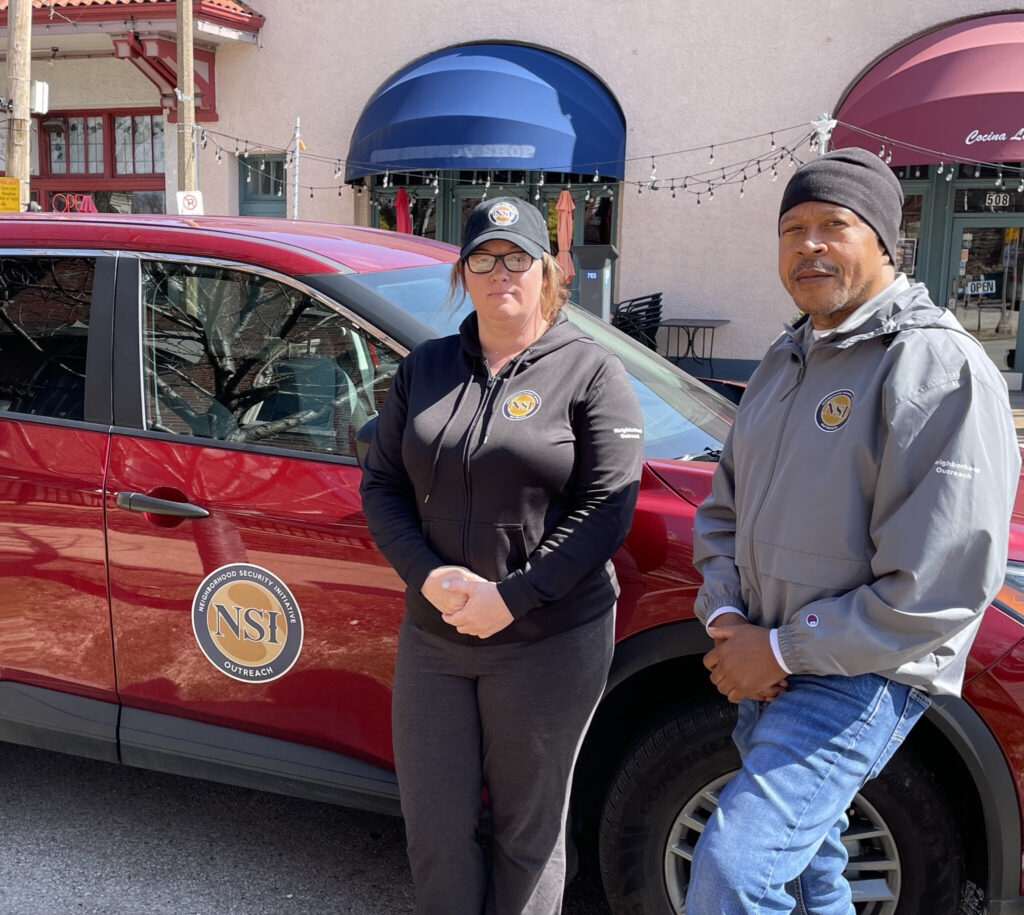 Jim Whyte, executive director of the CWE Neighborhood Security Initiative (NSI), is ready to launch a supplemental fundraising effort to expand the successful
neighborhood Outreach Program that began in 2021. The Outreach Program was
implemented when Whyte saw an unmet need for a more comprehensive program for people experiencing chronic homelessness as a result of severe mental health issues and/or addiction. He hired Alvin Ferguson and Melissa Brown, "the best people for this job,"who worked for many years in the same capacity at St. Patrick's Center. For Ferguson and Brown, above, this work is a calling.
The NSI Outreach Program serves an area that extends from the East Loop
Neighborhood to Vandeventer, Delmar to Forest Park Southeast and Cortex. Eleven
Special Business Districts and Washington University Medical Center contribute funds to support the current program. "We're able to manage the program at the current level of funding," Whyte said, "but we could really do some great things with more money."
Many people assume housing is the solution, but it's only part of it. Most unhoused
people have an underlying problem, such as mental health issues and/or alcohol or
drug addiction. These problems keep people marginalized. "The drug problem is at an epidemic level right now because of fentanyl," Whyte said. "These addicts are
frequently the people we encounter who support their addiction panhandling, and also committing some low level crimes in the neighborhoods."
"Good-hearted people are enabling these people with kind acts of charity, giving money, food, and other basic items. I understand some people feel intimidated and fear saying no, but helping in this way keeps people away from services they need most," Whyte continued.
Whyte hopes to raise $250,000 "to set the expanded program on its feet." With the
addition of a full time executive director, and a third part-time social worker, the
Outreach Program could operate independently. Ferguson estimates it will take 5 years to build a firm foundation for this type of program.
Whyte's dream includes the purchase of a building on Kingshighway that could offer centralized services including dental/medical care, housing, rental assistance,
education, drug /alcohol counseling, and basic needs—a good meal, a place to shower, wash clothes, what he calls "therapy for the mind and body." Inspiration comes from Father Greg Boyle's Tatoos on the Heart, which describes a successful program for the unhoused in Los Angeles, and The Bridge, an extremely successful program in Dallas that raised $20M to create an all-inclusive facility.
"First families suffer when relatives exhibit mental illness," Whyte explained. "They've had it, they can't get them to take their meds, or follow rules, so they put them out of the house. They can't go home anymore, so they wind up on the street. There are 1,500 to 2,000 known homeless in the City of St. Louis, which Ferguson considers a manageable number. "Consider Los Angeles, where there are 49,000 homeless." According to Whyte, "Homeless come into the city from all over the region, because the city is more tolerant, and because of the availability of drugs."
Ferguson and Brown measure the success of the Outreach Program in various ways.
As they travel the targeted area in a red Outreach SUV, the needs of the community are their top priority. They get information on people in need from the "guys we encounter, from businesses, residents, police, churches, and other outreach specialist in our areas. We approach these people as you would a loved family member. We let them know we're on their side without judgement. Even if we can't help, they know we are sincere. It takes a lot of strength, caring and selflessness to connect with these individuals," Brown said.
The team checks in on them frequently so they can build trust and get them help when they are ready. Help might be as simple as a bottle of water, a pair of socks, or obtaining an ID, birth certificate, connecting to a family member. "We also reconnect guys with social services or previous case managers."
The team was eventually able to get an individual who was hanging out at Starbucks into alcohol treatment, and credit the Starbucks team with empathy while they built up trust with the individual.
"When they are ready to go in for treatment we need to act right away," Ferguson explained. "There's a sobering center at 4066 Dunnica Ave., but only police can escort someone there—if a bed's available."
"Some people will not give up what little they have," Ferguson said. "It works for them, though it may not work for the rest of the neighborhood." For addicted panhandlers, Brown added, there isn't much they can do. "That is more of a legal system issue. Most of the time they refuse help, and feel we are interfering with their main goal, obtaining drugs."
"Our biggest challenge is the mental health aspect," Whyte said. "We need more mental health facilities in the city. Where do we take people when they need treatment? We don't know how to get people into the facility on Arsenal, or on Delmar. Currently, they are taken to BJC or SLU Hospitals, but our experience has been that they are usually released within a few hours."
The dedication to their task is evident in how the Outreach team describes their work. "The people we help are doing us a favor by letting us into their lives, They have nothing to do, so they don't know what to do. They're lost. Most have lived their whole lives without anyone. These people are simply human beings. It doesn't feel like work to us. Even when we're not on duty, we think about the people we encounter."
Jim Whyte is hoping to find donors to help fund his vision for an expanded program, which would benefit not only those receiving services, but the communities it serves. It would also act as a model for other neighborhoods to emulate. "Let's create something sustainable and impactful." For information, contact Jim Whyte at (314) 454-5808 or jwhyte@cwensi.com.
To read entire issue of November's CWEA Griffin click here.