In mid-September I flew out to Oakland to visit family. It had been 2 1/2 years since I had traveled anywhere, so I was a little apprehensive about getting on a plane once again but, as is usually the case, once I got there those concerns melted away.
I was visiting Oakland's Uptown District, which has many similarities to both the CWE and The Grove.
The Uptown District is a walking neighborhood with a young population attracted to the proliferation of tech businesses located there. There are two medical centers nearby, and an urban-size Target occupies the ground floor of an apartment building. Single family housing is out of reach for most in the Bay Area, so there were many new apartment buildings in the surrounding area as well as commercial buildings that had been converted into dwelling units.
The district hires a street cleaning crew to pick up trash, and I spotted a gardener on a ladder tending flowers in hanging baskets that line the sidewalks.
Hive Oakland, 2333 Broadway, is a collection of brick and timber buildings that include retail storefronts, offices spaces, converted lofts and apartments. I stayed at The Kissel (not photographed), which reminded me of the AC Hotel CWE, though instead of new construction, half of what was formerly a car showroom is the hotel, while the other half was turned into apartments.
In the adjacent pocket park, shipping containers house Bay Area Coffee Roasters, above, and Petaluma's Humphrey Slocombe Ice Cream, below. As at the CWE's World Chess Hall of Fame, there is a large chess board painted on the ground, and chess tables located under a nearby arbor seemed to attract a steady stream of players.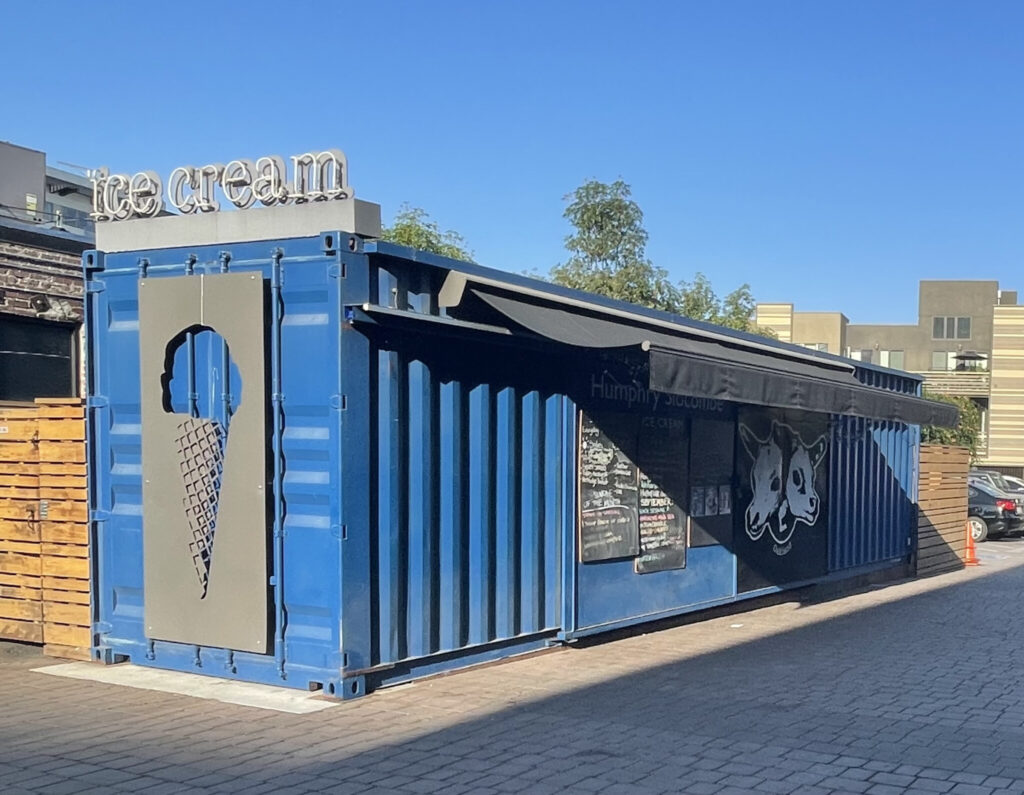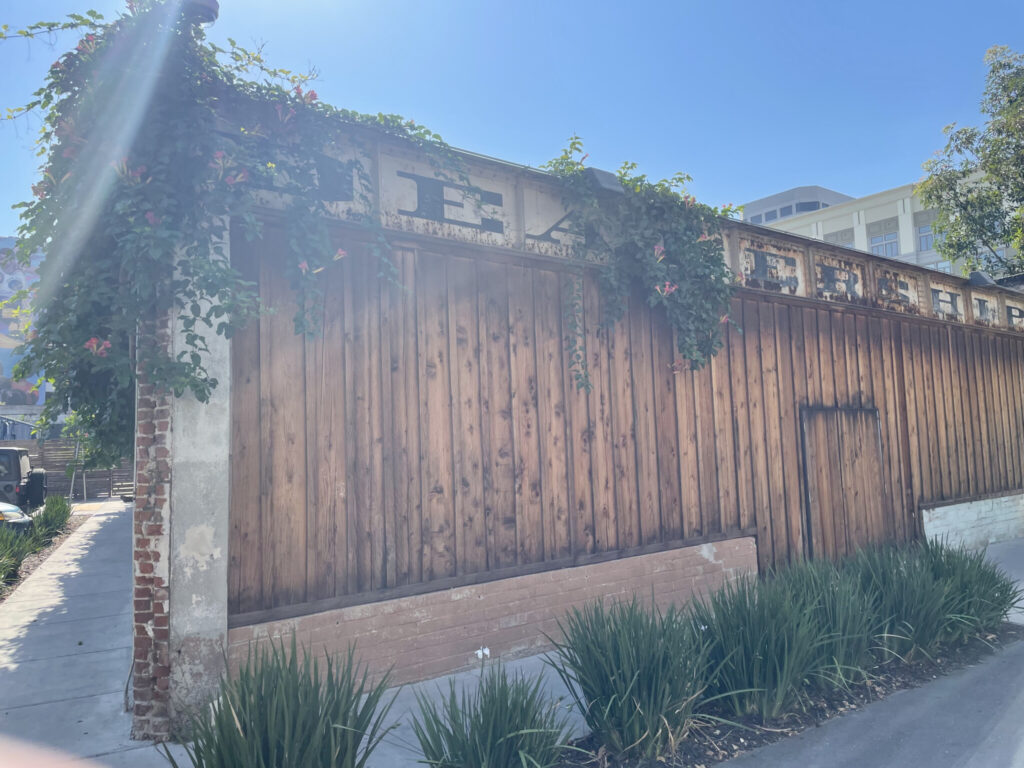 The old Drake's Dealership (this area was known as automobile row) is now an open-air pizza restaurant and beer garden.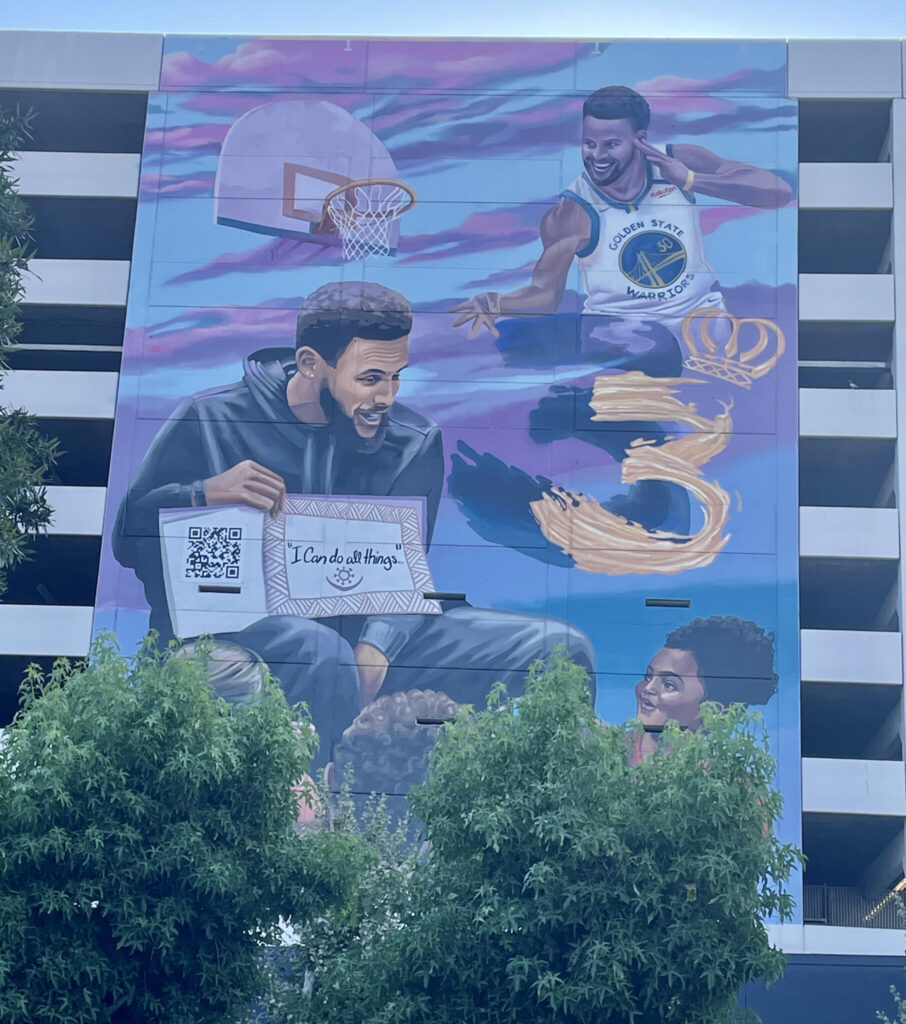 A mural of Golden State Warriors basketball star Steph Curry covers a wall of a parking garage above the YMCA.
Curry's wife Ayesha opened a stunning flagship shop, Sweet July, just around the corner.  I was drawn in by beautiful merchandise visible through the huge windows as well as inviting music and a coffee bar.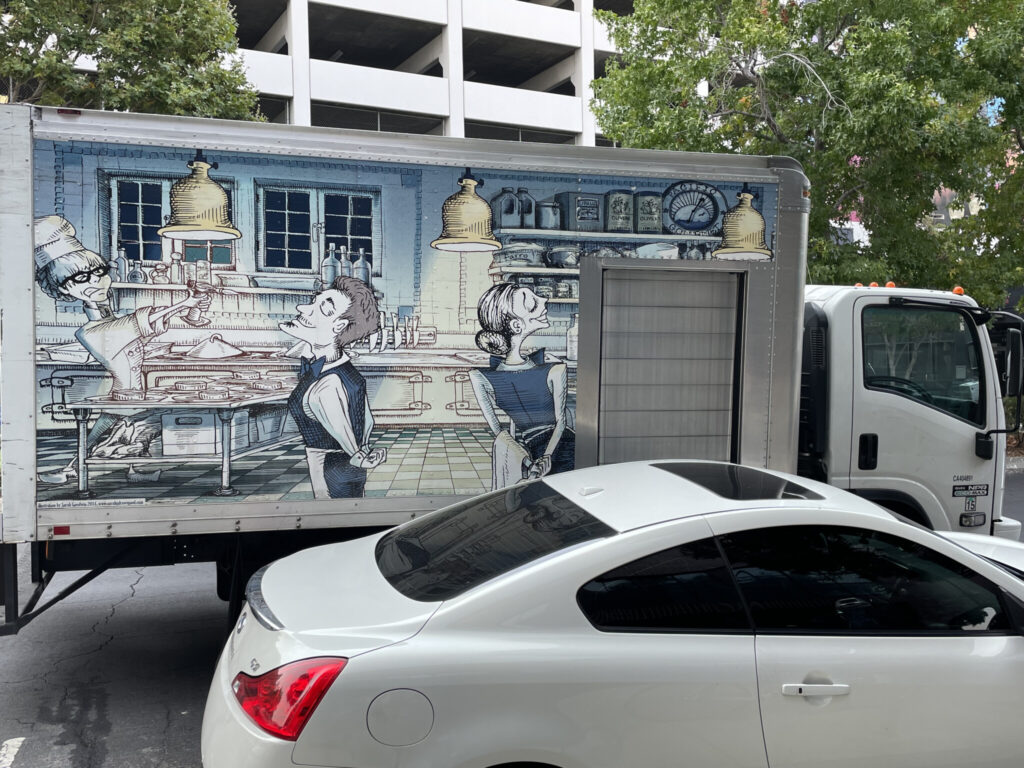 I can imagine myself spending some time in the the scene painted on the Firebrand Bread  delivery truck above, a spot I found myself headed to each morning. It's a popular neighborhood breakfast/lunch hangout with delicious sandwiches, pastries and breads (imagine a loaf of croissant bread!).  Employees can be seen making baguettes while you wait for your order. I also learned that Firebrand has an altruistic business model "employing those with barriers to employment, particularly people who were previously incarcerated or previously homeless, and provides them with opportunities to train in a skill regardless of their past…"
It was a quick visit, but I was so glad to have time with family members whom I hadn't seen for too long. When I got back home, I was reminded once again that we really do have a unique situation here. It is so easy to do so much within walking distance.  Yes, we have challenges, but there are so many, many positives to celebrate and enjoy.