I met Françoise Olivier in 2013 at a Washington University Women's Society gathering at the Kemper Museum, shortly after she moved to St. Louis from Brussels. Looking back on the past ten years of our friendship, I realize that from that very first meeting most of our interactions have centered around art.
Now, as she and her husband François Fraudeau, prepare to depart from St. Louis, Francoise leaves behind many friends and a parting gift to the city she has come to love. She has published a book of watercolor paintings titled 36 Views of St. Louis, featuring locations around St. Louis that are of significance to 36 of her closest St. Louis friends.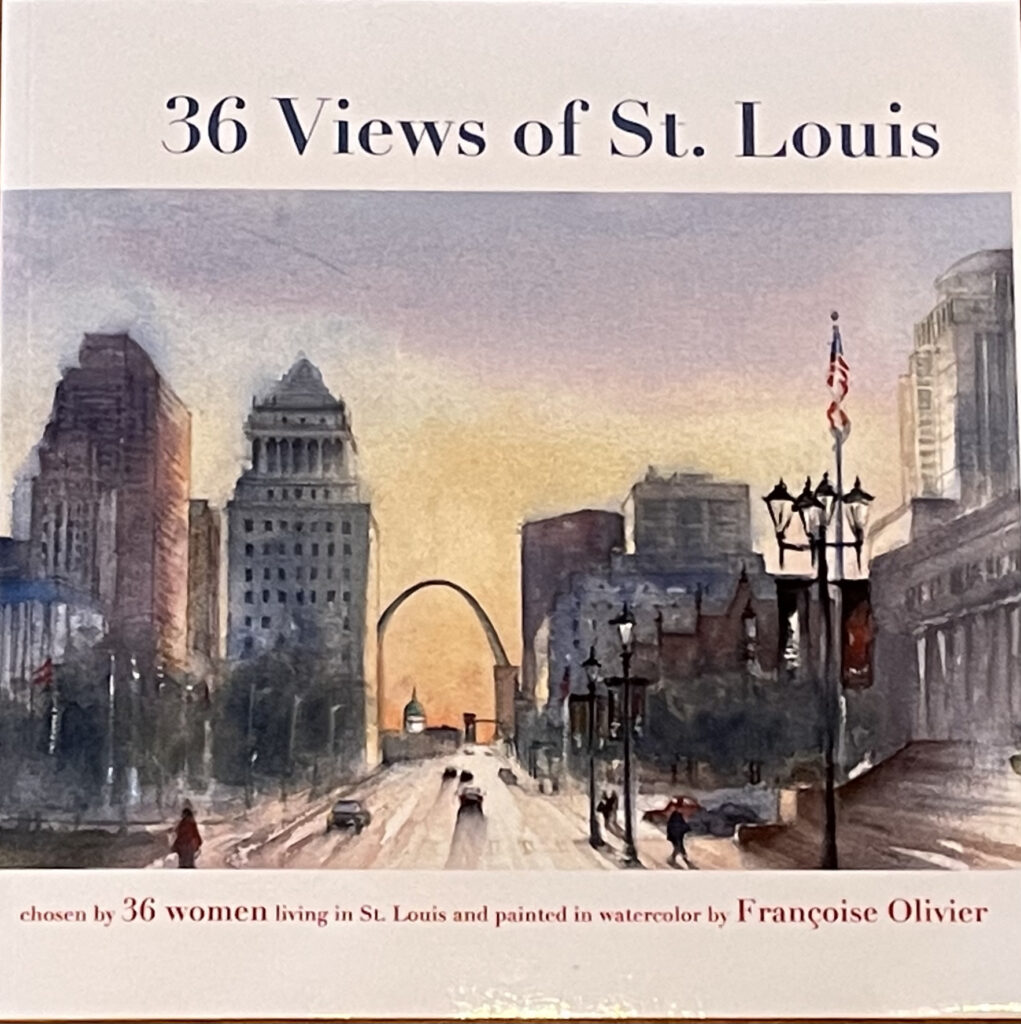 In 2012, the couple was living in Brussels when François relocated to St. Louis to become President and CEO of Novus International, an animal health and nutrition company based in St. Charles. At the time, their youngest daughter, Alice, was finishing high school, and Françoise, an architect specializing in the restoration of monuments, was working on several projects she was not ready to leave behind. Her architectural accomplishments include work on the restoration of the Opera Houses of both Liège and Brussels (La Monnaie).
At the end of this month, they will be moving back home to Paris to be closer to their 3 children, 2 grandchildren, and her mother, who lives outside Paris. Over the past decade, daughter Alice studied fashion design, and has started a line of clothing with a friend. Juliette attended law school in New York and now works for an American firm based in Paris, and Charlie is Head of Marketing for International Development at Universal Music, France. "We always told our children to do what they loved," Françoise said.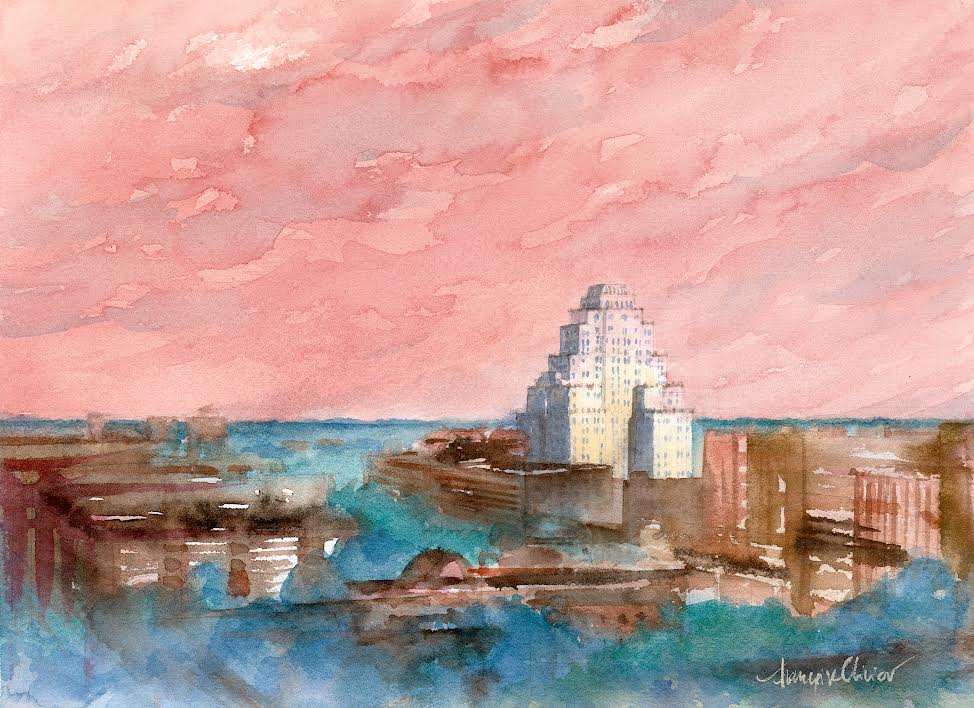 When Françoise and François settled in the Central West End (her painting of the view from their condo is shown above), Françoise admitted it was hard to adjust. "English is not my mother tongue," she said. "It was hard to understand people, I had to really concentrate." And in St. Louis she found, you have to find your own way. "Guide books don't tell you much about St. Louis, you learn where to go from the people you meet. As a European, we are used to going to a City Center, to the downtown area. Here there are different centers, Downtown, Kirkwood, Clayton, the CWE."
When Françoise moved to St. Louis she gave up her architectural practice as well. "Architecture is my passion, but I eventually decided that I wouldn't go back into practice. I still do very small projects for family, making sketches for instance, but I don't have the ability to make the plans official any longer. And I must say, I am not sorry to have given it up."
"I took my time deciding what I wanted to do next," she continued, "and then chose to do what I had always wanted to do, which was to concentrate on watercolor painting, and to continue studying the piano." She had used watercolor in her architectural renderings but "wanted to explore the medium to express my feelings, looking for freedom, painting loose."
She took classes at the Art Mart, which led her to find the St. Louis Watercolor Society. "That was a great experience, there were workshops in different places around town, and teachers would come from all over the world. I learned a lot, and eventually joined the board."
Françoise also searched Pinterest and Instagram for more art classes and traveled to places such as Tucson, Portland, ME, Charleston and abroad to learn what she could. "I met so many artists, and learned something new each time."
After her husband retired in 2020, the couple had planned to explore the U.S. But the pandemic quickly put an end to that notion, and even the idea of heading to France to be with their children proved at first to be impossible. France was on a tighter lockdown than the U.S. They were eventually able to visit their children in late Spring of 2020.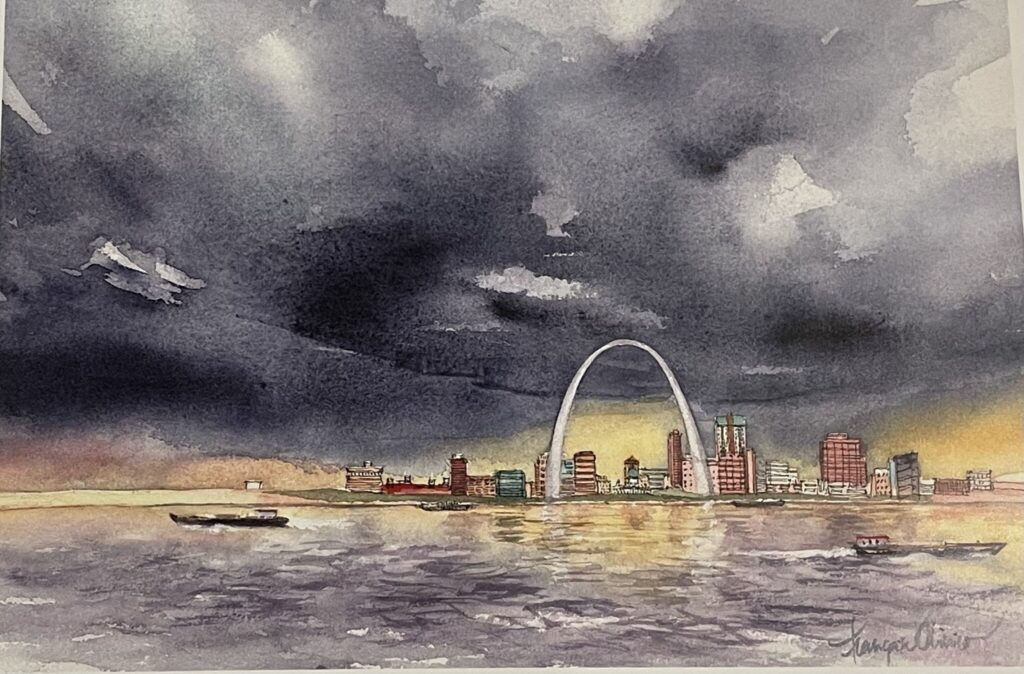 It was during the lockdown that Françoise decided to do something about a problem she noticed about St. Louis. "St. Louis does not have a good identity, and it's really unfair," she said. "It's a place where I love to live, so I decided I had to do something about that."
When her husband was trying to recruit people from around the world to come to work in St. Louis, they would invariably say, "Ohhhh, St. Louis, I don't know…the crime is really bad there."
"The perception is bad, really bad. That's how my idea of bringing a positive identity to St. Louis, and also a tribute to the people I know, came to be."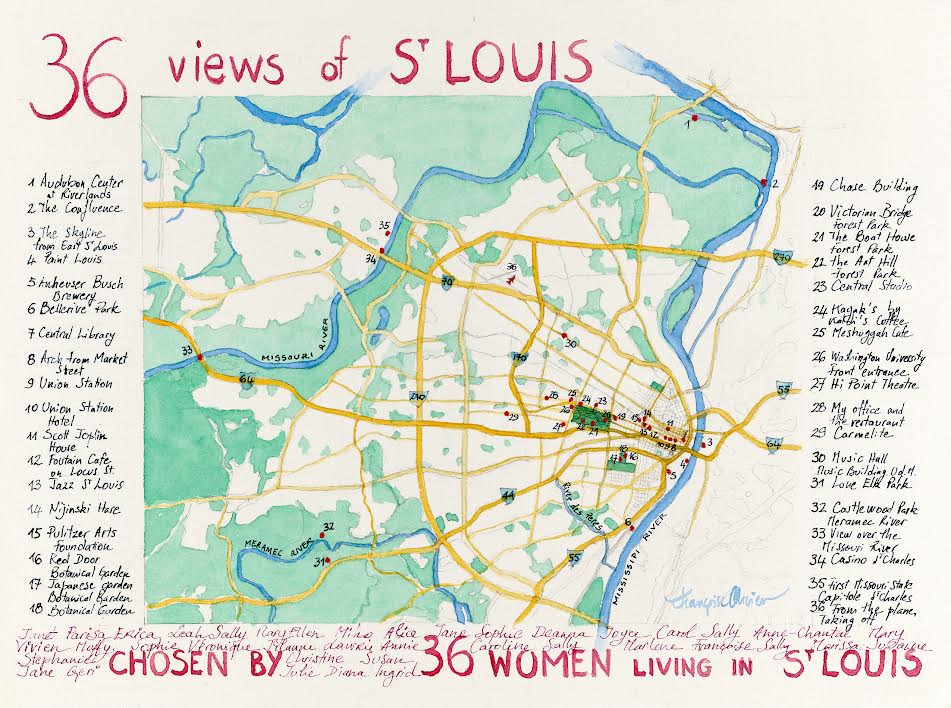 She asked 36 of her friends to name their favorite place in the St. Louis region. After all, it was because of them that she had learned so much.  During the lockdown, it was easy to visit these locations and be alone there. "I would take many photographs and find some special things about the place, as these women are very special to me." She would lay the photographs out on her painting table at home and compose the scene.
(The number 36 refers to Japanese Master Hokusai's 36 Views of Mont Fuji which Françoise saw at the Art Institute of Chicago in 2013. "I decided that 36 would be a good number, even though the 36 of Hokusai are in fact 46.")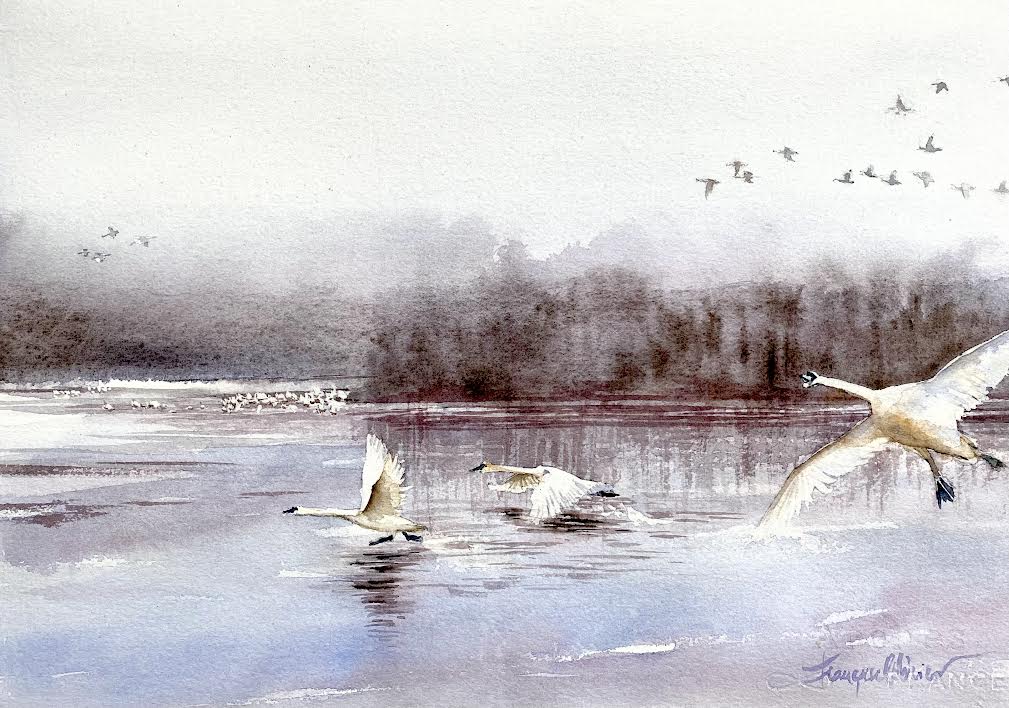 As we were looking through her book, I was touched by her beautiful painting of the Audubon Center at Riverlands. "When I started watercolor I was very upset when I failed, you can't fix it. Now when I look at some of my paintings, I think I could never recreate that painting again. With watercolors you don't always have control over where the paint goes."
This painting has been selected by the 155th International Exhibit of American Watercolor Society in New York City, April 11-30, 2022.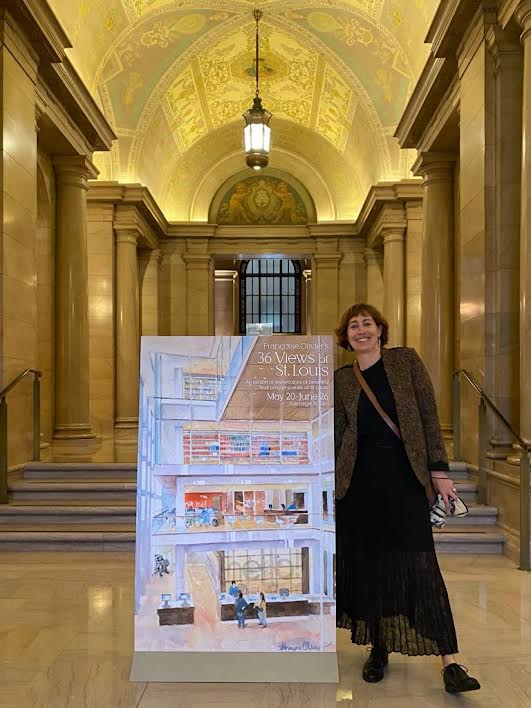 When 36 Views of St. Louis was published, in May, there was an opening reception in the Carnegie Room at Central Library.  The Central Library is a very special place for Françoise (she was on several benefit committees there) and her first friend in St. Louis was CWEnder Annie Schlafly, who has been a longtime supporter of the institution.  Françoise dedicated her painting of the new addition, shown on the poster, to Annie.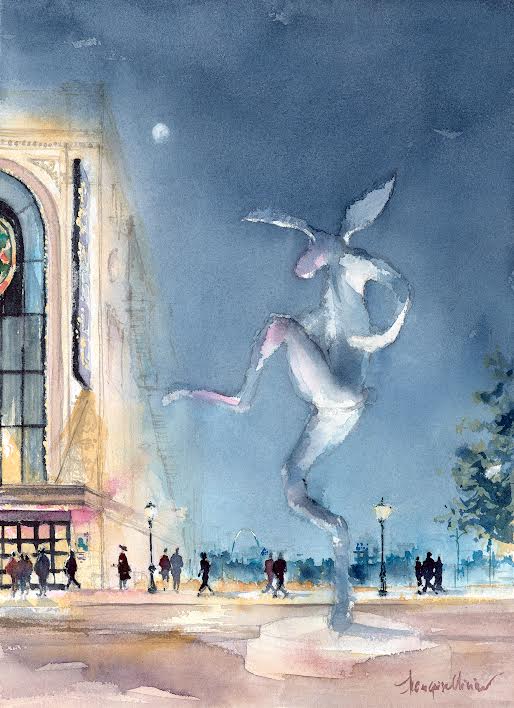 What will Françoise miss the most about St. Louis? "My American friends, and some French friends I met here as well." The other thing she'll miss is the music. "Live music here is something amazing. There are music clubs, the Symphony, Jazz St. Louis, Stifel, the Pageant. It's easier to go to music venues in St. Louis than in Paris.  It's easier to get around here and much easier to find tickets. If you want to go to the Opera in Paris you have to get tickets 3 months in advance, and even then it's sometimes impossible."
The painting above is Nijinski Hare in Grand Center.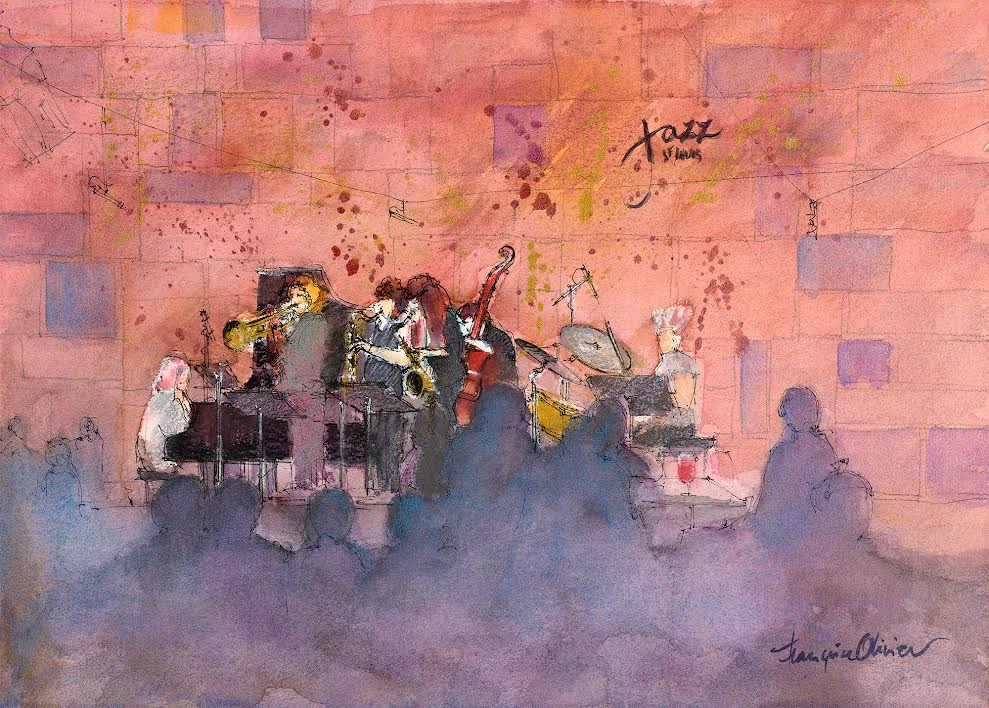 "Jazz is more for the connoisseur in Paris. It's very selective not like here where you see all kinds of people enjoying the music. The same with the Symphony in Paris, it's mostly for older people and very selective."
Françoise' watercolor of Jazz St. Louis was accepted into the 153rd Annual International Exhibition of the American Watercolor Society in 2020.
Thanks to Francoise for letting me share her experience while living in St. Louis. And a big bouquet of gratitude for pointing out many of the reasons we also love living here.
36 of Views of St. Louis by Francoise Olivier, $24.99, is available at Left Bank Books.