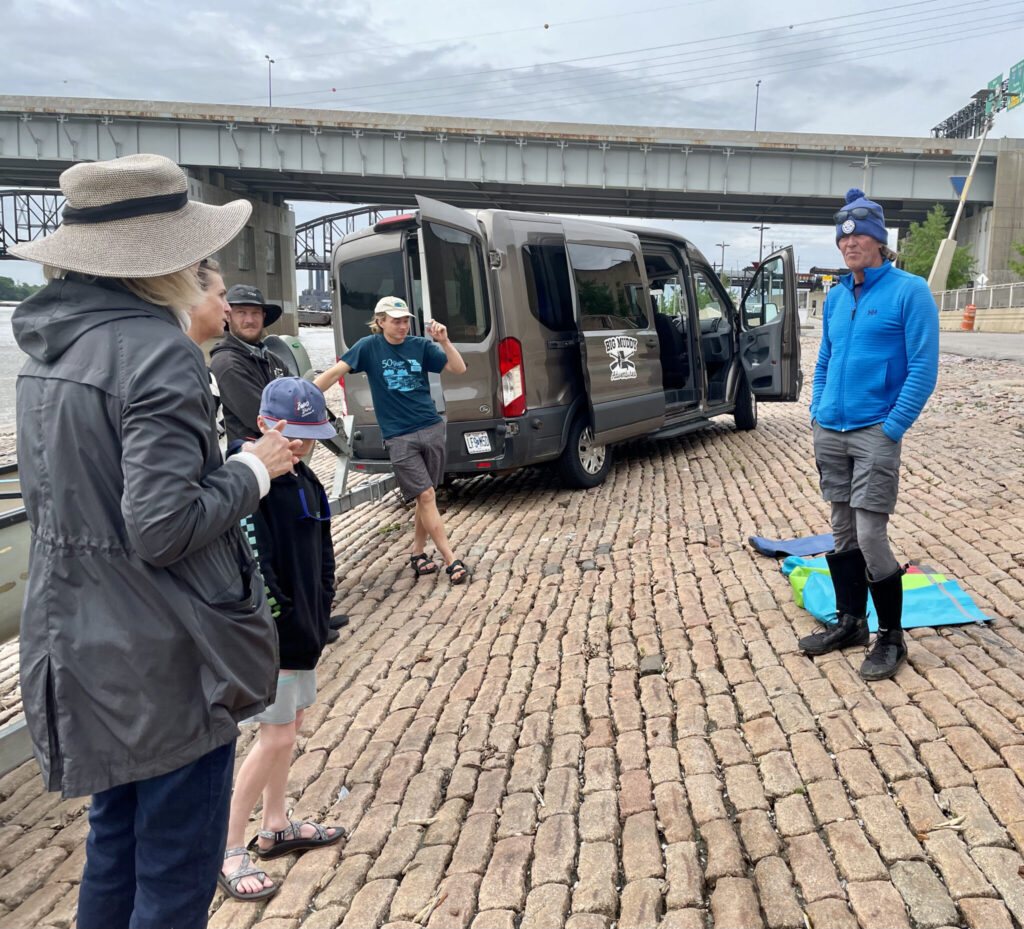 When Big Muddy Adventure's Guideshop at 4662 Washington (behind Bowood Farms) opened in 2021, I wrote an enthusiastic welcome post describing the shop and their river adventures. But I had not yet signed up for one of their canoe trips on the Mississippi, until my niece Emily Stoddard and her family came to visit from Ketchum, Idaho this past Spring.
Emily heard about Big Muddy from me, and decided to book a trip while in town to celebrate my mother's 100th birthday. There was room for two more in the 10-person canoe, so my sister Debbie and I joined them.
My perception about how "delightful" paddling down the Mississippi would be stood in sharp contrast to that of the out-of-towners.  And that's exactly what our river guides, Myles Arbeeny, Tanner Aljets, above middle, and Mike Clark, above right, the founder of Big Muddy Adventures, said as we gathered on the levee near the Arch on a chilly Sunday morning. The river guides confirmed that St. Louisans recall unpleasant images from past floods, the Stoddards had no such preconceived notions.
Another reason for Emily to book this adventure was that Sam, age 9, was studying Lewis and Clark in school, and he would have lots to tell his classmates when he returned home.  It was also why Mike Clark decided to accompany us. Clark is related to the explorer William Clark, and he had plenty to share about the adventurer's travels on the river.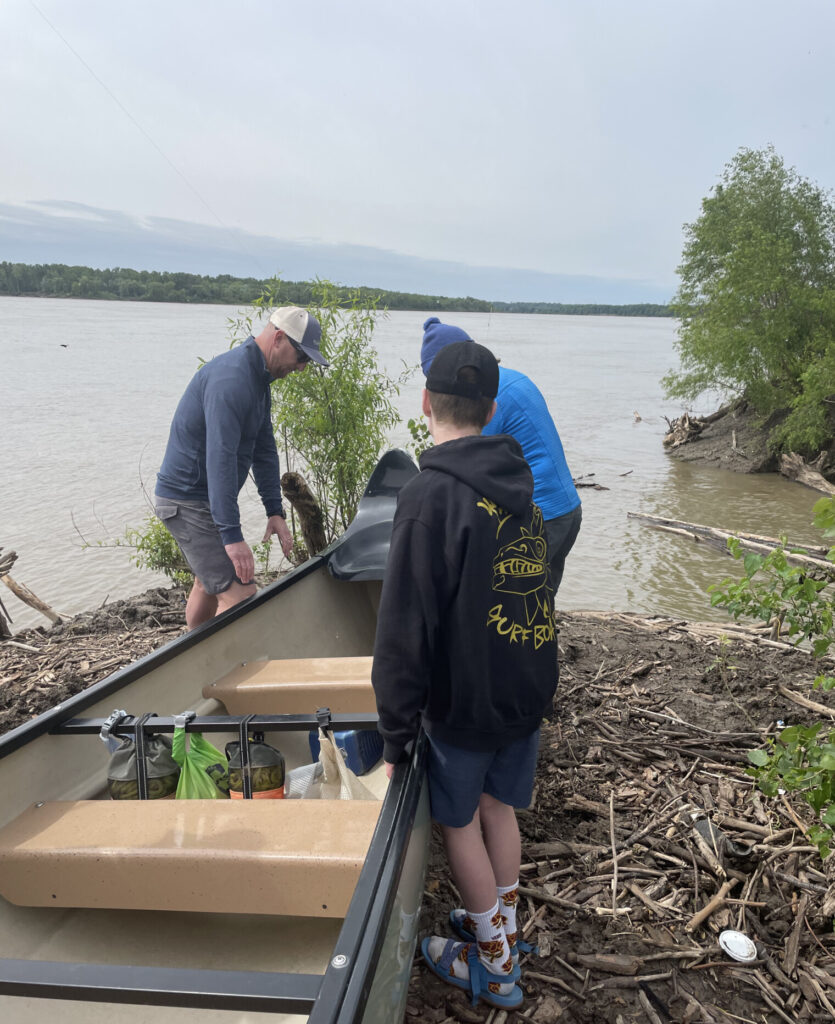 We climbed into the Big Muddy van, trailing the canoe, and headed to North Riverfront Park, which is just below the Chain of Rocks Bridge. Surprisingly, the river looks like a big calm lake up there. We helped unload the canoe and then Myles gave us a crash course on paddling—in tandem, and a serious lesson on the proper fit of our life jackets. Meanwhile, Tanner gathered trash along the shore and park grounds, which the crew does wherever it stops along the river, exhibiting how respectful they are of the Mighty Mississippi.
While we lined up to climb into the canoe, I mentioned to a couple of nearby fishermen that I was a little apprehensive (this coming from a former lifeguard). One man replied: "Don't worry, they put a bunch of babies in the canoe once, and they all came back."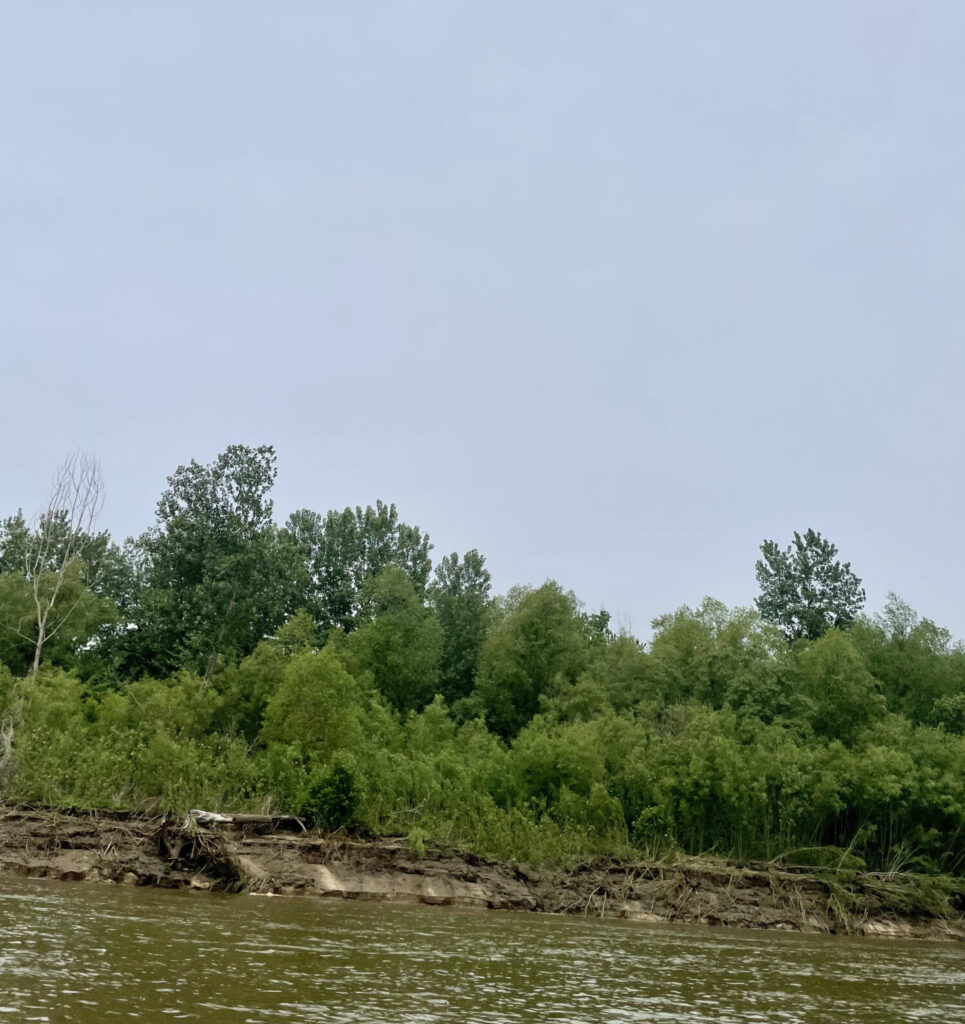 My concerns quickly faded as we paddled up the river a bit and then headed toward Mosenthein Island, a deserted 3-mile-long stretch of land filled with wildlife.  As we watched two juvenile eagles circle overhead, Clark said that he and his dog camped on the island for a few months in 2020, just after the pandemic shut everything down. Every once in a while Big Muddy crew members would fill a canoe with supplies and drop them off.  Several offered to trade places with Clark, but he declined and said he'd still be camped there if he could.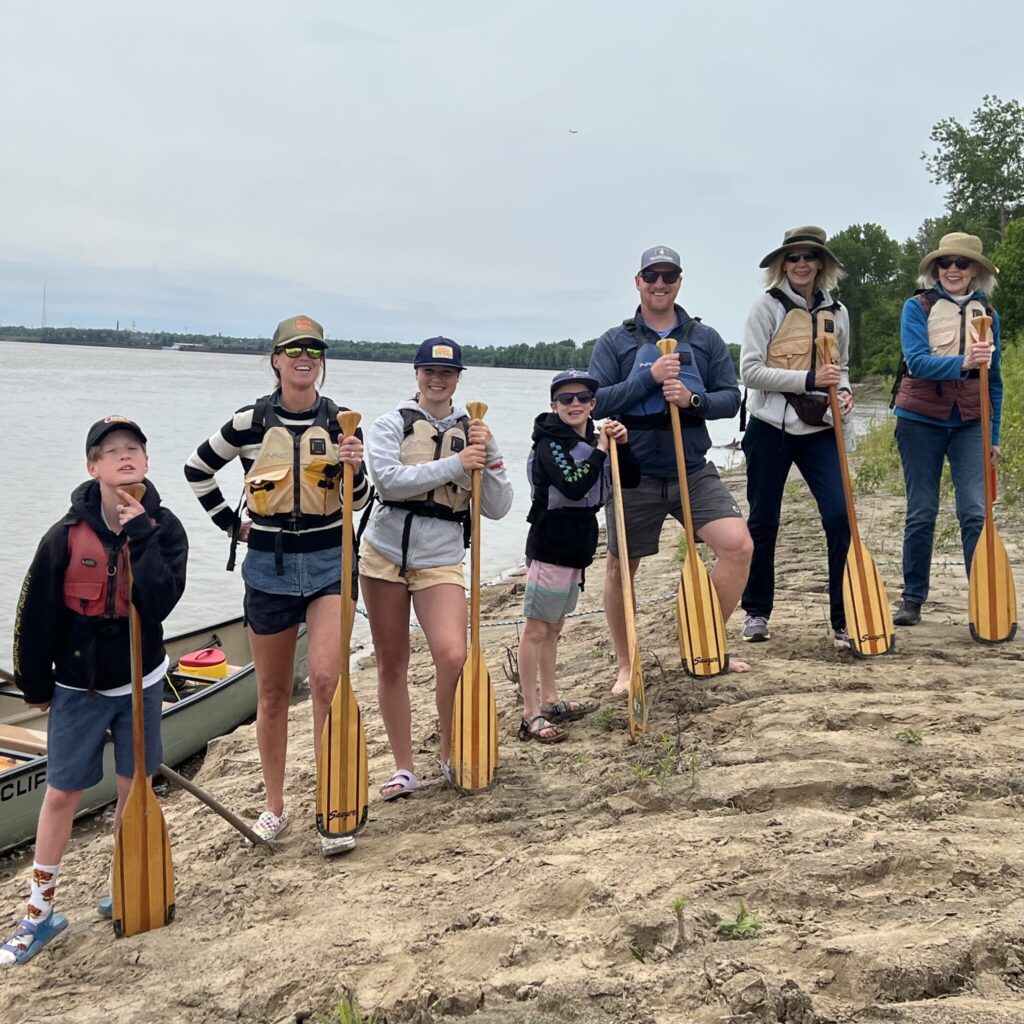 When we got to the campsite, the crew produced a duffle bag filled with a really nice picnic lunch for us. There was also time to explore the island–as much as the mosquitoes would allow—and take a swim, which only one of us did, accidentally.
The contrast between how we locals dressed for the chilly morning, and how the Idaho branch of the family, Emily, second from left, husband Andrew, and Calvin, Jackie & Sam, in shorts and sandals, is telling. To them, it was almost balmy.
More pictures of Mosenthein Island follow: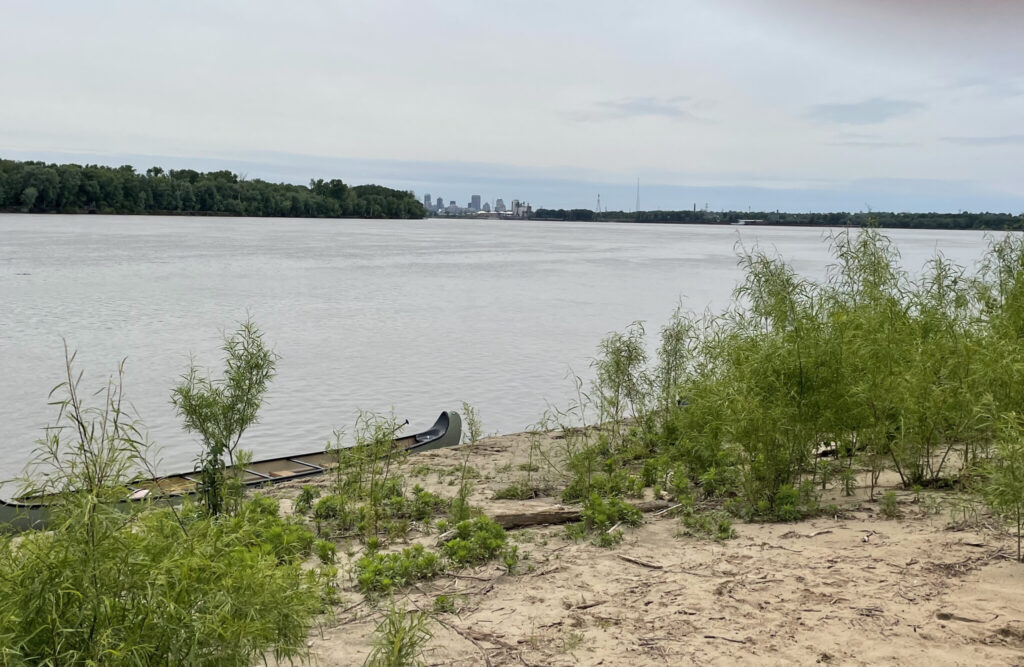 A view of downtown St. Louis from the campsite.

There wasn't much traffic on that Sunday morning, but we stayed close to the shore anyway.  It was so interesting to see the terrain from the river as we headed toward the Arch. The photo above shows a barge pushing wind turbines to points north.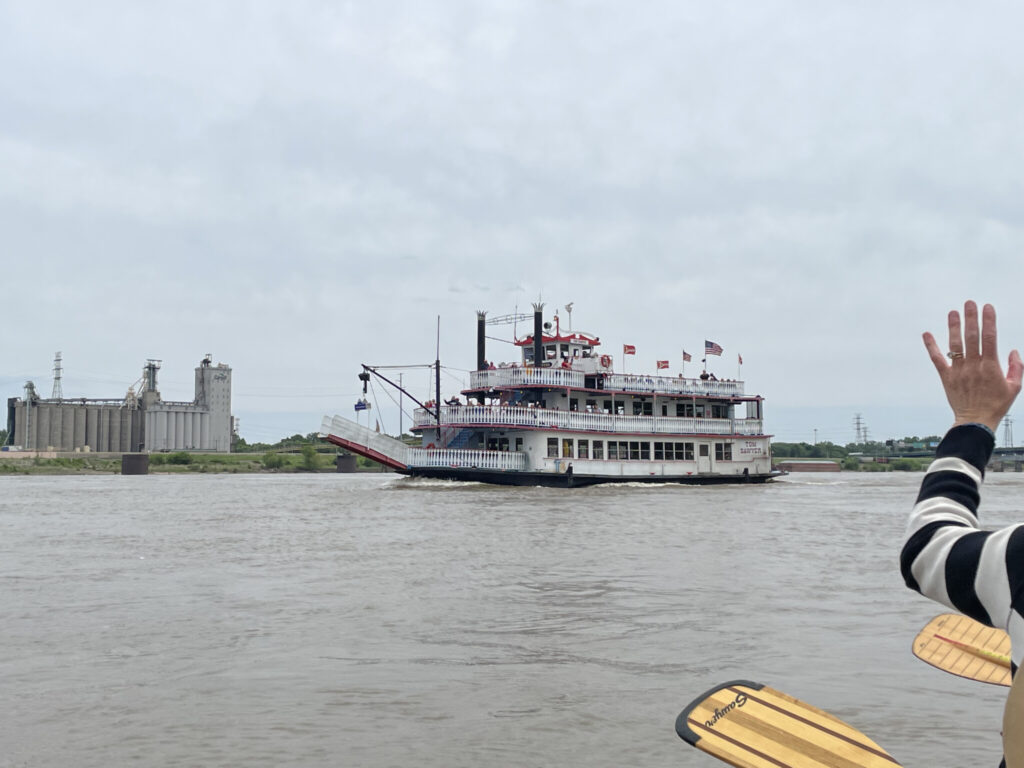 Clark radioed the steamboat to make sure the captain saw the "big green canoe" filled with 3 kids and 7 adults.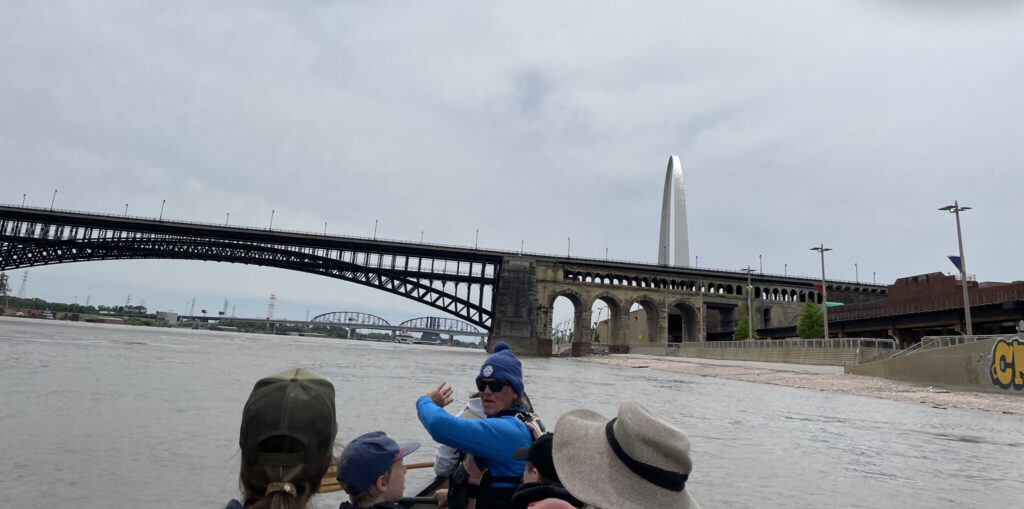 Nearing the Eads Bridge, above, the oldest bridge south of the Missouri River, which was completed in 1874, thereby establishing St. Louis as the Gateway to the West.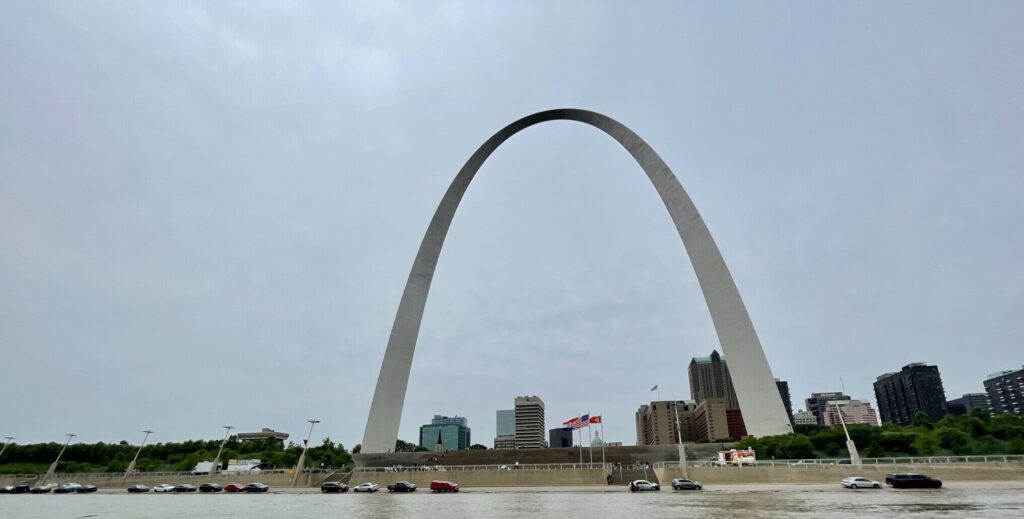 Visitors on the Arch Grounds seemed rather surprised to see a lone canoe gliding past in the midst of barges and a riverboat. They waved and we had fun waving back, like the returning explorers we had become.
If you're looking for something different and really fun to do with family and friends, I highly recommend signing up for one of Big Muddy's River Adventures. You can arrange your own customized trip, as Emily did, book a moonlight dinner cruise, paddle on the Missouri River, take a Downtown St. Louis micro-adventure, and many other possibilities. Visit Big Muddy Adventures for more info.
Big Muddy Adventures Guideshop, 4662 Washington.