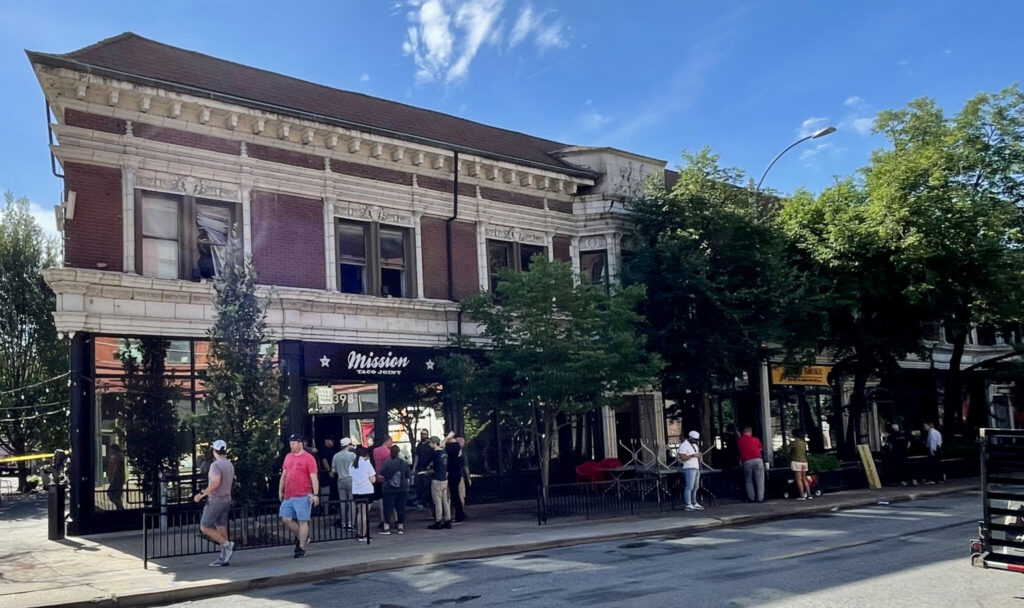 Just when the neighborhood seemed to be regaining its stride following 2 1/2 years of struggle, a 3-alarm fire broke out in the early morning hours on Friday, June 24 in one of the most iconic buildings in the CWE at the southeast corner of Euclid and McPherson. According to an article in the St. Louis Post-Dispatch, 70 firefighters fought the blaze which left all but two of the businesses on the ground floor and all of the condo units on the second floor uninhabitable.
What was readily apparent was the immediate effect on the vitality of one of the busiest commercial corners in the Central West End.  Last Friday and Saturday evenings, as what is normally a bustling corner sat empty, Jeni's Spendid Ice Cream, which is across the street and normally attracts such large crowds that lines form out the door, was not crowded at all. Perhaps it was the shock of it all and the 100 degree heat that kept people away.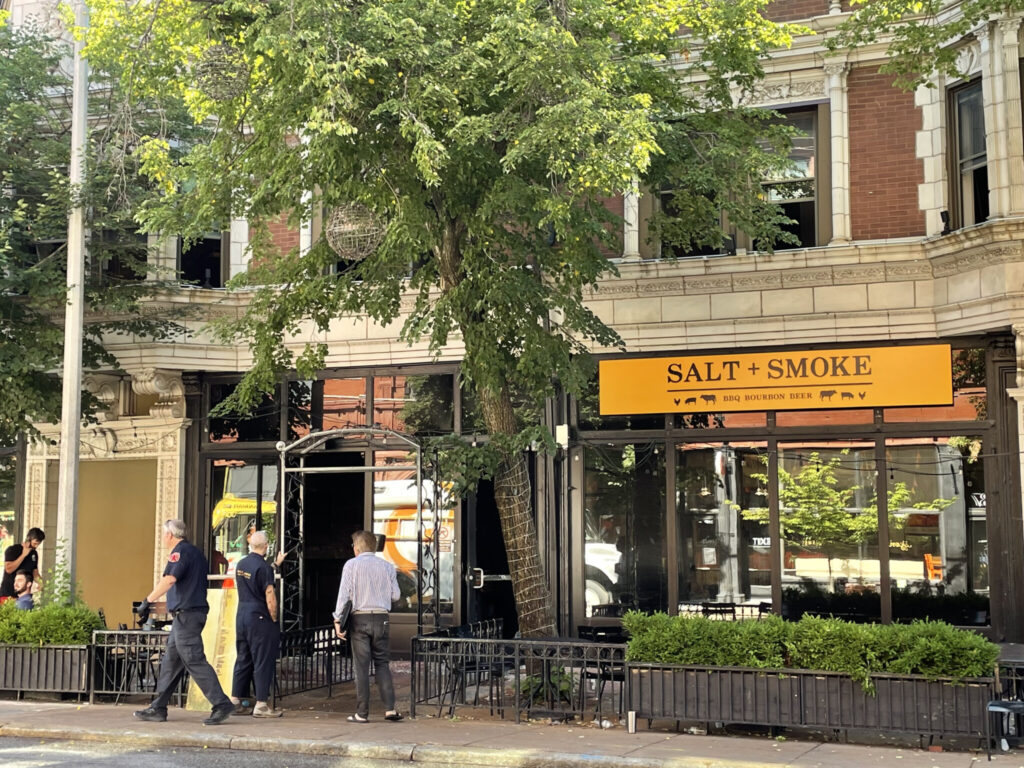 At the time of this posting the cause of the fire is still under investigation. According to Pete Rothschild, who owns a majority of the spaces in the building, the fire started in the back corner of the L-shaped property where there is a small parking area with wooden steps leading to the second floor.
If there is an upside to this tragedy, it's that the spectacular ornamental facade, above, shows only smoke damage and blistering paint. Rothschild, who has owned the property for 30 to 35 years said: "I'm heartsick about the building, the neighborhood, and all of the tenants. We are trying to work through things quickly.  The plans are to restore everything and make it beautiful again."
When previous owners Herb Balaban Carp and Edwin Lopata bought the building from Mary Wolff and her son Monte, they set it up as a condominium. In 1969, Rothschild opened a vintage clothing store in the basement of a space that eventually became Rothschild's Antiques, and more recently Mission Taco.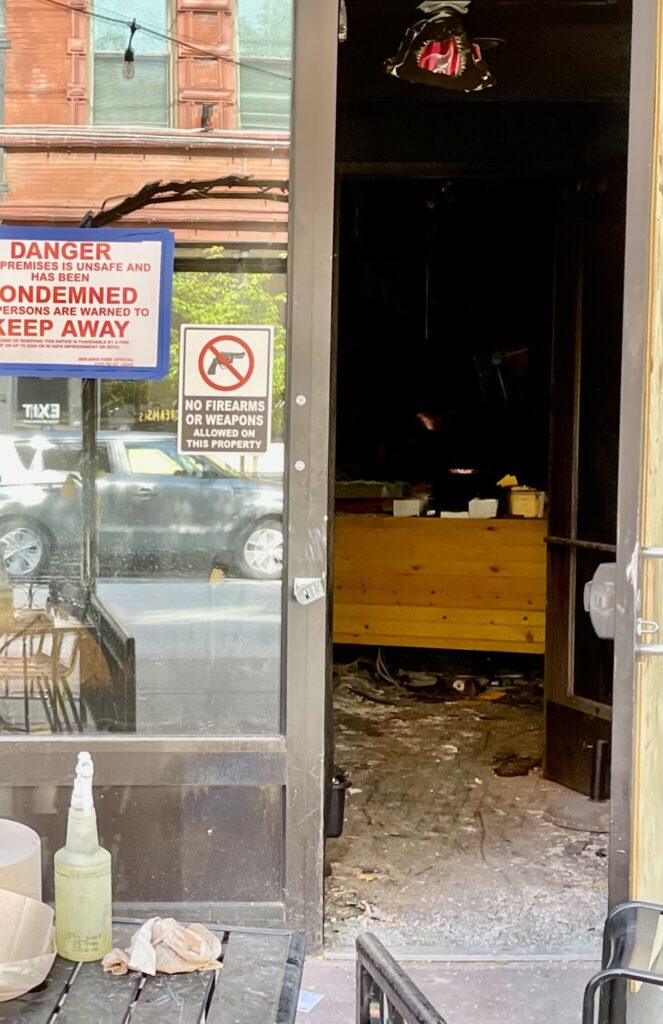 Rothschild ran down the list of damage to the businesses: the front section of Mission Taco was not badly damaged, but the kitchen is wrecked, Salt + Smoke was badly damaged throughout, photo above, and Ranoush has smoke damage. Mission Taco's owner Adam Tilford and Salt+Smoke's Tom Schmidt have offered their CWE employees employment at other locations.
There are two tattoo parlors on the second floor, one of which was badly damaged. Four of the second floor condo units that are owned by other individuals are also condemned.
Erica and Eugene Tsimerman, who opened Pass the Past, a vintage clothing, housewares and accessories shop 14 months ago at 4744 McPherson, said the shop "is trashed." They sent the following note:
"First and foremost, thank you to everyone who has checked on us, offered us help, or extended kind words and thoughts. It means everything to us. 
We are still trying to process what happened on Friday. Seeing our life-long dream reduced to an ashen, waterlogged mess is devastating. We are not unfamiliar with obstacles. In the past they've made us stronger, smarter and more brave. We will not give up. We are not certain what our business will look like going forward, but this is definitely not the end of Pass the Past."
Rothschild is trying to find other locations for the affected retail businesses until he can rebuild. To that end, he has hired a remediation company, met with insurance adjustors, and found a company that has given him hard estimates for what it will cost to rebuild. When given the go ahead, that company will bring in 50 workers from out-of-state and bring on a full-time site manager to oversee renovation. How long this will take is anyone's guess.
UPDATE: When this post was released Lori Shifter's The Silver Lady,4736 McPherson was one of two businesses that was not condemned. Just recently the fire marshall has condemned it. The only business not condemned is Enchanting Embellishments', 4732 McPherson.
Rothschild said he is trying to look at this set back as an opportunity to bring the building back "better than ever" with added improvements, including new windows.
For CWE residents and those who love to visit this popular neighborhood, it's as important as ever to support neighboring businesses—Left Bank Books, East + West, and many other restaurants—that may also be impacted by the dimished foot traffic on that important corner.
The corner of Euclid and McPherson as seen in happier times.