This is a reprint of an article that was published in the March 2022 issue of CWEA Griffin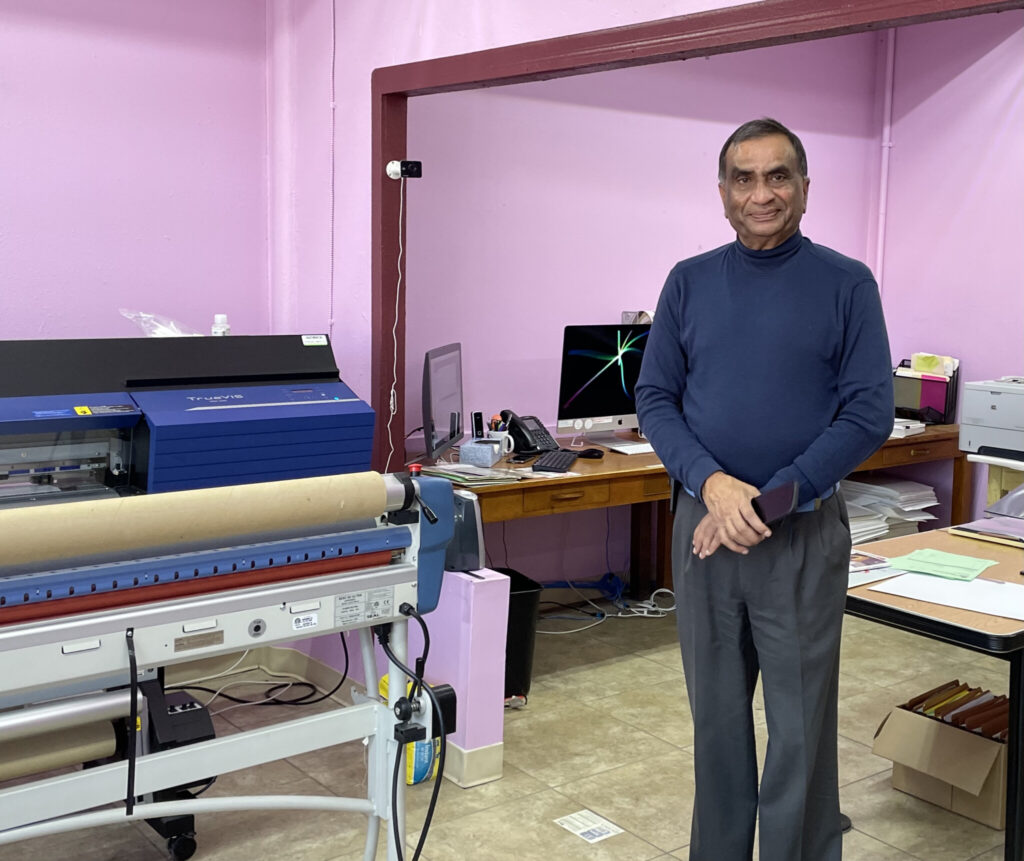 Numerous books have been written about the Central West End, its history, architecture, and private streets as well as world-renowned authors who grew up here. In addition, the Central West End Association has given out awards recognizing neighbors and businesses whose efforts have made a positive impact on the neighborhood. Somewhat overlooked is one of the oldest continually operating business in the neighborhood, originally Presto Letter Service (later known as Presto Color Printing), which has been in operation at the northern edge of the CWE since 1951.
Rob Patel, above, purchased the printing company in 1989, nine months after he and his young family immigrated to St. Louis from the U.K. At the time Presto Letter Service, which was located at 4515 Olive Street, was the only business operating on Olive between Euclid and Boyle, aside from a few that could only be described as sketchy, at best, and fodder for the tabloids.
Prior to that, Patel's only exposure to the printing business had been the sight of newsagents stands (news stands) on almost every corner in England. He asked the 3 brothers who started Presto to stay on for 2 years so he could learn every aspect of the business from them. 
"When I bought Presto there were 17 employees each of whom had a specific job, and for 32 years that's the way the business operated," Patel explained. "Now everything is digital and you need to be a 'Jack-of- all-Trades.'"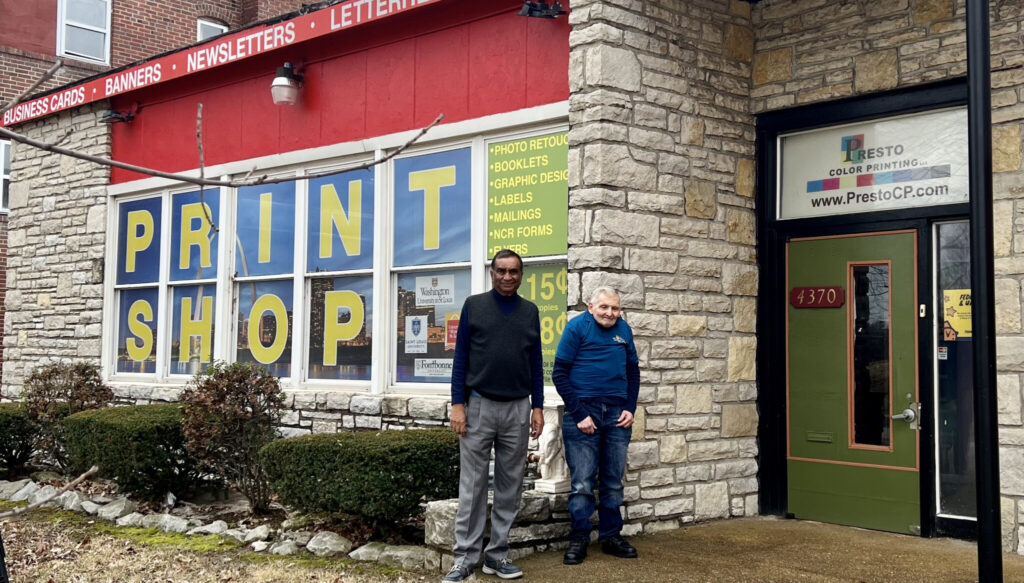 Patel eventually moved the shop several long blocks east to 4370 Olive St., and because of the changes in the industry he whittled the staff down to 3, including himself—a graphic designer and Ronald Krieger, who handles bindery and finishing. Krieger has been with the company since 1965 and has never worked anywhere else. "He knows everything, and it makes me so proud that he has stayed with the company for 57 years," Patel said. 
Competing with the plethora of online printing businesses can be a challenge for a brick & mortar shop. Patel points to one huge difference that Presto Color Printing offers, and that's personal attention, whether it's designing business cards, letterhead, yard signs or booklets. The company recently purchased a wide-format printer to produce banners, and Presto prints t-shirts too.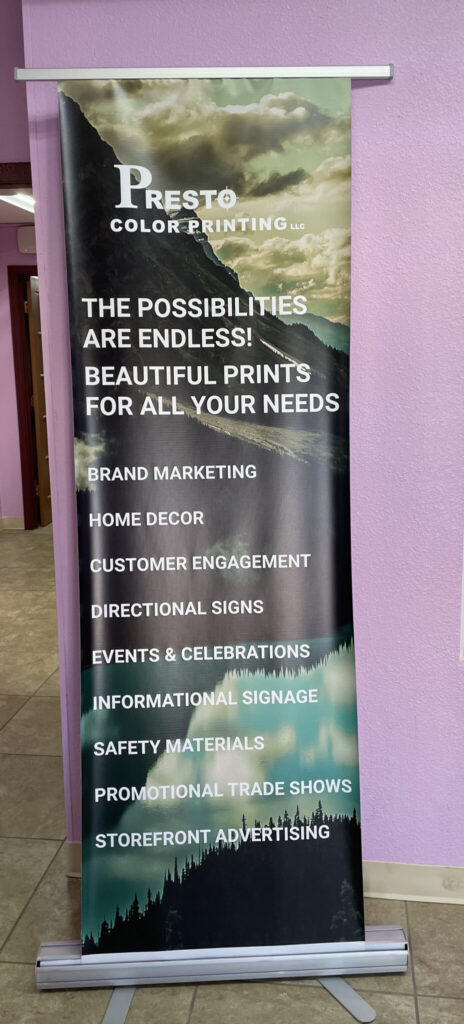 "Many times, we can match online pricing. We're just happy to get people in the door, as then we seem to have their business forever, we have never lost a client. Our biggest customer is Washington University, and another is the Daughters of Charity, whose convent is just east of Presto." 
Purchasing a printing business in St. Louis seems an odd choice for a chemist who at the time owned a pharmaceutical distribution center in Zambia. And the question of what draws people to St. Louis can often be an interesting one. In Patel's case, it's fascinating. 
Patel was born in India, but his family moved to Northern Rhodesia (which became Zambia) when he was 1 1/2. His parents sent him to a boarding school in India when he was 9, since during the apartheid era in Zambia, a brown-skinned boy could only go to native African schools, where, unfortunately, the education was inferior. It would be 11 years before he saw his parents again. They were too poor to send him back and forth.
By the time he returned to Zambia, in 1971, he had graduated university with a degree in chemistry. Though he says it was hard to find a job, he found work as the manager of a chemical distribution company. Four years later, he started his own distribution company. Patel married in 1974, had 3 children, and in 1986 moved his family to the U.K. Because Zambia had been a British colony, Patel had a British passport. By this time his parents and sisters were already U.S. citizens, living in Chicago. 
Patel obtained a visa and made 4 visits to the U. S. traveling coast to coast looking for the best place to bring his family. He decided on St. Louis because it was a small town and offered good schools. 
The Patels purchased a house in the Parkway School District about the same time he bought Presto Color Printing. His son, who was 14 at the time they moved here, is a successful entrepreneur. A daughter is a Human Resources Director for Visa. Both live out of town. Another daughter is CFO of a large privately-owned company in St. Louis. His wife, Patel said, has always been happiest staying at home raising their family. The Patels have 7 grandchildren.
Patel concluded: "I held onto the chemical distribution business in Zambia for a while, in case things didn't work out in the States. But my children got a good education here and they are now successful. As for me, though Presto Color Printing is a lean operation, and has had lots of ups and downs and lots of tough times, the business has survived and I am happy." 
Presto Printing, 4370 Olive Street, (314) 535-2727, Mon.-Fri. 8:30 a.m. to 5 p.m.
Here is a link to the digital version of March 2022's CWEA Griffin.