There are many organizations in the City of St. Louis that are doing wonderful behind-the-scenes work that don't garner bold headlines. Today's focus is on one of those non-profits, STL Youth Jobs, which is making a huge impact on the lives of young St. Louisans.
STL Youth Jobs, which was formed in 2013 by a group that included Incarnate Word Foundation, St. Louis Community Foundation and the City of St. Louis under Mayor Francis Slay, offers paid work experience for youth 14-24. The non-profit organization, which has trained and employed 5000 students and worked with approximately 250 companies since its founding, receives both public and private funding from corporations and small family foundations.
STL Youth Jobs staff includes from left above, Marketing Manager Camille Hogan, Develop Manager Xia Simmons, Employer Relations Manager Shani Warren, Partnerships & Impact Manager Amanda Kissel, Executive Director Hillary Frey, Director of Partnerships & Impact Jerica Robinson, and Director of Employer Relations Lindsey Forsythe.
Marketing Manager Camille Hogan stated that their mission is to bridge the divide between our region's youth and the growing skills gap in our workforce. STL Youth Jobs envisions a city where St. Louis youth have the opportunity they need to succeed and St. Louis businesses have the workforce they require to compete.
St. Louis Youth Jobs, located in the CWE's TechArtista, launched a new program in December offering up to 600 St. Louis Public High School seniors paid internships for the spring semester.
The Learn & Earn program has been in the works for several years. St. Louis Public School Superintendent Kelvin Adams was looking for a way to keep high school seniors engaged while working toward their diplomas. STL Youth Jobs helped develop the internship program which will put up to 600 students in paid internships so they will graduate from high school with a diploma and a resumé. 
Learn & Earn is financed by St. Louis Public Schools. 300 students, who are already enrolled in the system's Career and Technical Education (CTE) program, are participating in the new program too.  As part of their curriculum CTE students are required to receive a wage for their work experience, but until this new program was established, students would often be placed at businesses that were either not paying them or not paying minimum wage.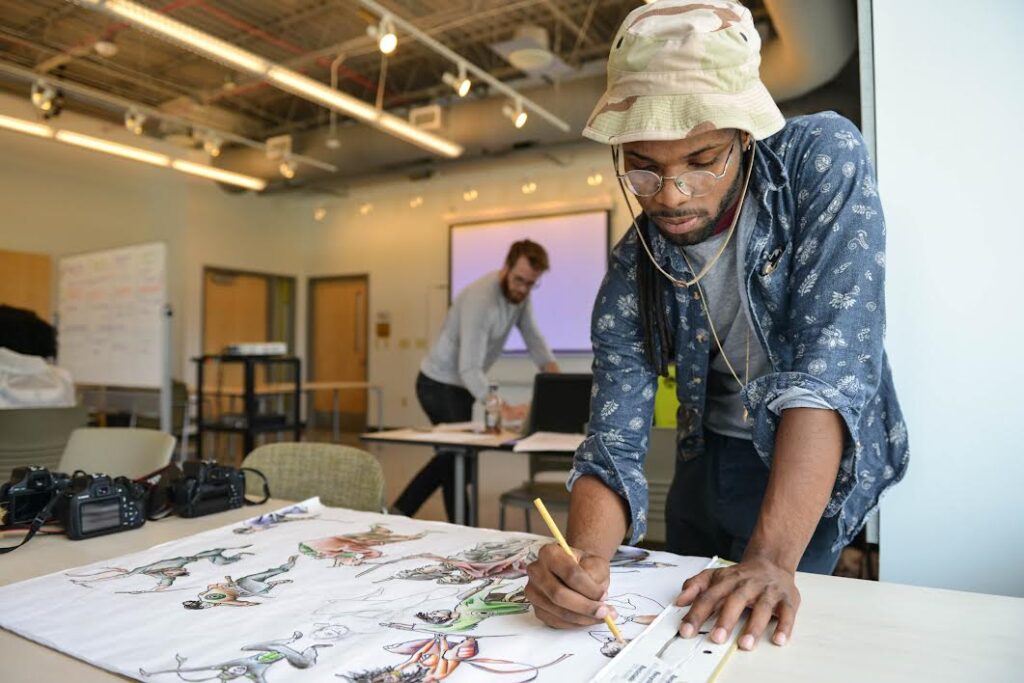 The photo shows an intern working at On the Money Magazine Online, "for teens by teens," located in the CWE.
Learn & Earn participants can expect to work 15 to 20 hours per week for $12 per hour. Camille Hogan said that the organization works hard to ensure that wages are as high and competitive as they can be. "Young people need every bit as much money as other individuals," she said.
When students submitted applications for Learn & Earn in December, they were asked to list their interests. Popular fields included healthcare, child care, home healthcare, and animal care. Many also indicated an interest in STEM fields—technology, science, and media production. Those who are interested in education have an opportunity to work in an elementary or middle school within the Public School district, especially now that staffing shortages in schools are prevalent across the country.
Other internships will occur at SSM Health, BJC HealthCare, local universities, local community-based organizations, community centers, boys and girls clubs, and some non-profit organizations.
Camille explained that a lot of students don't know about the variety of fields they can go into, "You don't know until it's introduced to you."  STL Youth Jobs broadens their horizons.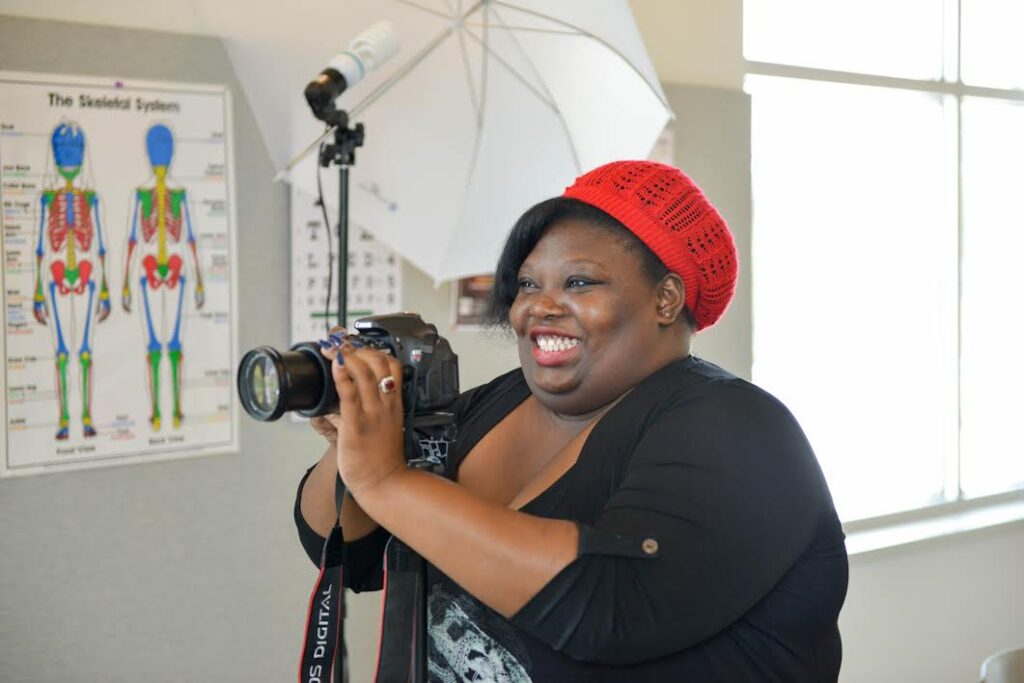 Another intern working at On The Money Magazine, above.
A two-week training program for those entering the program began in January, and is being administered by the St. Louis Internship Program (SLIP). Each student goes through job readiness and financial literacy training. They learn communication skills, what to wear on the job, and transportation options, all of the basic things students need to know before starting a job.
In the training sessions there are discussions about how to communicate with your manager, and what to expect on the first day. Each student is also assigned a job coach who will ride the bus with them the first several days, making sure they get to work on time. The job coach continues to offer mentorship throughout the program.
Participants also have access to a youth-friendly checking and savings account, and learn smart spending habits so when they get their first paycheck they understand what they need to spend it on—a bus pass for instance— and how much to save. They also learn about credit and how to get a loan.

The Learn & Earn internship program runs through to the end of the 2021-22 school year, but some students can transition into summertime employment with STL Youth Jobs.
I asked about feedback from both the students and the employers, and was told that STL Youth Jobs works with an independent evaluator and overwhelmingly gets over 85% positivity on both ends, which has been consistent each year. Students are asked what they knew before the program and what they learned after completing it. They self report on this, and this too is consistent: an increase in communication and an awareness of career paths.
Camille concluded by saying: "This is our first year launching the program for the spring semester, so it's a very exciting partnership for St. Louis Youth Jobs. Some of the students are going onto college and some are choosing alternative routes. Learn  & Earn is a great stepping stone to knowing how to go to work with the proper tools for those next steps."
Note: STL Youth Jobs summer program is open to youth in both the city and county. To learn more about STL Youth Jobs and/or to make a donation, please visit the website.