There are two exhibitions in McPherson art galleries you should stop in and see before they end. Duane Reed Gallery's Moments and Memories, oil paintings by former KSDK's award-winning news anchor Karen Foss, closes this Saturday, January 8. Houska Gallery's Wild Thing will remain on view until January 22. Other McPherson galleries are either closed for the holiday (Philip Slein Gallery), or in the case of projects+gallery and Barrett Barrera Projects, featured window displays of inflatable holiday toys.
Duane Reed and Houska Galleries held opening night events on Friday, December 10, the night that tornadoes rocked the midwest. Constant text alerts to take shelter did not dissuade local art fans and friends from venturing out anyway.
Duane Reed relayed that the gallery was packed with St. Louis newsroom personalities and other friends who knew Karen from her years living in the CWE. According to Duane, the din would pause when everyone got a weather alert and glanced at their phone at the same time, and then conversations would resume until the next alert.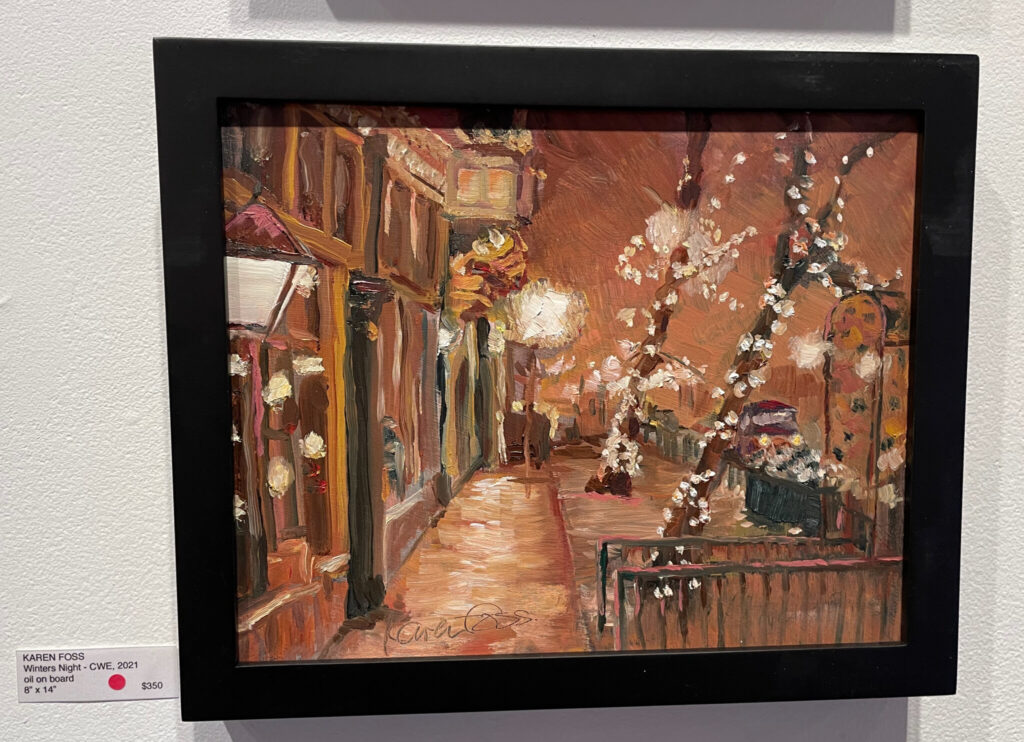 Understandably, Karen's beautiful Winter's Night-CWE 2021, an 8 x 14″ oil painting was snapped up moments after the doors open.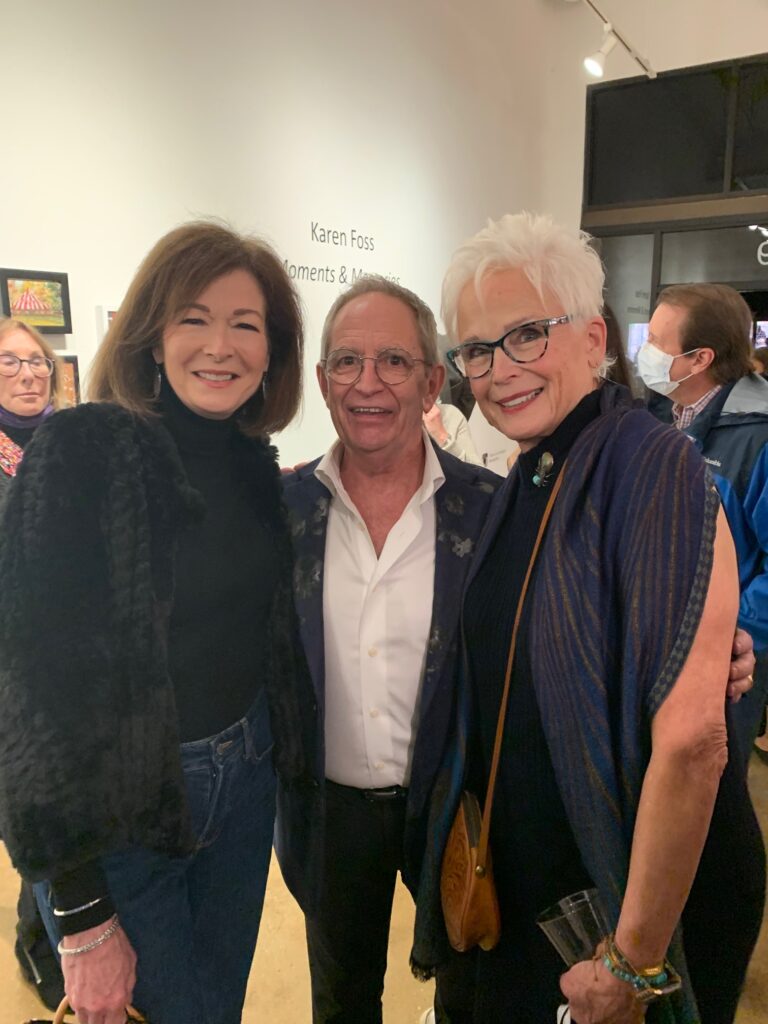 Karen Foss, right, is photographed with Duane Reed and KSDK News Anchor Kay Quinn.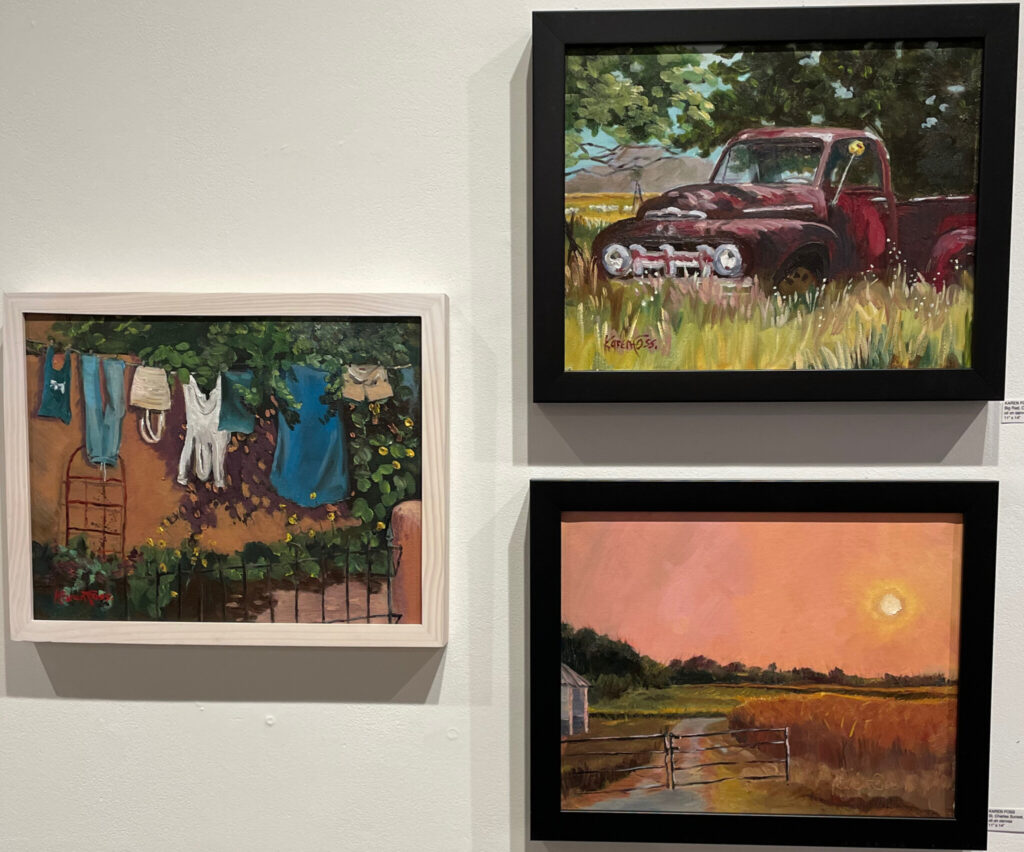 Sales of Karen's work were brisk that evening, including some of local sites including one of Tower Grove Park and another of her hometown titled Vintage Kansas City. Many of the paintings were scenes of Santa Fe, where Karen now resides.
From left above, Laundry Morning, 11 x 14″ oil on board; top right, Big Red, Out to Pasture, 11 x 14″ oil on canvas; and lower right, St. Charles Sunset, 11 x 14″ oil on board.
After 25 years as news anchor, Karen joined Ameren as a public relations executive before moving to Santa Fe in 2011. The bio on the Duane Reed website explains that the "move to Santa Fe inspired Karen to pursue her lifelong dream of continuing her art studies and practice," which had been put on hold when she started her career as a newscaster.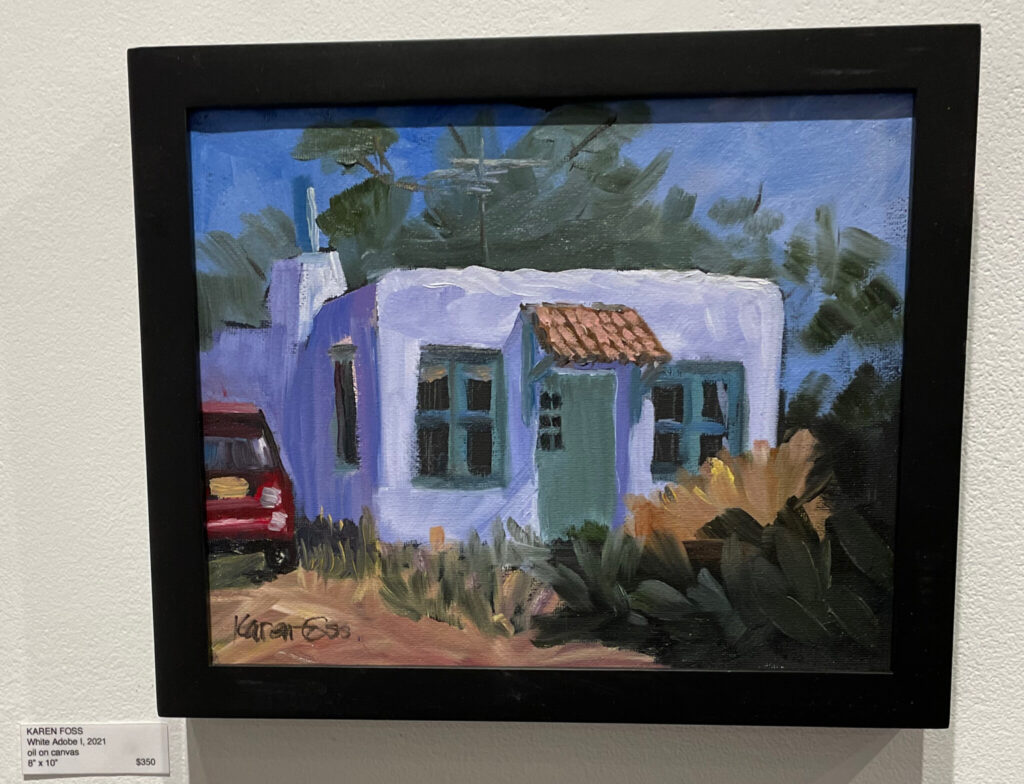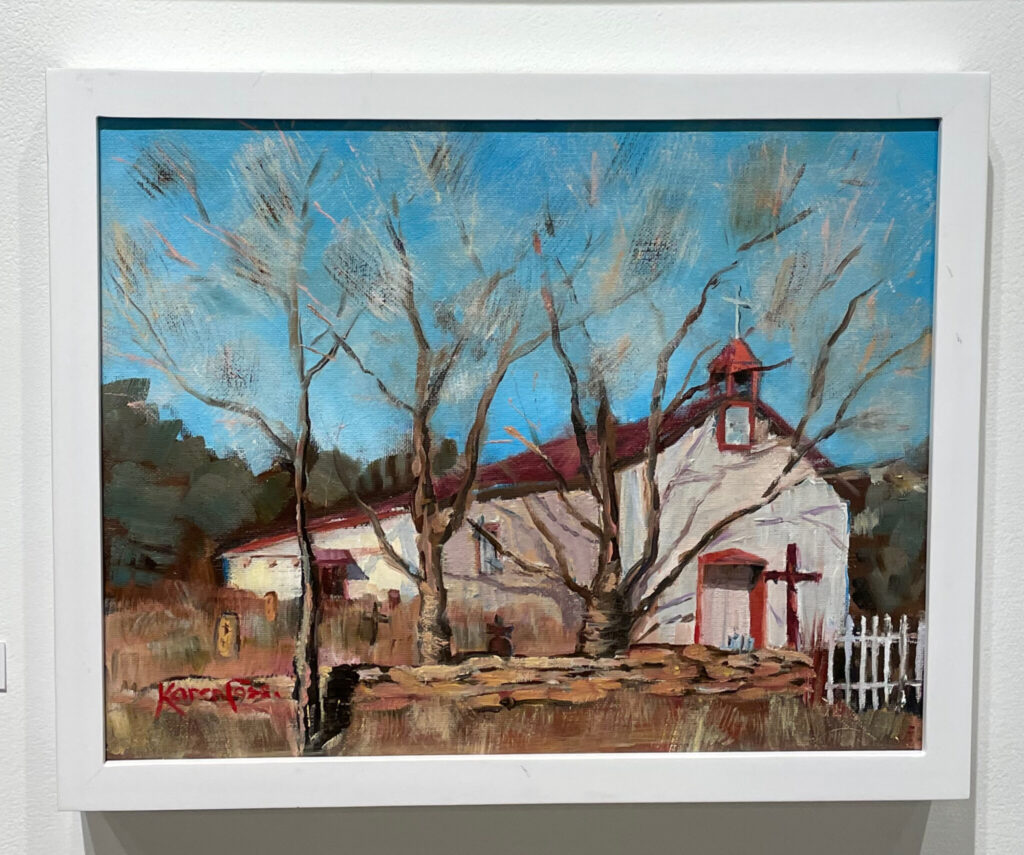 Top, White Adobe 1 and Our Lady of Light 1. More information can be found on the website. or better yet, stop in and enjoy the paintings in person.
Duane Reed Gallery, 4729 McPherson, 11 to 4, Tuesday-Saturday, or by appointment.
At Houska Gallery, 4728 McPherson, December 10th drew another packed house for the Winter Group Show, Wild Thing, an exploration of the wild side of the St. Louis art scene.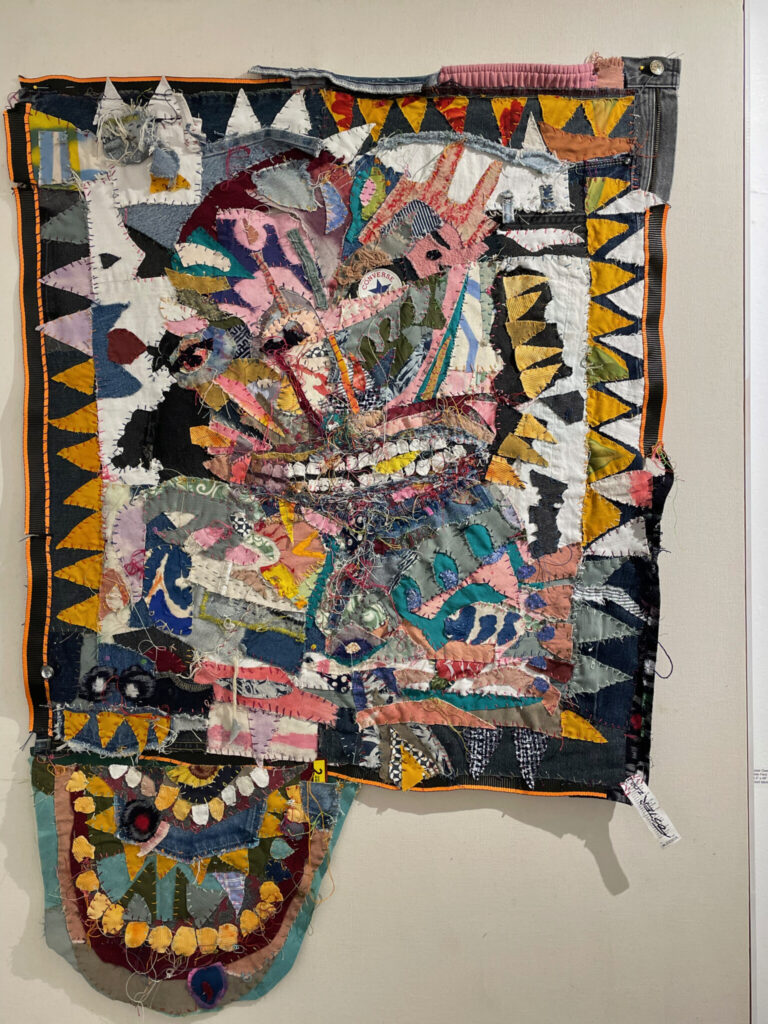 Sixteen artists are participating in Wild Thing, which will close on January 22, including fiber artist Foster Owen Atkinson, whose State Face, 26.5 x 49″ mixed fabric assembly is shown above.
Speaking of wild, when I visited the gallery I learned that Atkinson moved to St. Louis from Norman/Oklahoma City to attend Webster University. He played basketball there while studying art history, philosophy and English. When Covid19 hit, he stopped his studies and opted to pursue his dream of making art instead.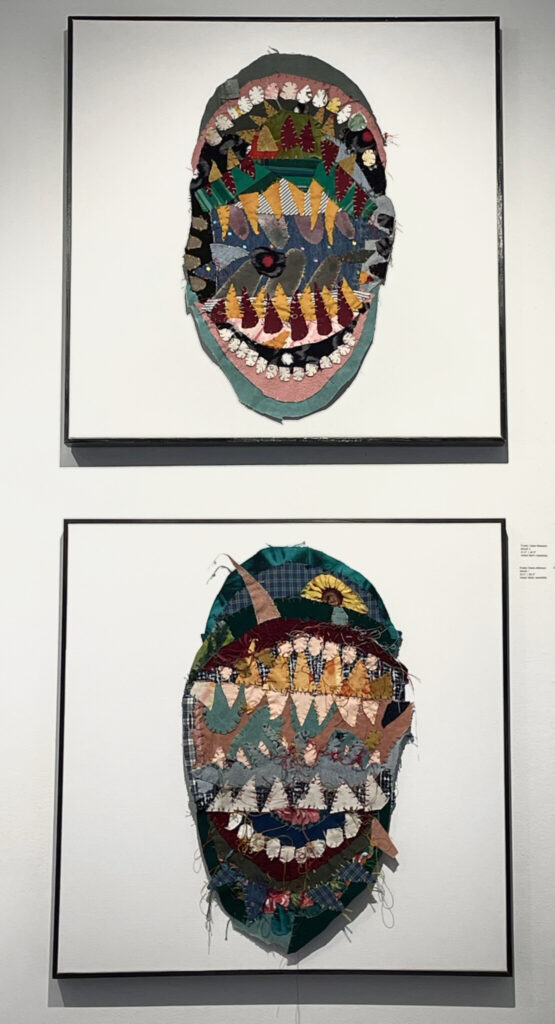 Above, Mouth 2 and Mouth 1, both are 24.5 x 24.5″ mixed fabric assemblies.
And finally, Ahhh!, 40 x 60″ another mixed fabric assembly.  Visit Atkinson's entertaining Instagram posts for more info about him and his work—and hoop shots.
Since the pandemic began Houska Gallery has been posting virtual tours of its exhibitions on the website. Here is a virtual tour of Wild Thing, and on the website there is a YouTube tour as well.
Houska Gallery, 4728 McPherson, 10 to 5 Tuesday-Saturday, Friday until 8 p.m.