In the ongoing search for more last-minute holiday gift suggestions to send your way, here is what I found when I  visited Holliday Home & Gift Shop, which is always a treat.
Holliday's proprietor,Katherine McPheeters, has a great eye and stocks her beautiful shop with items that would make wonderful presents. Here are just a few: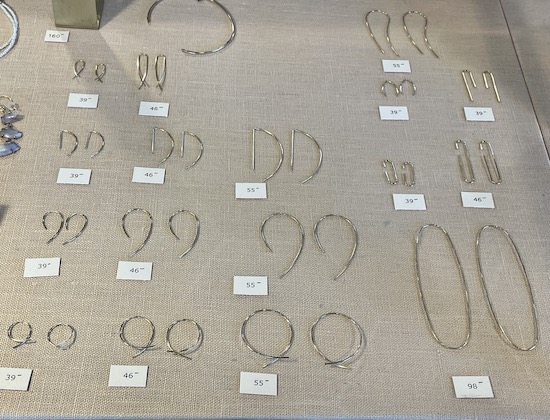 Delicate gold earrings in a variety of shapes and sizes, $39 to $55.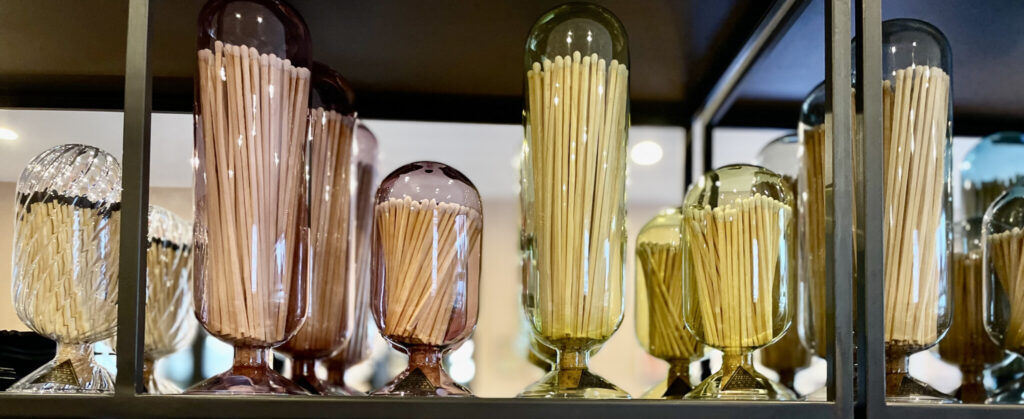 Handsome glass cloches filled with matches are available in two sizes, $34 & $50.  You might also choose from a selection of many scented candles to complement the gift.
Holliday, 4600 Olive Street is open everyday this week from 10 to 4.
At east⋅west, you'll find well-curated brands that proprietor Roy Brady is passionate about for good reason. For instance,

double-weave sweatshirts made of recycled cotton are designed by a young company that partners with a more established Japanese manufacturer to make their products. Even the hang tags are made of recycled material. The popular sweatshirts fit like a sweater (i.e. slim fit), $175.  An Indigo-dyed limited-release version, far left, includes care instructions as it requires extra care when laundering, $250.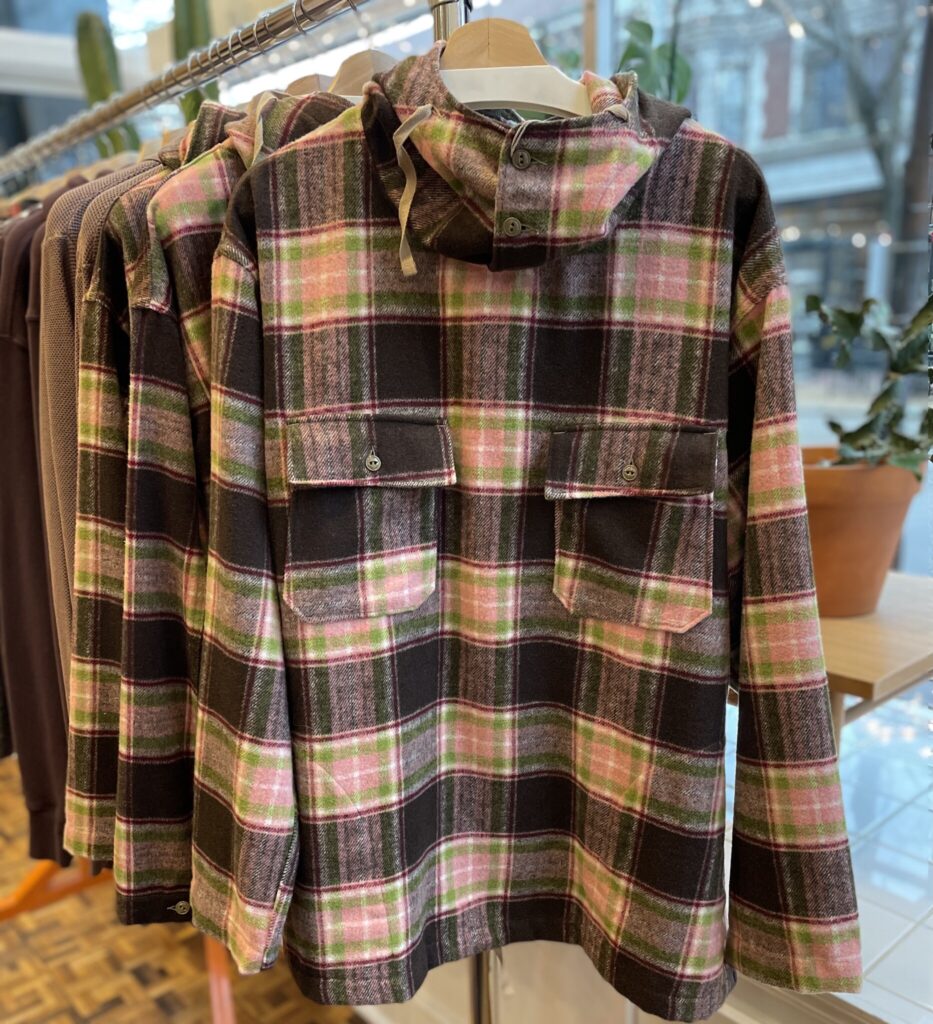 From Engineered Garments, a Cagoule shirt in brown/pink with hood, $312.
east⋅west, 387 N. Euclid, this week the shop will be open Mon.-Thurs. 12 to 6, May close earlier on Xmas Eve.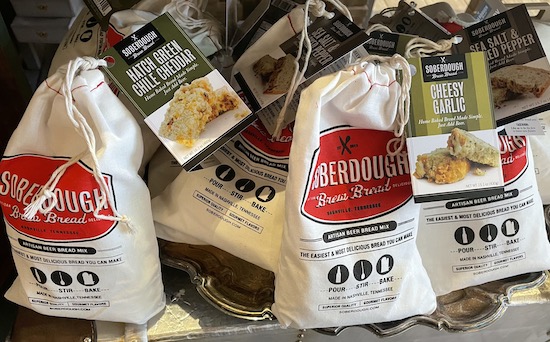 When asked what she would suggest for gift giving, Debra Hunter, co-proprietor of Provisions St. Louis, pointed to the bags of Soberdough Beer Bread and said "It would be a great stocking stuffer. It makes the best bread." There are 3 varieties, just add water, and voilà, $11.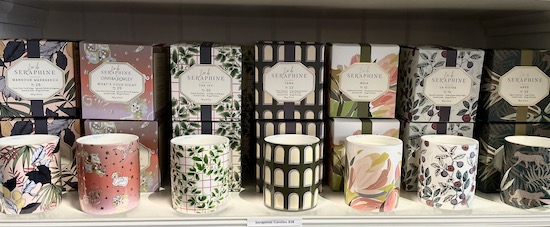 L'or de Seraphine candles fill stunning ceramic cups, $28. After the flame burns out, the cups can be repurposed. Scents include Cynthia Rowley, The Ivy, Tama, Maia, La Pietra and Ares.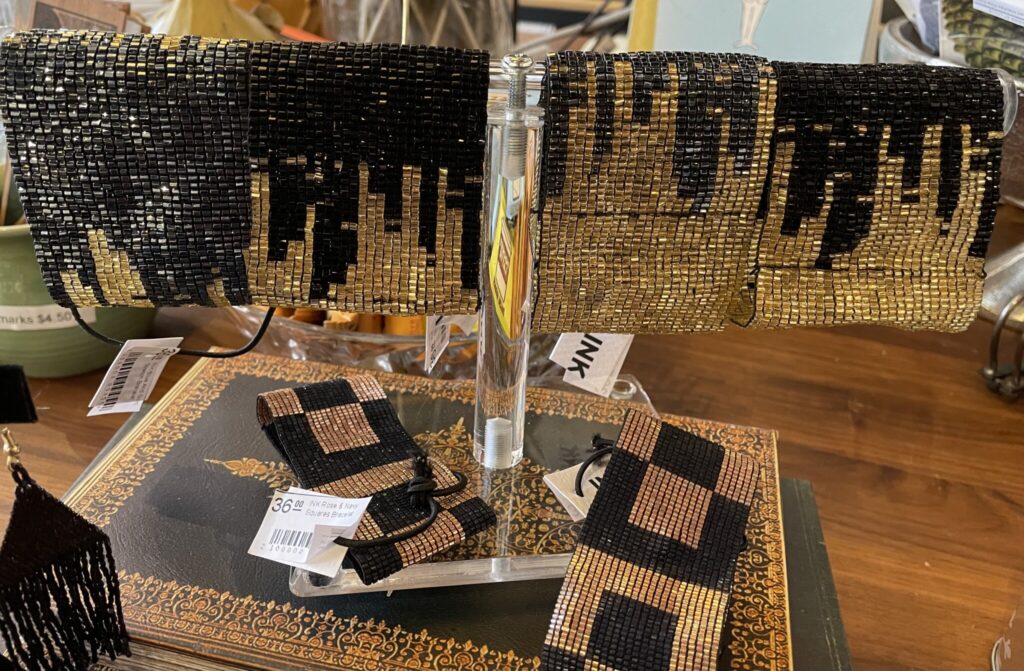 Provisions St. Louis, 228 N. Euclid, Open this week from 10 to 6, Xmas Eve until 4 or 5.
Found at the Q Boutique at World Chess Hall of Fame: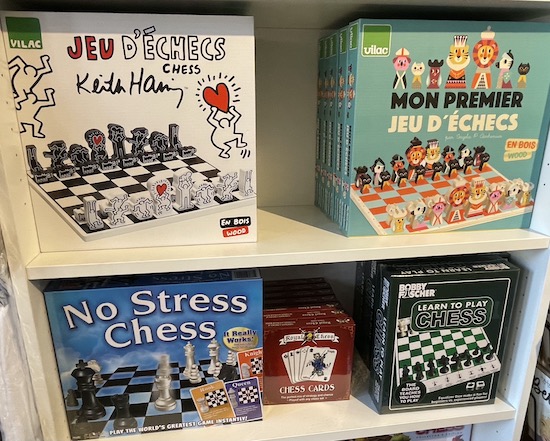 As you might imagine, there is every type and shape of chess set on display in the Q Boutique. Here's an interesting assortment including top, a Keith Haring chess set, $49.95, Mon Premier Jeu d'Échecs, $49.95. Bottom, No Stress Chess, $20, Chess Cards, $10, and Bobby Fisher's Learn to Play Chess, $30.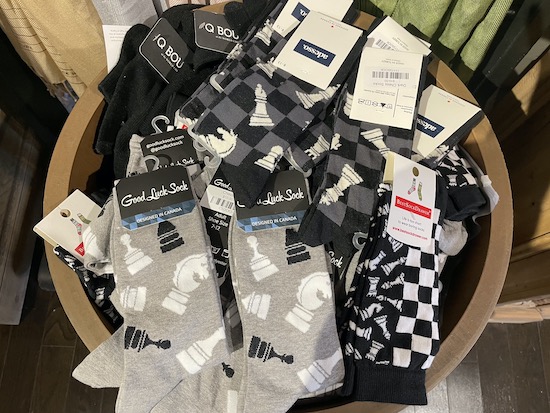 Good Luck and Best Sock Drawer socks, $10 each. There are many more gift suggestions posted on the website.
Q Boutique, 4652 Maryland Ave., Mon.-Tues. 10 to 5, Weds.-Thurs. 10 to 9, Closed Xmas Eve.
At Bonobos: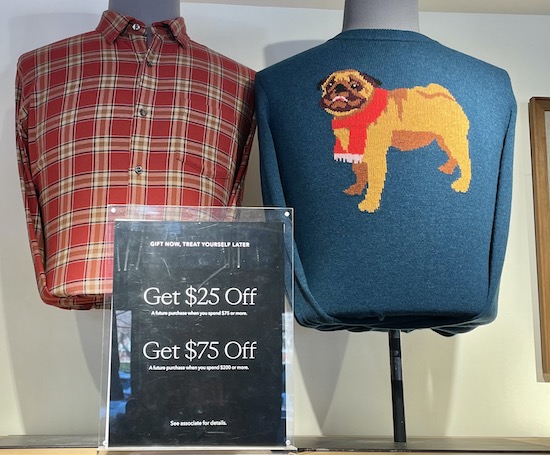 Word is that customers love Bonobos because all of the clothing is custom fitted and then mailed to your door. As a result, you will not be able to pick any of these items up and put them under the Christmas tree. Order before Christmas Eve and there is a gift card available for future purchases, details on sign above.
Above, lightweight flannel shirt, $99, and one of several limited edition sweaters, $129. The pug will be a big hit in this neighborhood.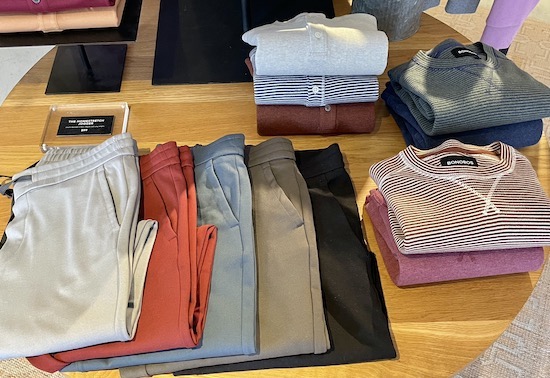 It's all about comfort at Bonobos. The lightweight 100% cotton waffle weave crew, bottom right, $59, comes in a Henley style as well, middle, $69, and joggers (left), $99, have been favorites.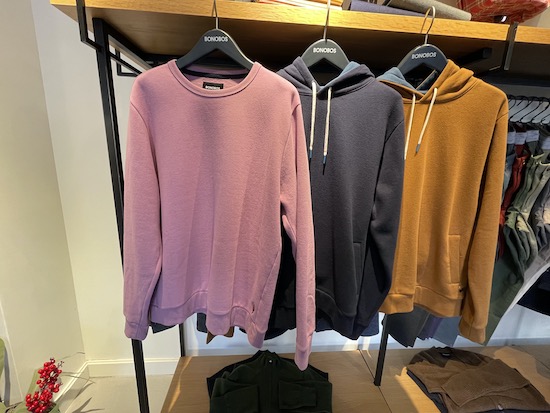 A supersoft fleece crewneck above left is $99; supersoft hoodies are $129. All are sized for men and women, x-small to xx-large.
Bonobos, 52 Maryland Plaza, 11 to 7 Mon.-Thurs., Xmas Eve., 10 to 4.
At Enchanting Embellishments you'll find some bargains as just about everything in the shop is on sale. (Clothing is 75% off, handbags, jewelry and Christmas decorations are 50% off.)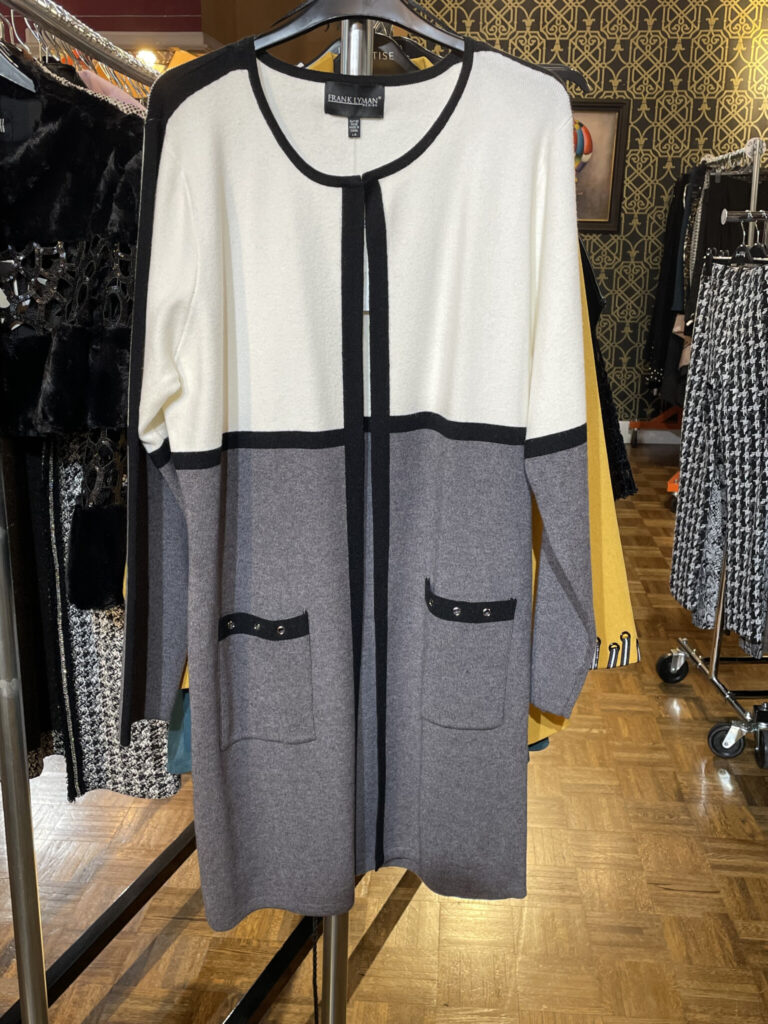 A great-looking Frank Lyman coat with eyelet trim on pockets is $169.95 less 75%.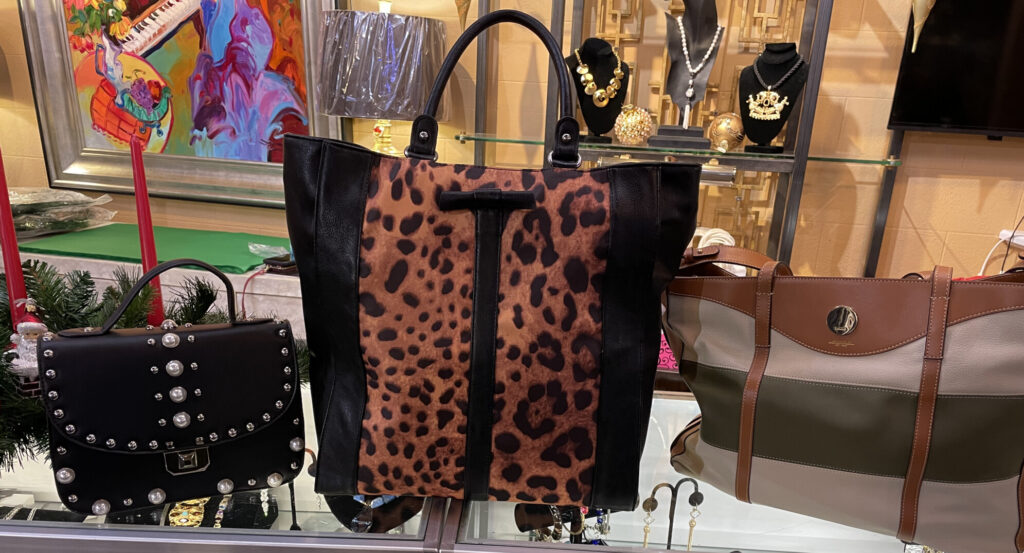 From left, a suede bag with studs and tassel, $224.95 less 75%; black faux leather tote with animal print, $124.95 less 75%; Brown two-tone leather bag is $359.95 less 75%.
Enchanting Embellishments, 4732 McPherson, Weds. through Fri. 10 to 5, hours may be shortened on Xmas Eve.
Next up: Holiday Shopping Guide Part III⋅