The following is an article I wrote for the 3rd issue of September 2021's CWE Griffin published by STL Programs.  The entire paper can be found on this link to the digital version.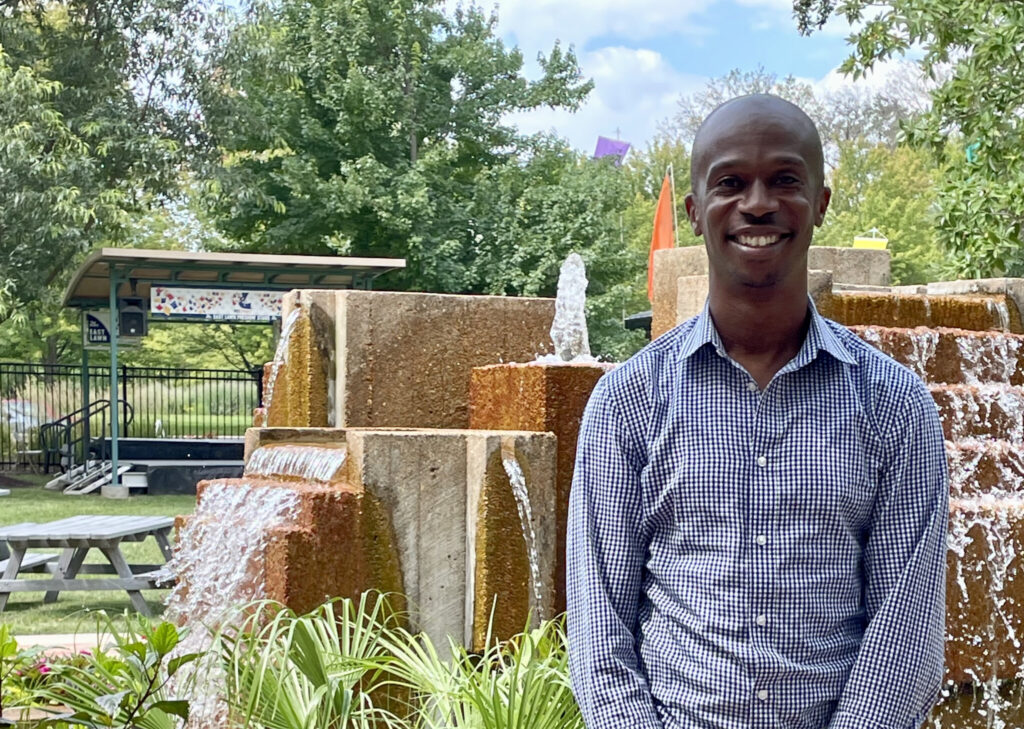 By the time this article is published, The Muny will have closed the curtain on its 103rd season, and Denny Reagan is about to end his 30-year run as president and CEO of the 11,000 seat open-air theater in Forest Park. Waiting in the wings is CWEnder Kwofe Coleman, above, who has been managing director since 2018 and will assume Reagan's role in January 2022.
Like Reagan, who worked his way up the ladder starting as an usher, Coleman also began working as an usher while attending St. Louis University High School.
"My parents, who are originally from Ghana, made many sacrifices for my two sisters and me.  My dad, who had earned a degree in architecture in Ghana, worked several jobs to support our family in St. Louis, while my mother worked as a seamstress." Coleman said that "without his parents hard work, fairness, pride, and compassion none of our successes would have happened. Striving to emulate those qualities has allowed my sisters and me to enjoy great careers. But nothing brings me more joy than seeing that sense of pride my parents have in all of us."
His two sisters, who attended Cor Jesu Academy, became physicians. Coleman's older sister entered Harvard University at age 16, the other earned her degree from Duke University. Both are now practicing medicine in Houston.
After graduating with a degree in English from Emory University in Atlanta, Coleman set out to become a lawyer, but The Muny kept luring him back. He joined the theater full time in 2008 as a staff accountant after working a variety of roles behind-the-scenes, where he felt most comfortable.
Since The Muny is located in Forest Park, living in the Central West End was an easy choice. "The culture, diversity, vibrance, and convenience make the neighborhood a perfect area to live and work," Coleman said. Sometimes he bikes or walks to The Muny from his home at Union and Lindell, though he admits, "probably not as often as I should."
"During the height of the pandemic I walked through the park or the surrounding neighborhoods every day. After working at The Muny for over 20 years I still find new paths to explore. There is so much beautiful architecture and history in the CWE. Sometimes I walk up Waterman or Lindell and pick up a few things at Straub's, or over to Pershing to watch all the construction in progress there."
It's hard for Coleman to name his favorite dining spot in the neighborhood. "I think I've tried and enjoyed about every restaurant in the CWE, but the West End Bistro is right next door to my building. so it's become my own version of 'Cheers' with its great food and live music, a great spot for drinks with friends. If someone comes in from out of town however, I always take them to the Chase Park-Plaza, it's another of my favorite places."
The surge of the Delta variant threw a curve ball into plans for the 2021 Muny Season. "We tried our best to remain hopeful, and were grateful that we were able to fully open, but we were realistic too. To be able to open any season at all, put people back to work, give the community a purpose to safely gather, and offer and offer entertainment was truly a gift."
That gift came with a responsibility too. "We're fortunate to have great medical consultants from BJC,  Washington University and the City of St. Louis advising us on how to keep the community safe." The decision to fully open resulted in a shortened season that began in late July, featuring 5 productions instead of the usual 7. (The two that were cut will be staged during the 2022 season.)
"I was unprepared for the level of relief and joy I felt the moment the first note was played when Smokey Joe's Cafe opened on July 26," Coleman said. "To see a live audience and life back on that stage, represented more than a show. For us it was community and hope. It's been a tough twenty months for everyone, and if we at The Muny could ease some of that pain in anyway, we were more than ready to step up."
Planning for next season will start right after Chicago closes on September 5. "It's been a sprint to get this season up and running, so I think it's important for all of us to decompress. I want everyone on the team to take care of themselves physically and mentally as we look forward to 2022."
When asked what keeps him up at night as he thinks about stepping into his new role in January, Coleman said: "Probably joy and awe. I'm constantly in awe of this institution's identity both in our community and the theater industry, and have great respect for that. The gift of being able to dream and collaborate with our team as it shapes its future is daunting, but in a truly exciting way. I constantly think about making sure we maintain the balance of tradition and evolution not just in our shows, but in how this campus and this theater welcomes people from every corner of St. Louis."
Coleman added some final thoughts about living in the neighborhood: "The Central West End factors strongly in the history of the City of St. Louis as well as in its future. Innovation and tradition exist side by side in the CWE and I'm proud to be a part of it."