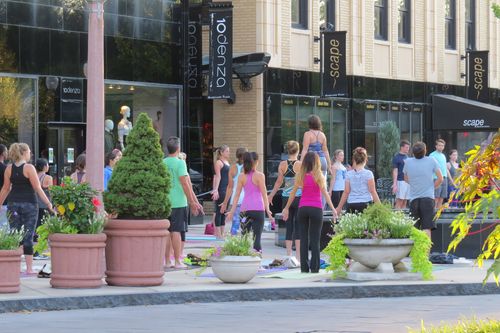 This summer, the Central West End Business Community Improvement District is proud to announce "Fitness at the Fountain" — a free outdoor exercise series kicking off today, Wednesday, June 16.
Every Wednesday at 5:30 p.m., grab a mat, towel, and water bottle and head to the Maryland Plaza Fountain for a variety of workouts that everyone will enjoy, including barre, yoga, total body bootcamp, and pilates. All classes are led by certified instructors from some of the CWE's (and surrounding areas) most popular studios, including Orangetheory Fitness CWE, Pure Barre CWE, The Pilates Lab, and Practicing Yoga. This is a great way to try out classes you've been curious about!
Classes are open to all-levels (beginners welcome!) and free to attend. Classes are available on a first-come, first-serve basis. Space is limited due to sidewalk availability/social distancing protocols. A clear path must remain on the sidewalk at all times. Participants don't need to preregister, but we recommend arriving 15 minutes prior to the class start time.
Once class is done, stay in the neighborhood to explore the many shops and restaurants the Central West End has to offer. Click here for a full neighborhood directory.
June Schedule
Stay tuned for the rest of the July schedule!
Sweat on the safe side.
We're excited to welcome you to our outdoor sweat sessions, and we're committed to keeping our class environment safe and comfortable for all participants. Please review our safety procedures below:
Classes are available on a first-come, first-serve basis. There will be a limited number of spaces due to sidewalk availability/social distancing protocols. Please be aware of others and respect those trying to maintain social distance.
In accordance with City of St. Louis COVID-19 Guidelines, we ask that you wear a mask if you are unvaccinated and unable to maintain 6 feet of distance from other attendees. For vaccinated attendees, masks are welcome, but not required.
Classes will be equipment-free. Please be sure to bring your own mat, towel, and water bottle.
If you feel unwell, please stay home! Thanks for doing your part to ensure our community stays safe!
Weather Cancellation Policy: Fitness at the Fountain could be canceled at the last moment if weather conditions are not conducive to the event. Please check our Facebook page and Instagram page for inclement weather updates.
PHOTO RELEASE: By participating in Fitness at the Fountain exercise classes, all participants release and allow the use of any and all video, images, and photographs taken by the event producers, their agents and assigns to promote and otherwise market the event hereafter without any rights or compensation to the participant(s).