Former CWEnders Karen & Ken Botnick sent photos from their home in Massachusetts. "We had a 14″ snowfall recently, more coming later this week," Ken reported. "We've been snowshoeing in the woods every day, which is a wonderful way to spend the winter."
Top left: "A heavy ice frost covers the trees many mornings. Right: "The view looking west. Beyond the wall, the land belongs to the Audubon Conservancy." Bottom photo: "A weird warm front came through today bringing rain, followed by a heavy fog. The tree in the background is a magnificent white pine. It's our guardian here."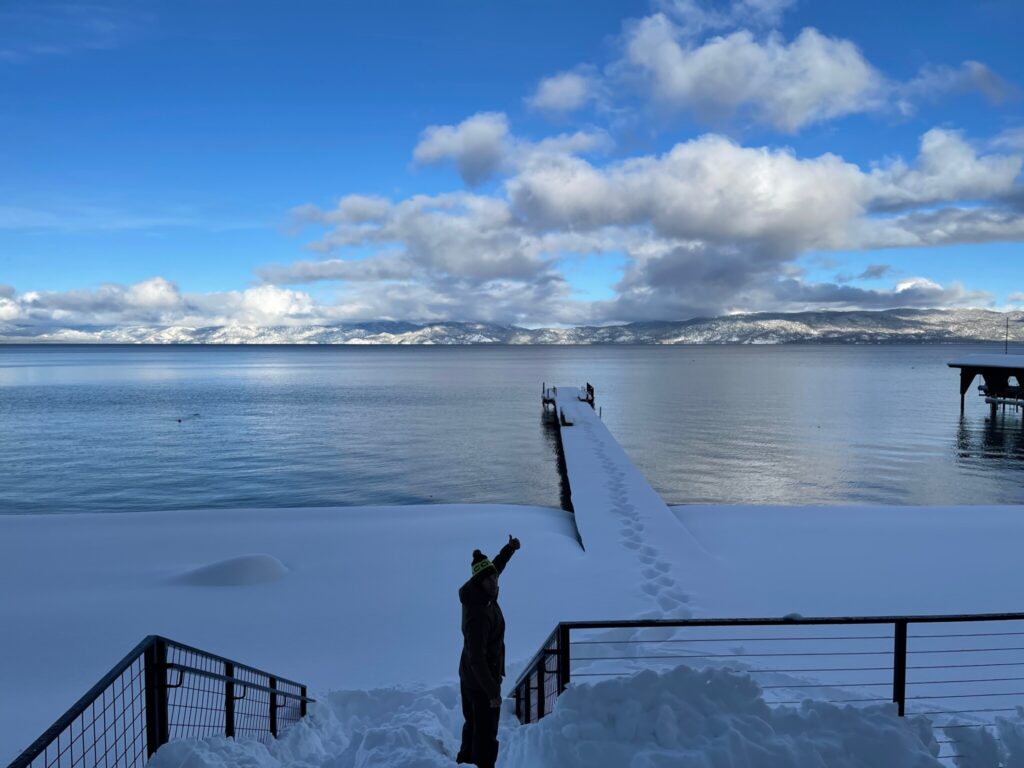 A niece, Laura McDowell, sent a winter scene from Lake Tahoe.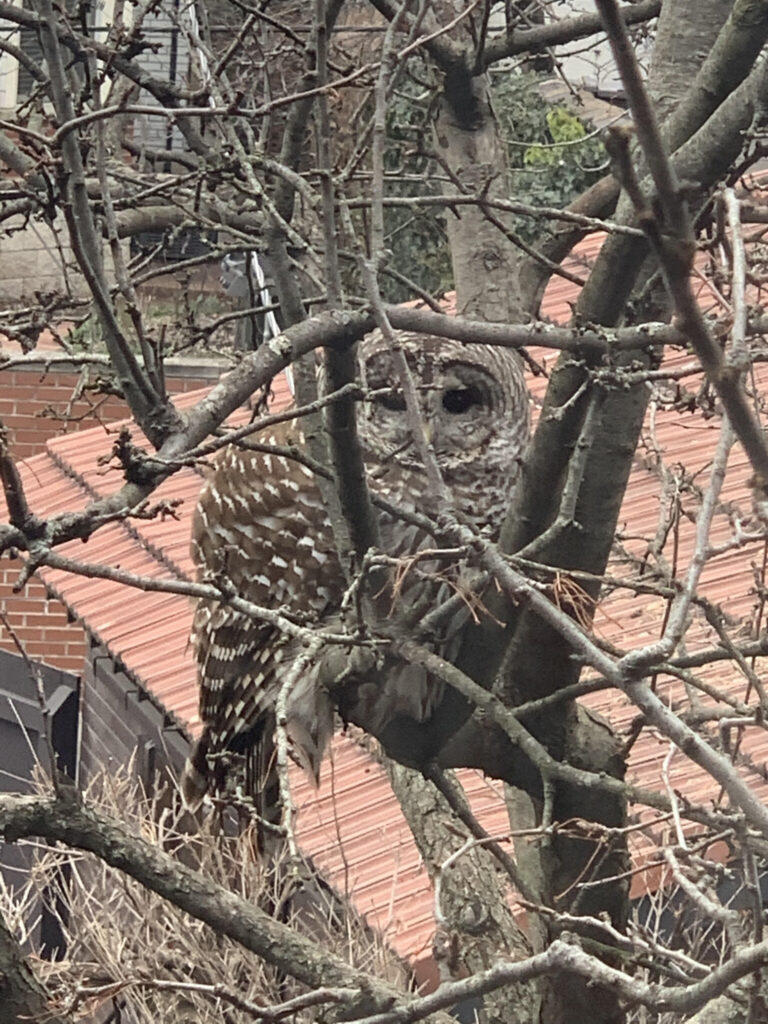 A friend on Pershing Place shared a photo that was taken before this week's snowstorm, but it's such a terrific photo I wanted to include it in this post. The owl who, visits the neighbors gardens as well, stops by once a week to sleep (by day) in my friend's apple tree.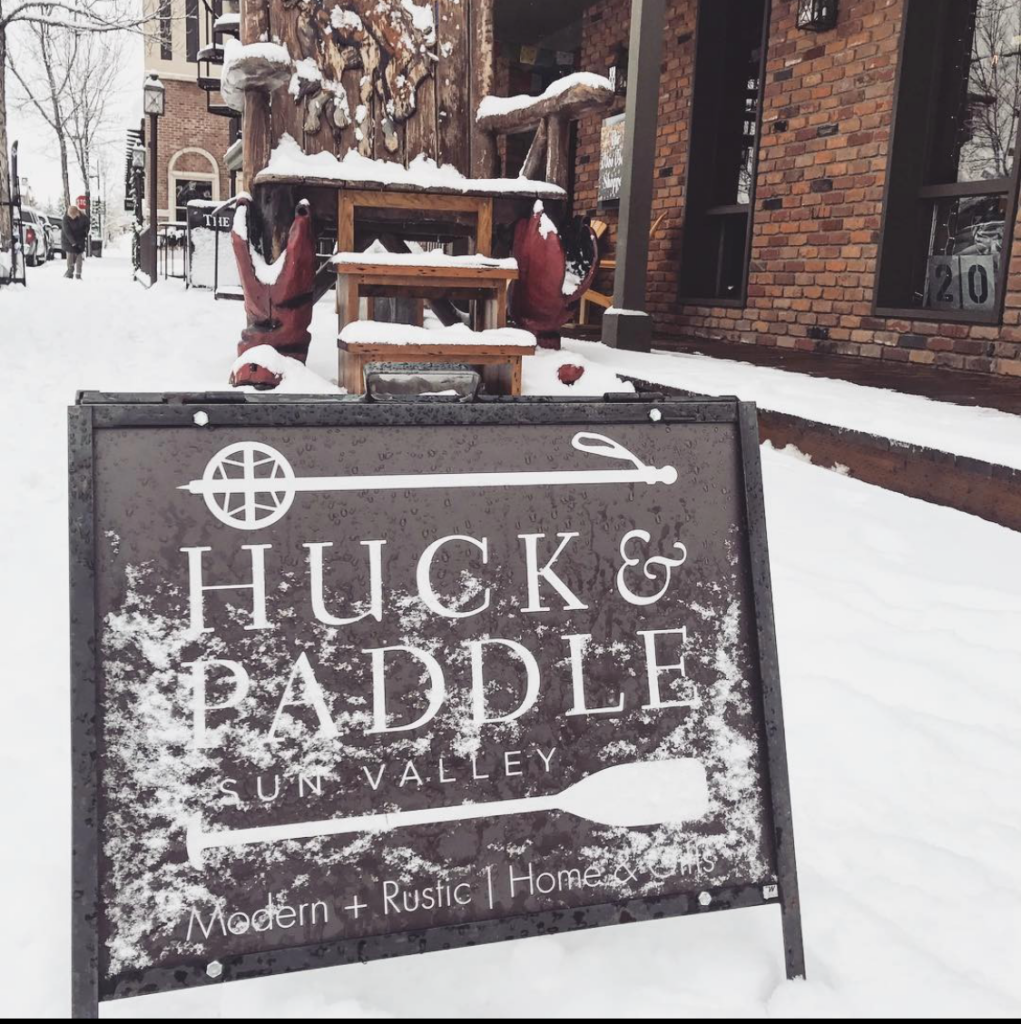 Another niece, Emily Stoddard, sent a photo of the entry to her shop in Sun Valley, Huck & Paddle.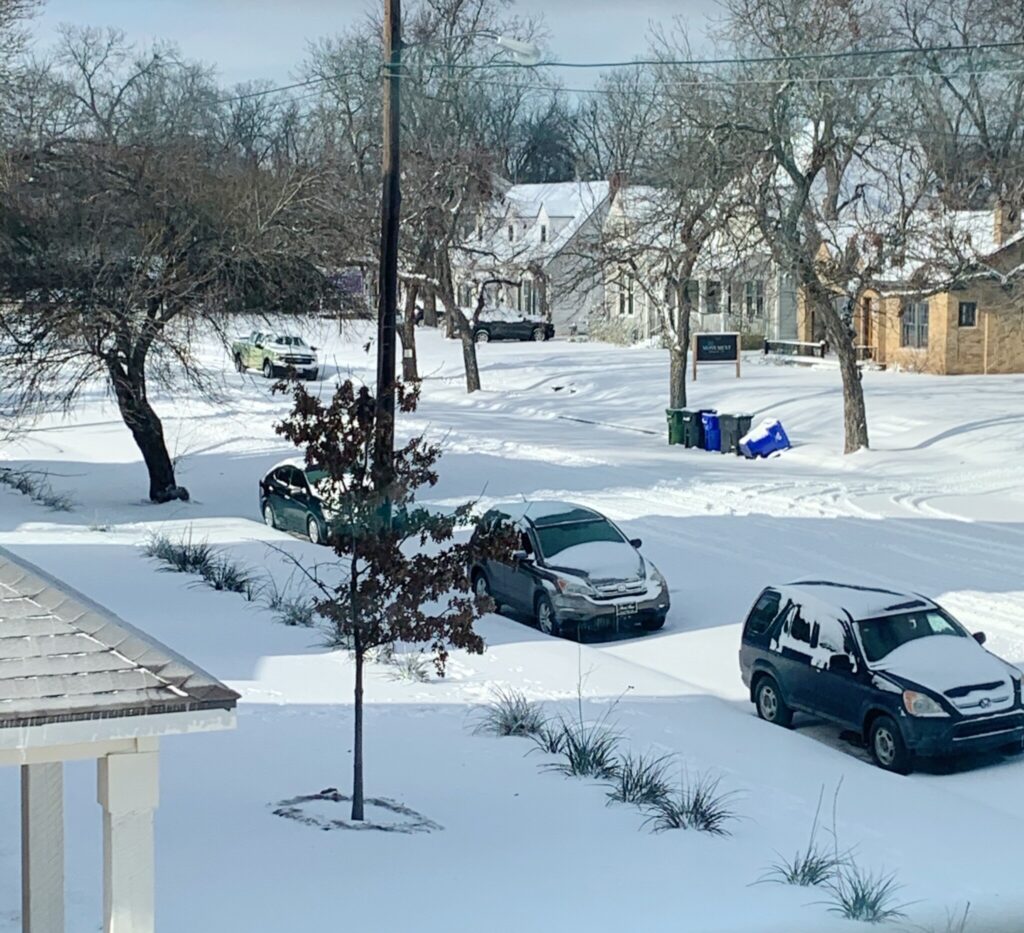 While most of us can make the best of what we are experiencing during this February snowstorm, the reality is that many are truly suffering because of it, especially in Texas. Here are two photos from friends who live in Waco.
Jenn McGlon said the temperature Tuesday morning was 2 degrees and the wind chill was well below 0. "Snowfall was about 5", she said, "temps haven't been in the single digits since the 1980s. A pipe burst outside my complex and an apartment downstairs flooded. We have no water now. More snow and ice storms tonight. We have many without power as well as scheduled rolling blackouts."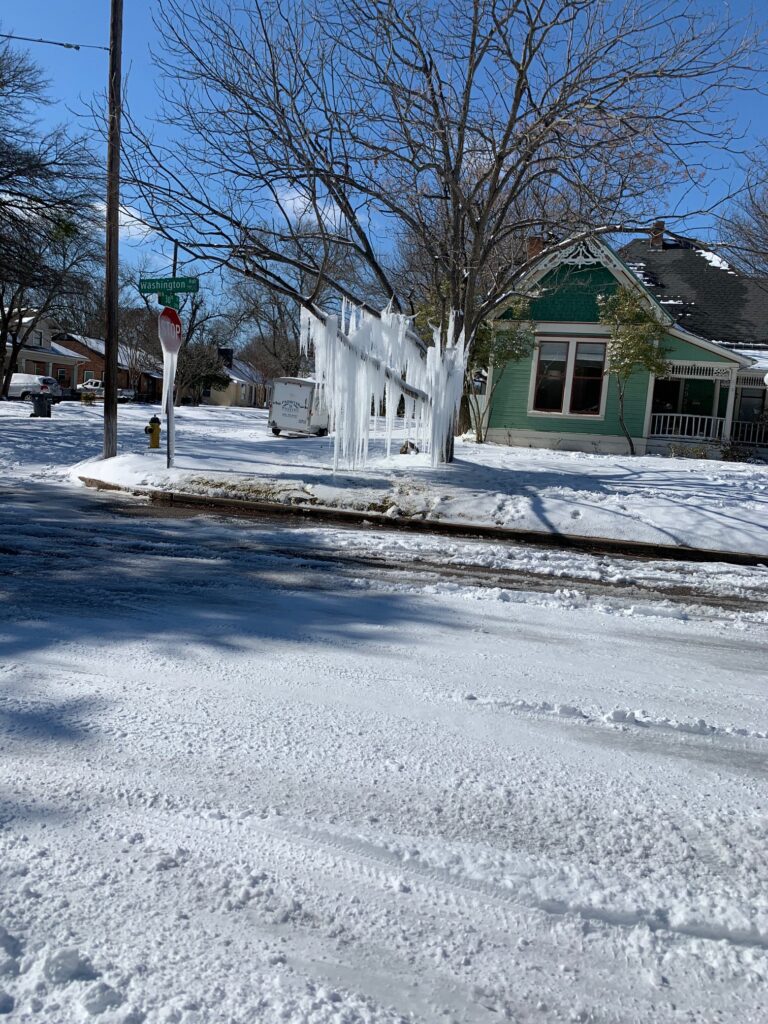 Another friend from Waco, Cindy Winter, sent a photo of an impressive ice sculpture that formed unexpectedly in her neighborhood.
Jiyeon, a friend who lives in NYC, shared photos taken in Central Park following a recent snowstorm.
My sister-in-law, Eileen Dudley, sent photos of a snow-covered New Albany, IN.  The photo above left looks across the Ohio River to the bright lights of downtown Louisville.
There are quite a few buildings in New Albany that date to the Civil War era. The yellow house, above right, was built for a riverboat captain in 1868. Nearby, I was told, is the Clocktower Church, which was a stop on the Underground Railroad.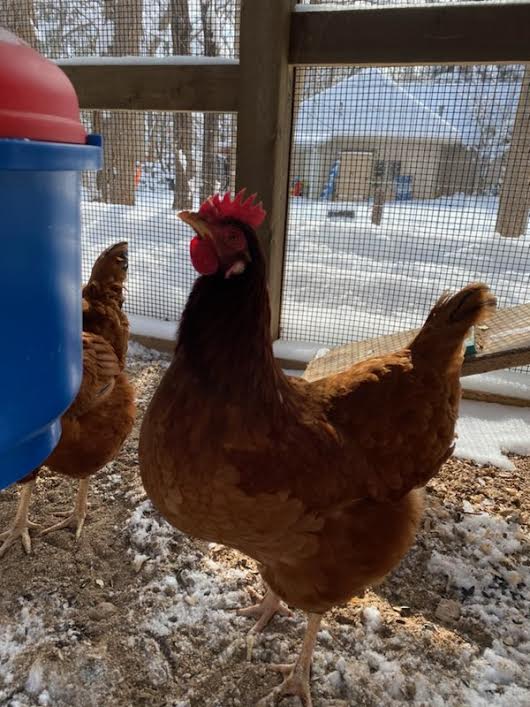 Alexis Robinson sent a photo of her family's chickens following a snow in Boulder, CO.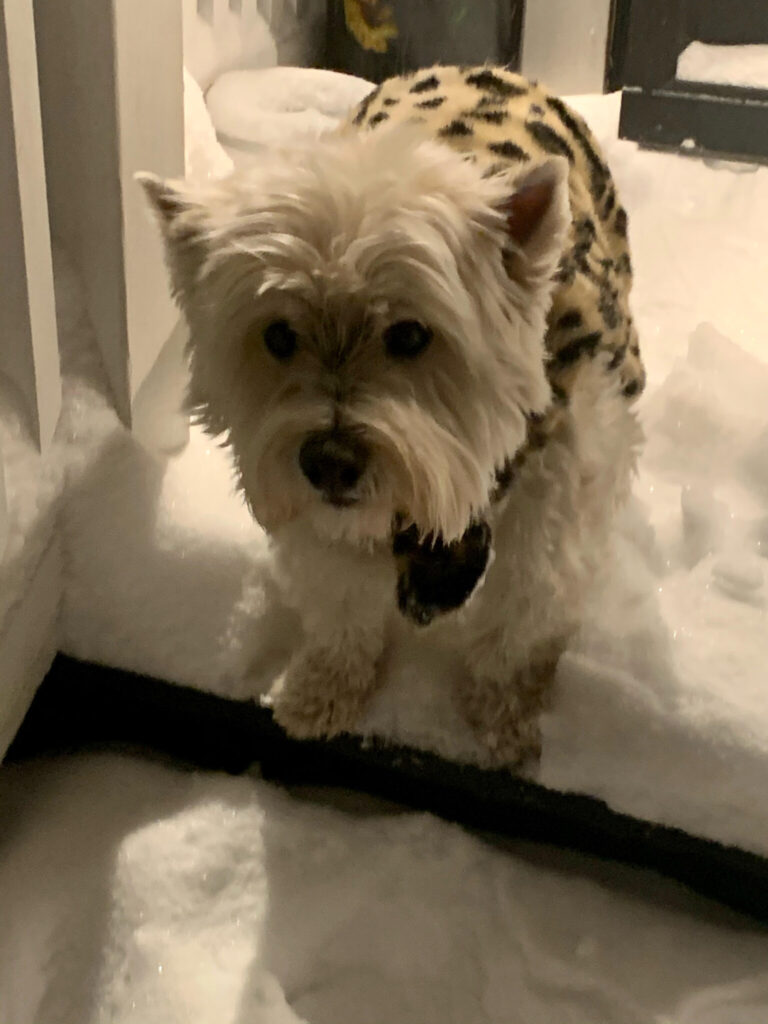 Mary Morgan sent a photo of Isabel who considered the snow-covered stairs briefly on Monday, then demurred.
And finally, Jack Grone sent a photo of a 3-foot long icicle that's formed outside his home in the CWE.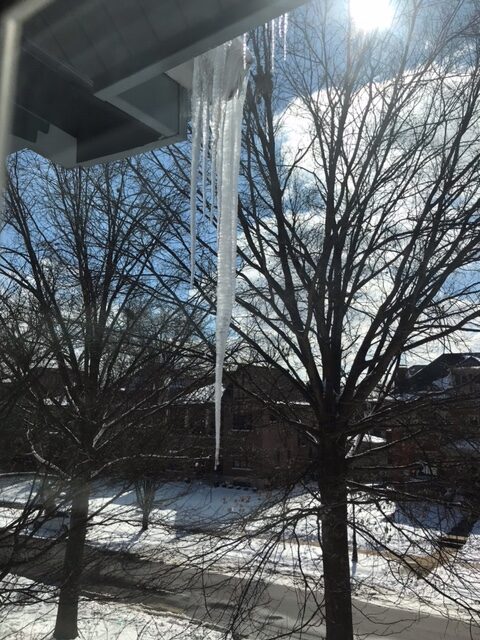 Thanks to everyone who took the time to send photos of their snowy landscapes for these posts. It's been so much fun to connect.