Last week's weather was more conducive to posts of snowy days from near and far. In contrast, this week dawned with a thaw, so before the crocuses start to pop I want to share more winter photos received from young friends and a nephew who live in Europe.
Rosa Mayer moved to Berlin in 2019 where she is working for a real estate company and "soaking in all there is to learn about the European lifestyle."
Rosa has been a friend since 2010. We met shortly after she moved to St. Louis in order to learn more about the town where her late grandfather, Richard Dudman, had been a reporter and Washington and foreign correspondent for the  St. Louis Post-Dispatch for 31 years.
She jumped right into the local scene and wound up working with a team, including founder Jim McKelvey, to get LaunchCode up and running.  Several years later she headed to LA to work for a start-up, and then moved to Europe.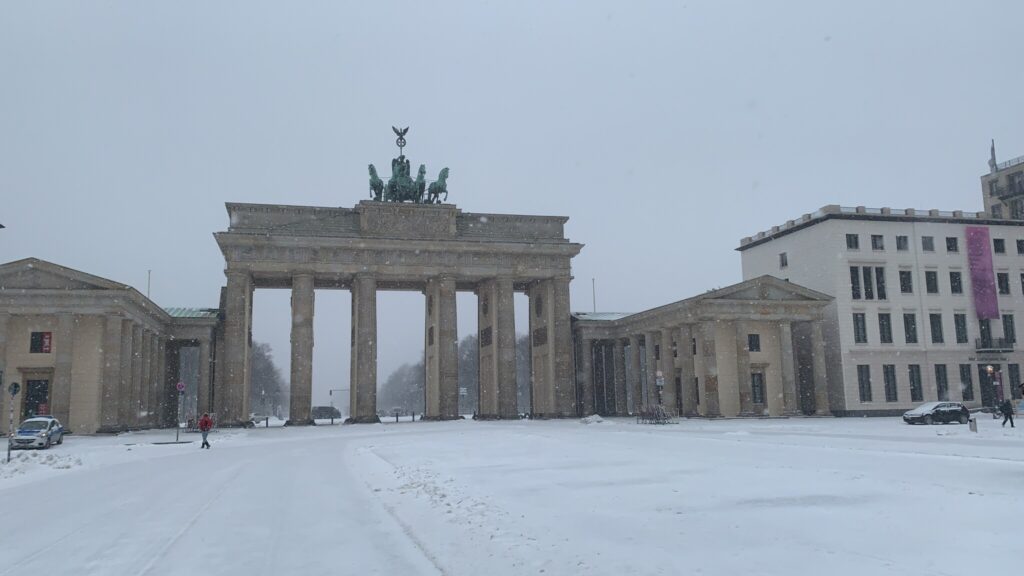 Rosa took these photos as she took a winding path, she said, to the Austrian embassy to drop off her paperwork for a passport.  Both of her grandparents were born in Austria.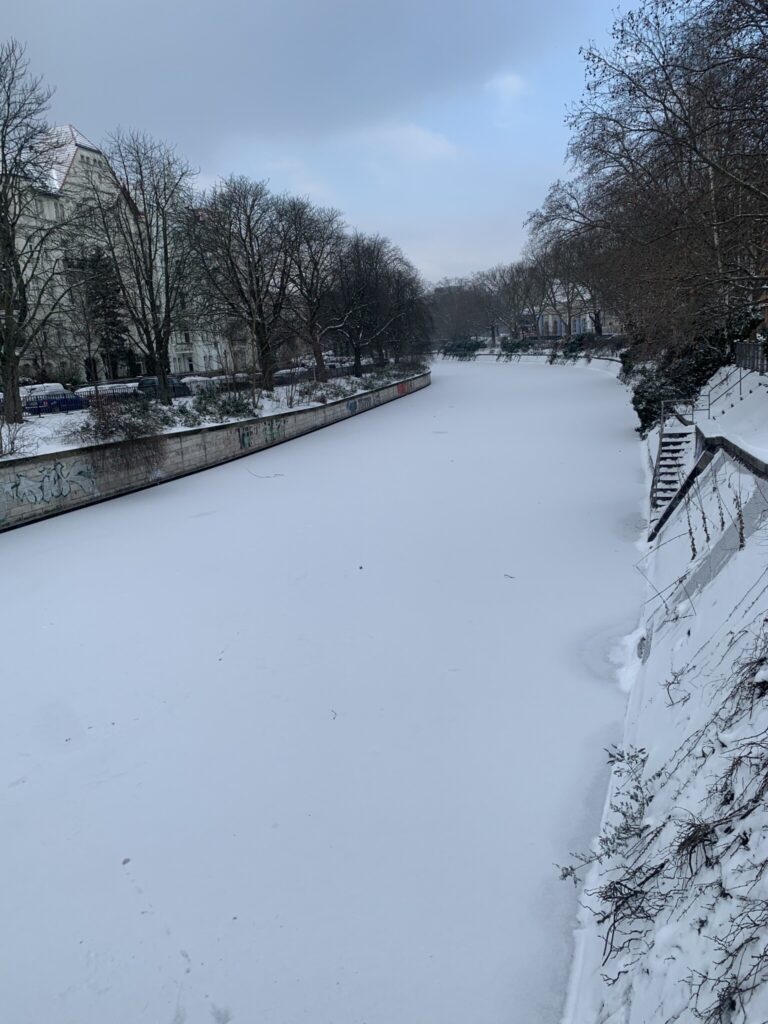 "It was really cold that day," she said, "I was bundled up, and had hand warmers in my boots and in my pockets."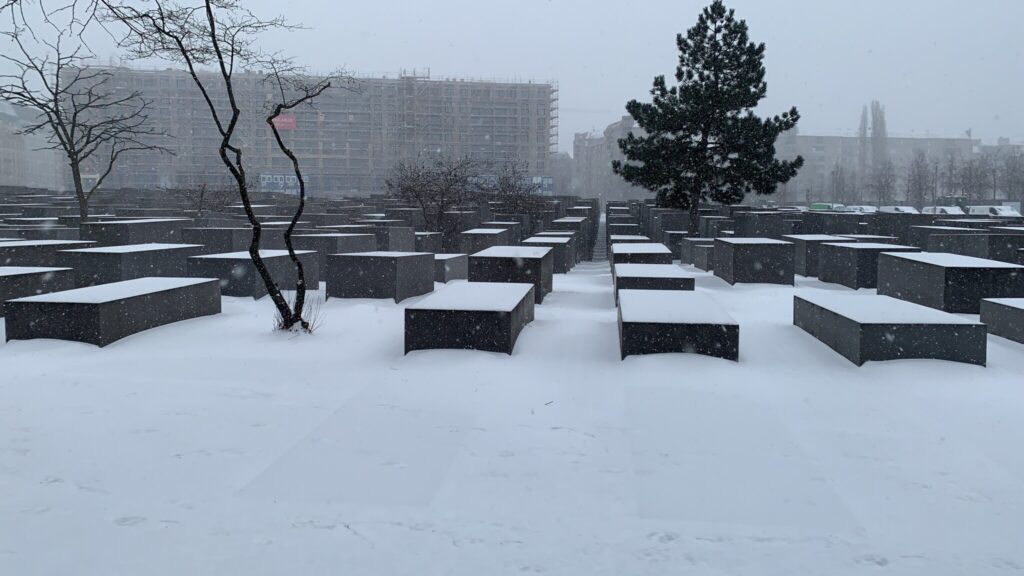 Rosa included a photo of the snow-covered Memorial to the Murdered Jews of Europe designed by New York architect Peter Eisenman. The memorial opened in 2005.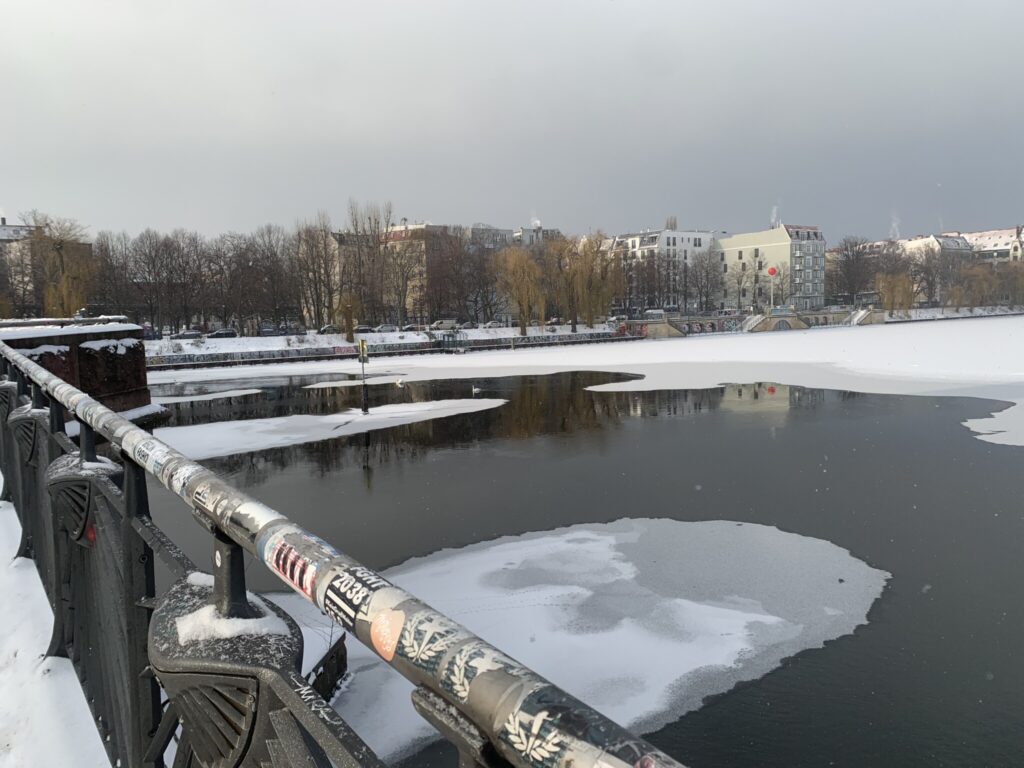 Since the day of her walk to the embassy the temperature has been closer to 60 degrees. "At the moment, Mother Nature is certainly shaking her tail feather," Rosa added.
Meanwhile in Paris,
Sara Sowins is studying fashion design at Istituto Marangoni Paris. Sara and her parents, Rita and James Sowins, were our neighbors for several years during which time Sara attended Villa Duschene. After she graduated they moved back home to LA where Sara enrolled at USC, but when the pandemic hit and classes went virtual, she decided to take a gap year in Paris.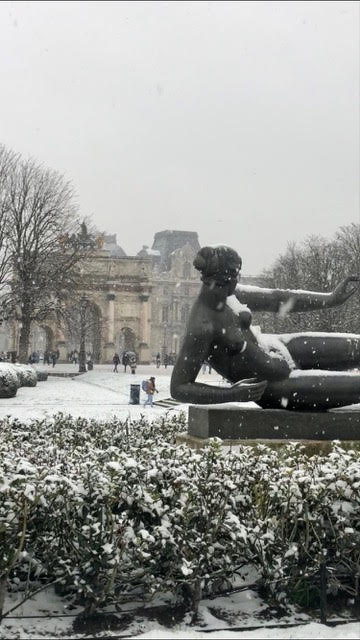 "The first snow in Paris was on January 18th," Sara reported.
She took the photos at the Tuileries Garden, near the Louvre.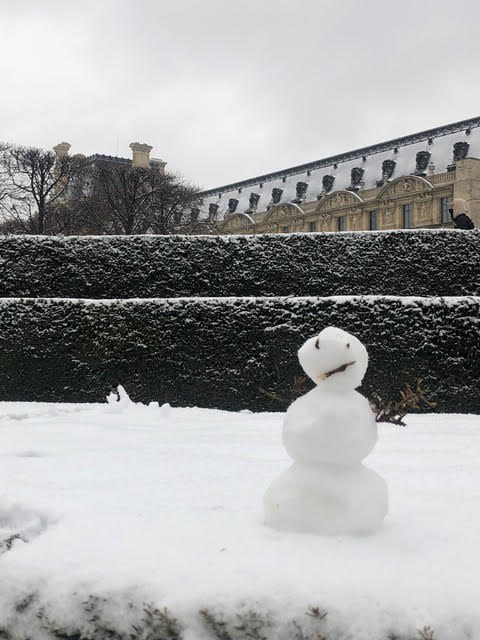 My memories of Sara include pasta making (she made fresh pasta for her parents once a week, and taught me a thing or 2). That pasta lesson led me to ask if she is making pasta while living in Paris. "Actually my repertoire has expanded to making gnocchi," she replied, "which I make quite frequently." All of this, of course, has nothing to do with the weather, but these days talk about food can bring us together too.
And from Switzerland, meet my nephew Dane Donegan, who's living in Zurich.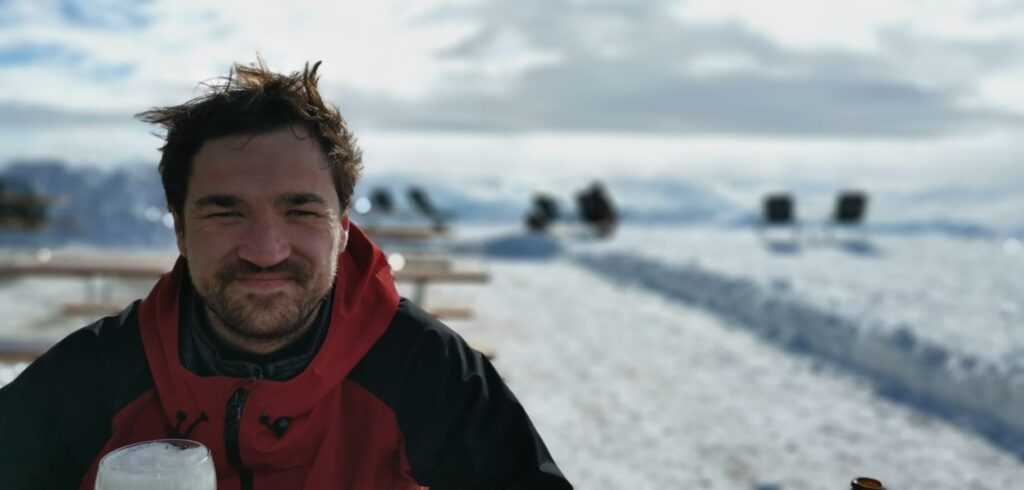 "Zurich has been a fantastic place to live and I'm fortunate enough to have a great group of friends here. When the pandemic hit, we were quarantined at home but now things have opened up a bit so we have managed to have an active social life with skiing, mountain biking, and now outdoor bar hopping and dining."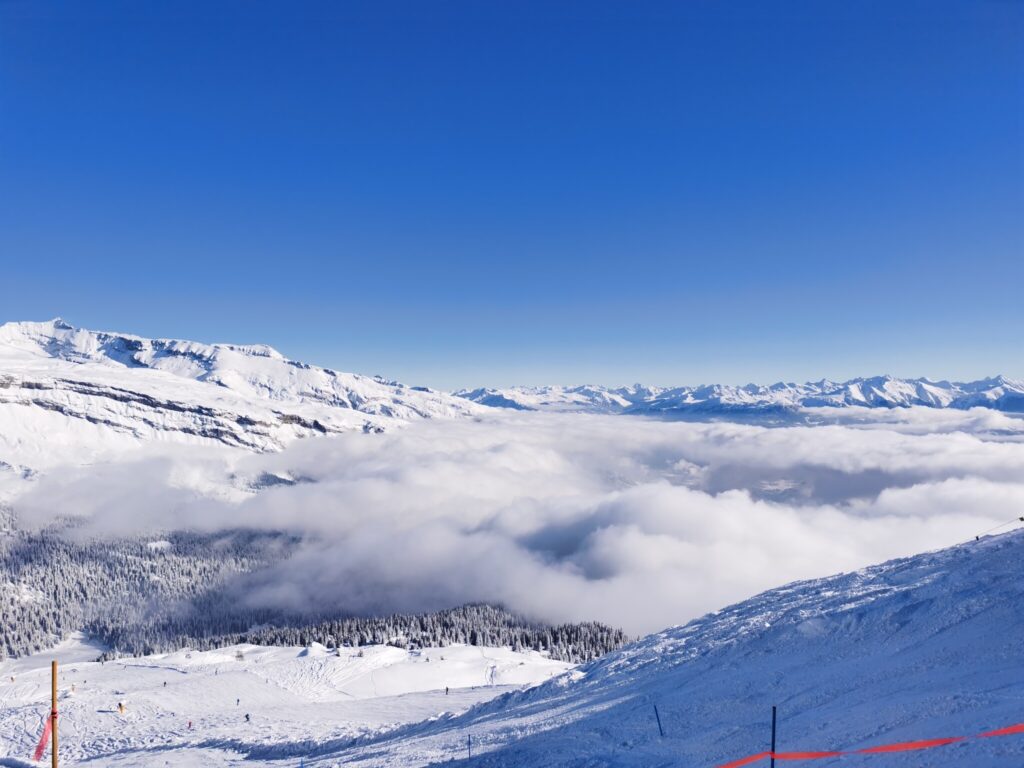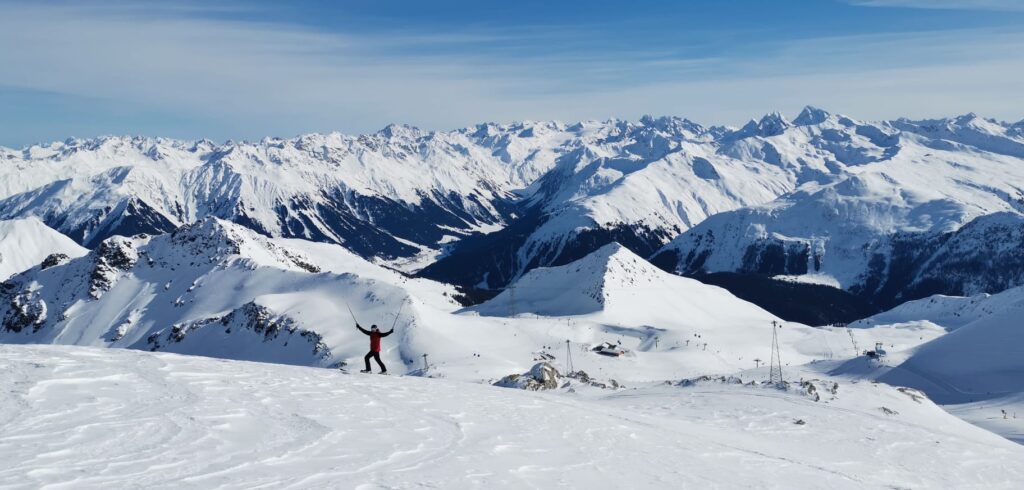 My love of skiing has taken me to Laax, Davos, above and below, and St. Moritz. It's one of the reasons I love Switzerland.  The photos do not give it the justice it deserves, it is a breathtakingly beautiful country.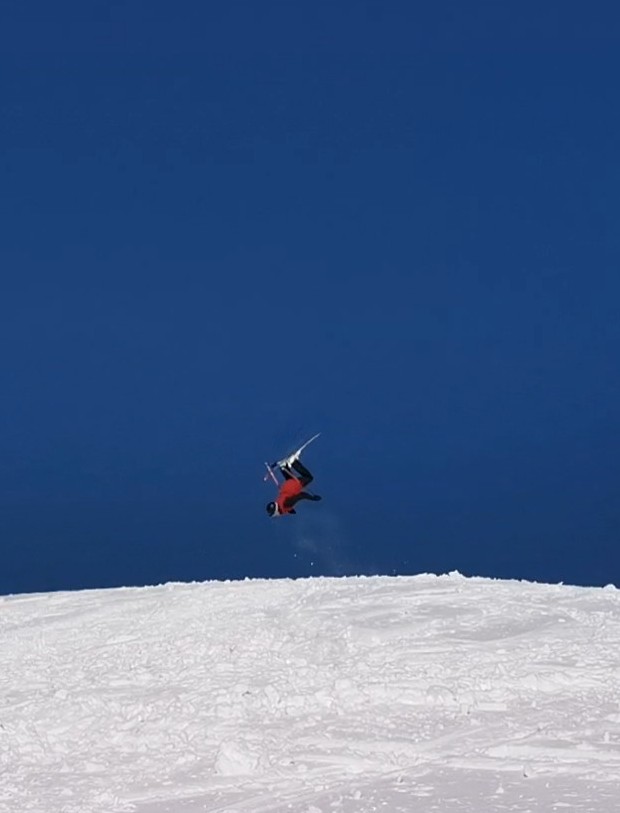 Dane grew up in Denver and he and his parents, Bo & Glenna, would go off skiing whenever they could. That's Dane doing a back flip above.
In the email accompanying these winter photos Dane said, "It has started to get very hot here, so now we are mountain biking which was a great experience last summer. You get to see mountains around Switzerland that I would not see when skiing."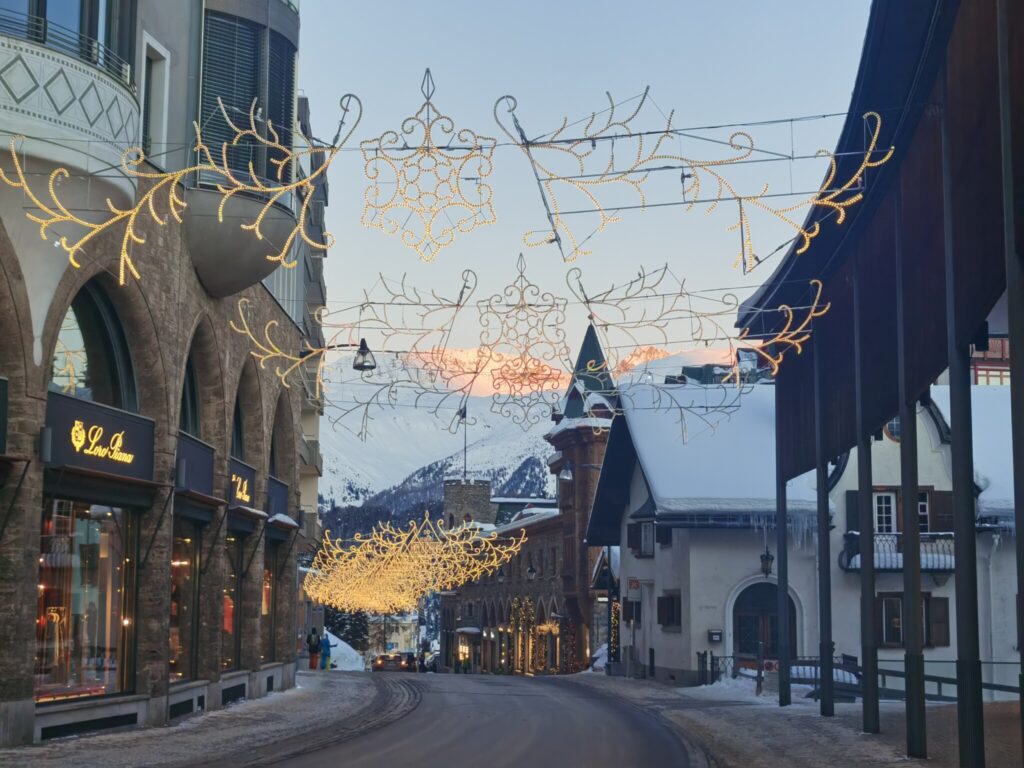 A photo of St. Moritz.
"I'm in my 3rd year pursuing a PhD in neuroscience at ETH in Zurich, Switzerland. My research is the prediction of brain recordings of a given movement before it occurs, for instance blinking or scratching.  If we can figure out what neurons are responsible for motor commands, this will hopefully lead to new therapies for stroke recovery, Parkinson's and robotic prostheses.  It has been an extremely rewarding and frustrating experience, but I could not be happier with what I am doing. Perhaps 2 or 3 more years until I finish, and then I will probably start looking for jobs in biotech using machine learning, robotic control and neural networks.
It has been an incredible experience living in Zurich!"
Thanks to Rosa, Sara and Dane for the beautiful photos and fun commentary. I'm incredibly lucky and grateful to know all of you who sent photos for this series of snowy day posts. Let's do this again in the spring perhaps.