The Central West End is home to many artists, art galleries and a classical art academy that opened at 4814 Washington Avenue in the Fall of 2018. In adapting to Covid-19 related  stay-at-home orders, several neighborhood galleries—Duane Reed, Houska and Walker-Cunningham Fine Art (which CWEnder Sarah Cunningham operates from her home) have transitioned to virtual tours of current exhibitions.
In a similar quandary, The Gateway Academy of Classical Art (GACA) has been offering online instruction to its current students. In an effort to expand their reach, they've just announced a 6-week online class: The Art of Storytelling: An Introduction to Narrative Painting, that will begin May 11.

For some background on how GACA came to be, here is information gathered from the website: The Gateway Academy of Classical Art began as a group of seven artists seeking out teachers to train in traditional drawing and painting skills. After studying with Florence Academy graduate and oil painter William Neukomm, they realized that St. Louis needed an atelier based school, so they decided to start one. The new studio is taught by their newest partner and artist, B.J. Parker, from the Texas Atelier of Fine Art. The Gateway Academy of Classical Art allows for continuous atelier training and for more nationally-known fine artists to come to St. Louis and teach workshops in representational art topics. Now known as GACA, the studio hosts open-studio figure drawing events, and continues to offer classical atelier studies, and arranges workshops featuring the finest guest artists from St. Louis and around the world.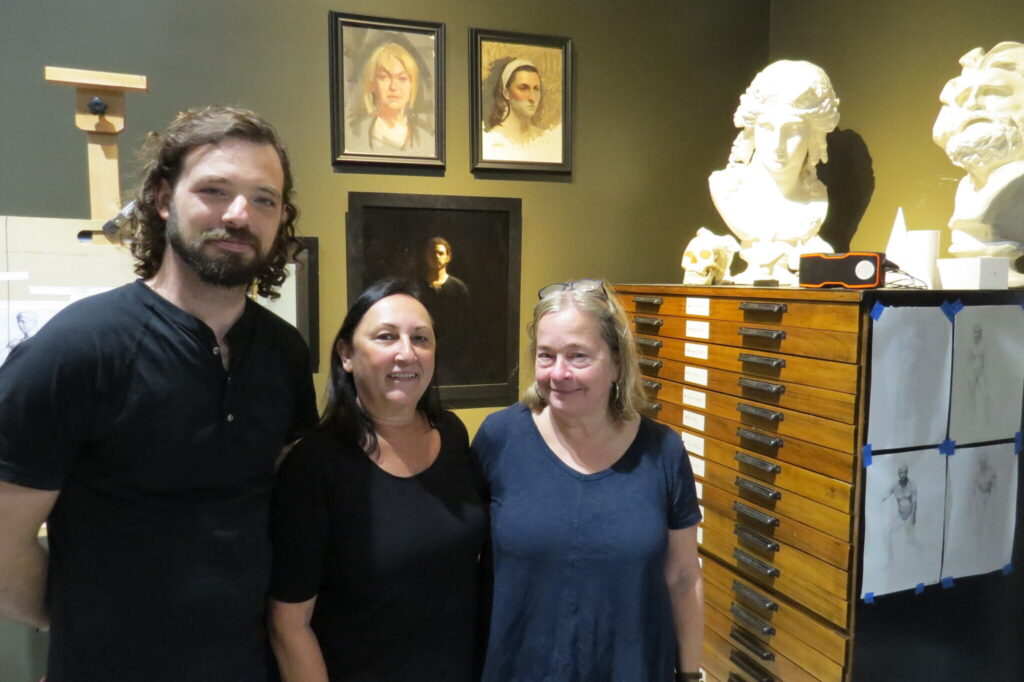 Co-founding Director, Artist & Instructor B.J. Parker is photographed with Co-founders, Ingrid Oertli and Sarah Blumenfeld. An introduction to other GACA members Elodee Tuley, Carolyn Karacek, and Social Media Director Martha Iler can be found here.
This is the information about the class that was released earlier this week: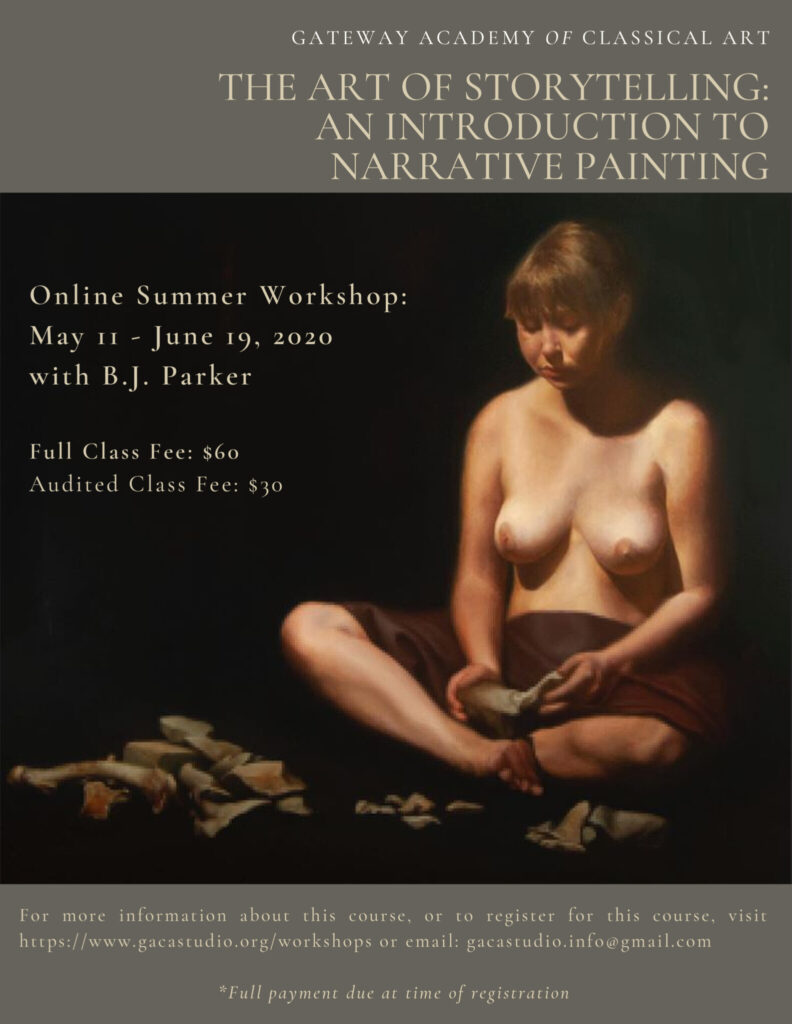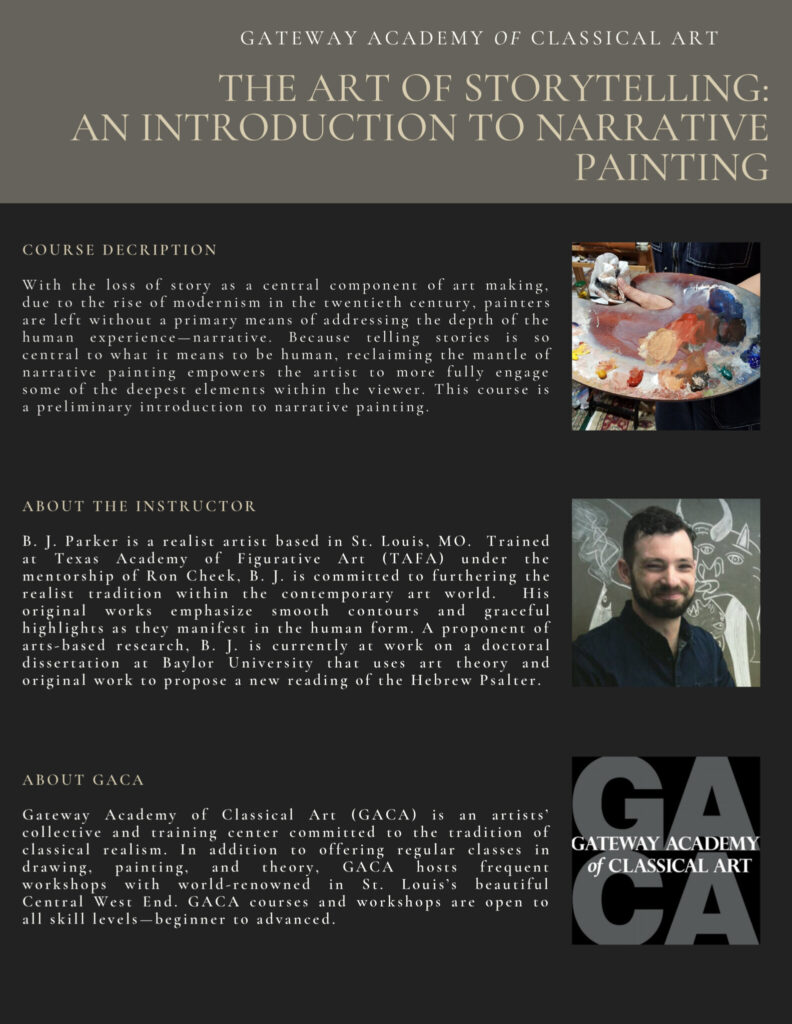 B. J. Parker has advised that artists of all skill levels are welcome to enroll in the class. For a link to the curriculum, and to art supplies required, click the syllabus here.  (For supplies: The CWE's St. Louis Art Supply is operating online.)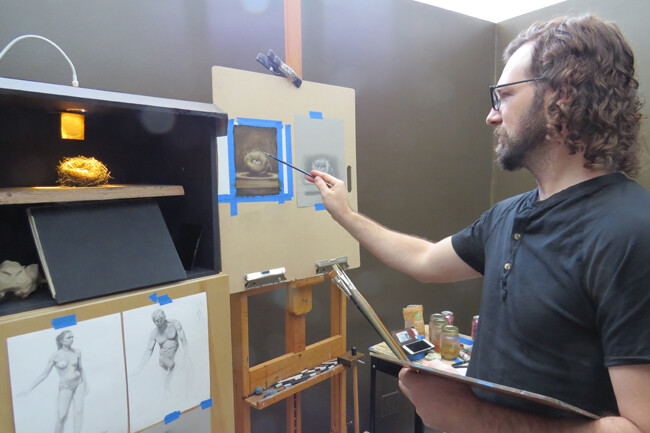 B. J. Parker, above, shown painting in his studio, which is adjacent to the atelier where students gather for instruction.
Sarah Blumenfeld shown during a class at GACA.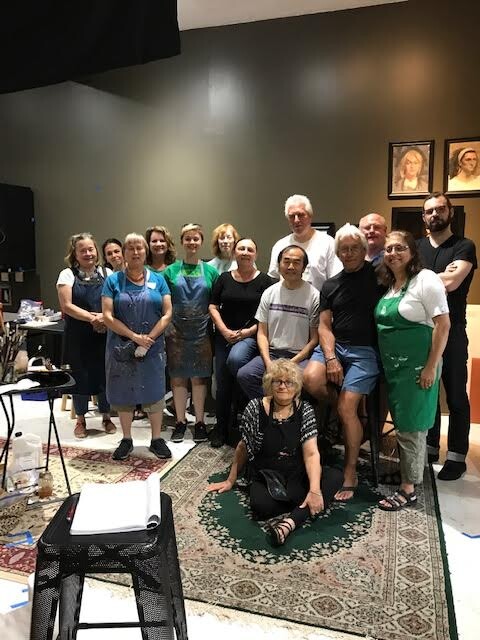 photo courtesy of Elodee Tuley
Last year Victor Wang, center above and below left, professor of Art at St. Louis' Fontbonne University, conducted a sold-out workshop. When the stay-at- home order is lifted GACA will once again schedule a robust roster of sought-after artists from around the country to conduct workshops in the studio.
Other artists who have taught at GACA are  Stephen Assael middle photo, on the faculty at the School of Visual Arts in NYC, and below right, Washington, DC-based Teresa Oxaca.
photos courtesy of Elodee Tuley
For questions, email gacastudio.info@gmail.com  To enroll in The Art of Storytelling: An Introduction to Narrative Painting (full class fee $60, audited class $30), here is the link.
Gateway Academy of Classical Art, 4814 Washington Ave., Suite 322.