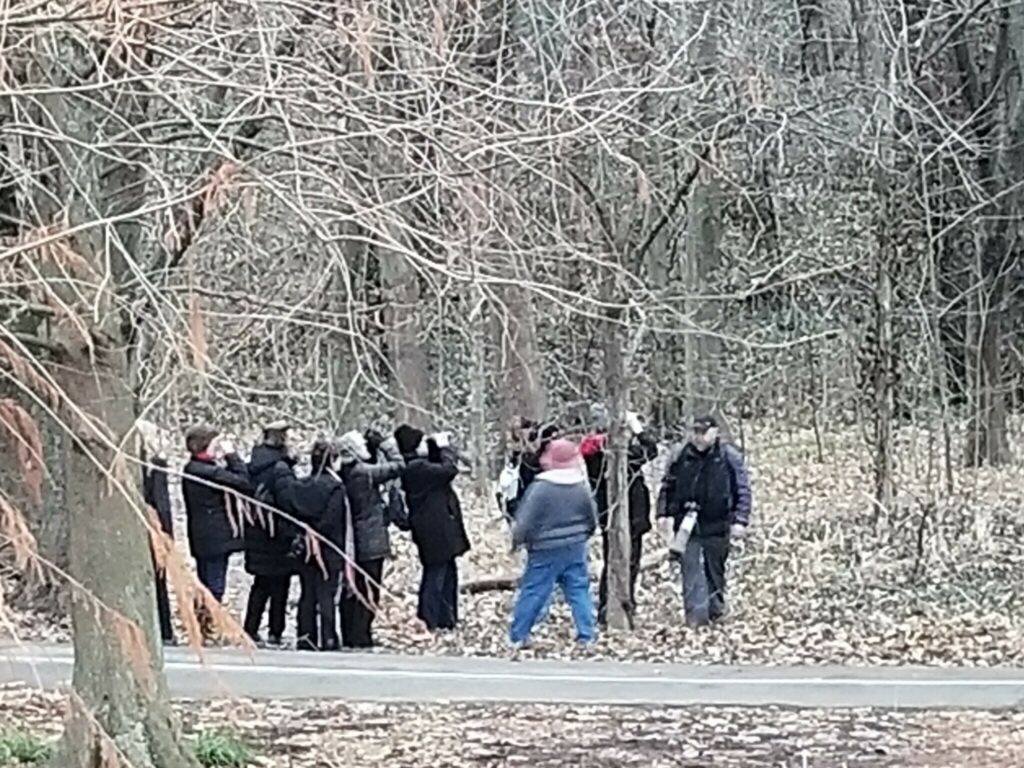 Ever since I ventured out in 2011 on my first owl prowl with Mark Glenshaw (above right), the Owlman of Forest Park, I've been an avid follower of his frequent blog postings documenting the lives of the Great Horned Owls who inhabit a wooded area near The Muny.
Strange as it may sound, due to Glenshaw's rather obsessive observations and postings over the years (he's been doing it since 2005), I've come to think of the owls in almost human terms. But as I've also learned from recent postings, the life of an owl is hardly a walk in the park.
Charles, above, has fared much better than the female owls who have been part of his life. Glenshaw estimates Charles is about 16 to 17 years old, though he could be as old as 24 (the oldest known Great Horned Owl lived to be 30 years old),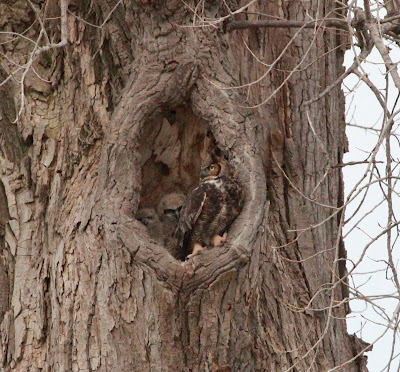 From 2005 to 2015 Charles and Sarah, above, produced 23 owlets (usually two per nesting), including Christopher and Velvet, shown behind Sarah in Glenshaw's 2014 photo. The last time Glenshaw saw Sarah was in July 2015. He assumes that she passed away.
Then along came Olivia, who flew the coop before the pair could nest. Olivia was followed by Samantha, who in the 3 1/2 years she and Charles were together produced eggs but never had any successful hatchings. Unfortunately, Samantha died in April 2019 after a valiant attempt to save her life by the World Bird Sanctuary with support from Forest Park Forever and the Humane Society of Missouri.
For those who may be inclined, Glenshaw suggests you make a donation to any of those organizations in the name of Samantha, the Great Horned Owl.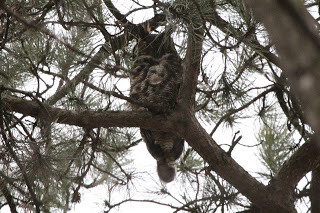 Just two days after Samantha's death, Glenshaw was stunned to see a "large and gorgeous female" he named Danielle, above. At 23″ to 24″ she is one of the largest owls Glenshaw has ever seen. At the end of December, Glenshaw reported that Danielle was nesting. However, just last week it seems that raccoons got into the nest. Unfortunate as this is, here is some interesting related information in Glenshaw's latest post.
"While the loss of the nest is a most unwelcome and crushing development, I do not want to excoriate or spew vitriol at the Raccoons. Just like Great Horned Owls, Raccoons are highly adaptable animals with their own important ecological role. Furthermore, GHOW's do kill and eat Raccoons-both young and adults. In fact during the entire nesting cycle I saw several predatory attempts by the owls on Raccoons; most of them by Charles and two by Danielle. As such the relationship between CHOW's and Raccoons is a complex and fascinating one. There are no heroes or villains in nature, just organisms trying to survive and reproduce."

If you'd interested in learning more about an owl prowl, or scheduling an owl talk, email Mark Glenshaw at mglenshaw@gmail.com. Meanwhile, you can find his blog here.