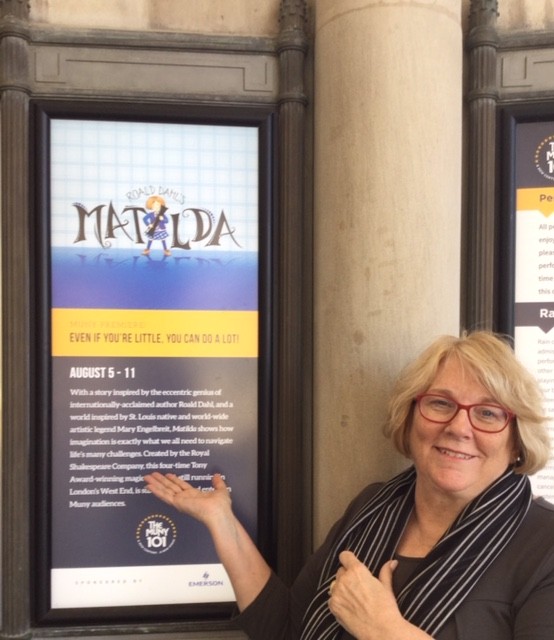 Photo courtesy of Phil Delano
St. Louis-based, internationally-known artist Mary Engelbreit's long list of artistic accomplishments veered in a new and completely unexpected direction when she was tapped by Mike Issacson, Artistic Director and Executive Producer of The Muny, to design the costumes and set for this season's production of Matilda.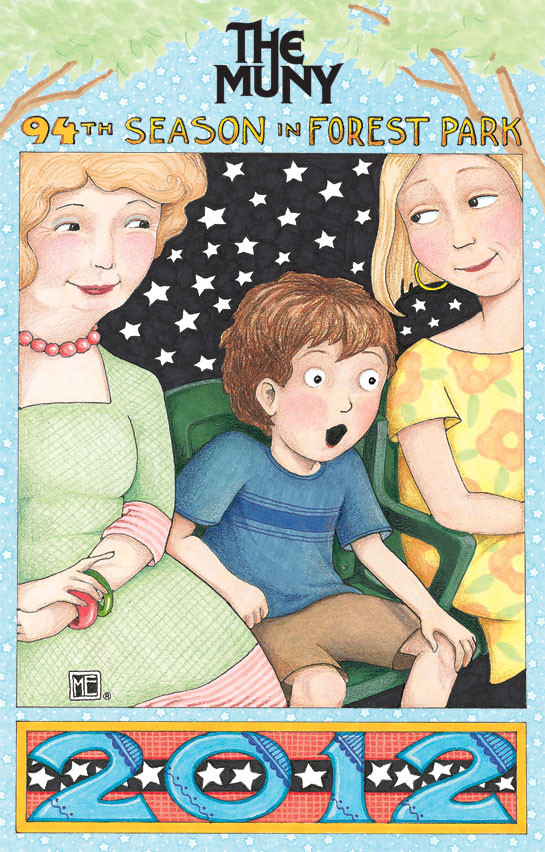 This isn't Engelbreit's first association with 11,000 seat outdoor musical theater in Forest Park. Her delightful drawing,"I Knew He'd Like It," above, was the cover art on the program for 2012's season.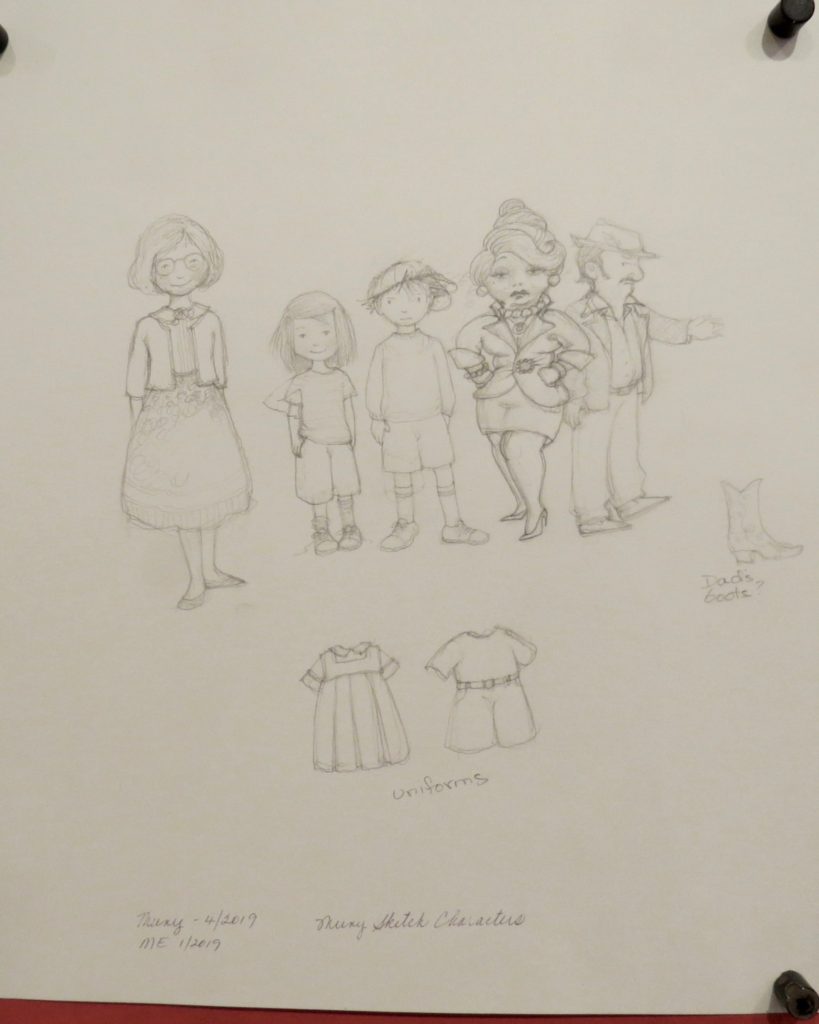 Engelbreit said that when Issacson reached out to her earlier this year "I was floored. I said yes I'd LOVE to do that!…I don't know how to do that!"
Issacson explained that there were "real" costume and set designers working on the show, and that all she had to do was draw the characters and set pieces as she envisioned them. They would take it from there. The design team was also granted access to Engelbreit's database of 13,000 drawings to mine for more ideas.
The Roald Dahl book and the subsequent movie had been favorites of the Engelbreit/Delano family. She had read the book to her boys, and she and her daughter Mikayla saw the play in New York, which they both loved.
When I visited Engelbreit's studio, I was able to photograph her early sketches for the project, above. Those who are familiar with her work will recognize the resulting graphics, costumes, and depiction of characters, below, which are saturated in her signature style.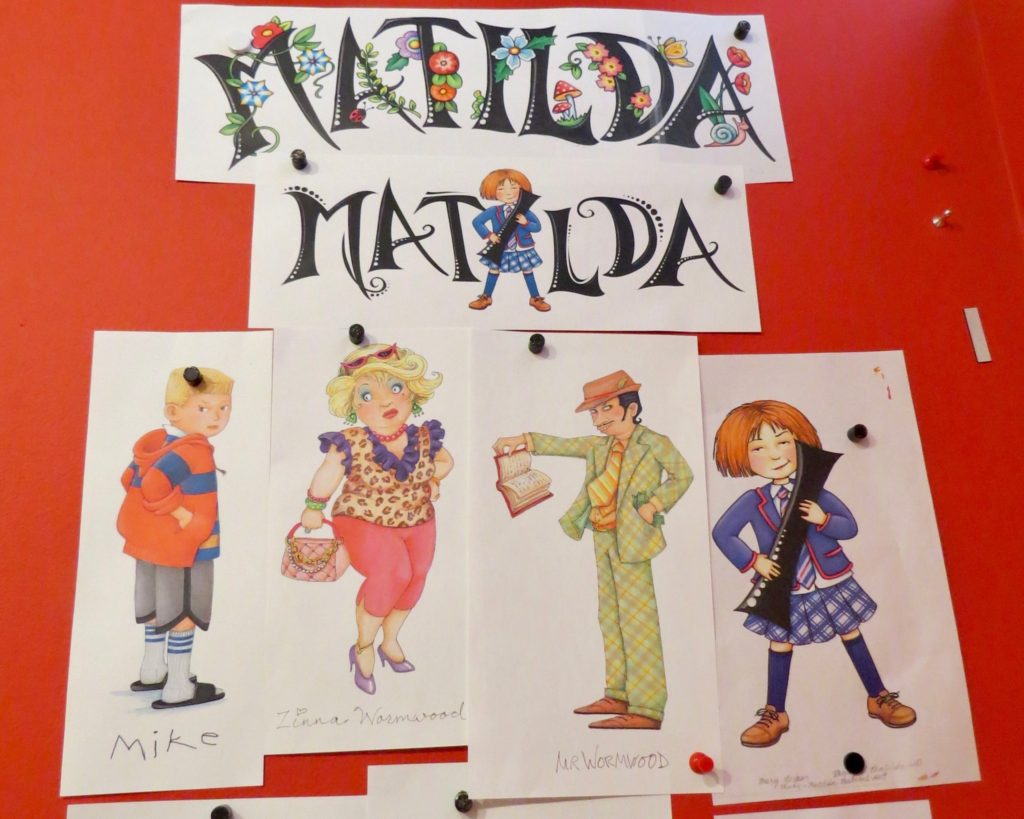 From left, Mike, Zinna Wormwood, Mr. Wormwood, and Matilda.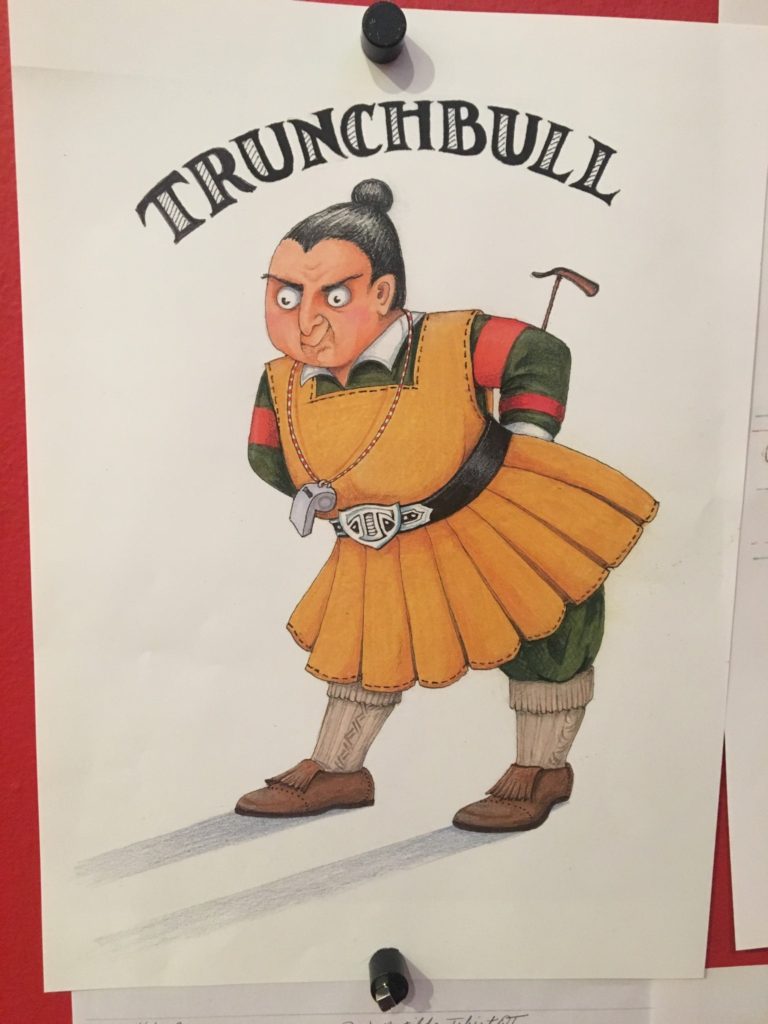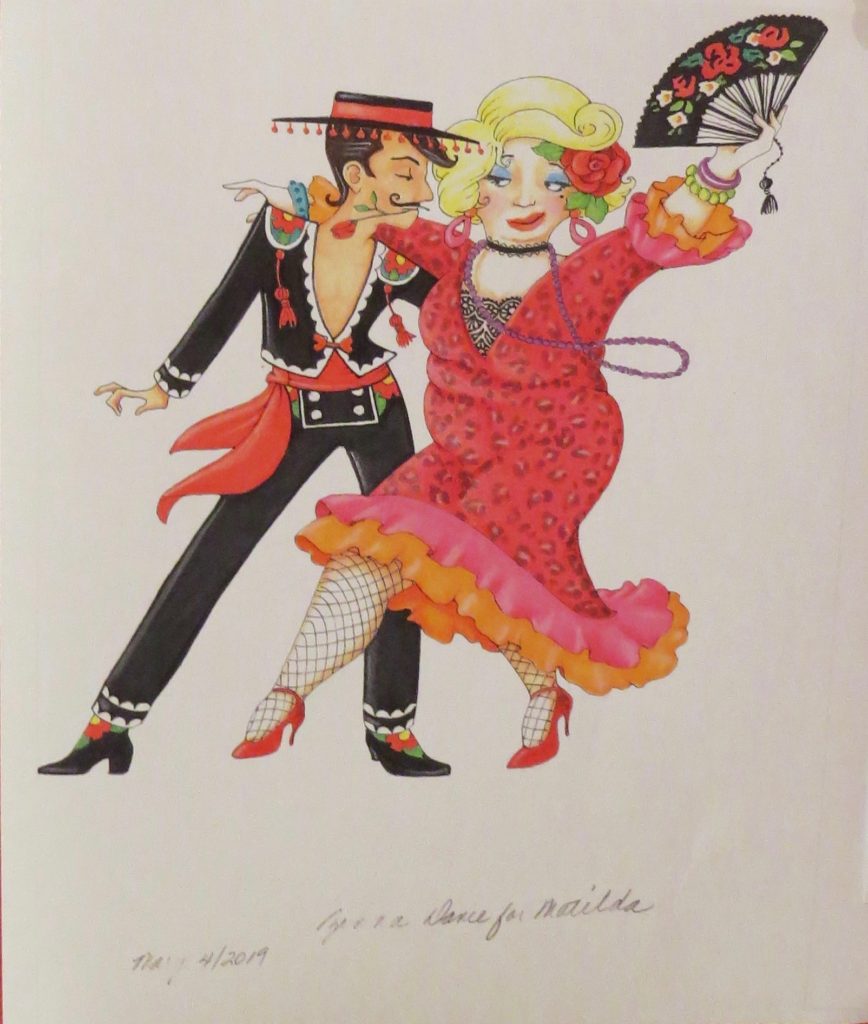 Zinna Dance for Matilda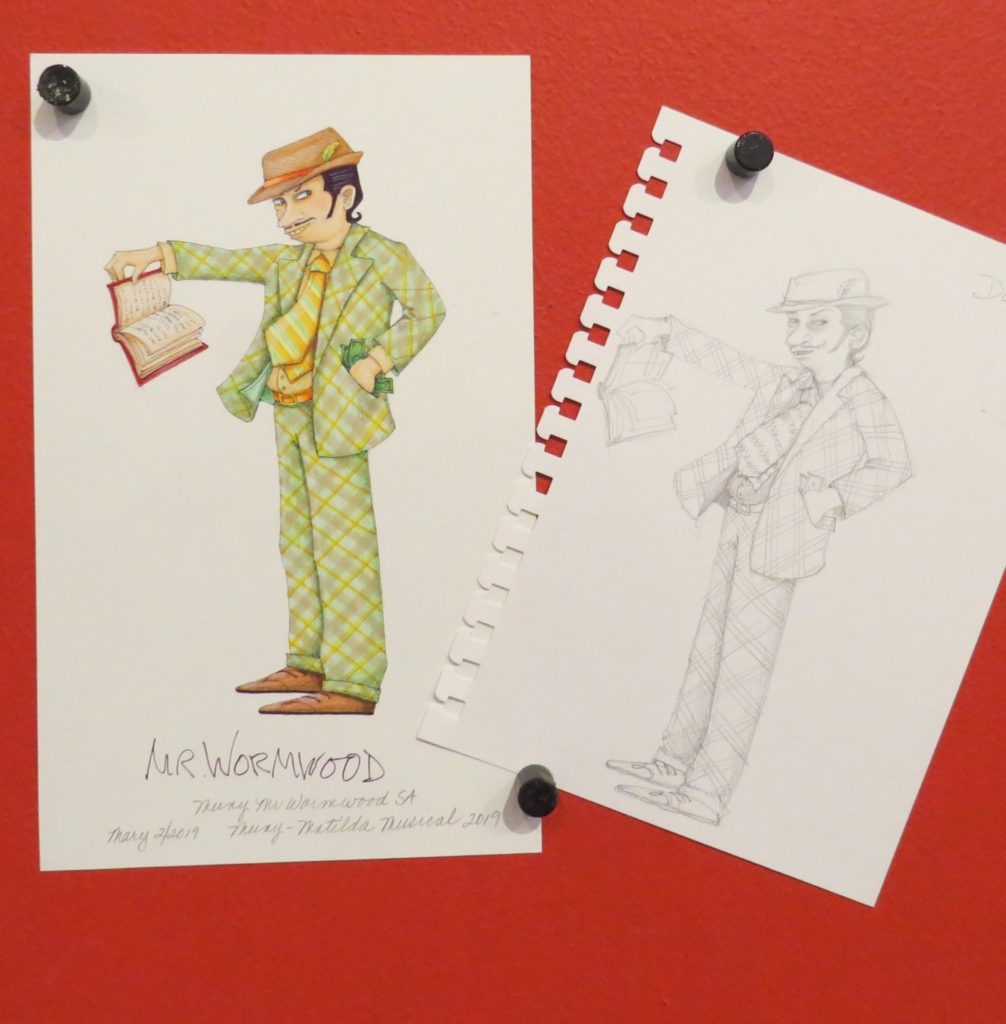 The plaid fabric and contrasting tie designed for Mr. Wormwood are so perfectly ME.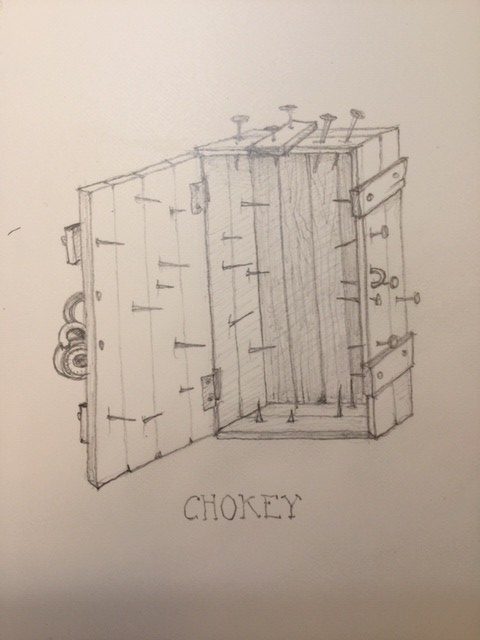 Engelbreit's sketch of  the dreaded chokey.
From left, Mary Engelbreit's design for the Matilda t-shirt, Crunchem Hall Primary School, and the Russian sketch.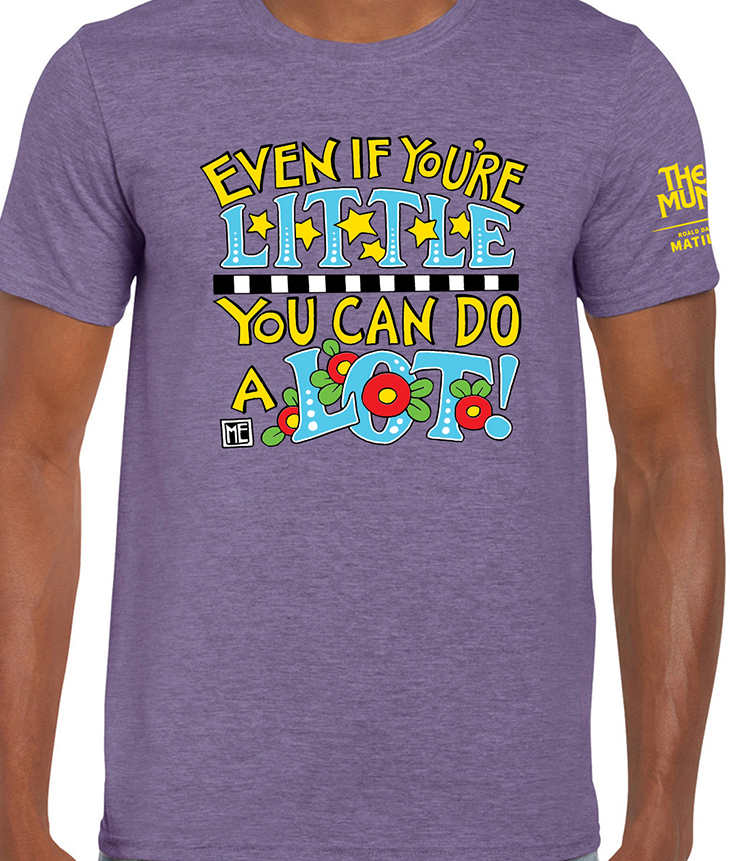 Matilda t-shirts, sized from youth to adult—$15, $20, and $22—are available at The Muny and on the website.
Matilda at The Muny, August 5 to 11, ticket information here. The Muny generously offers 1,450 free seats to the public each night during the season, available on a first-come, first-serve basis.