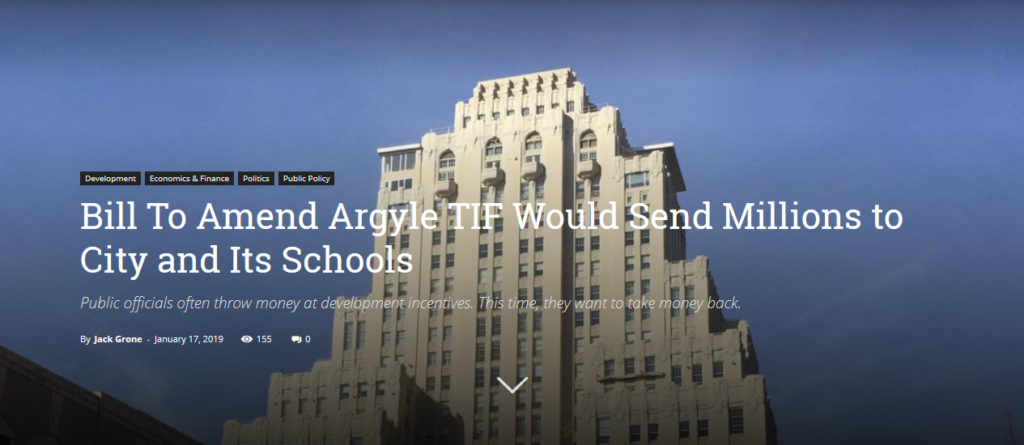 The latest from McPherson STL's Jack Grone:
ST. LOUIS PUBLIC SCHOOLS, CITY HALL'S COFFERS and museums and libraries across the city would get a cash infusion this year totaling over $6 million — with more likely to come in 2020 and 2021 — if a bill to be introduced at Friday's Board of Aldermen meeting becomes law.
The bill, sponsored by 28th Ward Alderwoman Heather Navarro, seeks to amend a tax increment financing (TIF) deal that diverts millions of tax dollars each year from the Chase Park Plaza hotel and condominium complex to support the city-owned Argyle parking garage. The garage is one block east of the Chase at Lindell and Euclid boulevards in the Central West End.
The bill is the result of an agreement hammered out in recent weeks by Navarro and officials in the offices of Treasurer Tishaura Jones and Comptroller Darlene Green. It would extract money that's sitting unused in the Argyle TIF fund; this appears to be the first time city officials have attempted to free cash early from one of these instruments. The fund has $11.8 million in available money but needs only $5.5 million to pay its obligations, according to Navarro's bill, which lays out a process for releasing the remainder.
Here is a link to the article in its entirety.