With just 6 shopping days left until Christmas, these holiday gift suggestions may make your life a little less stressful, especially for those prone to procrastination. Shopping local has many advantages. Walking from shop to shop is the most obvious, but as I put this 2018 list together I realized the added value of meeting and talking to the friendly shop owners in the CWE. They make the experience of finding gifts for everyone on your holiday list a whole lot merrier.
At St. Louis Art Supply, 4532 Olive St., co-proprietor Carson Monetti helped me gather suggestions for kids and adults, though several gifts would be appreciated by any age. Free gift wrapping is available.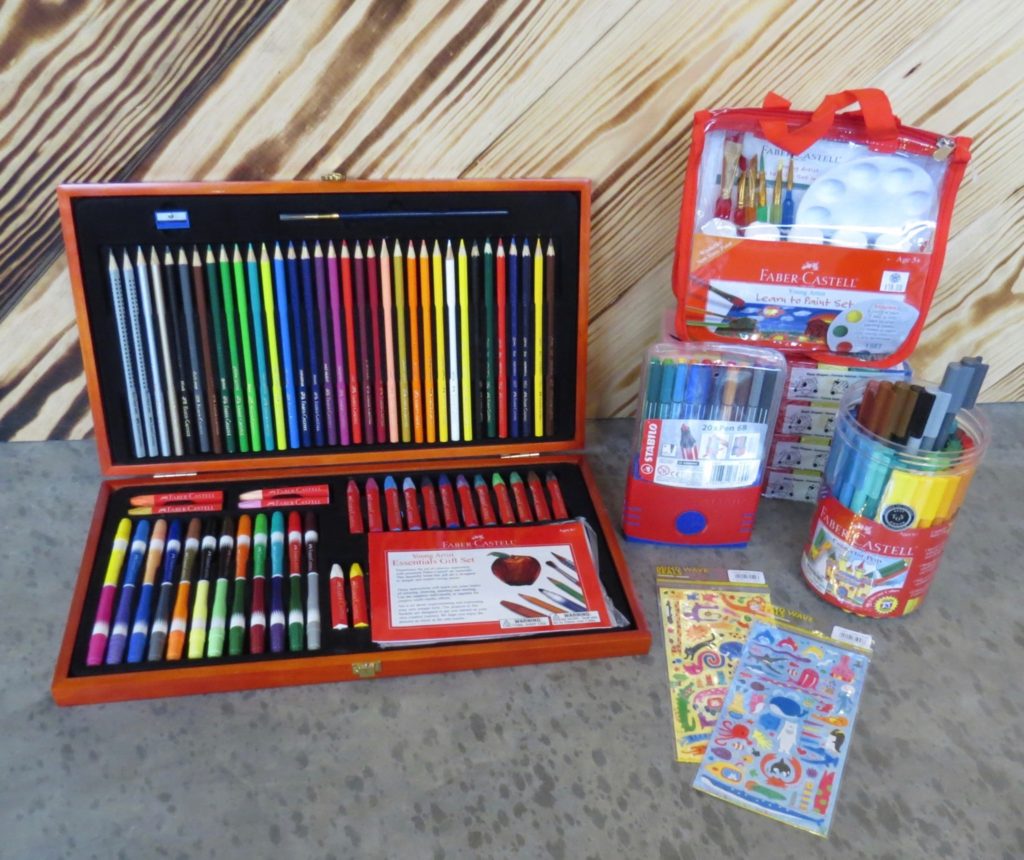 The shop has a wonderful children's section for the budding artist. From left: Faber-Castell 64-piece Young Artist's Essentials comes in a handsome red wooden case, $50; 20 water-based pens by Stabilo, $19; Learn to Paint Set in a zippered plastic bag, $18, sits on Claytoon clay packs, $4 each; and far right, a bucket of 50 Faber-Castell Connector Pens which, when hooked together with enclosed connectors can double as a building set, $19.99. Lower right, assorted stickers, $3 each.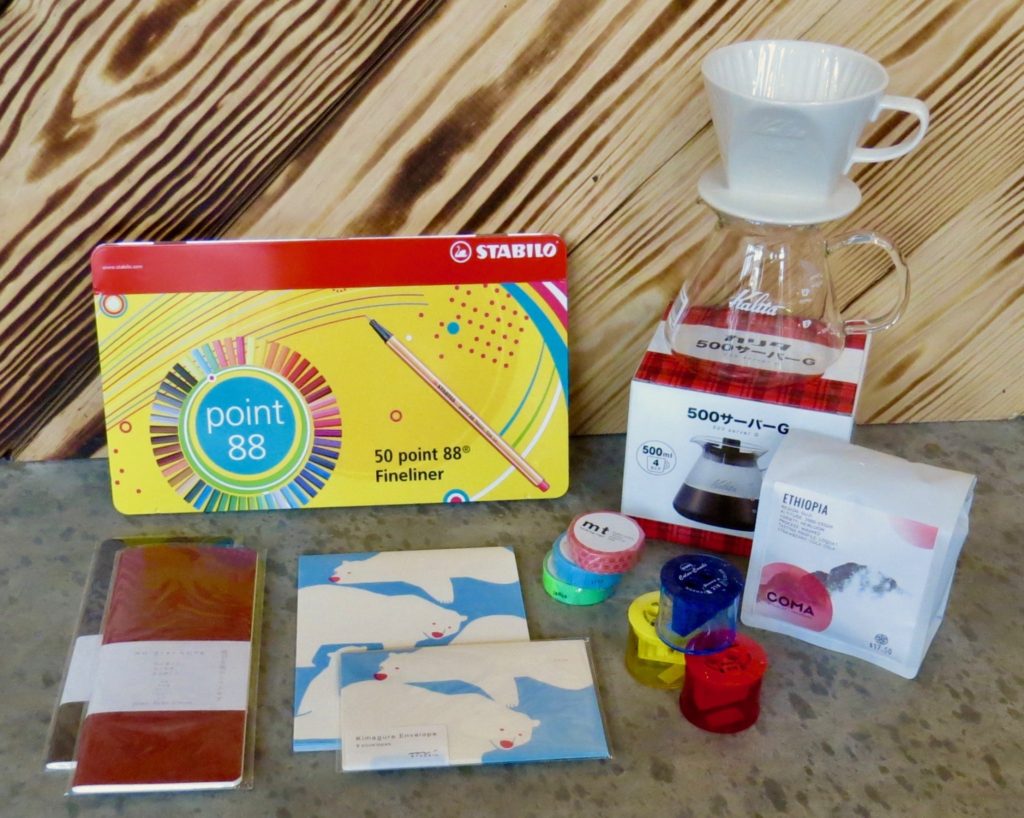 Clockwise from top: 50 point 88 fineliner pens by Stabilo, $37.50; Kalita coffee decanter, $24.99; dripper, $17.99 (filters, $4.99 not shown); Ethiopia Coffee from Coma Coffee in The Grove, 12 oz. $17.50. (The shop stocks a hand-crank "ceramic-burr" coffee grinder too, $49.99.) A trio of assorted pencil sharpeners, $4.99 each; ever-popular, non-stick Washi Tape, $3.50; Midori polar bear stationery $6.50; 8 matching polar bear envelopes, $5.50.
Far left, an assortment of Ro-biki waxed-covered notebooks to slip inside a jacket pocket, $8. St. Louis Art Supply is the only shop in the U.S. that carries some of these hard-to-find Japanese products.
Check St. Louis Art Supply's website for hours…. they will be open on Christmas Eve.
Brian Simpson, proprietor of east+west, 387 N. Euclid, was quick to pick out his favorite gifts ideas to share with you, see his selections below.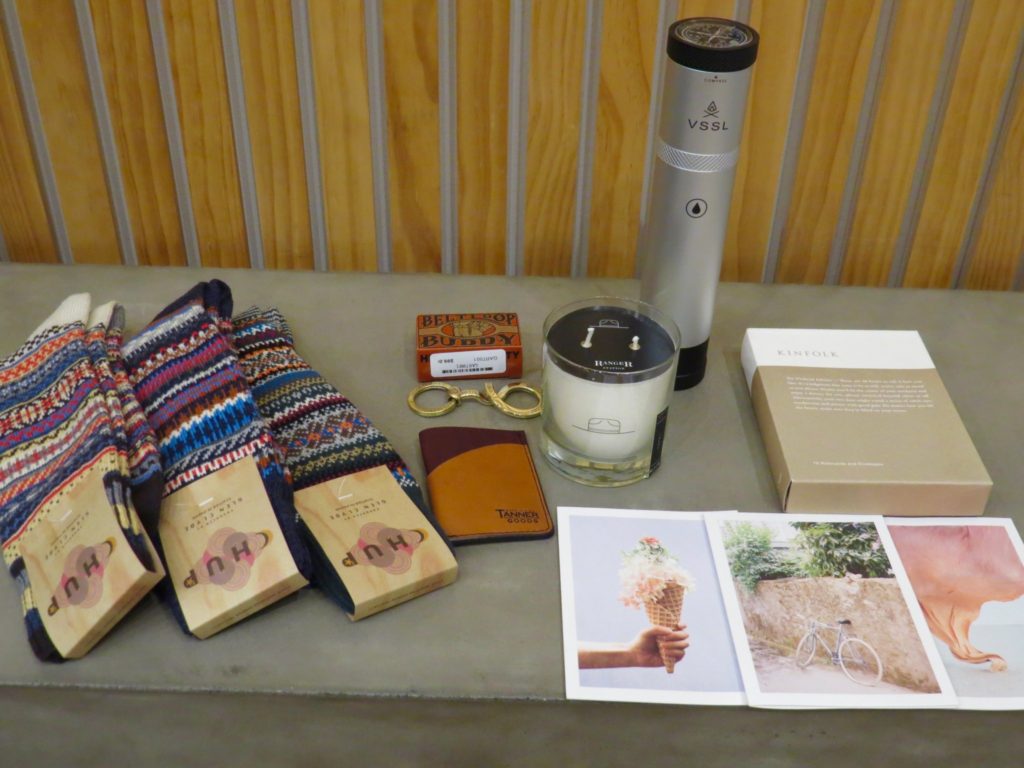 From left: 2018's edition of hugely-popular Chup socks from Japan feature Fair Isle patterns, $36; a solid-cast brass key ring from a LA jewelry designer hooks onto jacket or belt loop, $99; two-tone leather card case/wallet from a Portland OR company, $40; a Nashville-based company makes 6 varieties of candles poured in whiskey glasses  in scents such as balsam fir, tobacco & musk, and oak & moss, $44. Top right: In case of an emergency, or for the camping enthusiast, a military grade 10-ounce flask that contains compass, flashlight, 2 shot glasses & a bottle opener, $74; straight out of Copenhagen's Kinfolk magazine, an assortment of 12 beautiful cards, $22.
By the way, east+west carries Sump Coffee, 12 oz/$16, delivered fresh to the shop weekly.
For more information, head to east+west's website.
At Provisions STL Ross and Debra Hunter are still flying high about St. Louis and the rousing reception they've gotten from the neighborhood. The shop stocks a wide variety of gift items, so the following is just a small sampling of what you will find there.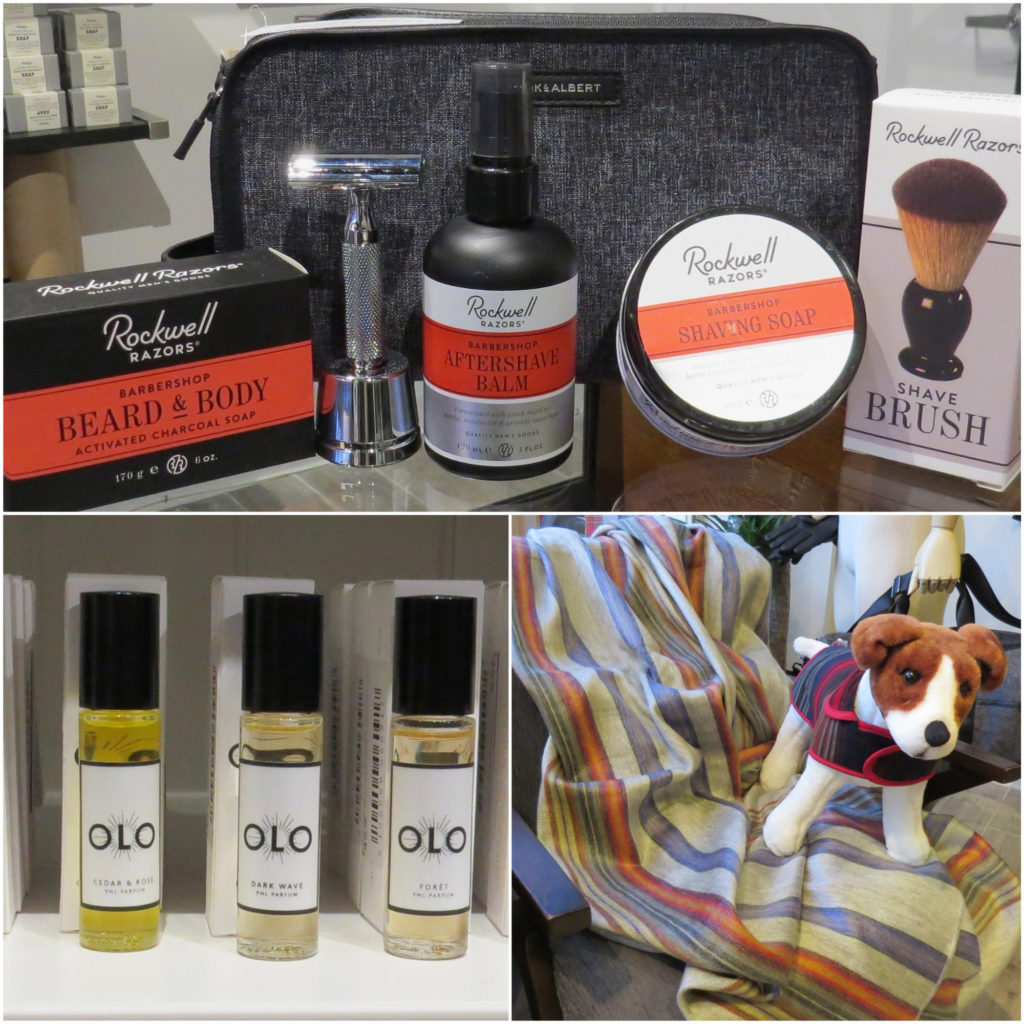 Top photo: Hook & Albert dopp kit, $115. Canada's Rockwell Razor's shaving supplies include Beard & Body Bar, $10; razor, $29, razor stand, $30; AfterShave Balm, $15; Shaving Soap, $15, and Shave Brush, also $15.
Bottom photo left: a selection of hand-blended OLO perfume oils from a self-taught Portland-based perfumer, $45. Right: a cozy hypoallergenic alpaca blanket from Equador, $165; doggie coats, $35 to $45, have been reordered twice since the shop opened 2 months ago.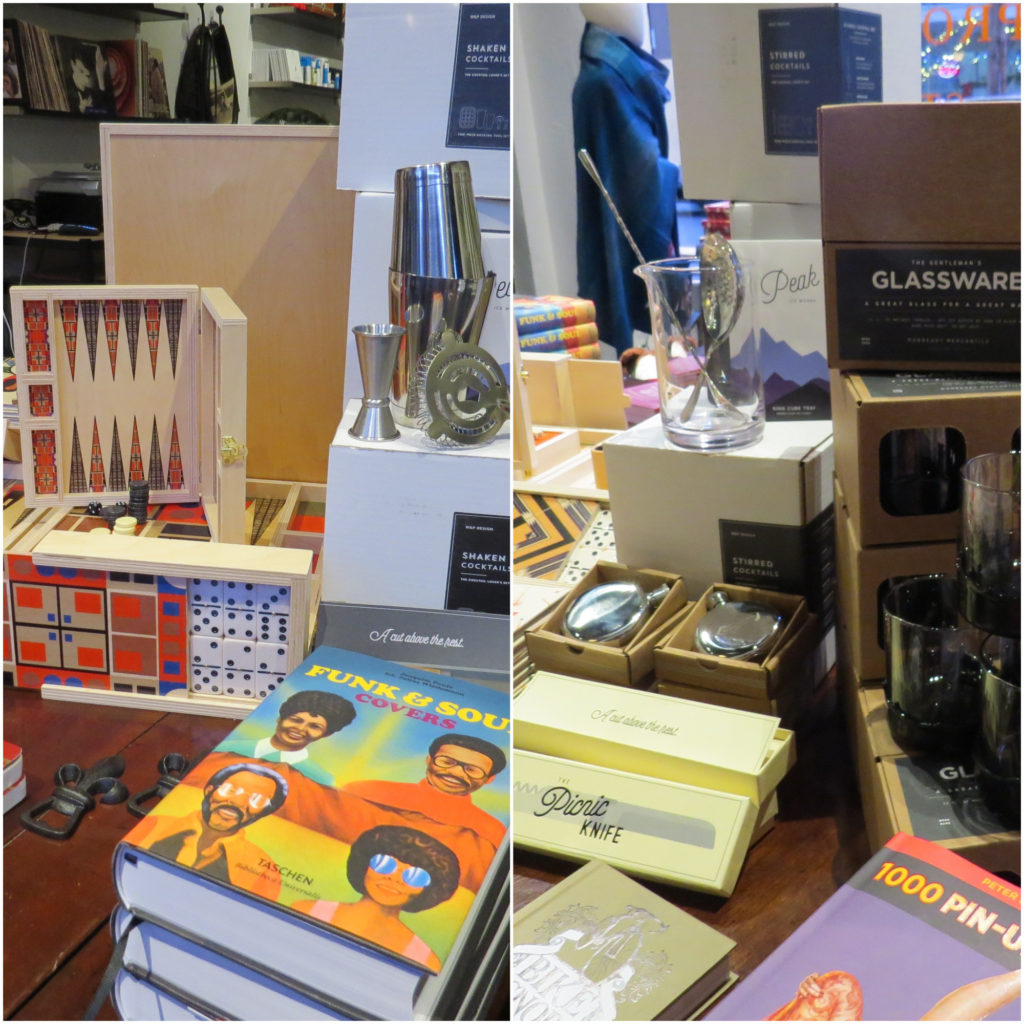 Left: Provisions STL carries an assortment of wood & inlay board games including backgammon sets in small, $125, and large, $210; domino set, $68; "Shaken" Cocktail Kit, $70; and fleur de lis bottle openers, $12.  Right photo: "Stirred" Cocktail Kit, $70; Everyday flask, $24; Picnic knife, $35; lower left, Bike Snob, $16.95.
For more information visit Provisions STL website.
Left Bank Books 399 N. Euclid, has been publishing "best of" book selections almost daily on Instagram and Facebook, so you might check those sites out for staff suggestions. What's shown below are gift ideas that caught my eye, augmented by advice from LLB staffer Lauren Wiser.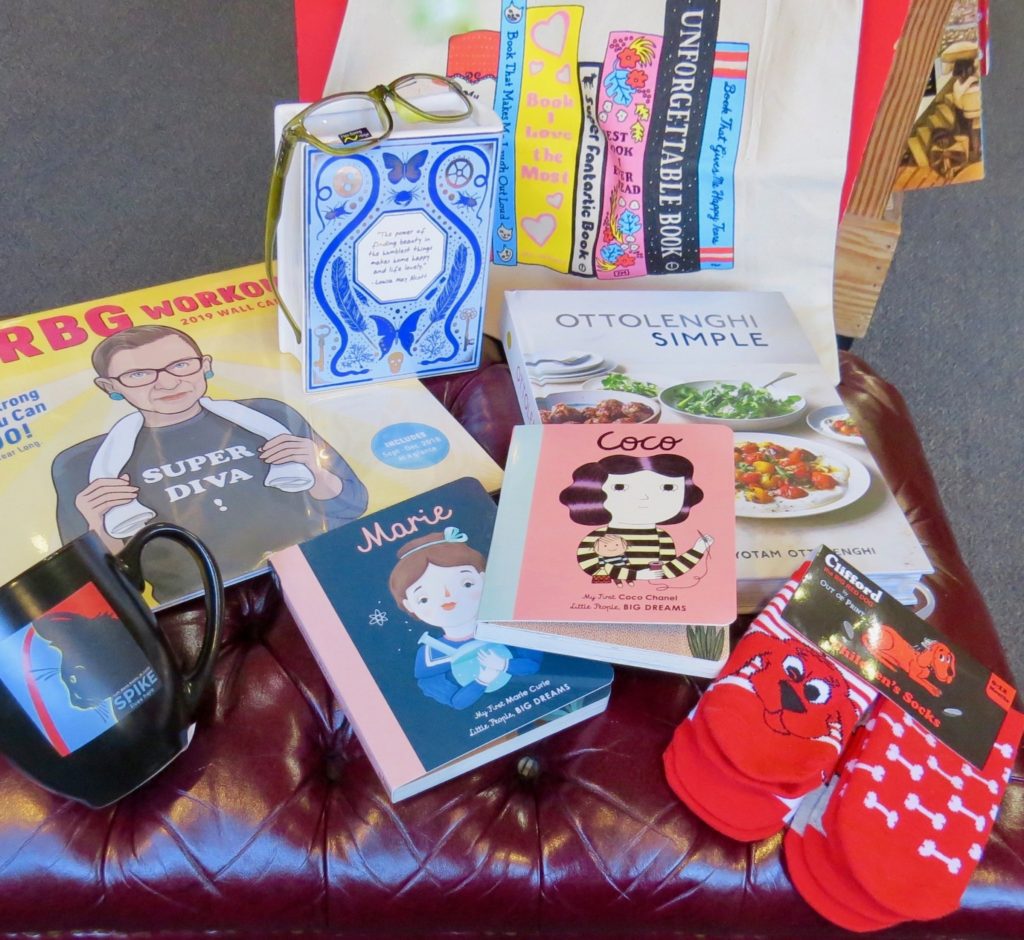 From top left: Super Diva RBG Workout Calendar, $14.99; Bibliophile ceramic vase, $24.95, with quote from Louisa May Alcott brings literary charm to any room; acid green readers, $19.95; Ideal Bookshelf canvas shopping bag, $21.00; Yotam Ottolenghi's Ottolenghi Simple, $35; Clifford socks, size 0 to 12 & 12 to 24, 4 pr. $12. My First Books include Coco (Chanel) & Marie (Curie), $8.99;  Spike the Left Bank Book cat mug, $12.99.
Visit Left Bank Books website for hours and information.
AG Jeans, 36 Maryland Plaza, has great-looking gift ideas, and the staff is immensely helpful with their suggestions on what to wear out on the town.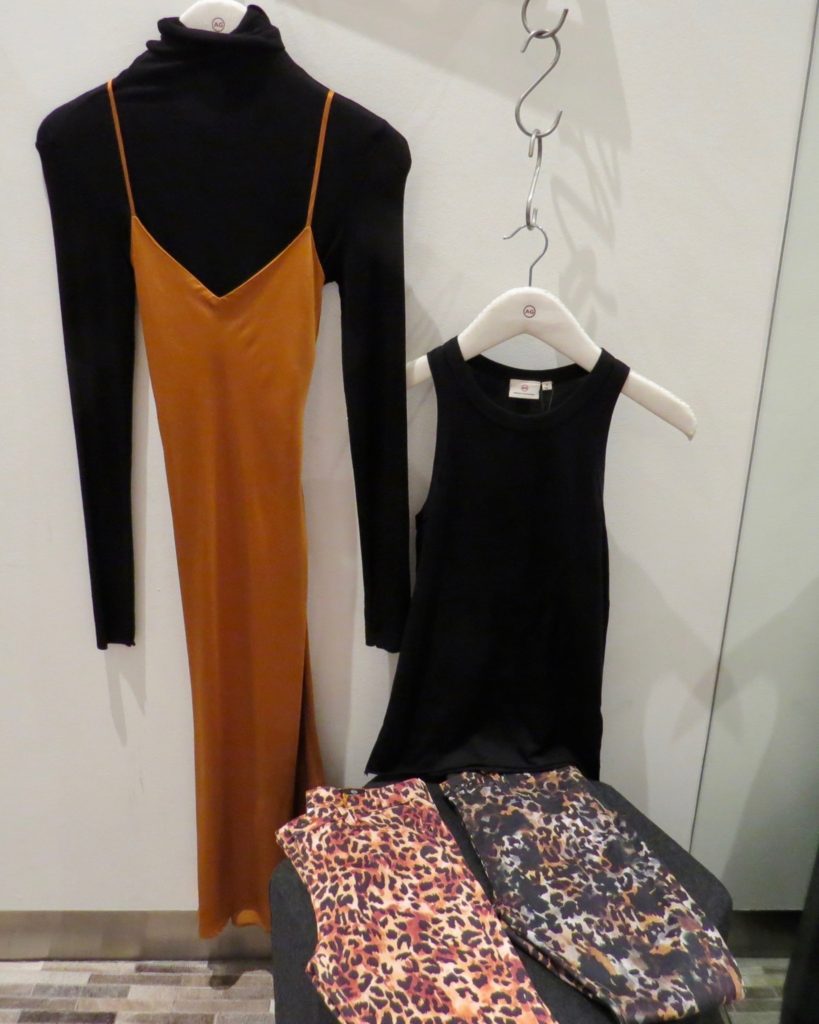 Since I visited last Thursday, the shop has started its semi-annual 30% off sale, so what's listed here are pre-sale prices. A viscose slip dress in "duck canvas" (the color),"$228, is paired with a black lyocell & spandex turtleneck, $98. The slipdress is also available in navy and burgundy. Right: black razor back knit top, $74; "the Jodi crop" in super stretch sateen, $188, and right, "Farrah skinny ankle pant," $188.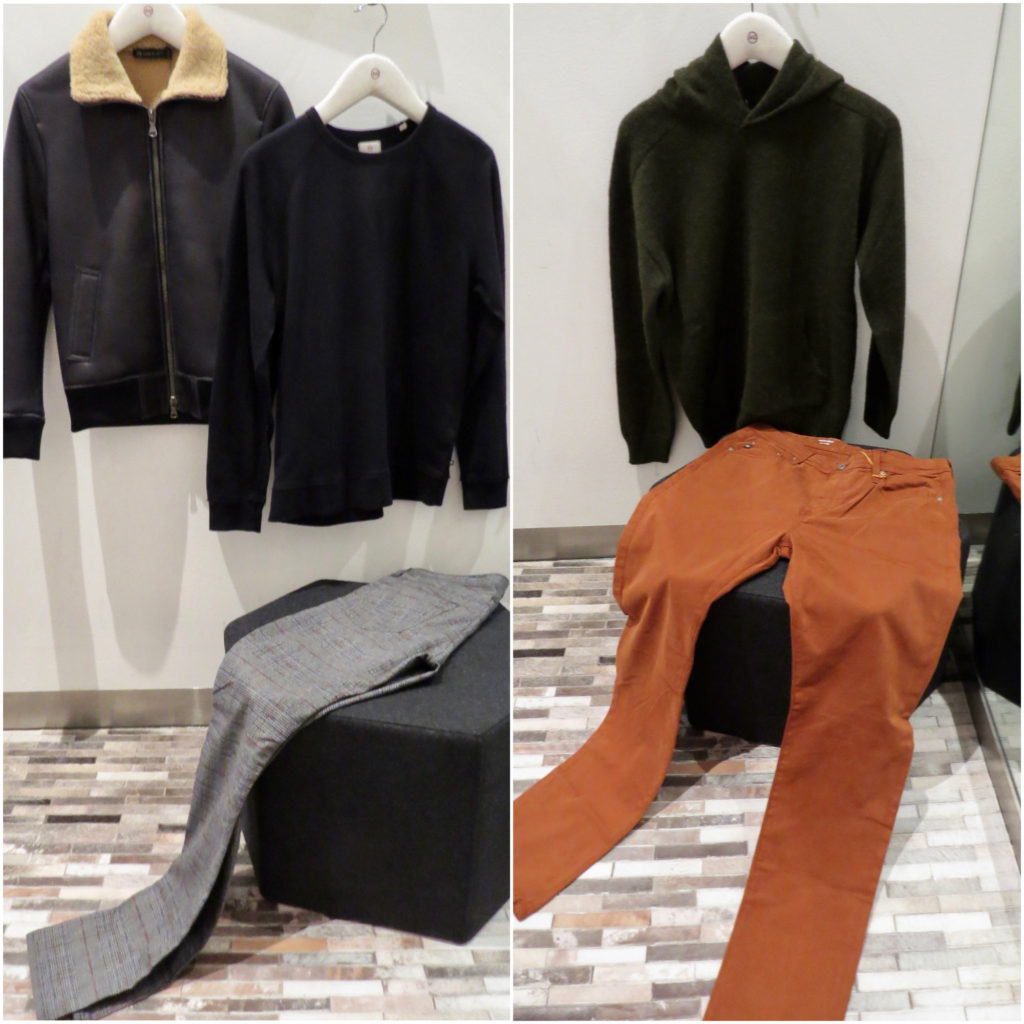 For men: Left, black "Kane Shearling Coat," $1348; "The Sin's Crew" in true black, $168; "Tallis" pant in multi-plaid Merlot, $198. Right: "Jaren Hoodie" in deep lolden, $268, and "Everett Pant" in cognac, $178.
Refer to  AG Jeans website for hours and more information about current sale.
Not only will you find a great selection of jewelry at The Silver Lady, 4736 McPherson Ave., you'll also get a healthy dose of humor from proprietor Lori Shifter who's been in the jewelry business for over 30 years.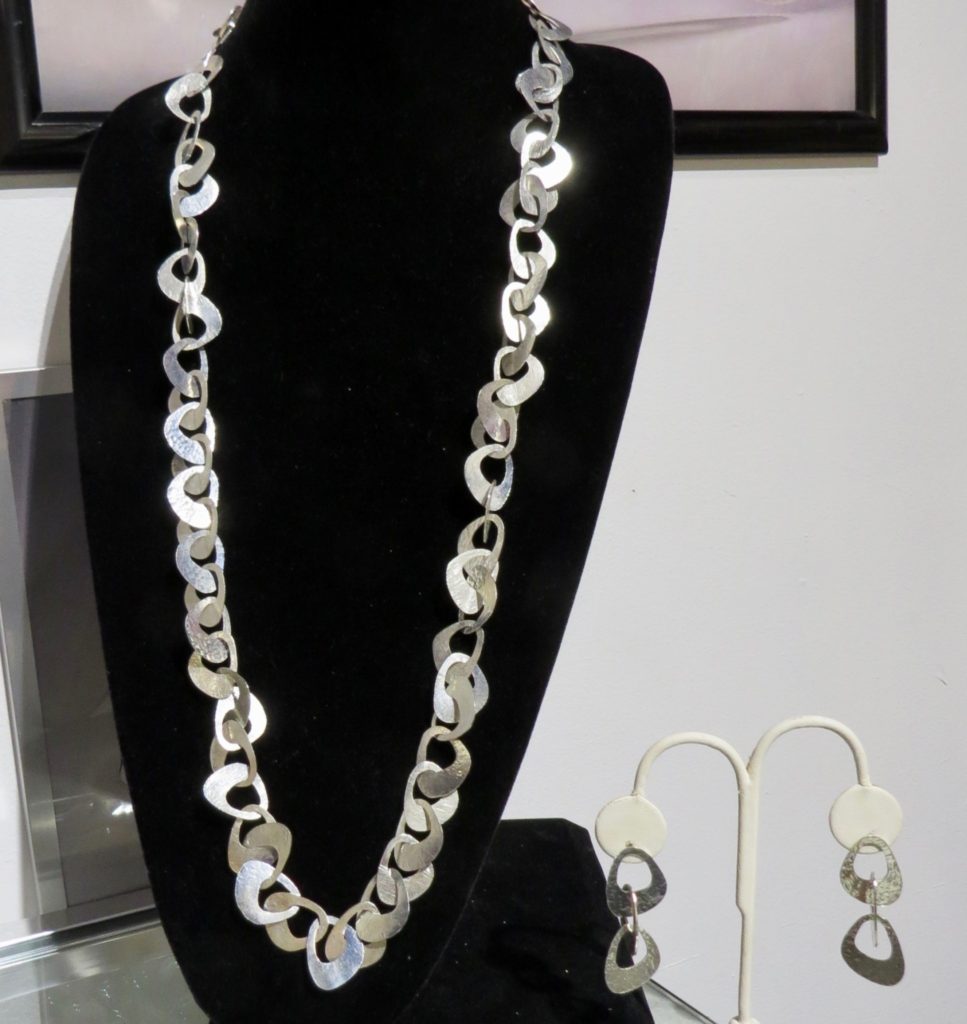 Above, a long dramatic silver necklace, $472, with matching earrings, $82.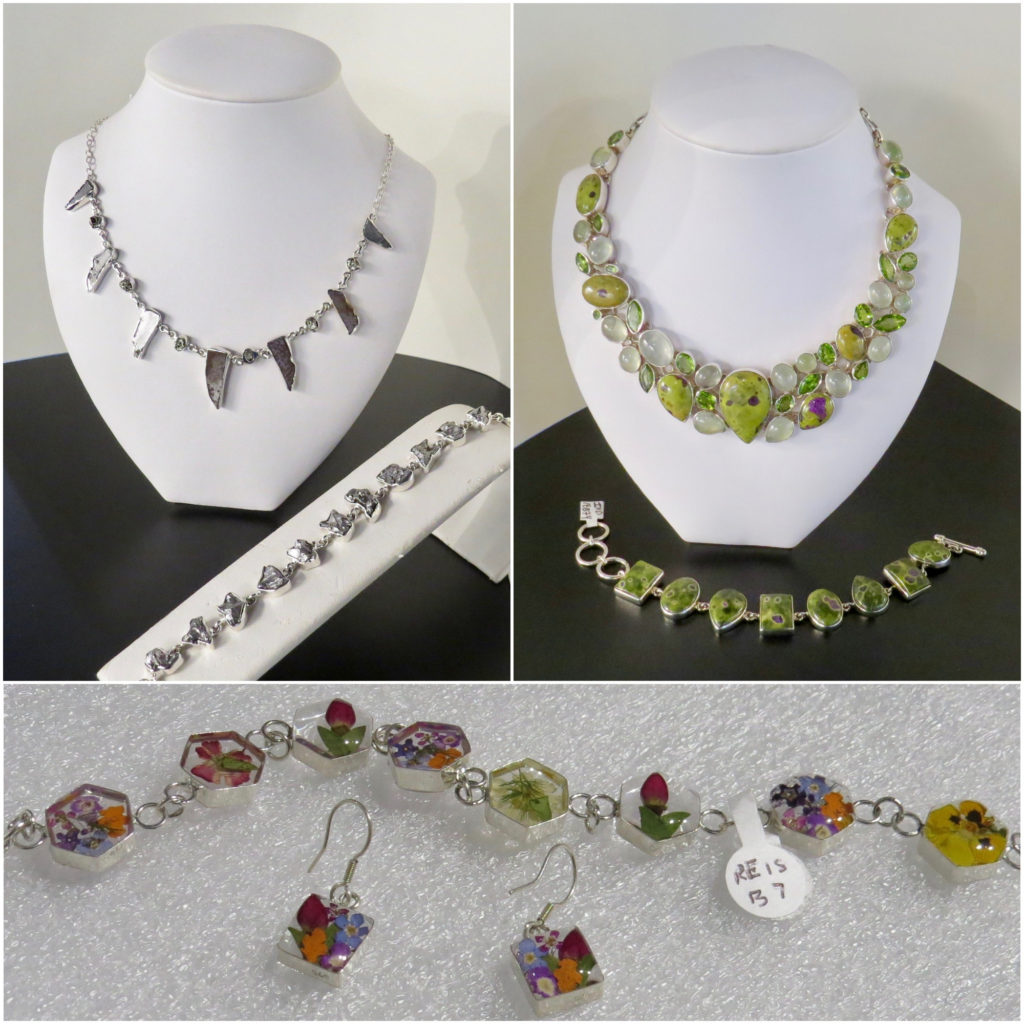 Top left: A stunning Meterioite necklace, $312, and matching bracelet, $300. (Meterioite is a natural object originating in outer space that survives impact with the earth's surface.) Top right: Show-stopping Stichtite, Prehnite & Peridot necklace, $1269, with matching bracelet, $259.
Bottom photograph: This charming bracelet contains real miniature flowers, $60; matching drop earrings, $28.
Visit The Silver Lady website for hours and more information.
Next up: Part II of this year's Holiday shopping guide.