When I first met Claire Ketterer, the charming, savvy proprietor of Juno Bridal in March 2017, it was opening day and she was comfortably optimistic that her shop would be a hit.  Some might have questioned her decision to locate the business at 4432 Olive Street, several blocks removed from the CWE's main retail/arts district, but that hasn't stopped brides-to-be from finding her. As Ketterer laughed and said when I visited again recently, "You're not going to walk by a bridal salon and say, 'I think I'll pop in and buy a wedding dress.' "
When Juno Bridal opened, Bowood Farms was the only other retail establishment located east of Walton Ave. on Olive. Then late this summer St. Louis Art Supply opened at 4532 Olive, and Bowood Farms has just opened "Holliday," located across the street from Cafe Osage and the garden center. The new shop offers an expanded selection of unique goods that customers have come to love.
All signs indicate that Ketterer's early confidence was well founded and over the last 1 3/4 years the business has grown to be a huge success. Customers find Juno Bridal on the wedding planning website The Knot, on Instagram, by word of mouth—someone's sister or a friend is a fan, or because Juno Bridal carries a particular designer's gowns. Coincidentally, Ketterer, a former nurse, has many clients who are nurses at BJC.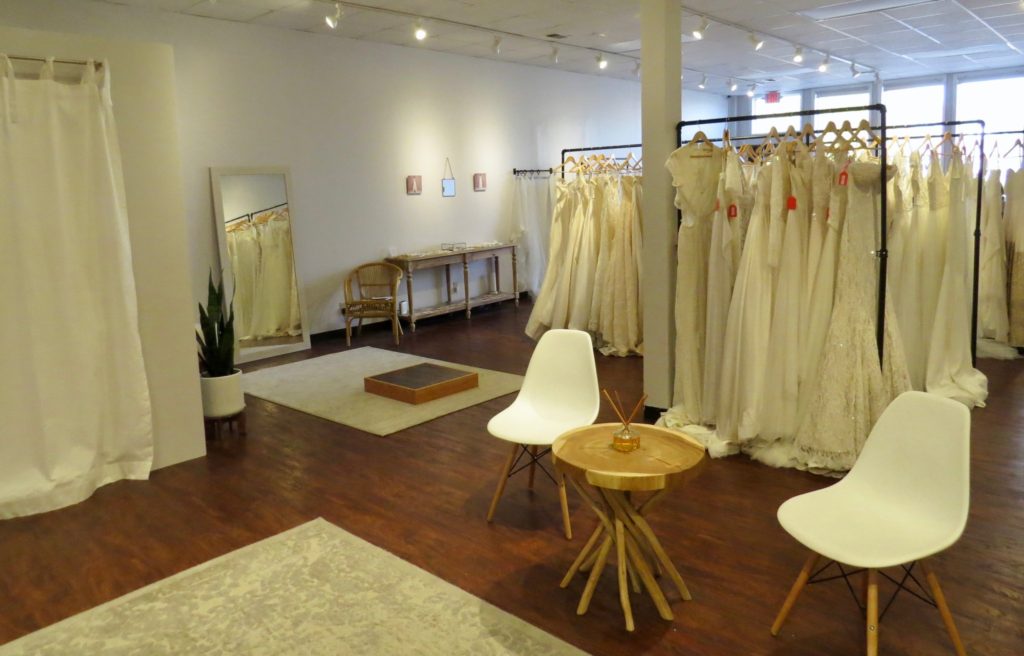 Juno Bridal carries what Ketterer describes as unconventional wedding dresses, from boho-inspired styles to more classical selections created by a collection of 10 designers.  Most of the designers are based in the U. S., though one is located in Budapest and two are in Vancouver.  This is trunk show season at Juno Bridal. The website has a description of what a trunk show is and the complete schedule for the next couple of months.
It's suggested that the search for the perfect wedding dress start about 8 months before the big day. The initial appointment at Juno Bridal lasts about 1 1/2 hours, and after the dress is chosen it takes time for the gown to be fashioned, shipped to the store, and then followed by fittings.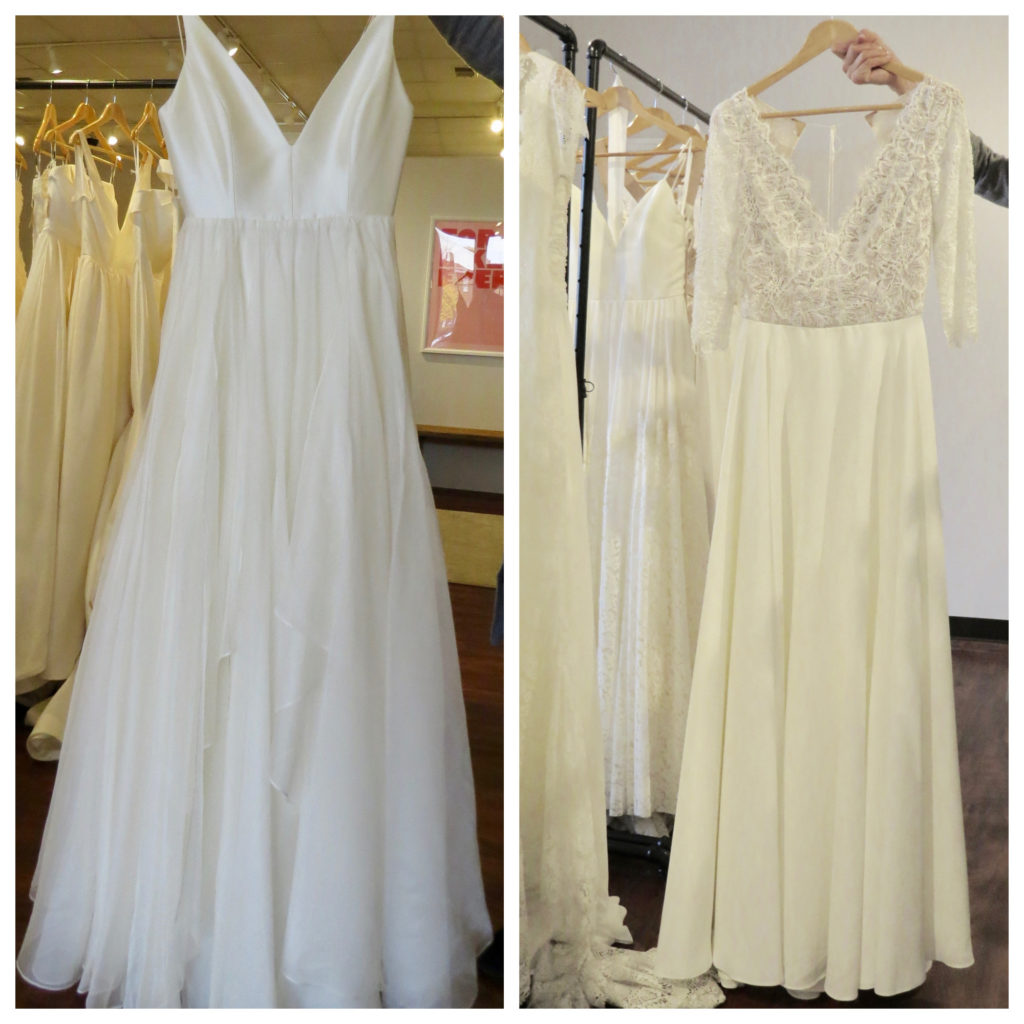 Wedding dresses range from $1,200 up to approximately $3,500.  Ketterer pulled a few of her clients' favorites, including Laudae's "Jasmine," $1,925, the petal dress shown in the opening photograph.
In the photograph above left: Leanne Marshall's "Gabrielle," $3,370. Marshall is the winner of Season 5's Project Runway.
Right: More brides are asking for long-sleeved dresses such as Truville's "Allanah," $1,995.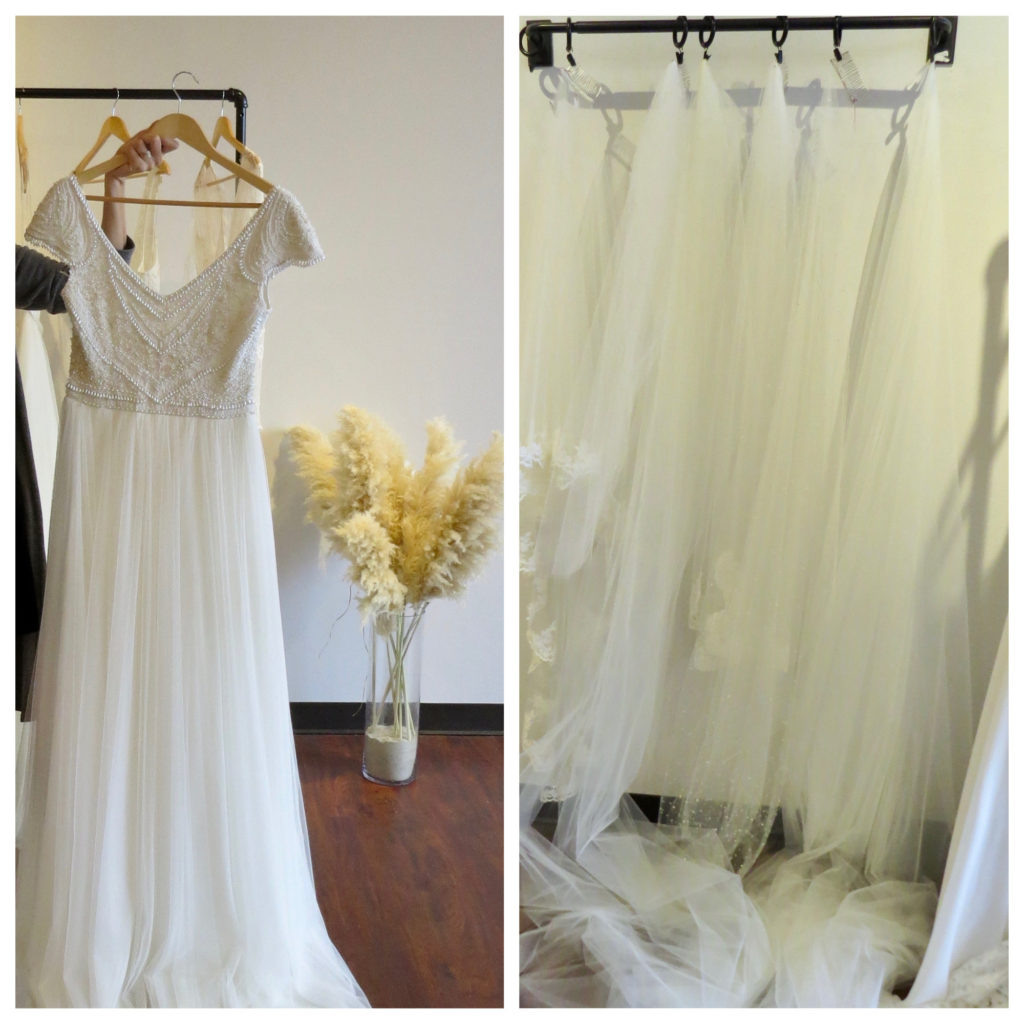 Left: New York-based designer Theia's "Nima" $2,250, features a gown with a beaded bodice.  Right: There is a variety of traditional wedding veils to choose from at Juno Bridal or,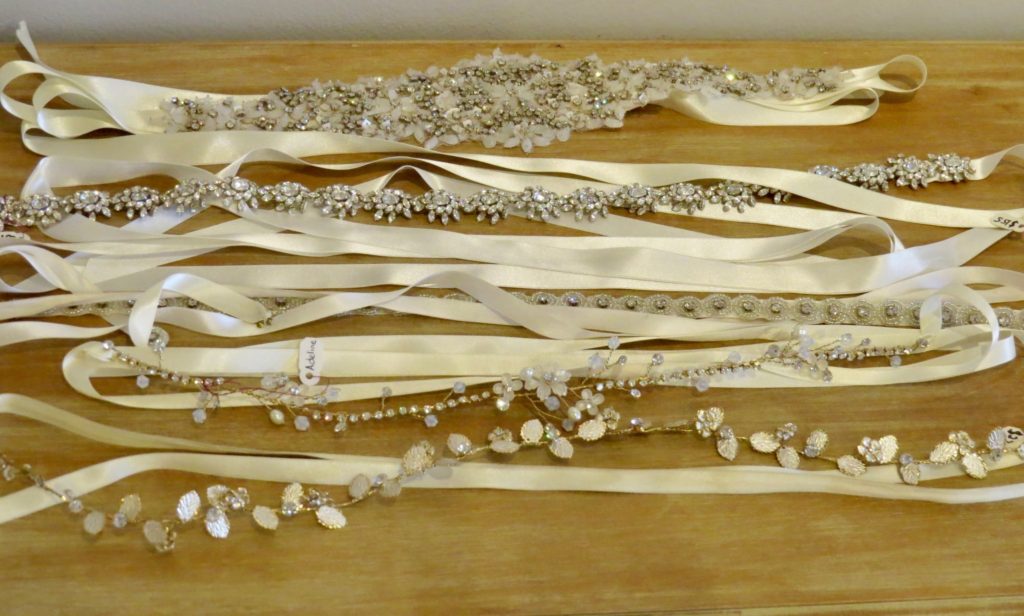 a selection of rhinestone & ribbon hair vines, which range in price from $150 to $400.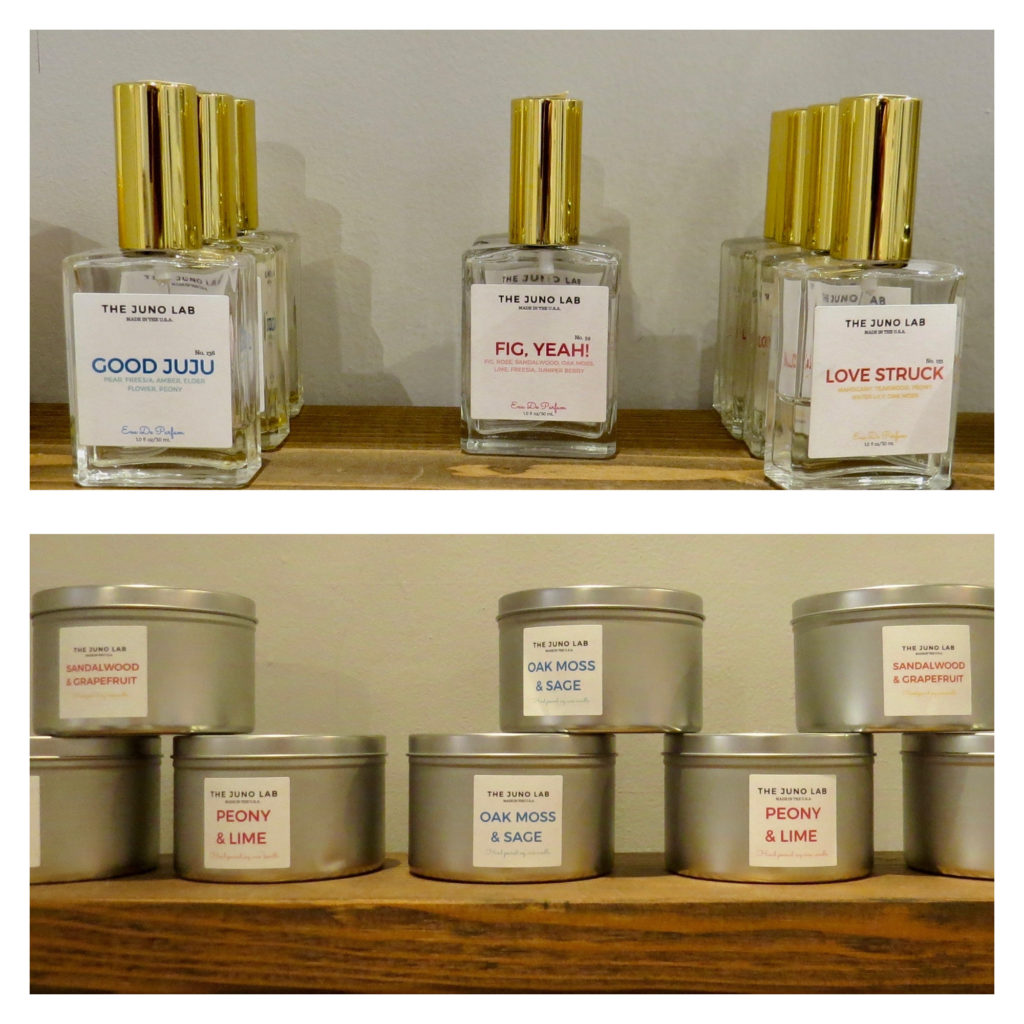 In addition to building her wedding dress business, Ketterer has started tinkering with scents and dabbling in making her own perfumes, $32, and candles, $16, above. She's given "The Juno Lab" perfumes names such as Good Juju, Fig, Yeah and Love Struck—bride or not, who wouldn't want a little spritz of that?
The other big news at Juno Bridal is that Claire is engaged.  She and her fiance are living in the neighborhood and "loving it." The wedding is scheduled for next fall, and the bridal shop proprietor hasn't yet decided which gown she will wear, there are too many gorgeous possibilities.
Juno Bridal is open Tues., Weds., Fri., & Sat. from 11 to 7, Sun. from 11 to 5. The shop is closed Monday and Thursday. Book appointments online or email claire@junobridal.com.