This comprehensive post on co-working spaces located in the neighborhood is brought to you by CWEnder David Strom, who writes for a number of national IT business publications. To learn more about David, visit his website: strominator.com or follow him on Twitter at @dstrom. Strom has published other guest posts on this blog. Click here, here, here, and here.
David's latest post follows:
"We have a new co-working space in the CWE that brings the total number to six choices. These are alternatives to renting your own office when your business has grown beyond your dining room and requires something more professional. Or when you need temporary conference space, or want to conduct a training session. They combine flexibility with the gig economy, and provide benefits and camaraderie too.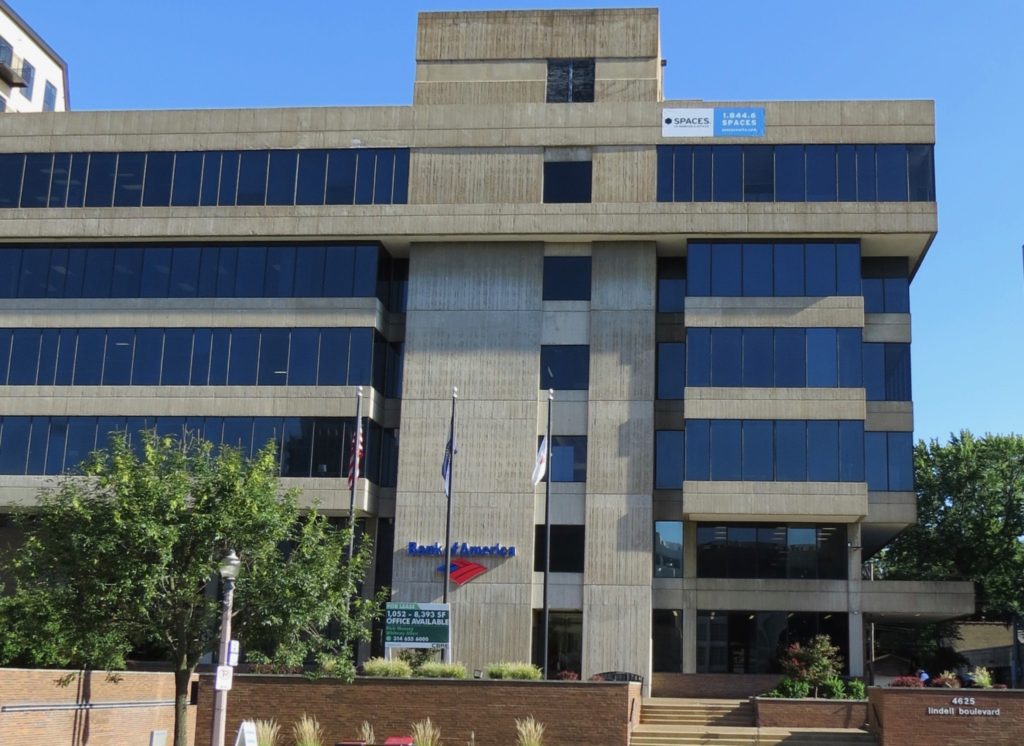 The new kid in the 'hood" is called Spaces, above, and is part of a network of hundreds of sites located across the country and around the world. It is located on two floors of the Bank of America branch at 4625 Lindell. It has been open since May, and is already at 40% occupancy.
This is Spaces first foray into the U.S. market, although many other locations are coming online shortly. The local manager/concierge is Truman Ashby. His actual contact information is on their website, give them props for that. Spaces is probably the most "corporate" of offices, using lots of glass walls and plenty of windows. They also have the most flexible usage plans, which I will get to in a moment.
Let's talk about how it differs from other co-working places in the neighborhood that I have been to over the years. Just so you know: I have my own office in the CWE, but I like that we have many co-working spaces for small businesses to use. 
The choices are: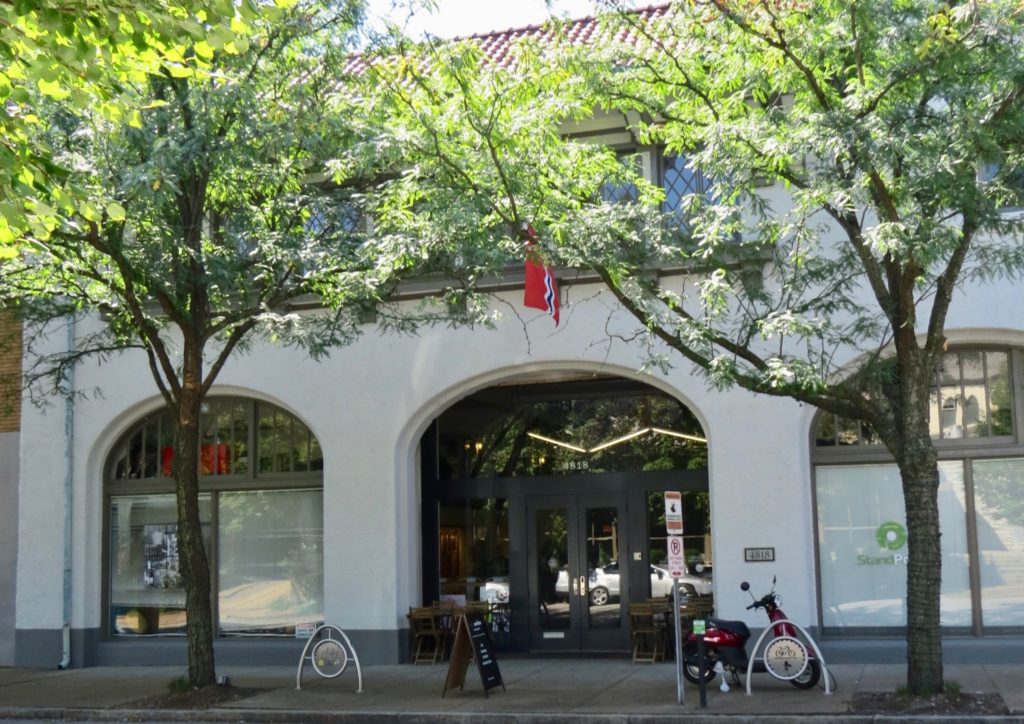 TechArtista, at 4818 Washington just east of Euclid. Laura Heying is Community Manager, Christopher Holt is the co-founder. Holt is a Wash U grad and many of the members are also recent graduates from the school. It is probably the quirkiest of the six buildings, previously having been home to an advertising agency. The space has been divided up into very unusual offices. There is a gym on the top floor, and a deck on the roof.  
(Full Disclosure: My husband Jim Dwyer and I are partners in the TechArtista venture. Nicki.)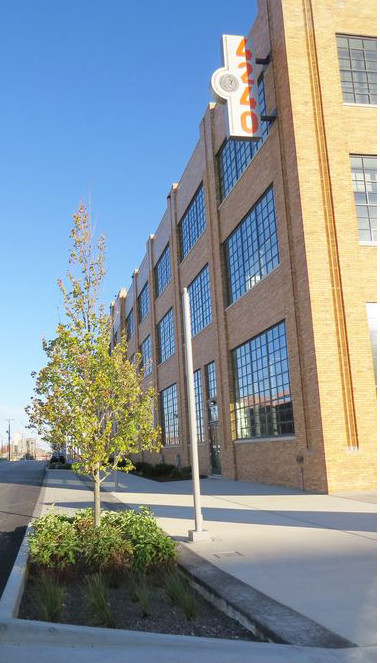 CIC @ 4240 Duncan, which is one of three offices operated by the Cambridge Innovation Center. Kim Plank is the GM for all three operations. The website for the three CIC properties is short on actual information, but filled with plenty of pictures. Each property is managed somewhat independently, so you will have to look at each to get an idea of what is available at any given time. In 2014, St. Louis became their second location outside of Cambridge MA, and now CIC has offices in many cities around the world, including Rotterdam, Miami and Warsaw. The 4240 building hosts weekly Venture Café gatherings with several hundred attendees and various original programming (note: I have spoken at many of these events) on Thursday nights. This building also has satellite offices for Boeing and Square, among other firms.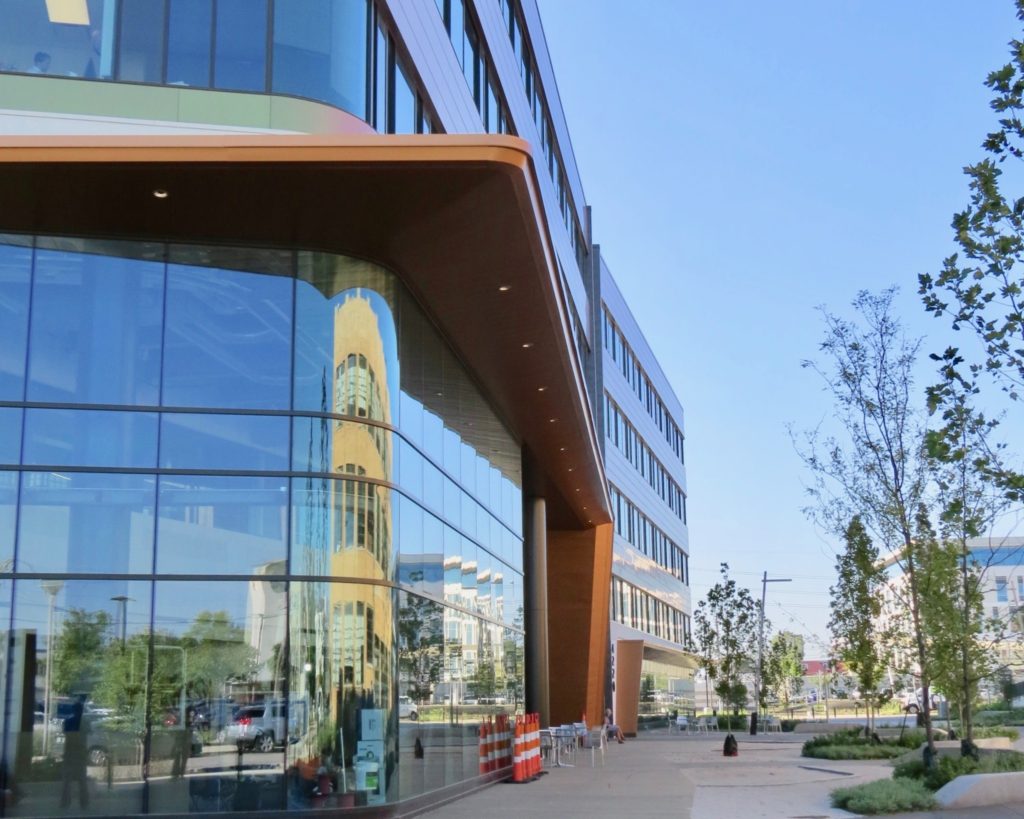 CIC @ 4220 Duncan, which is next door to their original building. Microsoft has moved their offices from CityPlace in the county to occupy this building. This is the newest building of the trio operated by CIC, and there is still some residual construction to finish up the place. There is also a gym in this building which is open to the public, CIC'ers get discounts.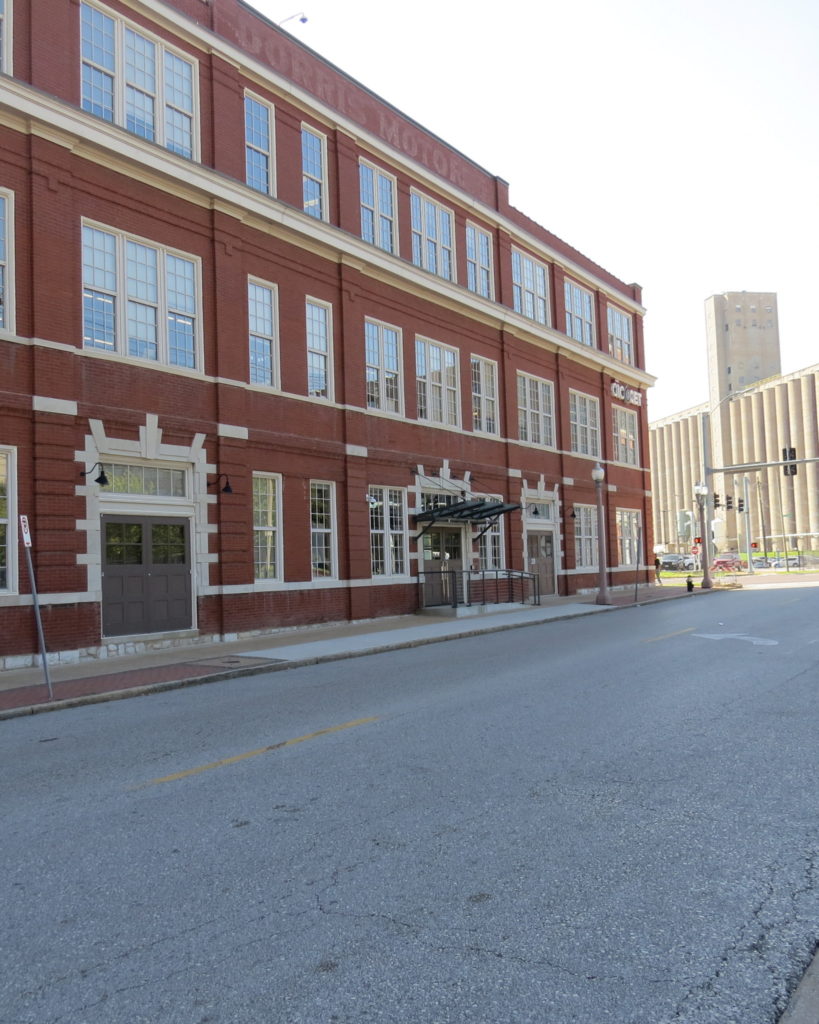 CIC @ CET, which is located down the street from the other two properties at Sarah and Laclede and is the largest of the CWE co-working spaces. CIC has shared wet lab spaces in this building.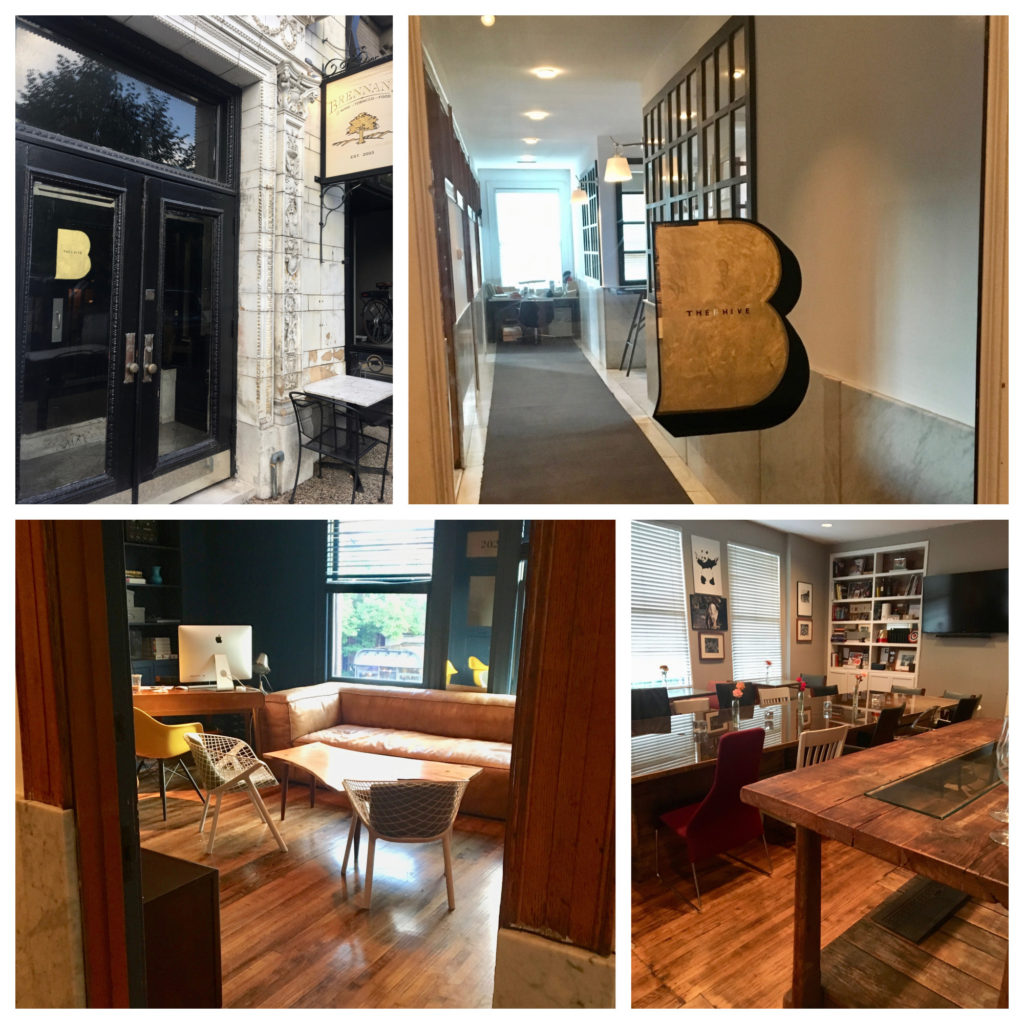 The B Hive, which is above Brennan's restaurant at 4661 Maryland Ave., is the smallest of the spaces, with only 3,000 sq. ft. It is designed for 9-to-5 office workers, although it does feature original programming and events at night that are run by the restaurant.
The first thing you will notice about any of these spots is that their websites are usually mum on pricing details. (Industrious in downtown STL is a notable exception, rates range from $284 to $671 a month for a sole occupant. But that's downtown.) Expect to pay a similar range depending on the size of your space and how many will inhabit it. 
The variation in pricing is a combination of several factors: First, office occupancy comes and goes and many of these spaces have different sized offices too, making it hard to predict what is available and the cost. Rates can vary depending on how many people are going to be housed in an office, and also whether you want to work at a shared table out in the open or in a closed private office.  Also, the operators want you to come visit their spaces and talk to the manager/rental agent/concierge to get the tour and the hard sell for signing up. Finally, depending on your needs, there are additional charges, such as for collecting your postal mail and using the conference rooms and common printers.  Spaces charges a buck for a cup of coffee, which seems somewhat petty. 
Typically, each operation will sell you a monthly membership of varying term lengths and future commitments. For CIC and Spaces, this membership is good for drop-in visits in their other cities. Spaces also has arrangements with thousands of Regus shared offices around the world for drop-in use (there are six of them in the STL metro area, for example). If you travel to those other cities and need a place to work, that's great. TechArtista gives members access to LExC which offers shared work spaces around the world including South America, Australia, Canada, and throughout China.
Amenities also vary. CIC has lunches that you have to pay out of pocket for: a combination of catering and regularly scheduled food trucks that stop outside on its "Commons" – which is an attractive park area with chairs, shade and sometime music events. CIC is also clustered around the newest Metrolink station that stops literally behind the 4240 and 4220 buildings, which is convenient if you take transit. The other places are close enough to the numerous CWE eateries so that is their attraction. 
All of the facilities offer "phone booth" areas, which is basically a counter in a small closed-off area that is a bit bigger than a standard payphone booth (remember them?) that you can bring in your laptop and have a private phone call. They also have conference rooms of varying shapes and sizes, with some having smart TV monitors that you can connect to your laptop if you have to give a presentation or do group brainstorming. CIC and TechArtista's conference rooms have a scheduling app that makes it easy (or cumbersome, depending on your tech savviness) to set up a room reservation. All of the spots offer wireless Internet access as part of the membership. I didn't test connectivity but have heard from tenants that it can vary.  If you are running an Internet-based digital business, that could be an issue. 
There are various programming events at the different offices. Given that CIC has the largest population, it has a variety of activities including yoga and other physical activities. TechArtista has art opening events (there is a lot of art hanging on its walls), happy hour and lunch events for members. Spaces is just getting started on their own members-only events (there were several this month for example).
As I have hinted: the CWE isn't the only neighborhood in town that supports co-working.  I have a Twitter list that will connect you to most of them around town, including OPO in downtown St. Charles, Peer 151 in downtown Belleville, and Industrious (as I mentioned earlier) in downtown STL. 
Here are some things to think about in choosing a co-working space:
Understand whom you will be working next to. Are you interested in meeting people like you or unlike you?

 

The choice is up to you.
Vibe and décor. The spots also vary on their vibe, and that will be the hardest thing to pin down if you are looking to plant yourself in one of them. B Hive is more intimate, which could work if you are more introverted. My interior designer wife likes the "gentleman's club" atmosphere of B Hive, but recognizes that many of you might prefer the Scandinavian design of the other places. And TechArtista has an artsy vibe, which could appeal to some. I liked the décor of Spaces but all that glass may not be your cup of tea.

 

Try before you buy. Spaces offer a free day pass to check them out. But they also offer the most flexible pricing and usage plans: you can rent an office for a single day or a year, and there are a wide variety of floor plans and even an interesting hybrid shared but private office that has a locked door but can house a dozen people sitting at study carrels. CIC has enough public events that pretty much anyone can walk in and sit down there and start working for a couple of hours. In my many visits to all of the places, there was a wide range of people of all ages and professions.

 

How quiet or noisy are the spaces? In my travels around to these places, many people worked with headphones on to isolate themselves and concentrate. You may want to check this out if the ambient sound level is important to you. Of course, the noise level varies depending on how many people are there on any given day.

 

Do you need 24×7 access to your office? Some of the properties offer this, some don't, some charge extra. If this is critical, make sure you ask for the details.

 

Are you a party person? CIC with its Venture Café has them, and not just in the CWE but elsewhere in town. They can be very crowded, but you do get free drinks. And can meet a lot of people interested in the startup community too. The others, no so much although do have various social events if you want to meet and greet your office mates in a more casual setting.
Do you really need your own office? Many of us can work with a laptop and a cellphone and not much more. If you need a lot of stuff as part of your job, you need a private office to house it all.

 

Will you be going to your office more often than not? If you are going to be out and about, or only in town occasionally, then having one of these spaces could be economical.

 

Is parking a hassle? CIC has plenty of parking nearby, but the lots fill up on Thursdays when Venture Café holds its sessions. Spaces use the parking lot underneath the BofA building. TechArtista has plenty of off-street parking.  At the rest of the spaces mentioned, you'll have to fend for yourself.

 

Make sure you know the costs and contracts up front. This goes without saying. Tracking down prices is a chore for all of these spots, as I mentioned.

 
One final point: if you are interested in checking any or all of these spots out, I recommend you just take a walk over and look around during working hours. You can try calling, but some of my phone calls weren't returned within 24 hours, which is a bit annoying. With most of them, you will have to return to make your final arrangements, but at least you can see for yourself what they are about.
Good luck with your co-working choice, please put your own comments here about your own experiences." 
David: Thank you for this very informative report on co-working spaces in the neighborhood.