Thanks to the organizers of May 19th's Rosé Day for the video and press release for today's post on what promises to be a fabulous event. Save the date!
Rosé has become a symbol of all that is good about Summertime, and 10 organizations are kicking off summer in St. Louis a little early this year with a festival dedicated to this amazing pink drink, and to the empowerment of women. The third Saturday of May is, from this day forward, to be known as Rosé Day. Hosted by a committee of community-minded women, and a few men, this one-day event, held this year on May 19th,  is more than just an excuse to sip wine in the Central West End. It's designed to highlight non-profits working to support and empower women right here in our community each and every day!
Event passport and walkable wine glass in hand, attendees will wind their way through the neighborhood to 10 designated Rosé wine tasting stations — on rooftops and side patios, inside art galleries and eateries, with Instagram-worthy attractions, live music and fun activities and many other surprises planned between stops. The fun starts at noon and ends at six.
As ticket holders raise their glasses, organizers hope to raise awareness around the work organizations are doing to face head on the host of challenges facing women today.
"In St. Louis, women are struggling to find affordable housing, quality education for their children and access to quality healthcare," said committee member and Central West End neighbor Carol Kyser. "There are organizations right here in St. Louis that are filling the gaps we all know exist, that are helping women find pathways out of a violent relationship or towards a new job opportunity. This is exactly what we'll be recognizing on Rosé Day."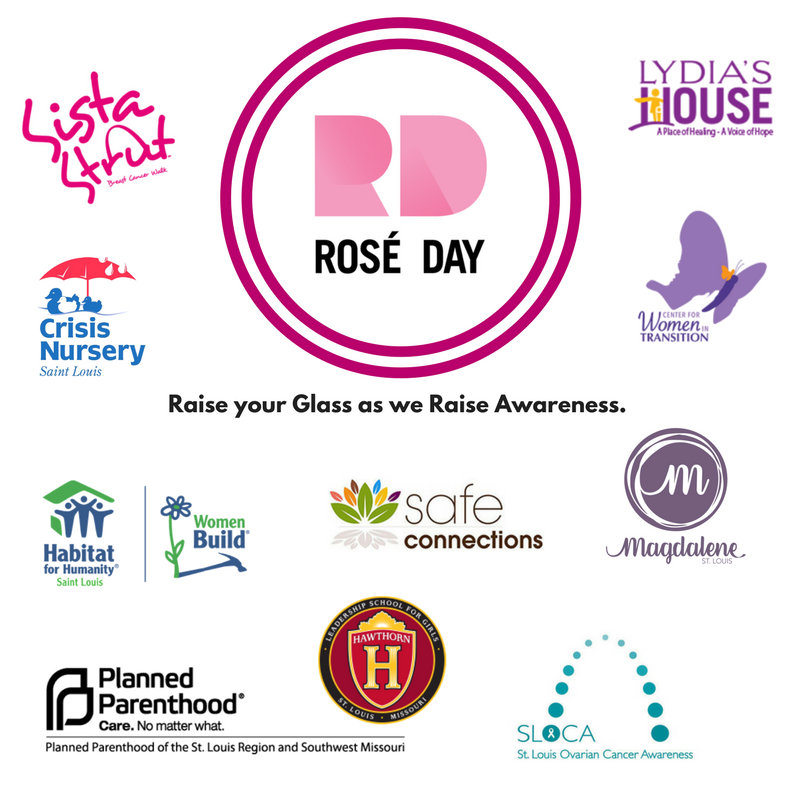 Rosé Day is a collaborative effort coordinated by the Fifty Roses Foundation, a non-profit organization established to raise funds and awareness for the work other St. Louis non-profits. The event is co-hosted by Habitat for Humanity Saint Louis Women's Build, Safe Connections, Lydia's House, Planned Parenthood of Southeast Missouri, Sista Strut, Center for Women in Transition, Crisis Nursery, Hawthorne Leadership School for Girls, Magdalene St. Louis and St. Louis Ovarian Cancer Awareness. House.
For the very long list of participating Central West End businesses, click here.
Tickets for the event are $35 and include 10 Rosé samples, a walkable wine glass, a discount book to Central West End businesses, live music and a day of fun in the historic Central West End.
Rosé Day begins at Noon at the corner of Euclid and Maryland Avenues. More information, including an event map, will be available at www.RoseDaySTL.com and at Facebook.com/rosedaystl.