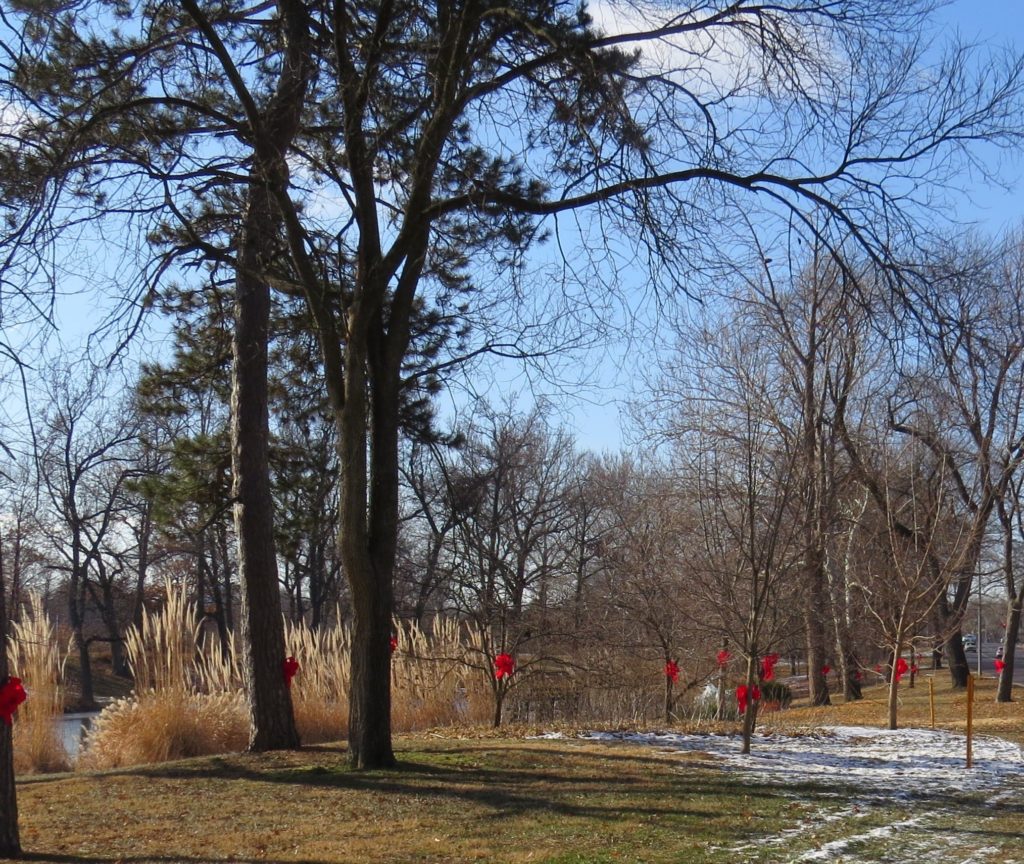 Sixty trees alongside Forest Park's Murphy Lake, at the intersection of Lake Ave. & Lindell Blvd., have been tagged with red ribbons in honor of the late Sara Otto "Peasy" Love, a founder of Forest Park Forever," the private, non-profit conservancy that partners with the City of St. Louis to restore, maintain, and preserve Forest Park."
Sue Clancy, an early Forest Park Forever Executive Director and longtime board member, explained the significance of the red ribbons:  "One of Peasy's favorite Forest Park traditions was the "Trim a Tree" project. She would engage local arborists to donate their time and energy to assist the City and Forest Park Forever with tree trimming…cutting out dead wood and shaping branches. For a small donation, FPF would put a big ribbon with the name of the donor—either your own or someone you wanted to remember—on each trimmed tree on Christmas Eve. Peasy loved Forest Park, especially the trees! She was wonderful and will be sorely missed."
Read more on Forest Park Forever's website.
Here is more about Peasy's connection to Forest Park in an excerpt from CWEnder Robert Duffy's beautiful obituary in December 24th's St. Louis Post-Dispatch: "Forest Park is a 1371-acre natural and architectural wonderland, home to egrets, turkeys, and foxes as well as major cultural institutions and remnants of the 1904 Louisiana Purchase Exposition and World's Fair. Its assets include indigenous and exotic flora and fauna and extensive resources for sports and outdoor recreation. Created in the late 19th century, by the 1960s it was falling apart.
Mrs. Love and others recognized this as a huge problem, and banded together to devote time and treasure to the renovation and preservation of the park…"—leading to the establishment of Forest Park Forever.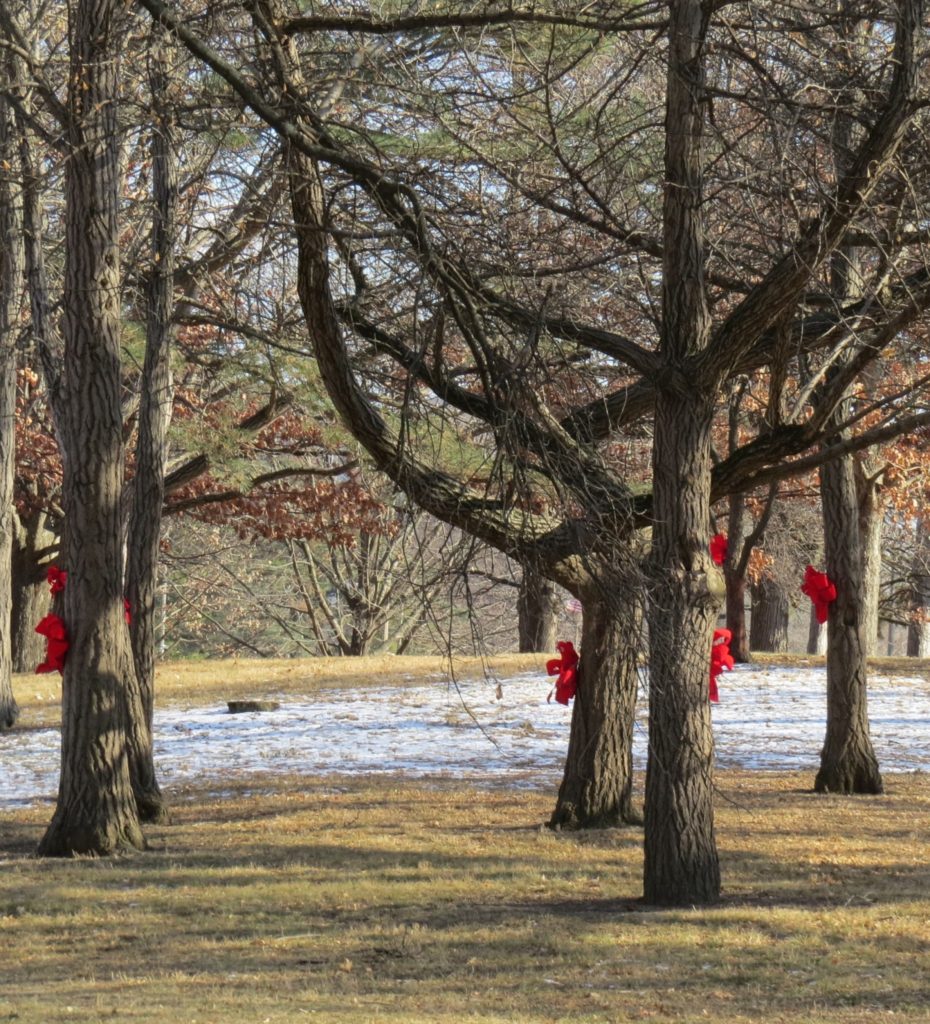 Another enormous contribution to the CWE was the creation of New City School, which Peasy Love, along with other CWEnders founded almost 50 years ago, after the Religious Order of the Sacred Heart closed Barat Hall/City House which was located at Taylor and Maryland Aves.
Years ago, I would occasionally see the Loves riding their horses on bridle trails in Forest Park (long before the creation of Forest Park Forever). At the time this was a common occurrence, since several CWE families kept horses in stables on their properties. (The bridle trails were replaced by the original bike path.)  At the memorial service I learned that the Loves' stable at one time housed some camels who were being kept—uncomfortably Peasy felt—in trailers downtown, while the circus was in town. She left a note on the trailer door inviting the camels to take up residence in the CWE, and they arrived the next day.
Peasy not only left her mark on the neighborhood and the City of St. Louis, she was extremely generous to many, many people in her quiet, elegant way. She will be dearly missed.