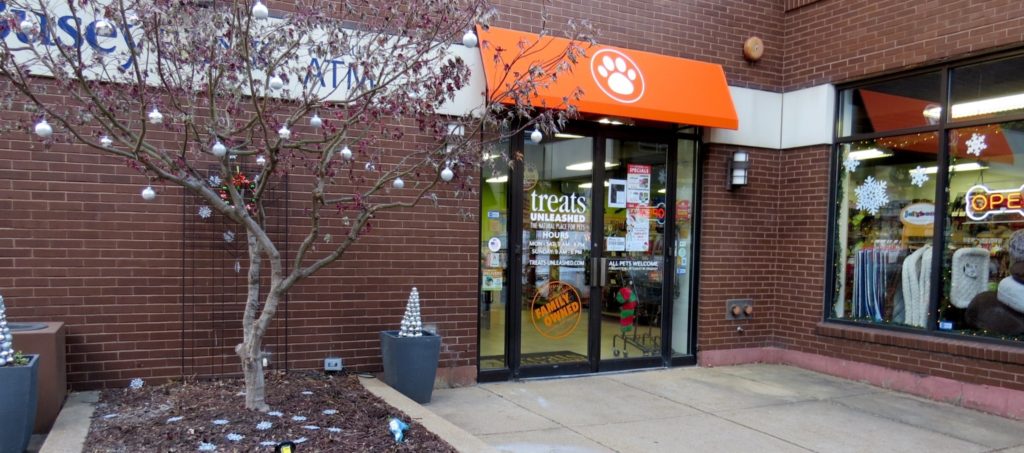 One can't help but notice the abundance of dogs in the CWE, a neighborhood where not having a 4-legged companion seems to be the exception. There are pets strapped to owners' chests, or riding in strollers while perfectly coiffed and decked out for the weather. Further evidence of the importance of pets in city-dwellers' lives is what could be called "take your dog to work day," except that now it's an everyday occurrence. So it was inevitable that a 2nd pet shop (Wolfgang's on Euclid being the 1st) opened last July in the CWE.
Treats Unleashed at 22 N. Euclid, above, is the 7th St. Louis area location for the Chesterfield-based company. (There's a shop in Colombia, MO and Leawood, KS too.) What became obvious during my visit is that the days of simply opening a generic can of pet food are so over. For particular people with particular pets, Treats Unleashed should be on your list.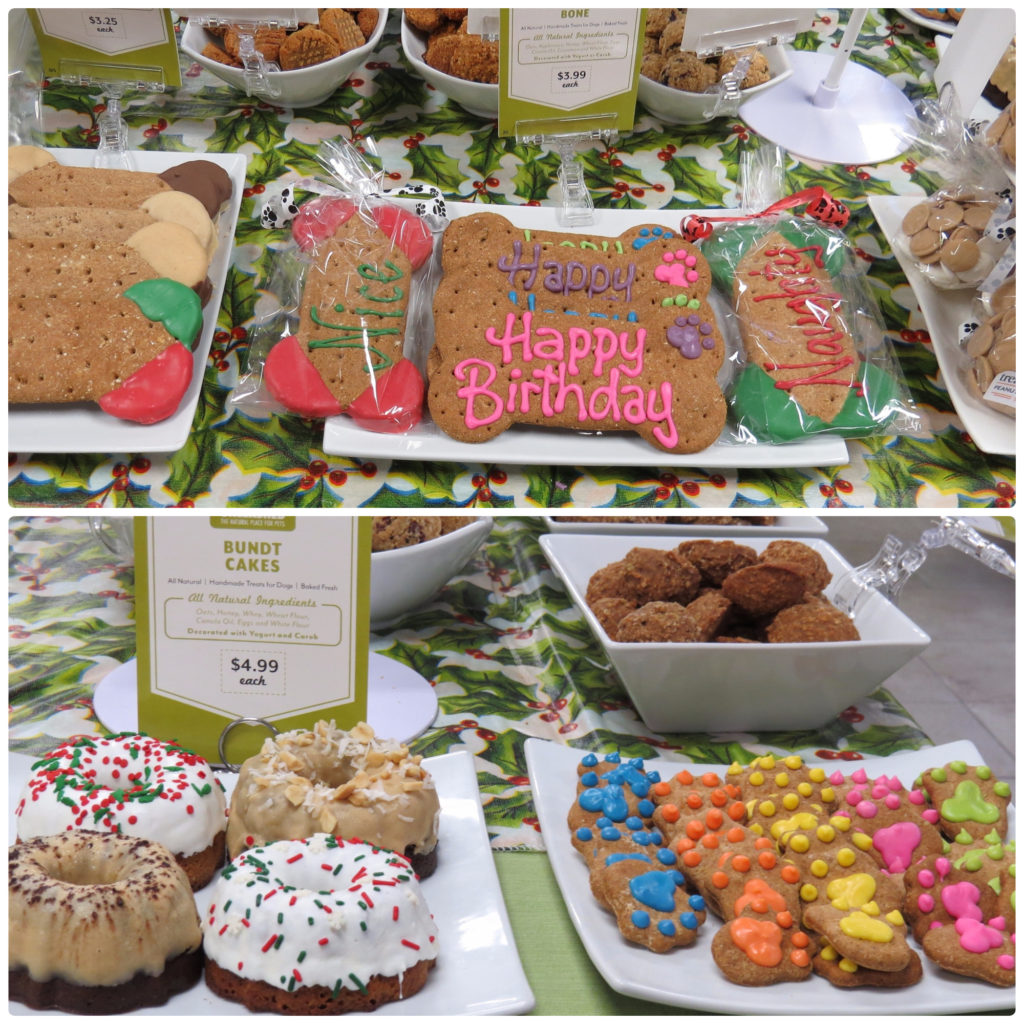 The shop smells like a bakery, since all doggie treats are baked on site and made of human-grade ingredients. Every bit of dog food Treats Unleashed stocks is free of ingredients that cause allergies, which means they are poultry, wheat, corn, and soy-free.  Feline owners will find plenty of healthy food choices for their pets too.
Sign up for the "frequent barker" program and earn points for discounts, and a free birthday bone too, see top photo. There are trays of seasonally-decorated cookies and cakes for special occasions, above—or I suppose, for Santa to bury under the tree.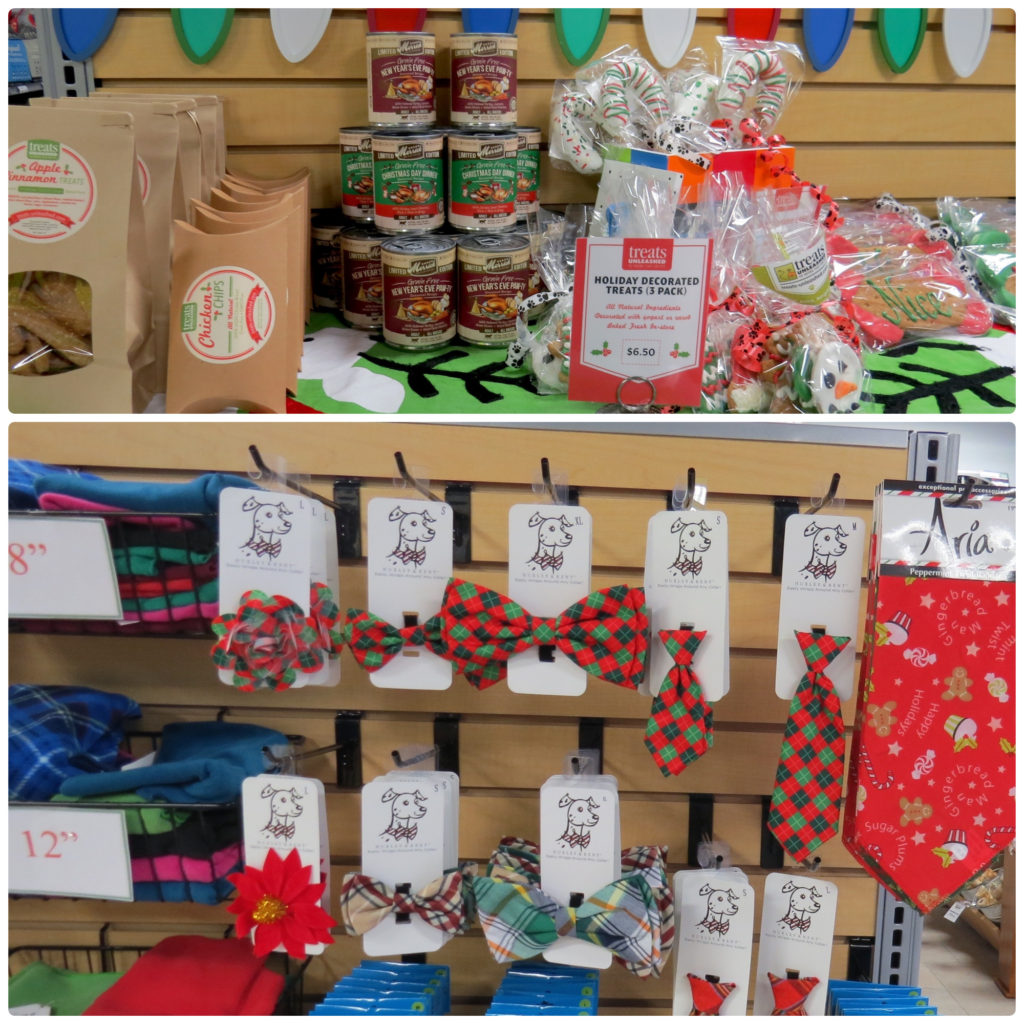 Top photo: A shelf filled with unique treats for the holidays include dinners for Christmas Eve and for that New Year's Pawty too, $2.99.
Bottom photo: And don't forget to pick up the latest in seasonal neckwear or a jaunty kerchief, right, for those fashionable strolls around the neighborhood.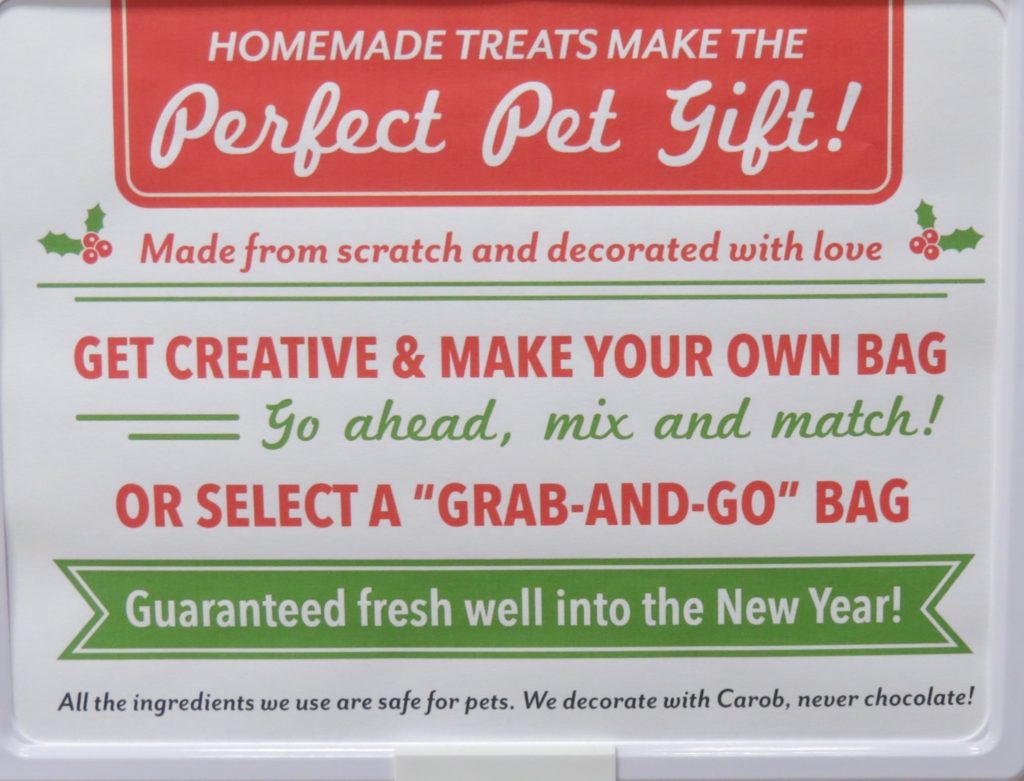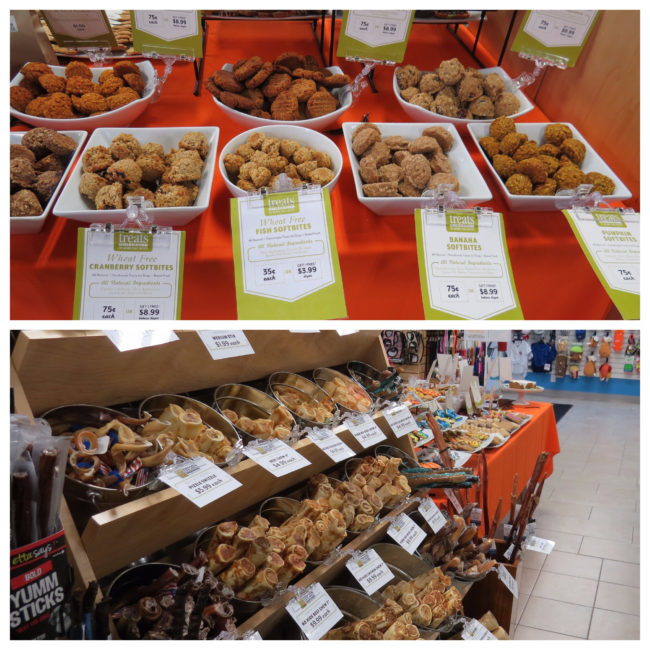 Top photo: Most of the house-made treats are 95 cents each, and each month a portion of  sales of the "spotlight treat" goes to a different pet charity.
Bottom photo: Treats Unleashed carries a large selection of chew toys, pet bedding, $39.99 to $250, and cat toys too.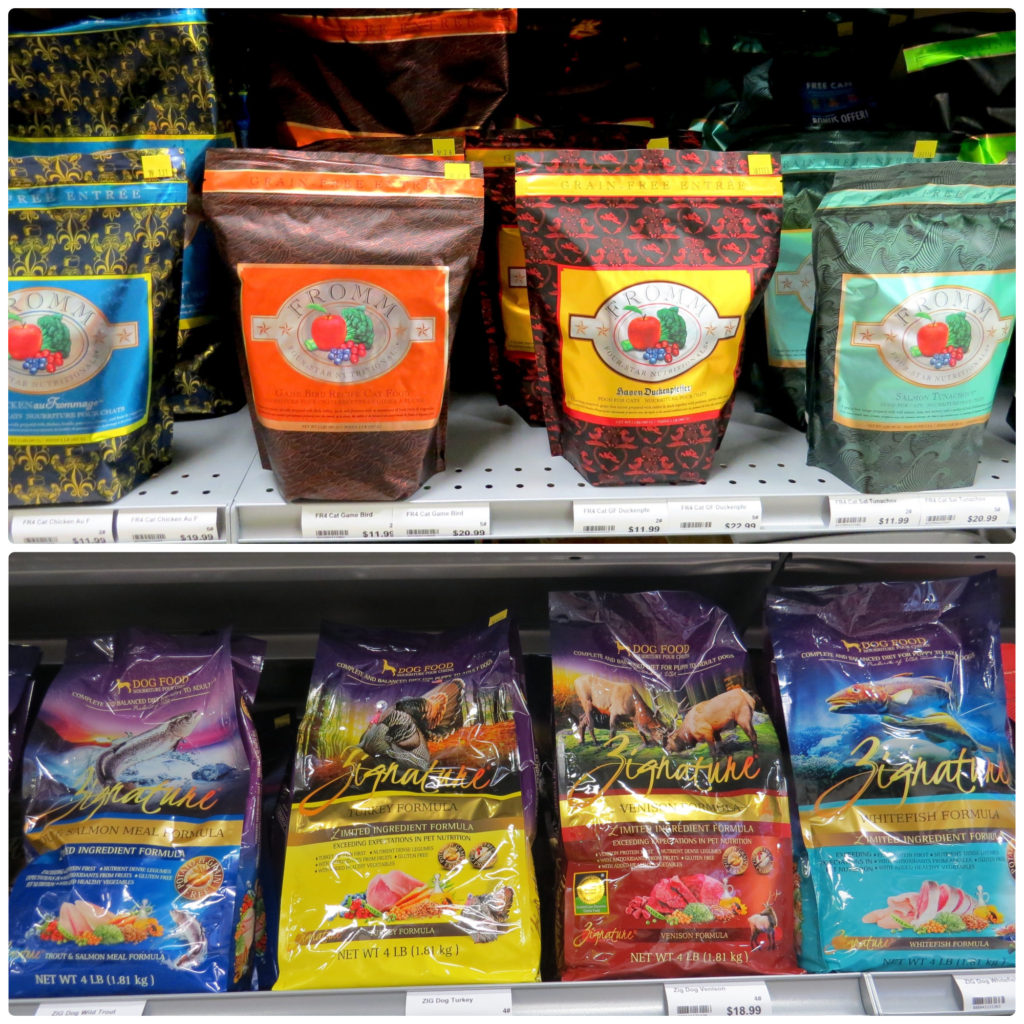 Top photo: All-natural Fromm cat food comes in flavors such as Game Bird Recipe, Hasen Duckenpfeffer, Chicken au Fromage, and Salmon Tunachovy, 2 lbs. for $11.00, 5 lbs. for $20.00.
Bottom photo: All natural Zignature dog food is $11.99 to $18.99. After purchasing 12 bags of either Fromm or Zignature food, the next bag is free.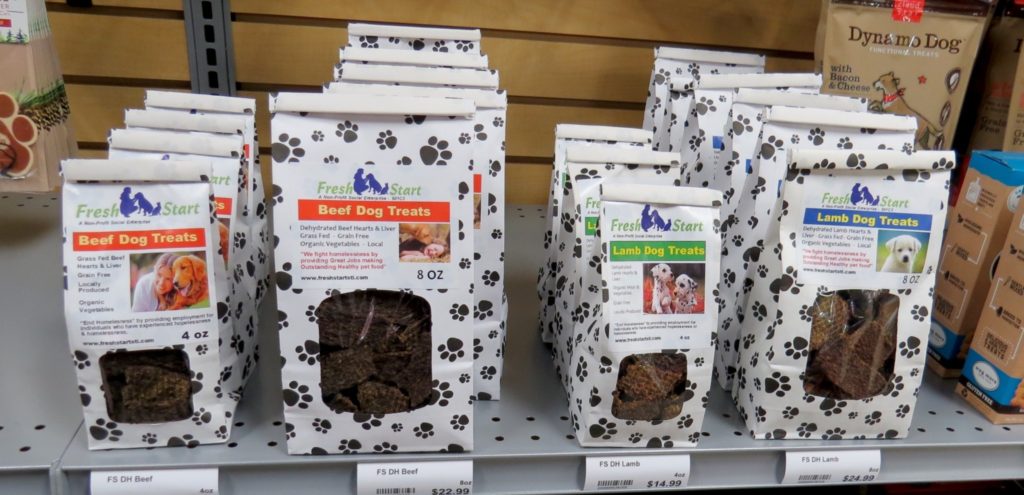 One of the best stories to come out of my visit to Treats Unleashed is the business model of St. Louis-based Fresh Start brand of dog treats. "Fresh Start" means fresh ingredients for pets, but also a fresh start for everyone else. The company hires the homeless to work in its facility, and once they get established Fresh Starts finds housing for them.
Fresh Start beef and lamb treats range from $12.99 to $24.99.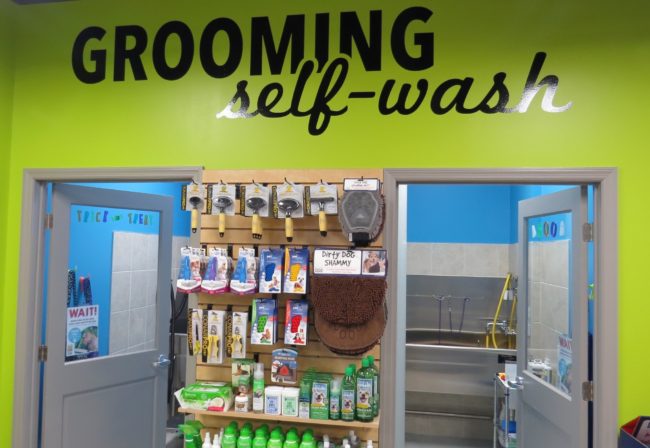 Don't want to mess up your bathtub washing your pooch at home? For $19 you can use Treats Unleashed's self-wash, above. Everything's provided: an apron, shampoo, lotions, and the best part is, they'll clean up after you. Schedule bath time at least an hour before closing.
Treats Unleashed, 22 N. Euclid, (314) 899-6966, Mon. – Sat. 9 to 8 p.m., Sun. 9 to 6 p.m.