How you fill your dance card for this week's inaugural BookFest St. Louis is your call, but a word to the wise, start plotting now for which authors you want to see, what panels you want to attend, and absolutely schedule time for kids' events and the dedication of the new William Burroughs statue at Writer's Corner (McPherson & Euclid) this Saturday, September 23, at 6 p.m.
Bookfest St. Louis is a collaboration between Left Bank Books and CWE Business Community Improvement District. The staffs of both the bookstore and the NCID have spent months putting the weekend's events together. There are spreadsheets galore and organizers' brains stuffed with information about arrival and departure schedules for dozens of participating authors, neighborhood venues where the events will occur, and lists of volunteers who have offered to lend a hand.
All events (here is schedule), other than the appearances of authors Sherman Alexie and Amy Stewart, are non-ticketed events, so it's first-come, first served. Check out Page 4 on the schedule for a concise chart of events and locations.
Expect a crush of Mary Engelbreit admirers to attend the BookFest's kick-off event Thursday, September 21, starting at 6 p.m. The artist will be at the Schlafly Library, 225 N. Euclid, for a reception and conversation with Left Bank Books' proprietor Kris Kleindienst to discuss Mary Engelbreit From the Archives, a monthlong exhibit of Engelbreit's rarely seen early work and ephemera from Left Bank Books' collection. A book signing for the Engelbreit's latest, The Bedtime Book, will follow. The exhibition remains on view until September 29.
Here is a recent video showing KSDK's Dana Dean interview with Mary Engelbreit and Kris Kleindienst on Show Me St. Louis.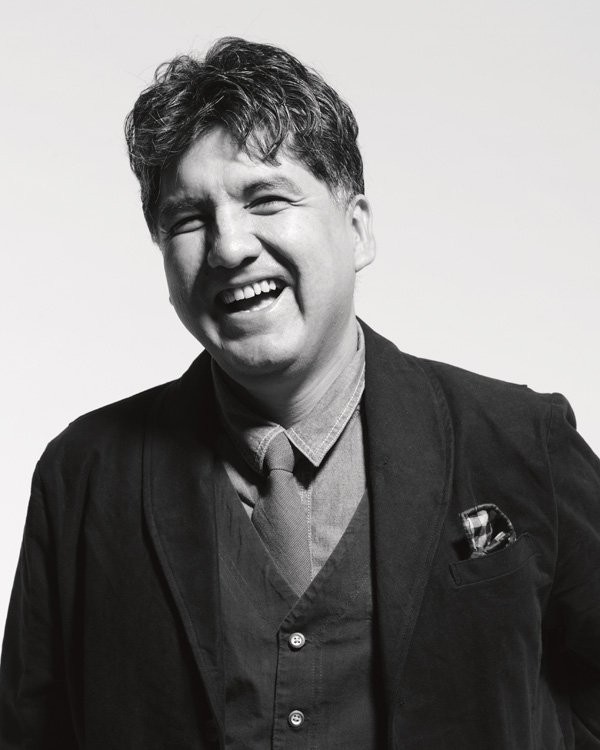 Photo courtesy of Lee Towndrow, Little, Brown
The weekend's opening event is a special one, "An Evening with Sherman Alexie," which takes place Friday, September 22, at The Sheldon in Grand Center, the only BookFest event that occurs outside the immediate neighborhood.
The appearance by National Book Award recipient Sherman Alexie is a coup for BookFest St. Louis. After the recent publication of  his memoir, "You Don't Have to Say You Love Me," the acclaimed poet, short story writer, novelist and performer cancelled most appearances on his book tour due to exhaustion. But he has kept BookFest on his schedule (the author is also participating in a Young Adult Panel at The McPherson Saturday at noon). Here is an interview with Alexie conducted by reporter Stefene Russell in the 9/13/17 issue of St. Louis Magazine.
A $40 general admission ticket admits one person to Friday's keynote event and includes a hardcover copy of "You Don't Have to Say You Love Me." A $75 VIP ticket admits one person to the keynote event, includes a signed copy of "You Don't Have to Say You Love Me" and a 10th Anniversary edition of National Book Award-classic "The Absolutely True Diary of a Part-Time Indian," plus a Meet & Greet book signing with Sherman Alexie. (Please note: VIP tickets are now SOLD OUT.) Purchase general admission tickets at TheSheldon.org.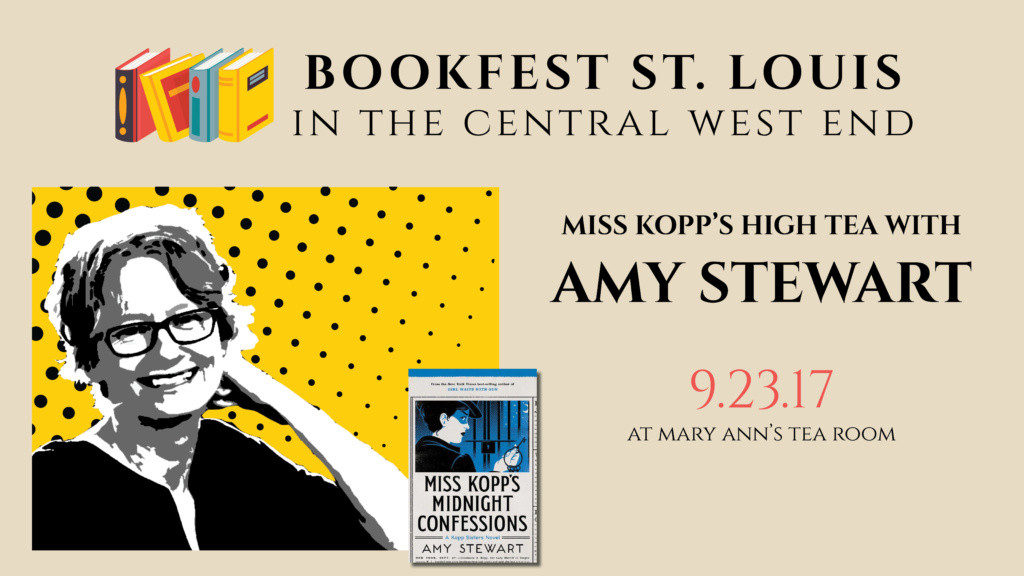 On Saturday fans of Amy Stewart's Miss Kopp's series will have a chance to have tea with the author at Mary Ann's Tearoom, 4732 McPherson, from 5 to 6:30 p.m.
Tickets for Miss Kopp's High Tea are $70 per person and include an exclusive presentation and book signing by Stewart, a hardcover copy of "Miss Kopp's Midnight Confessions," a specialty cocktail inspired by the book and full-service high tea, with tea, scones with jam, sandwiches and dessert. To view the menu and to make a reservation, look here.
In addition, The Central West End will complete the Writers' Corner project at Euclid and McPherson with the installation of a William Burroughs sculpture during a dedication ceremony at Left Bank Books on Saturday at 6 p.m. The completion is being funded by The Central West End Association and the Community Improvement District North.
From the press release:
"The Burroughs bust, by local artist Vlad Zhitomirsky, stylistically celebrates the Beat Generation author's flair for the disjointed and bizarre, which can be found in his well-known works including 'Naked Lunch,' 'Queer' and 'Junky.'"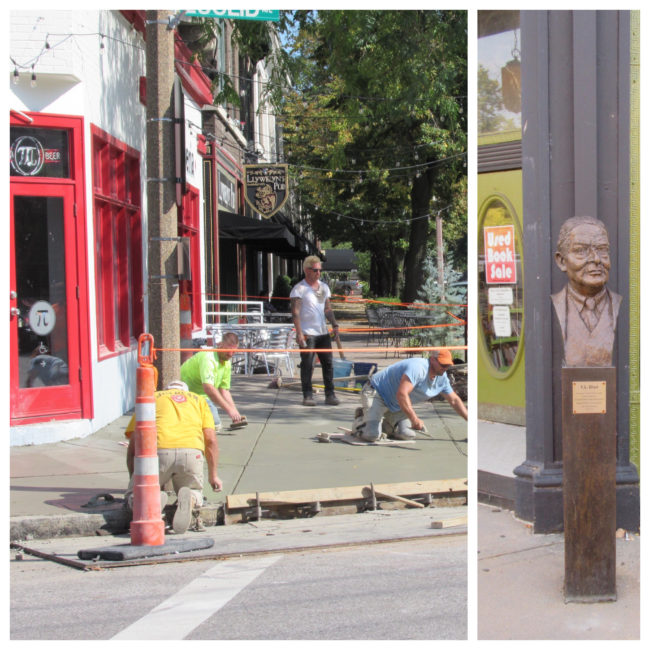 You may have noticed that the sidewalk next to Pi is being repaved today in preparation for Saturday's dedication. What's happening is that the T. S. Eliot sculpture, above right, is being moved from Left Bank Books to Pi, above left, and William Burroughs, who had a longtime connection to Left Bank Books will "reside" next to the neighborhood bookstore.
There are so many fabulous events on the schedule that I encourage you to visit the website and check them out for yourself. Here is a very small sampling:
Children's Storytime at 10:30 Saturday followed by Middle Readers Meet & Greet at 11 (authors Treton Lee Stewart and Kat Zhang) at Schlafly Library.
Memoir Panel at 3:30 Saturday at 510 N. Euclid featuring George Hodgman (Bettyville), WU's Kathleen Finneran (The Tender Land), and Ann Edelstein (Lifesaving for Beginners).
"A Special Trust" – Remembering Patricia & Fred McKissack honoring beloved St. Louis children's authors takes place at Left Bank Books Saturday at 7 p.m.
Literary Fiction Panel II at 3 p.m. Saturday at The McPherson, featuring debut novelist Gabriel Tallent (My Absolute Darling), Shanthi Sekaran (Lucky Boy), Whitney Terrell (The Good Lieutenant).
Prufrock & Other Observations at Dressel's Pub at 8 p.m. Saturday. Celebrate 100th anniversary of St. Louis poet T. S. Eliot's Prufrock, etc. with an intimate performance by a diverse coalition of St. Louis' best poets.
The Festival Zone: Approximately 26 vendors and literary organizations will participate in The Festival Zone situated along McPherson east of Euclid (which will be blocked off to traffic as far east as The Vino Gallery) from 11 to 5 on Saturday. There will be live music, demonstrations, rare book sellers, local artisans and more. Some neighboring restaurants will also be selling food and beverages at outside tables.
Peek inside local bookmaker Ken Botnick's studio! Tour the studio, watch press demonstrations and view limited edition copies of books by Mary Jo Bang, William Gass and William S. Burroughs. The studio will be open from 11 a.m. to 5 p.m. Saturday. Located at 4814 Washington Blvd. #240.
I also want to acknowledge the CWE venues who have agreed to host events: The McPherson (the recently-opened event venue), Mary Ann's Tearoom, Schlafly Library, The Vino Gallery, 510 N. Euclid (formerly The Improv Shop), Llywelyn's, Brennan's, Gamlin Whiskey House, Dressel's Pub, and Left Bank Books. Here once again is the schedule of events for Bookfest St. Louis.
Parking is free on The McPherson lot which will be accessible from Taylor Avenue east on McPherson. Paid parking is available on the Euclid lot (what many of us still call the Herbie's lot), just north of McPherson. Other than McPherson east of Euclid to Walton Row, CWE streets will remain open during BookFest St. Louis.