Meet the founders of WeStories
A couple of years ago Laura Horwitz, left, and Adelaide Lancaster were walking with their two youngest children in Forest Park and talking about events in Ferguson. They wondered if they really understood what was going on in the lives of families like Michael Brown's, which led to a discussion about how to talk to your kids about race.
While researching the subject they learned that a majority of white families do not talk about race at all, and that bias starts to surface when white families and the schools their children attend barely mention the subject.
The pair decided to hold a series of focus groups in their homes and invited friends to participate and to bring a friend. Lancaster and Horwitz were surprised by the extremely positive reaction they received following the first 3 meetings. Within days their Google list grew to 80 interested families, and since then 500 families from 64 zip codes in and around St. Louis and Illinois have participated in WeStories (as they call their workshop).  They currently have an additional 500 families on a waiting list.
WeStories uses children's literature to cause change. Lancaster says, "People would be surprised at what a difference expanding your home library to include books about other races can have."
WeStories workshops have been held at Fontbonne University, the Missouri History Museum, and St. Louis County Library. Parents with children up to 7 years old take the workshop, then each family receives 4 age-appropriate books and teaching tools to use at home. The cost is $100 per family.
Following the workshops there have been statements such as: "I feel like I was living in a bubble in the suburbs and WeStories has made me feel more proactive and less apathetic." Lancaster and Horwitz have heard from other parents who have said they felt empowered by their WeStories experience to run for school boards hoping to promote change.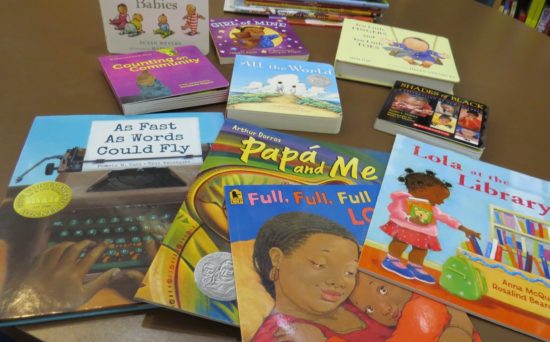 Not surprisingly, CWE's Left Bank Books carries a large selection of books that are on WeStories recommended reading list. Some of those books are shown above.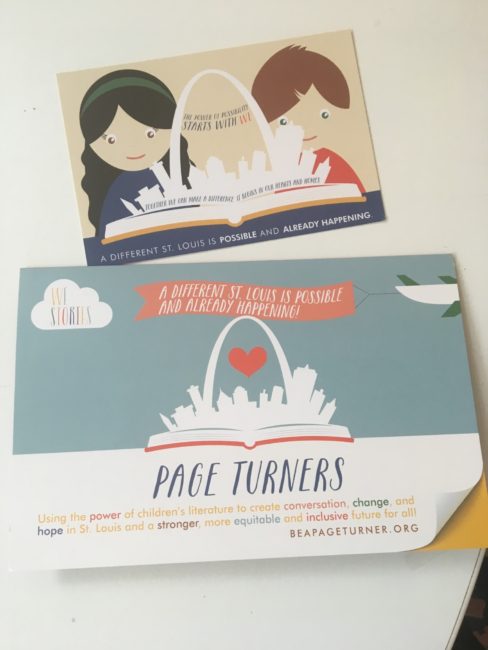 Those interested in supporting the organization's efforts are invited to join Page Turners, see above. Click here to learn more.
Thanks to CWEnder Karen Werner for introducing me to Adelaide Lancaster and Laura Horwitz and WeStories. It was heartening to learn what young parents are doing to promote change in St. Louis.
News from CWE Farm:
Arthur Culbert, CWE Farmer, invited me to stop by the CWE Farm (located on Waterman west of Kingshighway) in early April to observe New City School 4th graders as they learned about bats. Their instructor, St. Louis University School of Public Health graduate student Ariel Tiplett (with hat in photograph above), was teaching the students how bats navigate by playing a "blind man's bluff" type of game. Contrary to folklore, bats are not blind, but when they are feeding at night, their large ears allow them to use "echolocution" (sound waves) to navigate in the dark.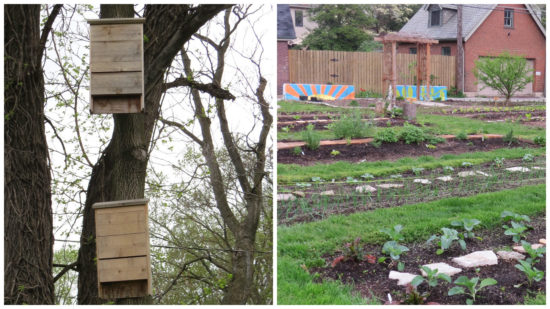 Culbert arranged for two bat houses to be hung on a tree adjacent to the CWE Farm. At the time of my visit in early spring, the bats were still dormant. When temperatures reach 70 degrees, they come out of hibernation and start consuming thousands of bugs a night, equivalent to 70% of their body weight. They eat pesky critters like mosquitoes, beetles and other harmful garden bugs.
In other CWE Farm news, Culbert has developed a citizenship curriculum (growing food for the less fortunate) for the Patrick Henry Downtown Academy in Boston, like the one he developed for New City School (click here for earlier post).
The CWE Farm grows produce, photo above right, for two CWE food pantries, at Trinity Episcopal Church at Euclid & Washington and 2nd Presbyterian Church at Westminster & Taylor. This year First Unitarian Church and Central Reform Congregation, both located just east of the farm at the corner of Waterman & Kingshighway, have planted vegetable gardens of their own, and will share the bounty with the same two neighborhood pantries.
If you'd like to volunteer at the CWE Farm this summer, contact urban farmer Arthur Culbert for information, arthur.culbert@gmail.com.