At Q Boutique in World Chess Hall of Fame: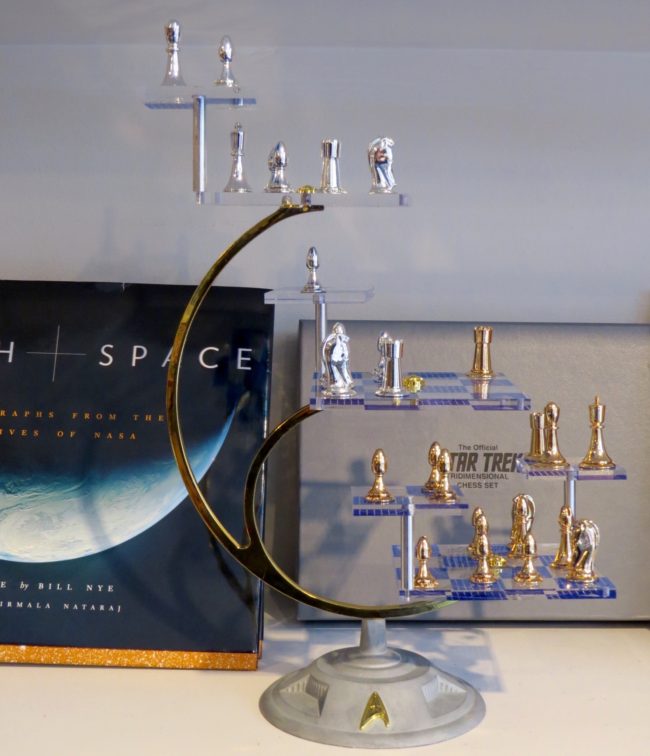 It will come as no surprise that there are many chess sets available at Q Boutique in the World Chess Hall of Fame, but when I asked general manager Brian Flowers which was the most unusual, he pointed to the Star Trek Tri-Dimensional Chess Set, $279, shown above…unusual indeed.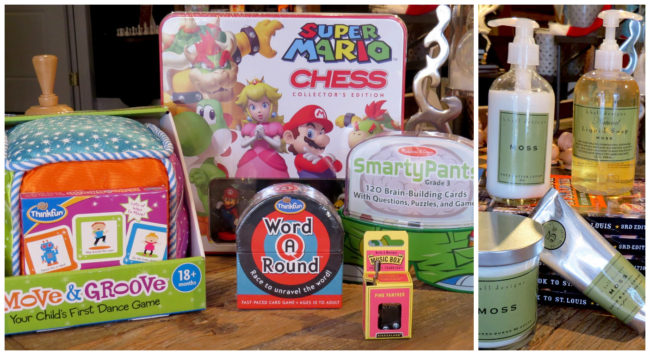 For kids: clockwise from left: Move & Grove Dance Game (18 mos. +), $22; "super hot" Super Mario Chess Set, $55; an assortment of Smarty Pants Brain Building Games, $15 each (from pre-K to Grade 5); WordARound card game (10 years -Adult), $15; in front: "Pink Panther" Music Box, $9, one of 12 musical themes (Happy Birthday and more).
2nd photo: St. Louis-made K Hall designs: clockwise from left: Moss-scented Shea butter hand cream, $22, liquid soap, $20, Shea hand & body cream, $22, Moss candle, $22. Peeking through the products are copies of Guidebook to St. Louis, by and for St. Louisans by Amanda Doyle, $19.95.
Q Boutique at World Chess Hall of Fame, Mon., Tues., Sat. 10 a.m. – 5 p.m., Wed. to Fri., 10 a.m. to 9 p.m., 4652 Maryland Ave., (314) 367-9243 x109.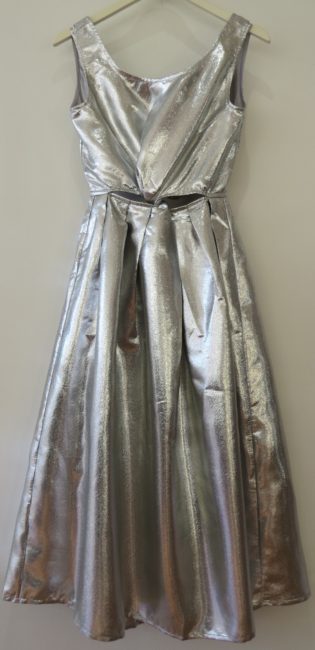 Stop traffic in this shimmery light-as-a-feather "immortal" silk stunner by Brooklyn-based designer Samantha Pleet, $438. The back is gorgeous too!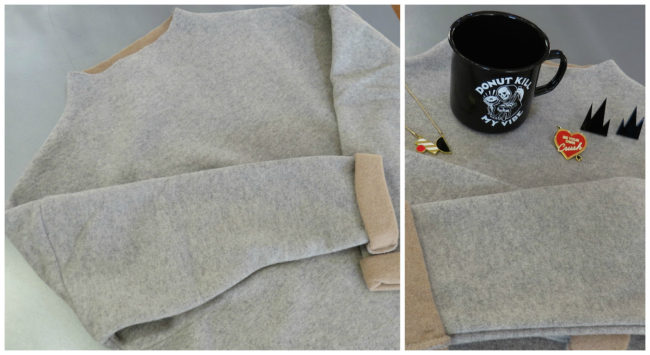 1st photo: Keep warm and stylish too in Native Youth's Flurry Crew Sweater, $80.
2nd photo: from right: Matter Matters Tilt Necklace, $48; Donut Kill My Vibe camper mug by Pyknic, $12; Be Your Own Crush lapel pin, $10; and glass Mountain Earrings, $46.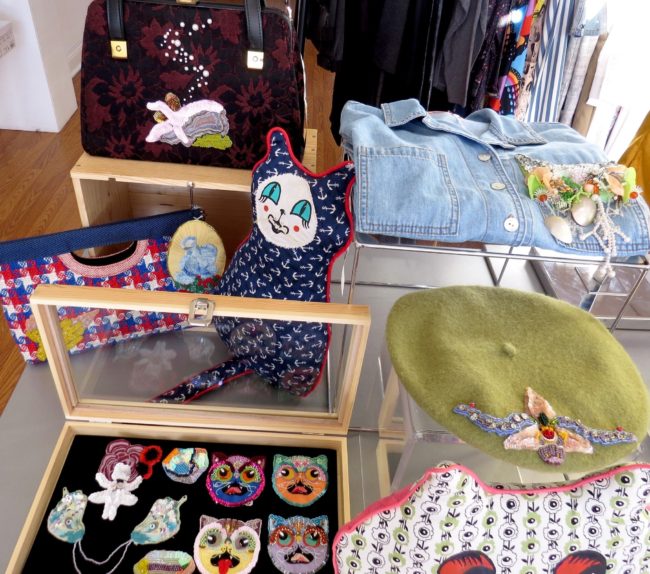 And while at living-collective, I was delighted to discover Potion 23's hand-embroidered art-to-wear pieces created by local designer Victoria Cates. Clockwise from top left: embroidered purse, $380; jacket with elaborately-embroidered pocket, $275; beret, $350; and in glass case: embroidered pins, $75 to $130.
living-collective, 4701 McPherson Avenue, Tues. to Sat., 11-7, open Sun. 12/18 too.
At The Vino Gallery: Before I present proprietor Alex Head's suggestions for the holidays, I want to publicly thank him for being one of my first advertisers (see sidebar). View offer of $2 off a glass of wine when you mention the blog.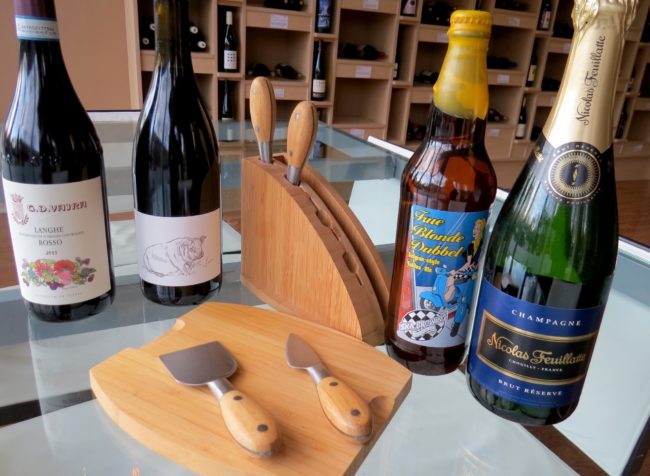 Front: all-in-one bamboo cheeseboard with 4 cheese knives, $40; from top left: an "easy drinking" Italian G.D.Vajra Langhe Rossa 2013, $15; Willamette Valley's Big Table Farm red wine is described as a "really special gift," $45; Colorado's Ska Brewing Co.'s True Blonde Dubbel, two-for-1 bomber size, $14; and Nicolas Feuillatte French Champagne, $30 (real champagne at a great price because the Euro is so low right now).
The Vino Gallery, 4701 McPherson Avenue, Tues.-Sat. 11 till closing, open this Sunday 12/18.
At east + west: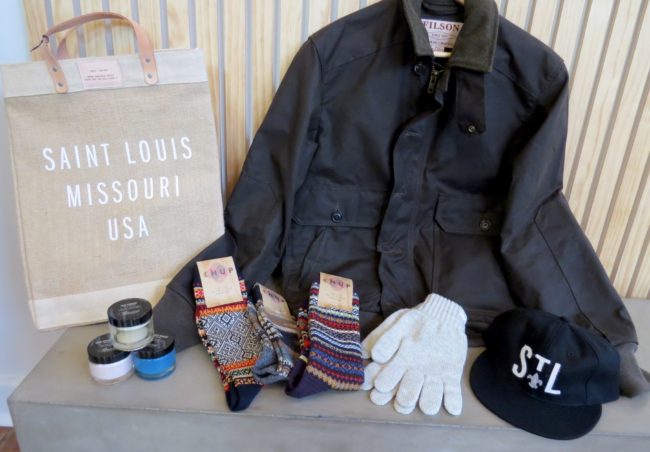 Clockwise from top left: Market Bag by L.A.-based Apolis, a "living and breathing social enterprise that equips and empowers people through opportunity rather than charity,"$68; Filson waxed-canvas, water-repellant, wind-resistant jacket with lifetime guarantee, $395; Ebbets STL hat, $48; Norse Project merino wool gloves, $60; Japanese-made Chup socks enjoy a cult following because a) they don't have a toe seam, b) they don't shift around, and c) look at those great-looking patterns. The newest pattern is the Native American design, $28; Baxter Hair Pomades for 3 hair types: clay, hard cream, & hard water, $20.
east + west, 387 N. Euclid Avenue, during December: Mon. – Sat. 11 to 7, Sun. 12 t0 5.
At Left Bank Books: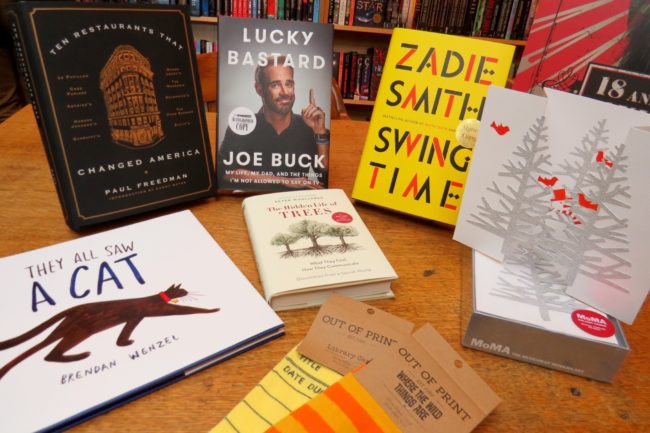 The first book Wintaye Gehru, manager of LBB, grabbed for this post is the magical The Hidden Life of Trees by Peter Wohlleben, middle, $24.95 (read review in NYT here).  Other picks chosen by bookseller Randy Schiller include They All Saw A Cat by Brendan Wenzel, $16.99; Ten Restaurants That Changed America (with introduction by Danny Meyer) by Paul Freedman, $35; autographed copies of Joe Buck's Lucky Bastard are available for $28; and Zadie Smith's autographed Swing Time is $27 (you didn't miss a book signing by the British author, instead her publisher sent autographed copies…Smith apparently isn't keen on book tours); MOMA holiday cards, 8 for $22; and in front, Out of Print socks, "Where the Wild Things Are" and "Library Card," $10.
Left Bank Books, 399 N. Euclid, 10 a.m. to 10 p.m. everyday.
Next up: Holiday Gift Picks III