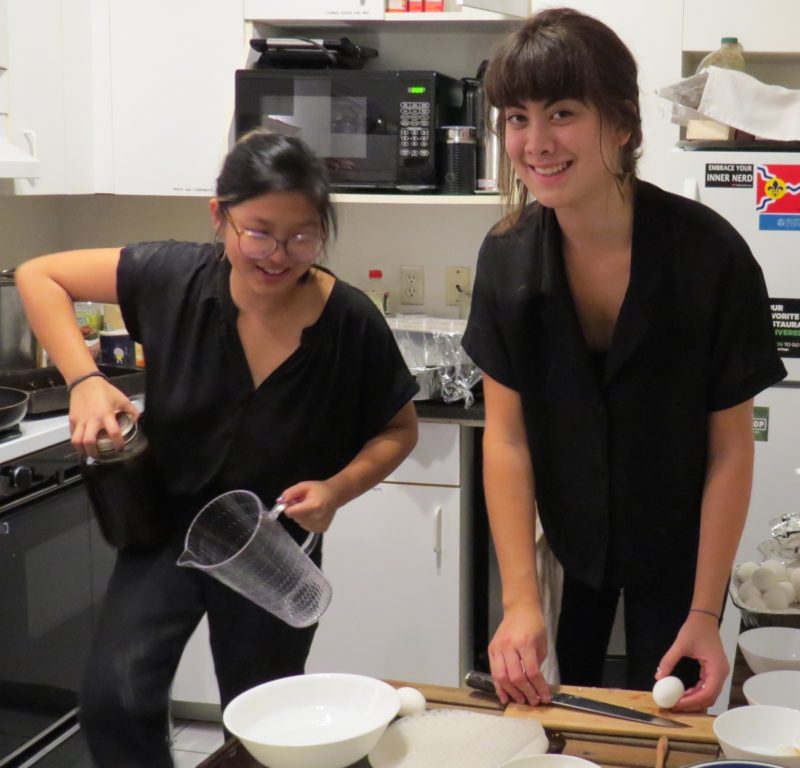 I first met Katie Yun and Sachi Nagase, above, last October 29 as they effortlessly danced around each other putting finishing touches on a 10-course pop-up dinner in the tiny kitchen at TechArtista. That was also the night of the CWE's Halloween bash, so I was not able to stay for the dining experience (which had sold out well in advance), nor could I expect that the enterprising W. U. seniors would be able to interrupt their preparations to answer questions about their business, Sprouted Radish Supper Club.
Here's what I learned in a subsequent interview: "For the past year we were preparing dinners for friends, but we had a desire to reach a larger community. We were seeing private dining clubs on (W.U.) campus and thought it was ridiculous that these events were so exclusive. Since eating is communal, we wanted to create an inclusive experience and bring people together."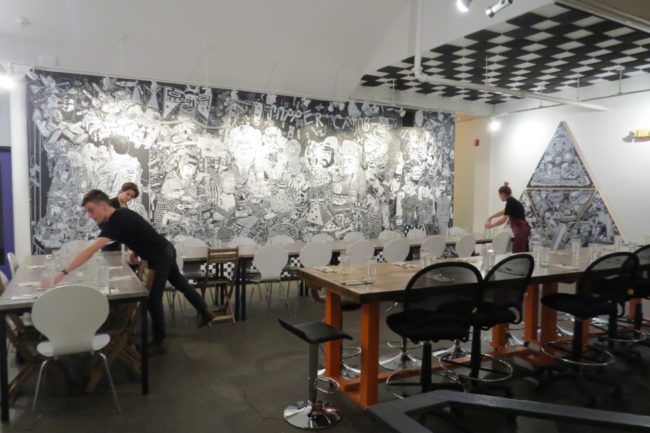 They were assisted at last fall's event for 35 guests – the largest they had ever hosted – by friends and fellow classmates who helped set the tables and serve. Relatives offered to do whatever they could.  Katie's mother flew in from Pasadena, CA, and Sachi's parents and sister drove in from her hometown of Normal, IL, "We're so lucky to have parents who fully support us."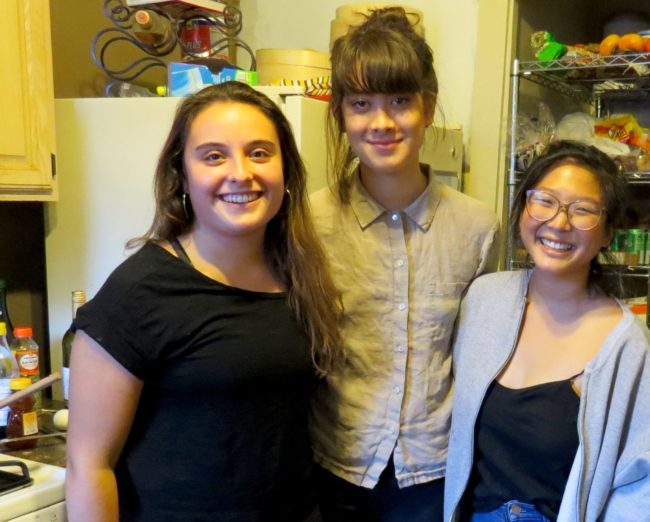 Before winter break I was invited to stop by Sachi and Katie's house near the W.U. campus as they were preparing for a supper club event they were hosting later that evening. While there I met their newest member, W.U. sophomore Elena Downs, left, who has worked in professional kitchens in her hometown of San Francisco.
What drew you to the culinary field? Sachi: "My parents both love to cook and so I was always surrounded by good food growing up. My mom loved baking sweets every holiday and so my sister and I would help. As my own interest in food grew, I started reading cookbooks and watching cooking videos to learn more. Some of my closest friendships have strengthened through the kitchen and cooking experiences. I think I realized from a young age the potential of food to connect people."
Katie: "Neither my mother or father cooked very often. Instead, I had a Korean nanny, Mrs. Huh, who would cook for my sisters and me as we were growing up. She only knew how to cook Korean food so feeding us was a way of telling us she loved us. We didn't know how to speak Korean well, but I learned that a meal was a tool for translation, which is why the idea of feeding others is extremely personal to me. I also wanted to better my relationship with food because I had an eating disorder earlier in life. Food is a way of healing as well."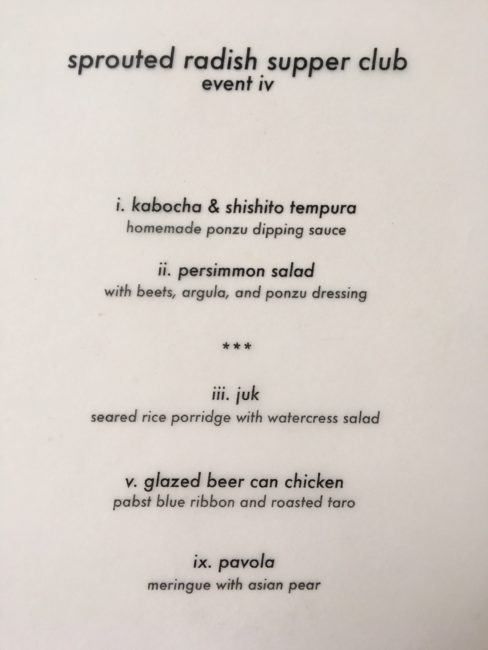 Sprouted Radish Supper Club hosts a dinner once a month. They invite 8 guests chosen by lottery from those who "like" their Facebook page.  When I expressed surprise at how little they charge, $12 to $16 per person, Katie said they realized many students have never had a "fine dining" experience, which is why they decided to keep their dinners affordable. Obviously this is a labor of love, not a money-making venture.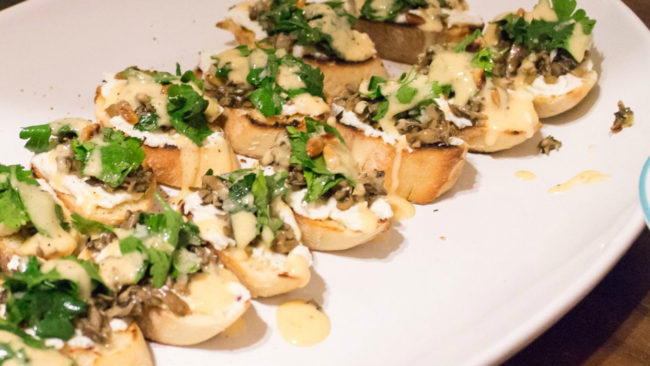 The surprise dish (each dinner includes an item not listed on the menu) of supper club iv was crostini topped with ricotta, mushroom duxelle, herb salad, and a smoked paprika aioli (photo courtesy of Jun Lee).
How do you plan the menu? "We start by thinking about dishes that we have never made but want to try, and build dishes from there. Creating the menu is a collaborative effort. We come from different backgrounds which automatically feeds what we want to cook. We're making food that means a lot to us and reflects our experiences."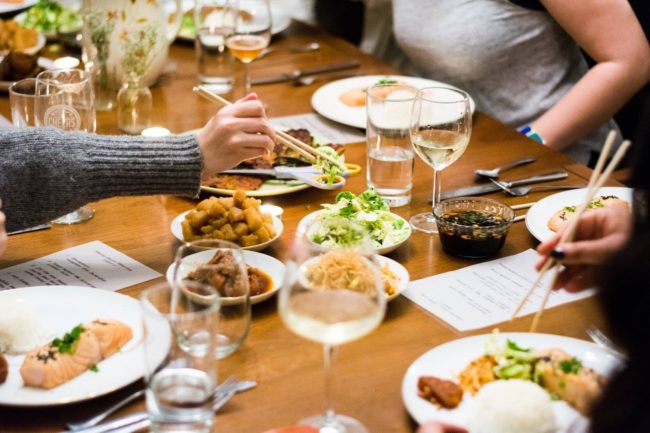 Jun Lee's photo shows communal dishes, an assortment of Korean banchan, that was served at the last supper club.
Where do you find  your ingredients? "We get our ingredients from various grocery stores as well as Soulard Farmer's Market. We hope to source from more farmer's markets in the future and are currently in contact with Burning Kumquat, W. U.'s student-run urban garden to see if we can establish a relationship to source ingredients for future events. One of our favorite stores is Seafood City on Olive Street."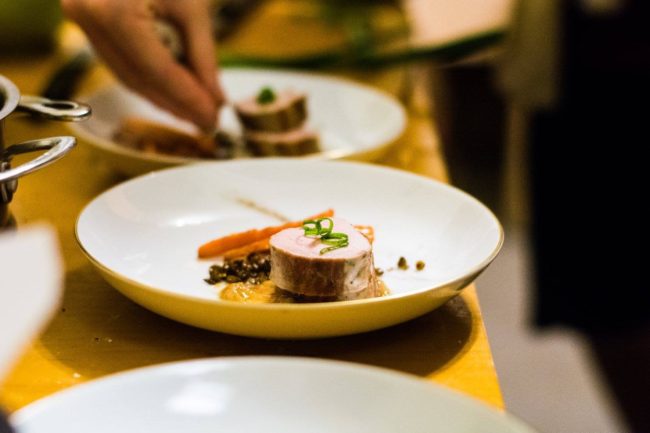 Sous-vide pork tenderloin, roasted apple and onion gastrique, wasabi carrots, and fried lentils was also featured at that dinner. You can find more of Jun Lee's photography of Sprouted Radish Supper Club events on Facebook here.
How do you balance preparing the dinners with your busy class schedule? "We usually start a supper club day around 9 a.m. and finish around 11 p.m. We plan the menu a week in advance and pick up the groceries a couple of days before, but if we have a class deadline we will wind up shopping the night before. The more we host the dinners we find we're getting better at managing our time, so we can pull it off without too much stress."
Learn more about future Sprouted Radish Supper Club events on their Facebook page.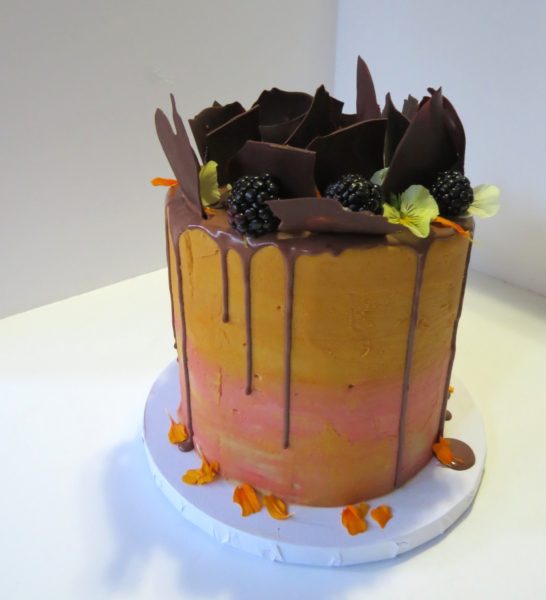 When I walked into the house for the interview last December, the most gorgeous cake was sitting on the dining room table ready to be delivered to a client. I had no idea that Sachi's talents extended to cake-baking extraordinaire. Her creations start at $45 and serve 10 t0 12 people. She's booked 'til the end of February. Email her at sachiscakes@gmail.com or contact her through her Facebook page for more information.
Thanks to Eric Hamblett and Christopher Holt at TechArtista for introducing me to these talented young women. I am so grateful that they agreed to let me stop by on a busy afternoon for an interview. Cooking is a passion of mine, so to learn about these fearless cooks who share their love of food with others is really inspirational.