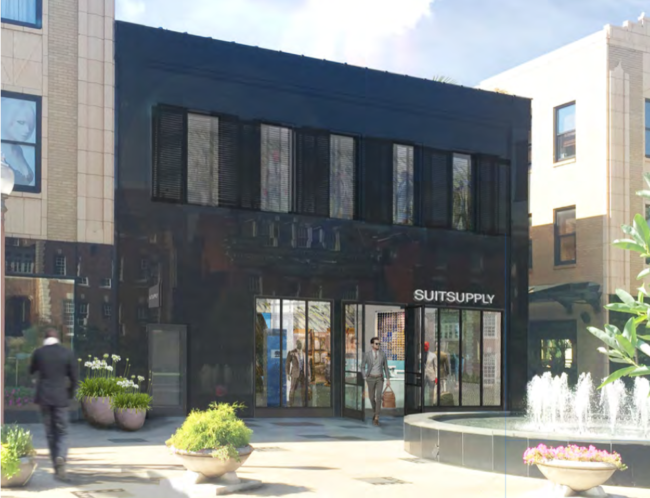 This morning's press release from Koplar Properties' president Sam Koplar announces that Suitsupply, a Dutch brand, has selected Maryland Plaza for its sole St. Louis location. The European men's fashion brand known for its expert tailoring and unmatched service will be moving to 44 Maryland Plaza, where 10denza is located (until the end of June).
Renovation of the 5,200 s.f., two-story location (see storefront modification as one example of renovation) will begin in August with an opening scheduled for winter 2017.  Note: 10denza currently leases only the 1st floor of the building. The last business to occupy both floors at 44 Maryland Plaza was Design Within Reach.
"Suitsupply is an iconic, global brand in men's fashion," said Sam Koplar. "This is a great addition to Maryland Plaza, one of St. Louis' premier shopping destinations, and an exciting time for the Central West End.  As the neighborhood continues to evolve and innovate, we see retailers like Suitsupply as welcome additions to our vibrant and growing community."
The release continues: Suitsupply is known for its European styling and insistence on using only the finest fabrics, coupled with unbeatable in-store service. Basic tailoring of purchases is done on-site while customers wait, allowing them to leave with their custom-fit items within 30 minutes.
Suitsupply vice president Nish de Gruiter said, "St. Louis has been on our wish list for a long time. Our online sales in the area have been growing rapidly over the past few years. This is a logical next step for customers to get closer to the product and experience our in-house services."
The press release also mentions accolades from the likes of GQ, Esquire, and most notably a Wall Street Journal blind test that rated a $600 Suitsupply suit in a 1st-place tie with a $3,600 Armani. More information about Suitsupply can be found on the website.
Sam Koplar represents the 4th generation of the Koplar family to lead Koplar Properties. He led the effort to redevelop Maryland Plaza as well as the York House, a luxury apartment building at Lindell Blvd. and York Ave.
This is great news for men to have both Suitsupply and east+west, 387 N. Euclid, as CWE destinations. Might I suggest that with the closing of 10denza and Kit & Ace, it would be wonderful to have more retail geared toward women to fill the gap.