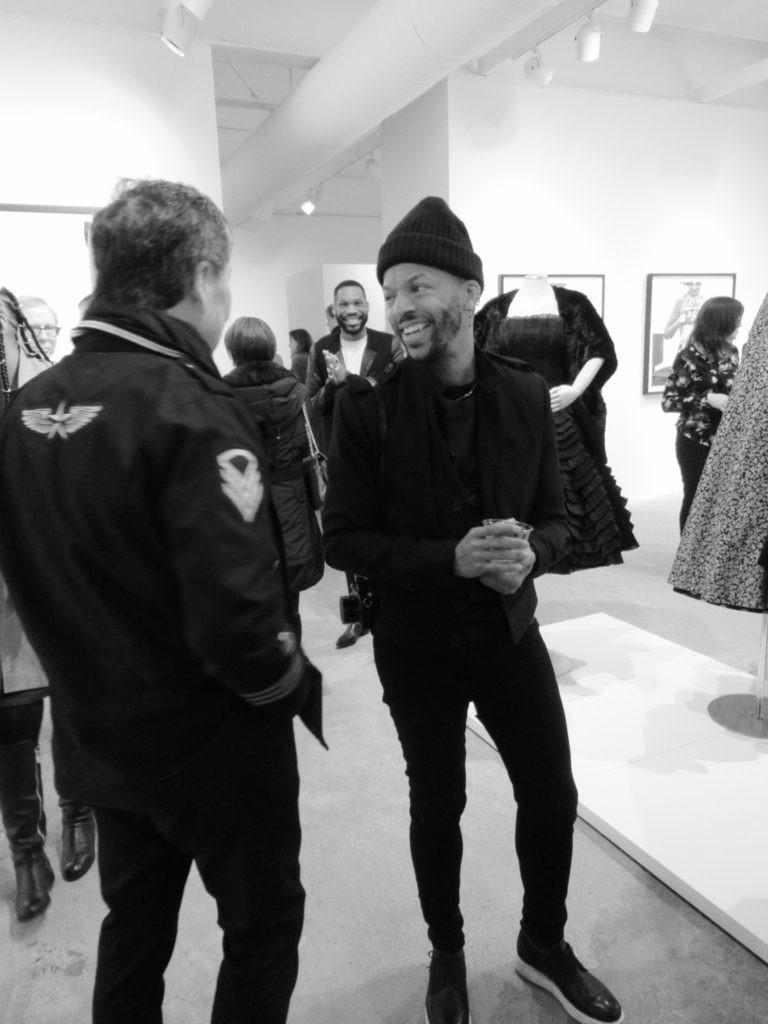 Knowing the ins and outs of how artists and galleries collaborate on exhibitions can contribute to one's appreciation of the end result. A case in point is Dario Calmese's Amongst Friends. which opened last Friday evening at projects+gallery.
The genesis of About Friends dates to the formation of the Saint Louis Fashion Fund and its #1 concern at the time it opened: how to heal the racial divide. Susan Barrett, the proprietor of projects+gallery, is also involved in the Fashion Fund which sponsored Vogue editor André Leon Talley's appearance at the Saint Louis Art Museum last June. That's where she met Dario Calmese, and when they started discussing this exhibition. A few months later, she and Calmese finalized plans when they met in New York, where projects+gallery maintains a presence.
Calmese seems to take his multi-faceted talent—which surfaced at an early age—in stride. He was raised in St. Louis where his parents recognized his interest in the arts and  arranged for piano lessons. At age 14 he directed a 300-member gospel choir, and during the summers, danced at The Muny. He went on to graduate school in New York and moved to Harlem.  Before returning home to St. Louis for the opening of Amongst Friends, he directed a show for New York Fashion Week, further evidence of his many talents.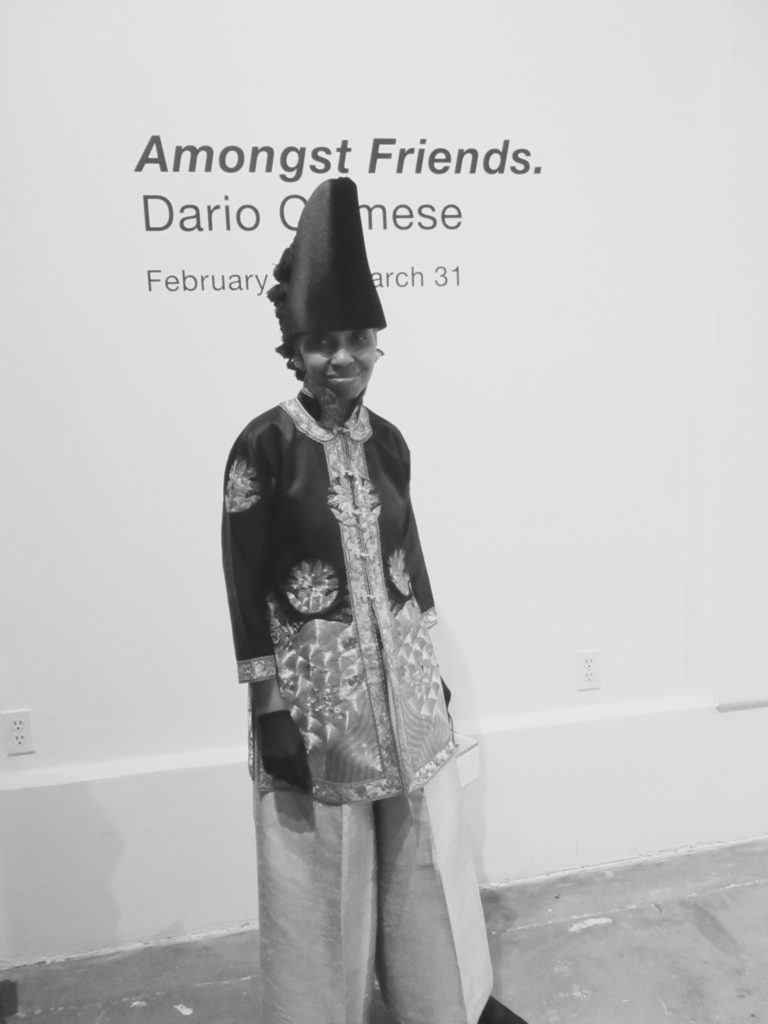 At an artist's talk on Saturday afternoon Calmese said he attends Abyssinian Baptist Church in Harlem, where he was "blown away" by a striking woman who wore the most amazing clothes. When he was finally introduced, he told her he wanted to do a story on fashion for a graduate school class, and wondered if she would be interested in being the subject. Thus began a 5-year photography project with Ms. Lana Turner, above, resulting in Amongst Friends.
Here is a great description of the project from projects+gallery's website:  "Amongst Friends. is a series of black and white photographs and selected fashion objects from the private collection of Lana Turner, a noted Harlem preservationist and doyenne of style whose extensive inventory of vintage fashion can be understood as an archive of twentieth-century society and a reflection of the role of fashion in the history of African-American culture."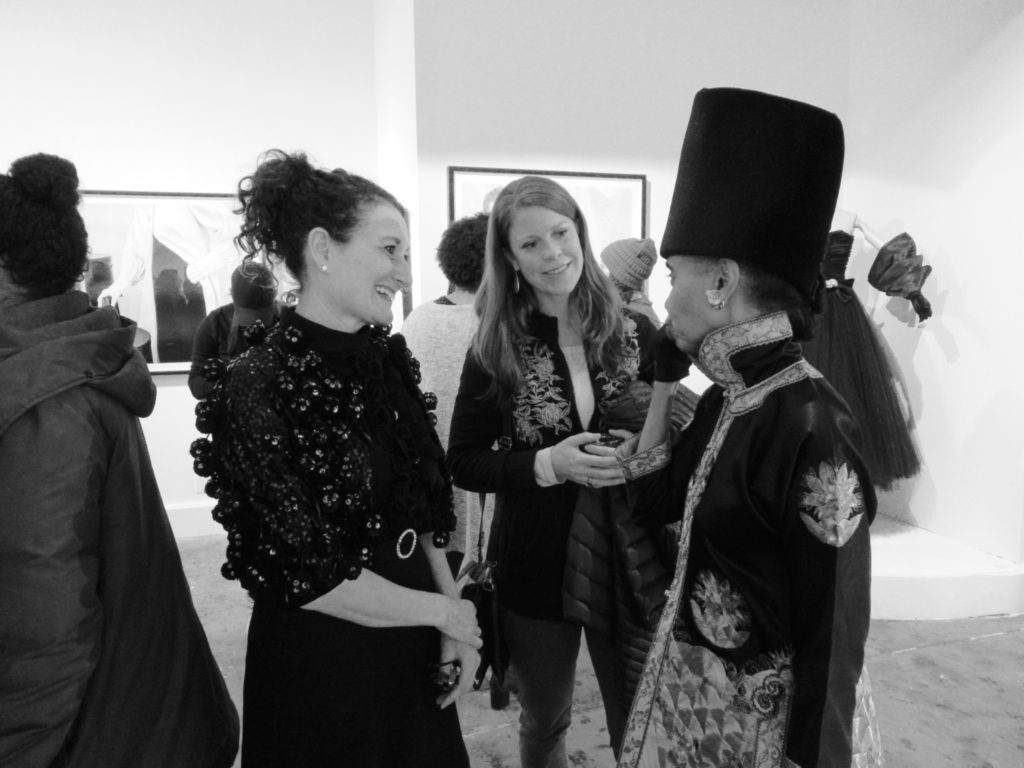 projects+ gallery's Proprietor Susan Barrett, left, with Ms. Turner, far right.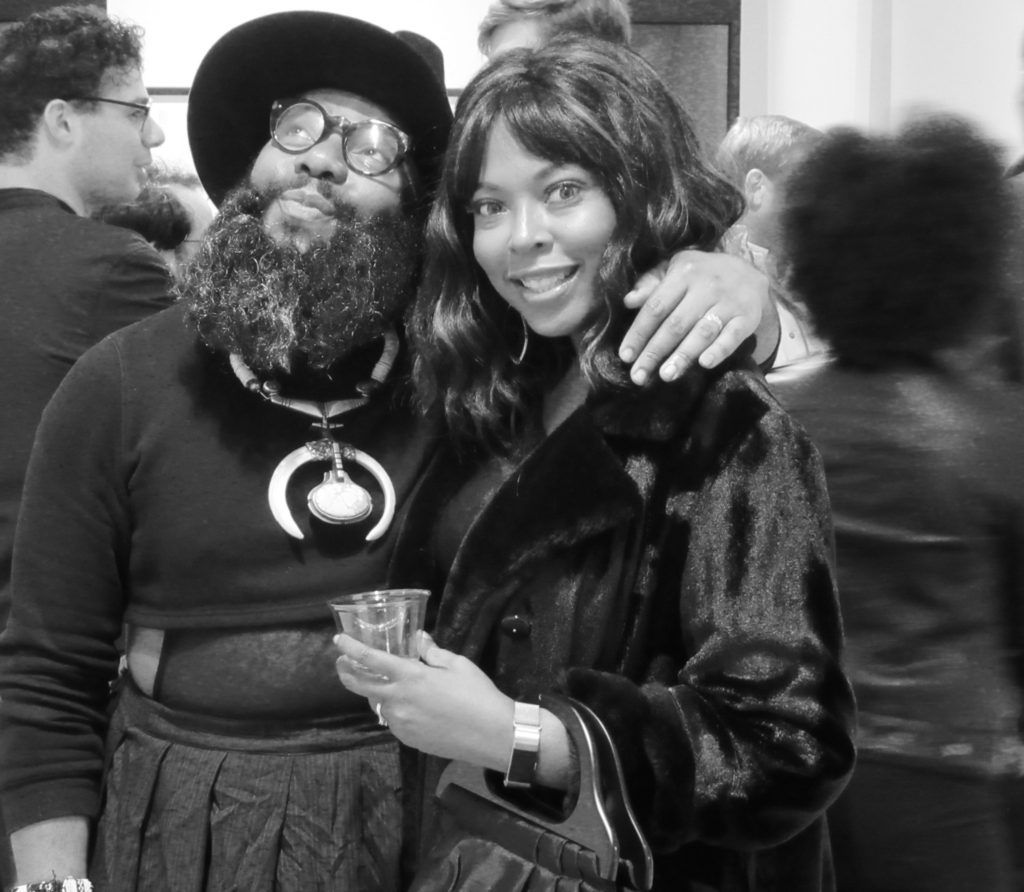 Sir Jacob (Randal Jacobs) with Calmese's sister, above. Jacobs was here from New York to style Ms. Turner's garments for the exhibition.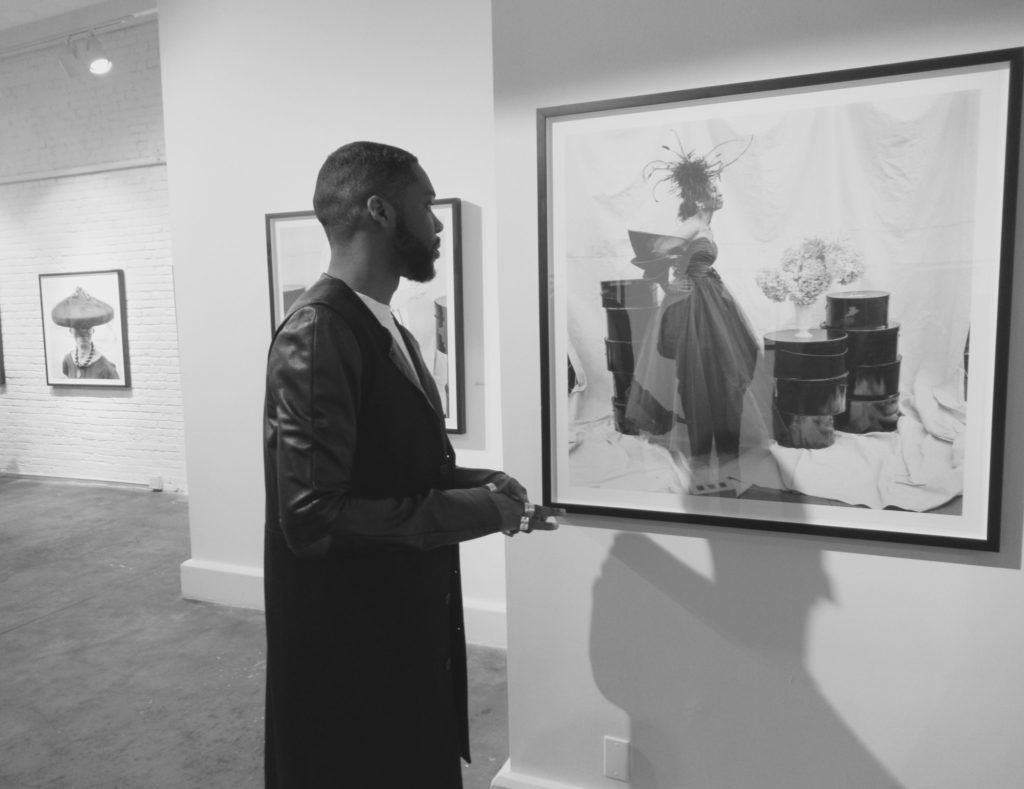 Reuben Reuel, above, moved to St. Louis from Brooklyn when he was chosen for the Saint Louis Fashion Fund's inaugural group of designers. He and Calmese had met in New York.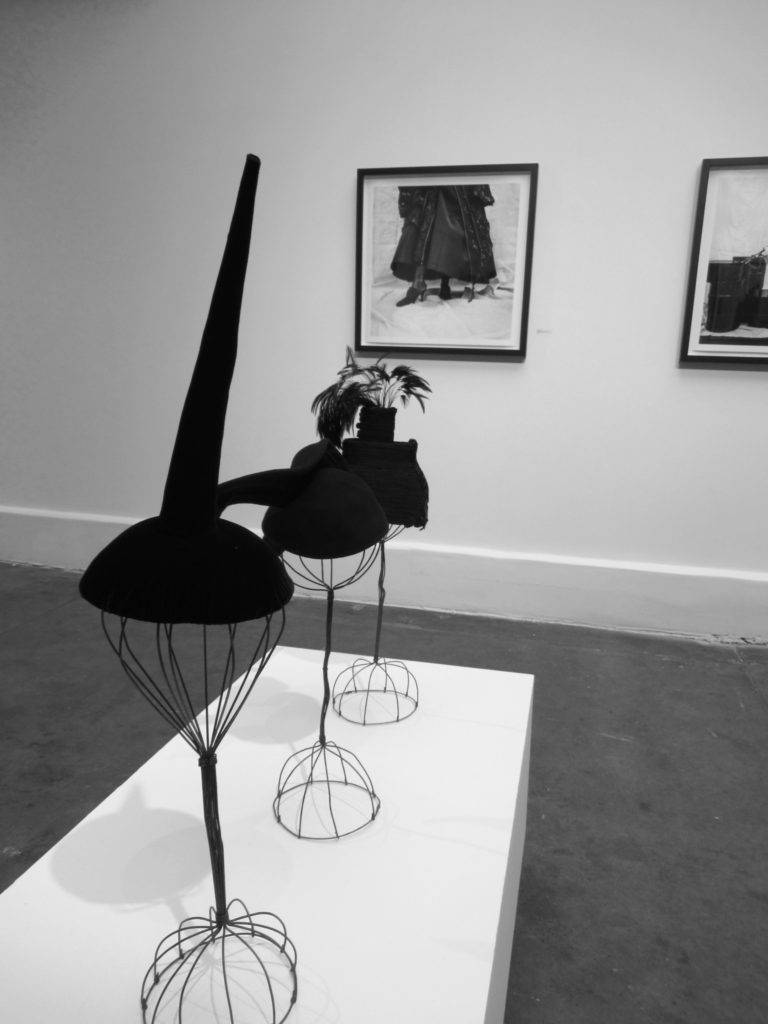 Ms. Turner's clothing collection began with hats, she now has 500. Her choice of what she'll wear each day "starts with a hat, and sometimes there are multiple changes in a day, depending on where I'm going."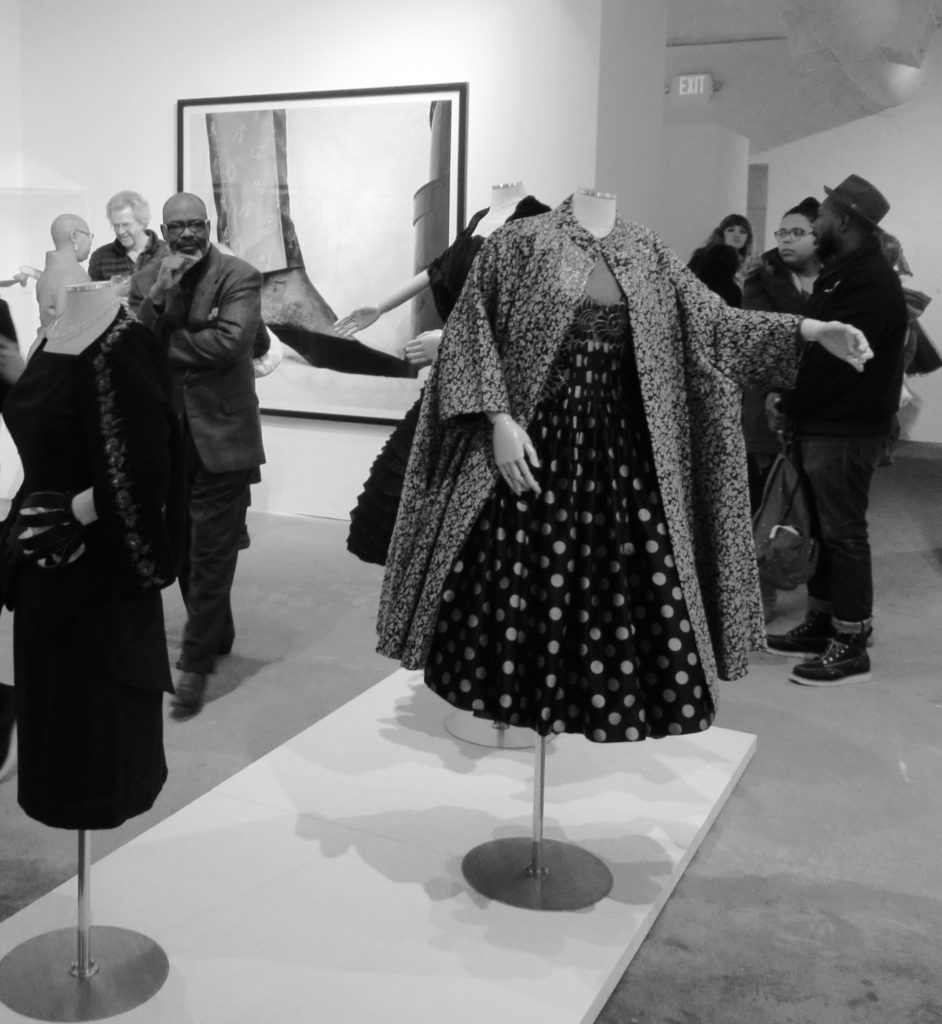 Examples of some of Ms. Turner's extensive clothing collection are shown above. Each piece is meticulously catalogued and kept in a spare bedroom of her Harlem apartment.
She was often photographed by the late Bill Cunningham for the fashion pages of the New York Times. "The clothes tell a story of people I've met and where I've been," Turner said. When asked to describe how she furnishes her apartment, she added: "Life is too short not to be surrounded by beautiful things."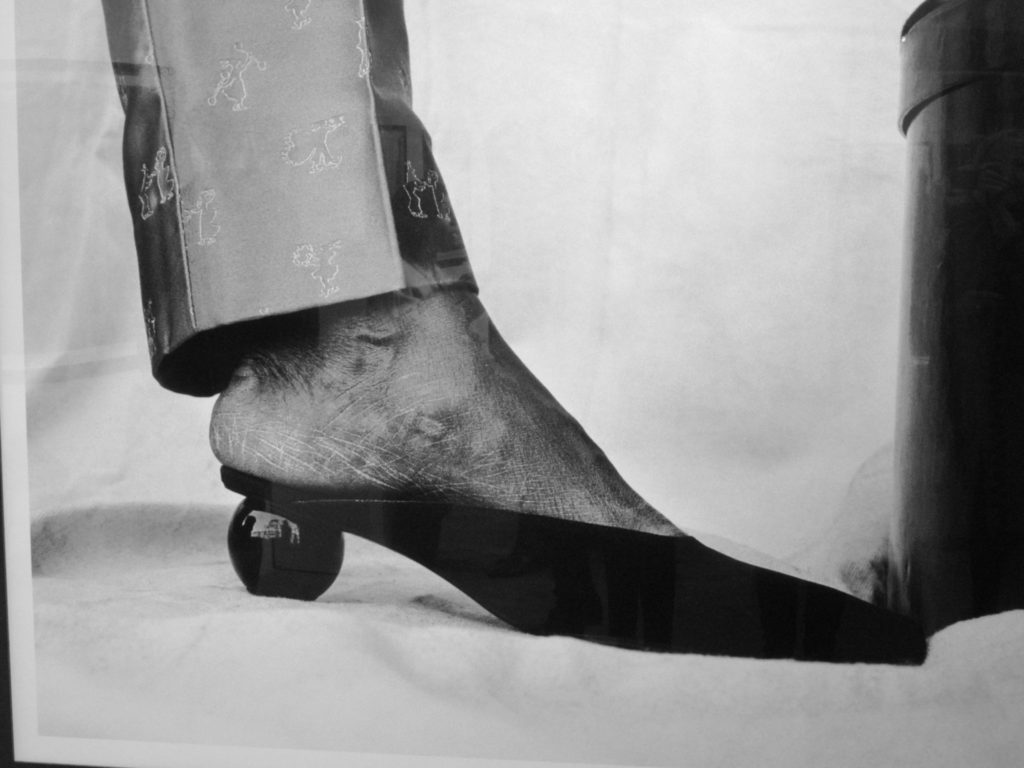 Calmese shot the black and white photographs on film using a vintage 6 x 6 camera, which he prefers over shooting digitally. "You never know exactly what you have until you get in the darkroom, and I like that surprise," he said.  The photo above shows a detail of a larger photograph (see more of it in previous photo) showing Ms. Turner wearing an Yves Saint Laurent shoe.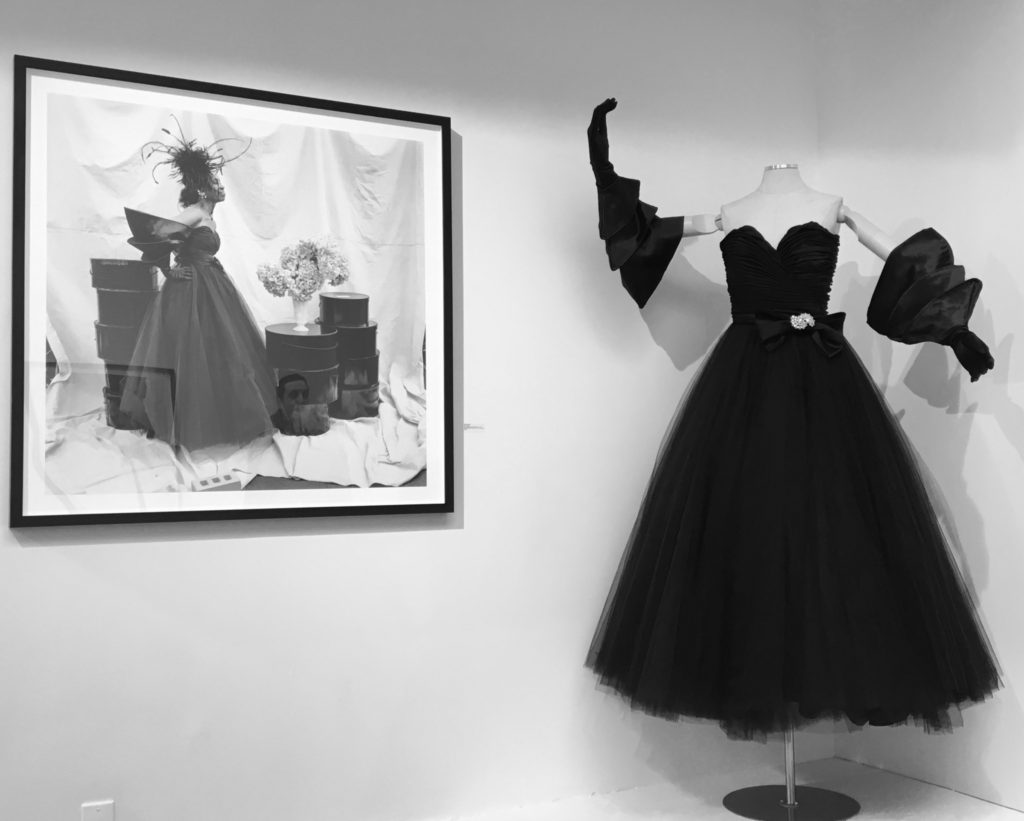 The photos for Amongst Friends were shot on the rooftop of the apartment building where Turner lives in Harlem. In this photo Calmese's muse is wearing a Vera Wang gown, also shown on the mannequin, right. Calmese said that perhaps subconsciously, Harlem is woven into the photos.
The building's roof is purposely visible in some of the shots, which the photographer explained by saying, "Ms. Turner and I are very much aware that this is all a performance. Aren't we all part of the 'theater of man?' We're all players in it, aren't we—the heroes and the villains."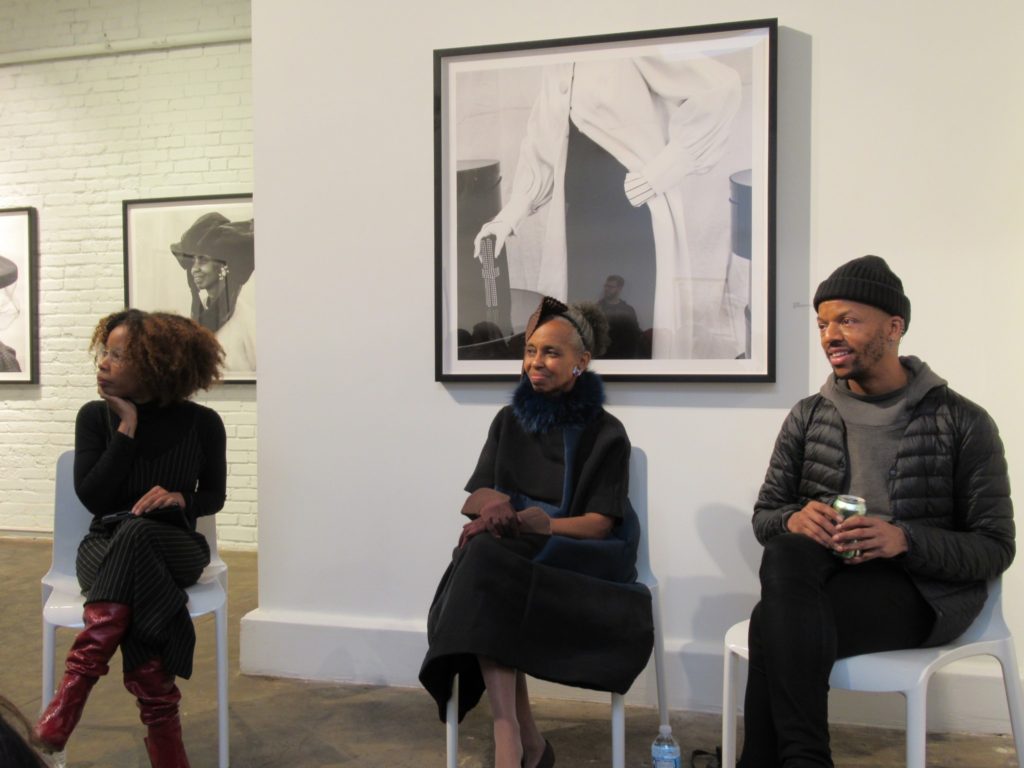 Senior Director of projects+gallery Bridget Melloy (not pictured) introduced the panel at Saturday, February 17's Artist's Talk: W. U. Sam Fox School of Design Lecturer Rikki Byrd, left, Ms. Lana Turner, middle, and Dario Calmese, right.
Byrd commented that Ms. Turner seems to have mastered the art of being "she." Turner replied: "I never wear makeup, I can't be bothered fiddling with my hair, this is me."
At the end of the discussion Calmese expressed his gratitude to Susan Barrett for bringing Amongst Friends to St. Louis. "It is so important to me that black and brown people, who may not know where to find other people interested in fashion, can come to a gallery in the Central West End and see themselves in the art. I want to continue documenting Black Americans leading extraordinary lives. And I hope it (Amongst Friends) brings people out," he said.
In summary, the photography is stunning, the Muse is fascinating, and once again, projects+gallery has brought something totally unexpected and fascinating to St. Louis. Take the time to visit.
Amongst Friends. will remain on view until March 31.  projects+gallery, 4733 McPherson Ave., is open Weds. through Sat., 11 to 5, (314) 696-8678.
P. S. – I have paraphrased some of the conversations quoted here.