Since this was posted last May, Joshua Falconer has launched a Kickstarter Campaign to put RASA Easels into production. The prototypes were so successful at St. Louis Art Supply that they sold out quickly. Here is more information about Falconer's campaign and how you can participate.
Earlier this year while touring MADE, 5197 Delmar, at a Central West End Association Happy Hour, I met Joshua Falconer, above, who along with his business partner and co-inventor Jacob Lewis, was in the process of rolling out a limited edition of RASA Easels—"the nomadic artist's best friend."
Falconer, an artist and PhD Candidate in Semitic Languages at Catholic University, and Lewis, an art teacher, have conceived of many ideas individually and as a team, but the RASA easel is the first invention for which they have developed a working prototype and submitted a provisional patent application.
The idea was born of frustration when Lewis realized his drawings were skewed and out of proportion as he drew on a flat surface using a traditional sketchpad. He came up with the notion of combining a tabletop easel with a sketchpad, and Falconer helped engineer, test, and refine the prototype. Falconer said the biggest design challenge was how to make the easel refillable.
They named their invention RASA, alluding to the Latin phrase "tabula rasa" or "blank slate." Falconer said that the name is "a tribute to the way that every blank page presents new possibilities for artists to explore."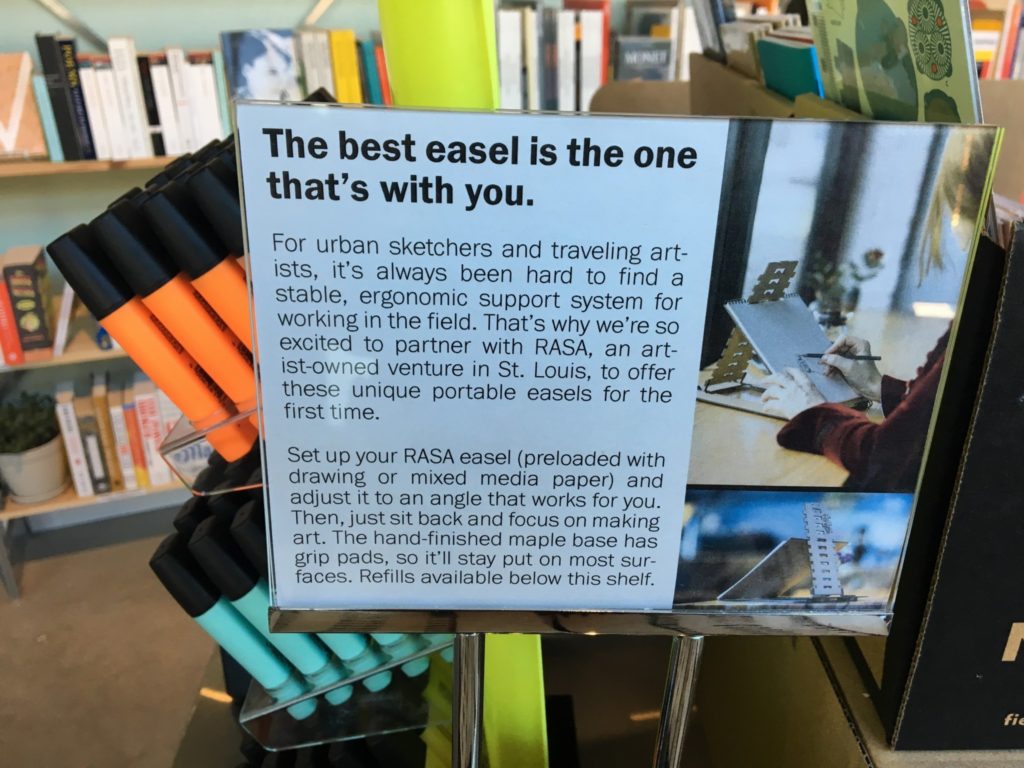 After approximately 2 years developing the rough-working prototype and refining the design, the inventors produced a small batch of their maple RASA easels and took the finished product about 10 blocks east to St. Louis Art Supply, where they are being sold on consignment. The CWE's art shop is the exclusive retailer of this pre-release version.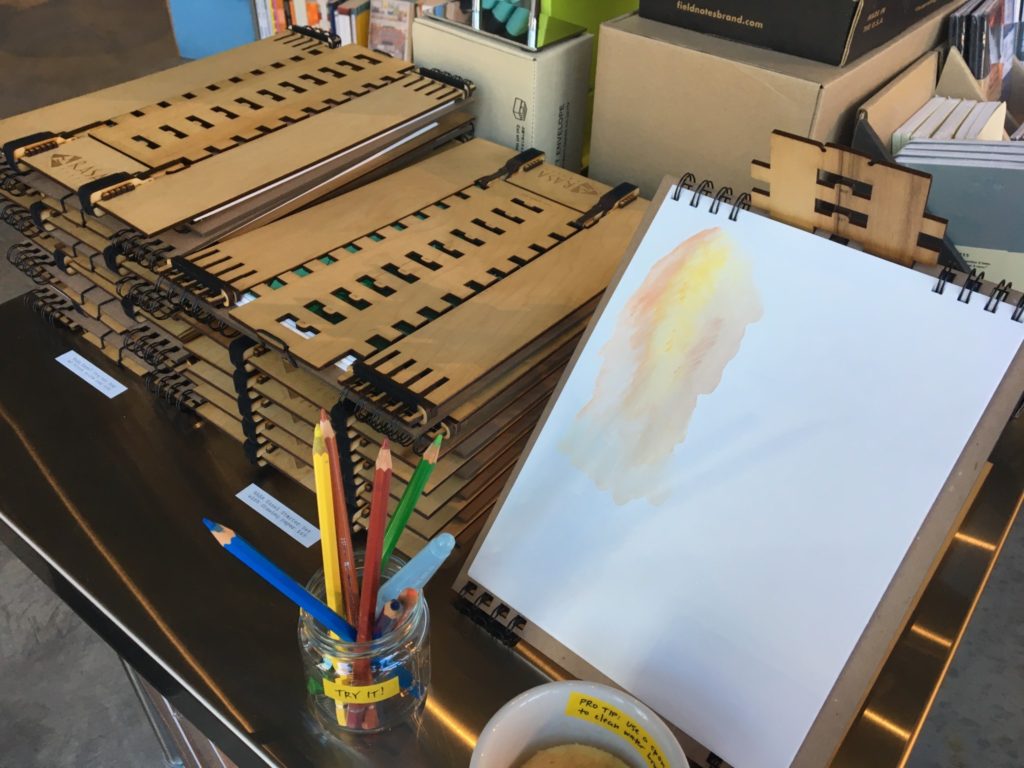 A RASA easel starter set with mixed-media pad is $55, an easel with a drawing paper pad is $49. Refill pads are $16.
Recently Falconer emailed that they have come up with a less expensive RASA easel made of tempered hardboard, a sustainable and durable material that resists warping. This new version can be primed and painted so an artist can customize the cover. It is also refillable. The price has not yet been determined, but they'll be available at St. Louis Art Supply in a couple of weeks.
In the meantime, Falconer and Lewis are planning a crowdfunding campaign to help scale up production and bring down the price point to make the RASA easel even more accessible, so all sorts of creative types—illustrators, comic book artists, tattoo artists, etc.—can take their studio with them wherever they go.
St. Louis Art Supply's Carson Monetti keeps a supply of watercolor pencils by the display, so you can play with the RASA easel.
When I stopped in the store recently, I asked Monetti whose lovely drawing graced the sample easel. "I don't have a clue," he said. "I always find anonymous drawings around here."
Finding an outlet for a locally-made item in the same neighborhood as it was invented is pretty special. So are the local artists who test products at St. Louis Art Supply and leave their art behind for the rest of us to enjoy.
RASA Easels at St. Louis Art Supply, 4532 Olive Street, Tues-Fri. 8 a.m. to 7 p.m., Sat. & Sun. 9 a.m. to 7 p.m. Closed Monday.