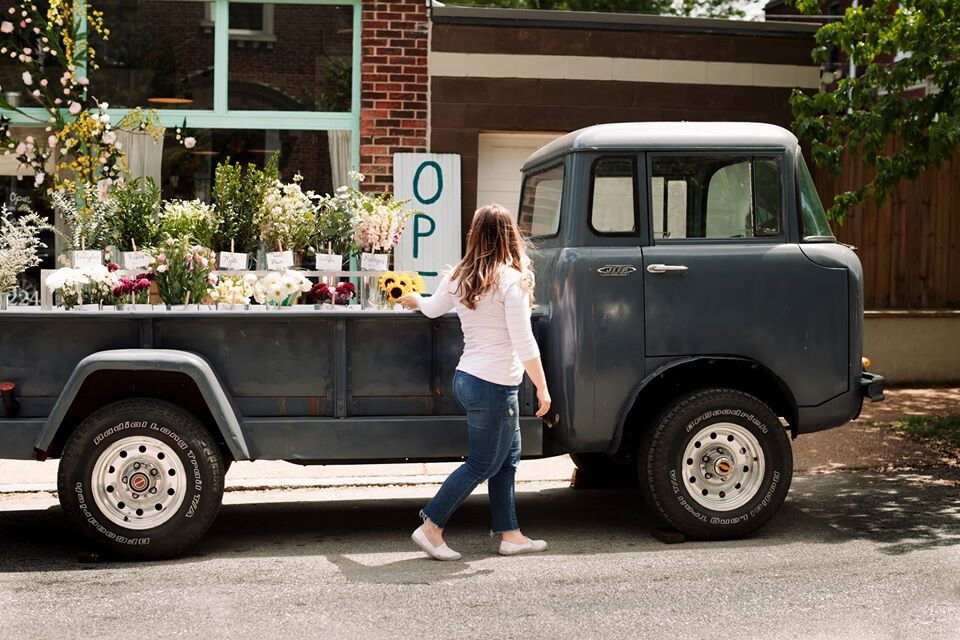 JUST RECEIVED WORD THAT RUDY'S FLOWER TRUCK NOT COMING TO CWE SUNDAY. EVENT HAS BEEN POSTPONED.
The Maryland Plaza/Koplar Properties team is bringing Rudy's Flower Truck to the CWE Sunday morning, June 28. This will be the floral truck's first foray into the city since the stay-at-home order was issued at the end of March. The mobile bouquet bar will be filled with a wide selection of fresh flowers at reasonable prices.
Proprietor Brittany Sarhage learned about the floral truck concept via an internet ad and realized this was the business she had been looking for. She purchased a 1958 Jeep Truck on eBay. She named it Rudy, filled it with buckets of flowers and went on the road in March 2018.  A June 2018 article in the Ladue News reported that, despite the fact that Sarhage had no previous floral experience, with her creativity and eye for color she has become successful and is sought after for pop-up events in The Grove, at Anthropologie, and now on Maryland Plaza.

Rudy's Flower Truck will set up shop on York at Maryland Plaza next to The Cup from 10 a.m. to noon Sunday.  After you choose your flowers, stop in for coffee and cupcakes while you wait for your bouquet to be assembled. Sounds like a lovely way to ease back into something resembling normal.

P.S. – Please wear masks when you visit.