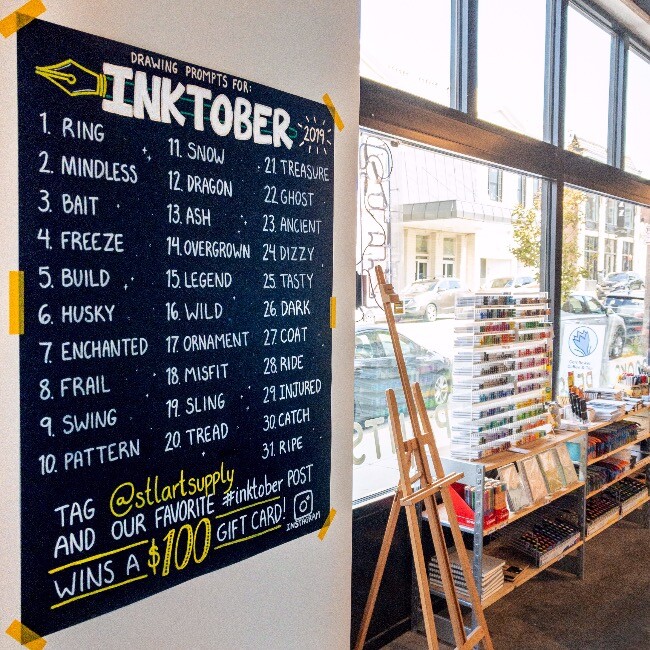 photos courtesy of Carson Monetti
Exhausted by the news and the recent hot weather? Take your mind off all that by joining in inktober2019, a sketch-a-day exercise using the 31 prompts shown on a board at St. Louis Art Supply, above.
Utah-based artist Jake Parker dreamed up inktober 10 years ago as a way to increase his drawing skills. The idea spread and now  artists around the world post their work on social media during the month of October.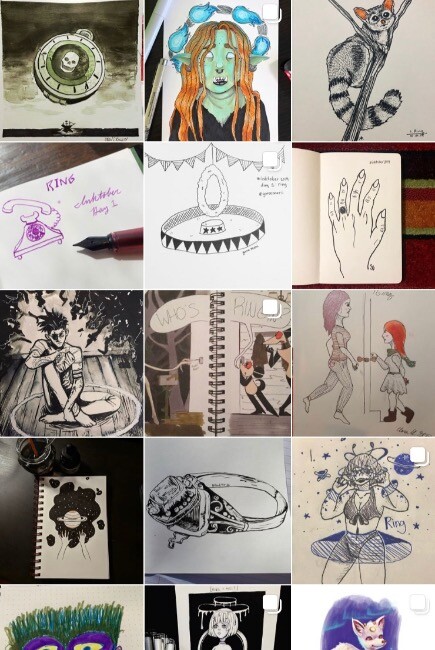 St. Louis Art Supply co-proprietor Carson Monetti  shared some of the sketches that have been posted on instagram since yesterday, October 1. The prompt for the first day was "ring."
Why don't you give it a go. Use your favorite ink pen—St. Louis Art Supply has a great assortment of fountain pens, which are back in vogue (some contend they have never disappeared), and follow the prompt for each day. More instruction can be found on the inktober website.
Post your drawings on your instagram account and tag #inktober2019 and @stlartsupply.  Monetti will gather them together and select a winner.  I'll be keeping mine under wraps, but for those more talented, consider what a stress reliever this daily exercise will be, and then there's the prospect of that $100 gift certificate.
St Louis Art Supply, 4532 Olive St., (314) 884-8345.